2012
09.10
September City Council meeting will be tonight at 7:30. Council will be voting for a new budget that raises fees for the golf course, along with higher bills for gas and sewer. (A meeting about the budget last week had 0 public participation and no media coverage.) There's no agenda posted yet online for the meeting (as-of 2 PM), so maybe you need to show up and make sure nothing gets slipped by without a challenge.
If you're a city resident and you can't be bothered to give up an hour or so Monday at 7:30 to ask questions or express concerns about the budget, then you lose your right to bitch when your gas bill or sewer fee shoot up in October.
Here's the "executive summary" of next year's budget, but it doesn't specifically address proposed changes to golf course or sewer/gas fees. (PDF)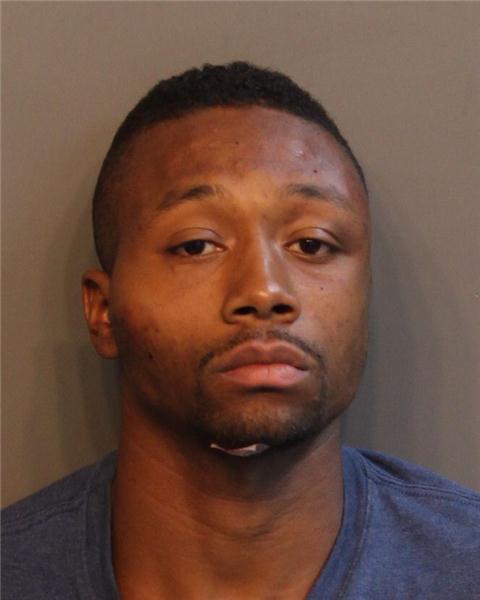 24-year-old Michael Anthony Brooks II of Lindale California is locked up in Hamilton County facing, so far, nine different charges related to last week's police shooting, carjacking, and police chase originating in Chickamauga. Lucky for him he's in a Tennessee jail else his mugshot might not look so pretty by now.
Michael Anthony Brooks I is probably wishing his progeny had a different name…

A county-produced promotional video seen by tens of people has won an award nobody ever heard of before. Good job Walker County.
Wikipedia – Telly Award: "Entries [for the Telly award] are self-nominated with approximately 11,000 submissions per year as of 2010, and the awards are judged by past award winners. There is no set limit to the number of winners each year, but the total numbers in the thousands. The statue prizes are paid for by the winners using engraved information chosen by the recipient."
So it's a bought award. Everybody who sends in a nomination and a check gets something.
Bebe will use this as a core part of her campaign to win reelection against write-in candidate Ales Campbell. The long-demanded county promotional video not only exists, it's award-winning. Heck now the entire county, and its commissioner, are award-winning. "Reelect Award-Winning Bebe Heiskell. Ales hasn't won anything!"
CatWalkChatt, 09/09/12: "The video, which was produced by Video Ideas Productions out of Chattanooga, is titled 'Discover Your True Nature: Walker County, GA' and can be viewed on the Walker County website at walkerga.us. It is designed to promote Walker County's business-friendly amenities and encourage industry to locate here."
The video isn't actually on the county site. The only video on walkerga.us is this one which appears to be from the 1980's and should never been seen again by anyone for any reason.
The "Discover Your True Nature" video mentioned in the news report is online through the "Video Ideas Productions" Web site at www.videoideas.com. Simply select Portfolio: Film&Video: Corporate: Walker County to view the clip. That's the only place we've ever seen it posted, which makes it completely useless for promotional purposes. (The same company produced the county's current Web site.)

Groundbreaking ceremony at the new LaFayette airport terminal. How many of these local officials can you identify? (Sorry we don't have a higher-quality version of this photo.)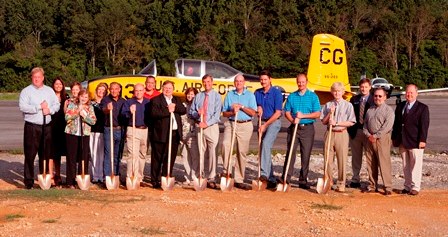 Looks like more people showed up for the ceremony than will actually use the terminal, but the deal is done at this point and there's not much we can do about it except whine about the waste of resources and keep pushing the city to promote it to the outside world.

Chattooga County doesn't have enough cash on hand to make its next payroll. To save money the county is laying off sixteen employees at the Sheriff's Office, including nine of eighteen deputies. (Chattooga's Commissioner later said the SO had too many officers anyway. This could be a house-cleaning to coincide with the current sheriff's electoral defeat a few weeks ago.)
The City of Calhoun Tennessee (NOT Georgia) temporarily laid off nearly all its employees last week, including the police chief. They blame it on some $7,000 of unpaid taxes but seems like there would have to be a deeper problem.
Many places begin their new fiscal (financial) year on October 1, meaning they have new budgets in a few weeks so some of the laid off employees will be back then.

In somewhat better news for Chattooga County..
WQCH Radio, 09/07/2012: "CHATTOOGA COUNTY IS GETTING A NEW "BOYS AND GIRLS CLUB" NEXT YEAR. THE LOCATION IS A 14-THOUSAND SQUARE FOOT BUILDING IN THE SUMMERVILLE SQUARE SHOPPING CENTER. THE BOYS AND GIRLS CLUB WILL BE AN EXTENSION OF A DALTON-BASED PROGRAM… WHICH CURRENTLY SERVES WHITFIELD, MURRAY AND GORDON COUNTIES. THE NEW SUMMERVILLE BOYS AND GIRLS CLUB IS EXPECTED TO OPEN IN JANUARY."

The Ramblers lost their first football game of the year Friday night to the Trion Bulldogs. Here's a look at the devastating 31-6 defeat at home.
The 5 and 6 year-old Ramblers team managed to beat Trion 32-6 on Saturday morning so the weekend wasn't a complete wash.
Meanwhile, Ridgeland football had a bye week so the community hosted a "Stand Firm" rally in support of Ridgeland coach Mariakis.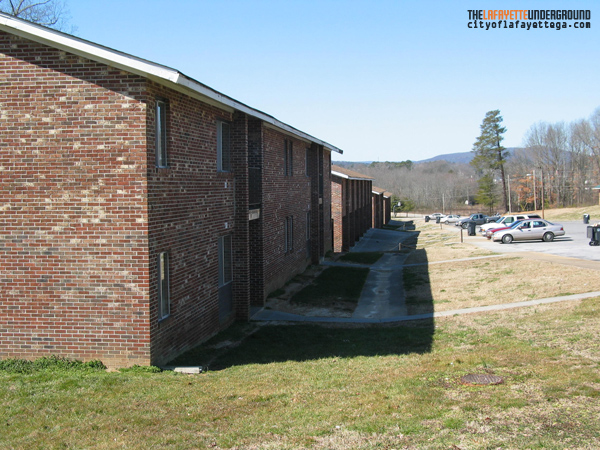 Two years ago on the LU blog we were discussing unannounced plans to tear down and replace thirty LaFayette Housing Authority apartments. The plans have since been announced but still haven't been finished because of red tape at the federal level.

Federal Department of Labor has ordered Georgia to extend unemployment benefits to seasonably unemployed contract employees from schools (like bus drivers). The state refuses to do as told, saying most non-contract employees of the same schools are opposed because it would cost their employers more money.
Here's the options: 80 bus drivers who don't get unemployment in the summer, or 50 who do and nobody's kid gets picked up at their driveway anymore, all have to go to central neighborhood stops to make up for fewer drivers available. This is the same good deed the state did with raising amounts paid for part time employee insurance. The libraries cut back 2/3 of their staff due to the extra costs but the one person left in each branch has better benefits now.
This isn't a Walker County specific issue, our bus drivers and most school staff actually work for the system as regular employees, not as contractors. (At one time school employees were paid nine months of the year and expected to save enough to live through the summer; now the school system pays them all year long – the same amount divided by twelve instead of by nine.) It's not something we would have to directly deal with here.

Good news for nursing home patients:
WQCH Radio, 09/08/2012: "MAJESTIC MANOR HAS 'MADE THINGS RIGHT' IN THEIR FOOD SERVICES, ACCORDING TO WALKER COUNTY ENVIRONMENTAL HEALTH.
"THE ELDERLY DAY CARE AND RESIDENTIAL PROVIDER PULLED THE 'UNACCEPTABLE' SCORE FROM LAST WEEK, UP TO A 96, FOR AN 'A'… UPON RE-INSPECTION WEDNESDAY. MAJESTIC MANOR IS ON PIN OAK DRIVE IN ROCK SPRING."

Shaw's floorcovering business has "stabilized" and its 2012 revenues were higher than last year's. They've hired (or rehired) some 2,000 people since January 2011. Hopefully this means good things for the company's local mills.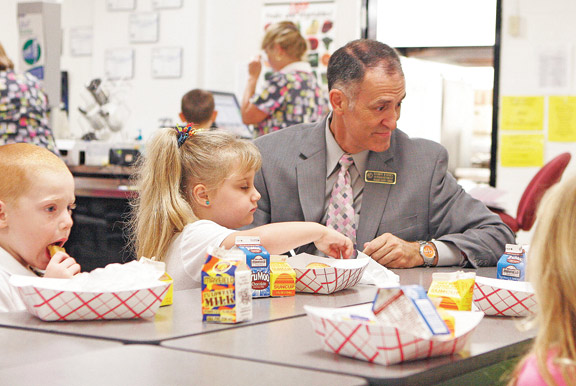 Walker County Schools and new superintendent Raines say things have gotten off to a smooth start.

If you're a female who plays football, or think you should, there's a new Women's football team starting in LaFayette. Tryouts for the North Georgia Thrashers will be every Saturday morning at LHS through October 13th. The first tryout was last Saturday, the 8th.

Microsoft and the state have both chipped in to provide high school students with training on Microsoft products, from Office to basic programming. So far we haven't heard of this being offered in Walker County.
Walker County schools use Apple products almost exclusively, especially in elementary grades.