2012
09.07
An incident of domestic violence yesterday in Chickamauga turned into a police shooting and multi-state car chase.
Three Chickamauga PD officers responded to a call of domestic violence inside a vehicle on Wilder Road. The situation heated up, and officer Ira Taylor was shot in the leg with his own gun by the suspect. Suspect then fled in his own vehicle, carjacked someone else's vehicle in Catoosa County, and ended up going the wrong way down I-75 in Tennessee. He was finally stopped by Walker and Catoosa deputies who crushed their cars against his. The resulting arrest blocked traffic on I-75 in both directions and involved a retired New Jersey officer who stepped in to help direct cars.
What a mess.
The officer involved only suffered a minor wound and has been released from the hospital. The separate incidents (officer-involved shooting, carjacking, and traffic disruptions on I-75) are being investigated by the GBI, Catoosa Sheriff's Office, and Tennessee Highway Patrol, respectively. Things will not go well for the suspected shooter.
Read More: CatWalkChatt | Times Free-Press | WRCB TV 3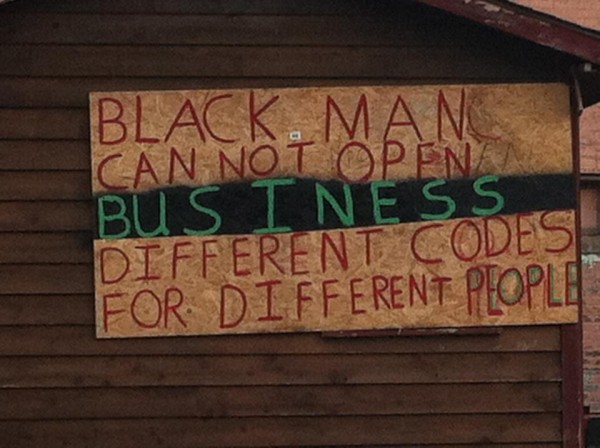 WQCH Radio, 09/06/12: "LARGE SIGNS ALLEGING RACIAL DISCRIMINATION BY THE CITY OF LAFAYETTE ARE CATCHING ATTENTION ON CHATTANOOGA STREET AT THE DEPOT.
"THE SMALL BUILDING IS LOCATED AT THE FORMER 'BUSY-BEE TAXI STAND' AT THE CORNER OF VILLANOW AND CHATTANOOGA STREETS. NO ONE WAS THERE TO TALK TO US THURSDAY MORNING, SO WE ASKED ABOUT THE MATTER AT CITY HALL.
"THE SIGNS, LOCATED ON TWO SIDES OF THE BUILDING, DECLARE – QUOTE: 'BLACK MAN CANNOT OPEN BUSINESS – DIFFERENT CODES FOR DIFFERENT PEOPLE'.
"CITY MANAGER FRANK ETHERIDGE SAID THE SMALL BUILDING IS BEING RENTED BY TERRY SHROPSHIRE, WHO WANTS TO OPEN A BARBECUE TAKE-OUT BUSINESS THERE.
"ETHERIDGE DENIED ANY DISCRIMINATION, SAYING THAT A TAKE-OUT RESTAURANT WOULD BE FINE AT THAT LOCATION. HOWEVER, HE SAID MR. SHROPSHIRE WILL HAVE TO MEET CITY CODES FOR SAFETY. FOR INSTANCE, THE BUILDING NEEDS A 200-AMP ELECTRIC SERVICE BOX AND AN APPROVED HOOD-VENT SYSTEM. ETHERIDGE ADDED THAT AS A RESTAURANT, THE BUILDING WILL HAVE TO MEET HEALTH DEPARTMENT CODES, AS WELL AS CITY ORDINANCES.
"IN REGARD TO THE PROTEST SIGNS, MR. SHROPSHIRE HAS BEEN CITED TO CITY COURT. 'IT'S NOT FOR THE CONTENT OF THE SIGNS', ETHERIDGE SAID, BUT FOR THE FACT THAT 'HE DID NOT GET A PERMIT TO ERECT THEM'."
The city has rules about signs like that, but they're not consistently enforced. If he wasn't being publicly critical they probably wouldn't have said anything. Even Councilman Bradford said prosecuting him over the sign "isn't going to fix the underlying problem and makes the city look petty."
That said, he can't have a restaurant that doesn't meet code or health standards, whatever his race is. This conflict has been going on for more than six months, and it's silly because there are plenty of buildings elsewhere in town better suited for a restaurant than the small old taxi stand. The parking lot there is too small, traffic flow is already a mess, and it would cost tens of thousands of dollars to get the building in compliance with codes – the same codes everyone else regardless of race has to comply with.

Students and staff in Walker Co Schools are dealing with larger class sizes and special education services almost completely gutted over the summer thanks to budget cuts and rule changes at the state level. Happy learning!

Editorial about prayer at Ridgeland High School from Chattanoogan.com:
"Residents of Walker County feel as though Ridgeland school belongs to them. They perceive the public school from the beginning has represented the interests of family and town and is loyal to them. But is not the proprietor of any single state school the civil government and its many co-dependents, including unions, suppliers, publishers, bus makers and public policy think tank three-piece suits?"
How much local control do we have over schools that get a majority of their funding from out-of-county sources?

Atlanta Unfiltered provides a good history and summary of trouble and politics within the GA Ethics Commission. The entity that should be keeping our elected leaders honest can't do its job because those same leaders control its members and its budget. This is a core problem in Georgia politics and something that will hold the state back ethically and economically forever until it's fixed.

Speaking of held back economically.. Manufacturing in Georgia dropped again in August for the fourth straight month.

WQCH Radio, 09/06/12: "THE CITY OF LAFAYETTE ISSUED A 624-THOUSAND DOLLAR BUILDING PERMIT FOR THE NEW AIRPORT TERMINAL BUILDING, ACCORDING TO THE AUGUST REPORT. J & J CONSTRUCTION IS CONTRACTOR FOR THE PROJECT, AT BARWICK FIELD.
"WALMART GOT A 61-THOUSAND DOLLAR PERMIT FOR NEW AND REPLACEMENT FREEZERS AT THE LAFAYETTE STORE. AND RHODES OIL COMPANY GOT A DEMOLITION PERMIT FOR THEIR FACILITY AT 407 SOUTH CHATTANOOGA STREET."
Rhodes Oil Co owns that falling-in roofless house right against S. Chattanooga Street that has been an eyesore for decades. If they knock that thing down it'll make that entire block look better. About dang time.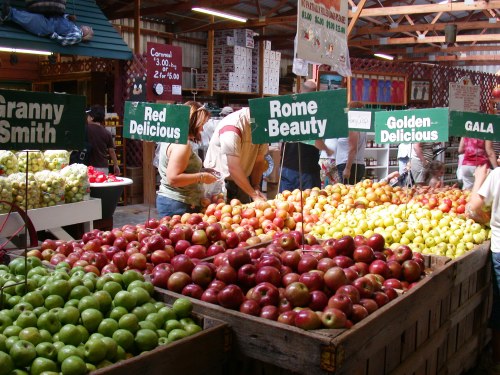 Ever head to Ellijay for apples? It's getting to be that time of year again. We need something like this in Walker – maybe bring in tourists for our annual gravel crop or meth harvest.

Upcoming Weekend Events:
LHS Ramblers Football kicks off tonight at 7:30. The Ramblers will be playing Trion at home.
The Agape Puppets will be performing live, free, at Joe Stock Park Saturday at noon. The puppet team is sponsored by Highlands Presbyterian Church.
Later Saturday at Joe Stock, One Eleven and Downtown Development Authority will present September's outdoor family movie. This month's show will be "Hunger Games." Movie starts around 9 PM or at dark.
If you're a female who plays football, or think you should, there's a new Women's football team starting in LaFayette. Tryouts will be 10 AM every Saturday morning at LHS from this weekend through mid-October. For more info call David Edgeman, 423-315-3147.
For a complete schedule of upcoming activities see the LU Local Calendar.

Friday Advertiser Spotlight: TeamSnap
is a Web-based service for managing teams online. Coaches can coordinate game and practice schedules, keep team and player stats, and broadcast email messages to the entire team. 100% Web based so all you need is a browser. Free iPhone app also available to manage teams on the go. That's TeamSnap.com.