2016
09.12
On Thursday, sources inside Walker County government reported certain county employees had been advised to get their paychecks to the bank ASAP on Friday, because of fears the county's account might not have enough cash on hand to make payroll.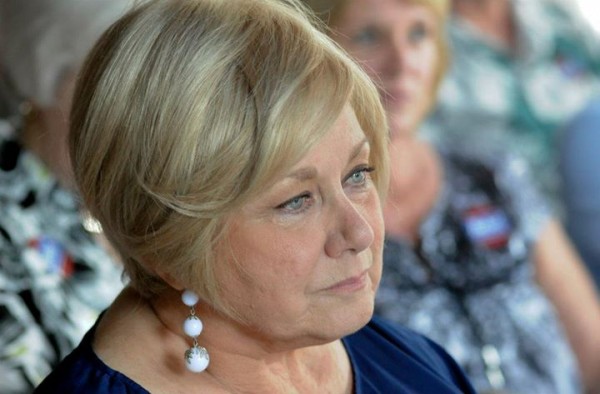 Employees reported on Friday having no issues with their checks, so the county did have enough funds on hand to cover payroll – this time anyway. But Walker County's financial situation is precarious, teetering on the edge.
LU HAS confirmed heads of various county departments were asked to submit payroll early this week and warned that no invoices will be paid from the county's accounts until mid-October unless approved by the CPA. So money is tight, even in the best scenario.
Bebe's run us right out of money again – just as she's announcing plans to cut taxes hoping to extend her political career.
From the same braintrust that brought us Hutcheson a year ago…


How often do we see political candidates hammering stakes and putting up their own campaign signs?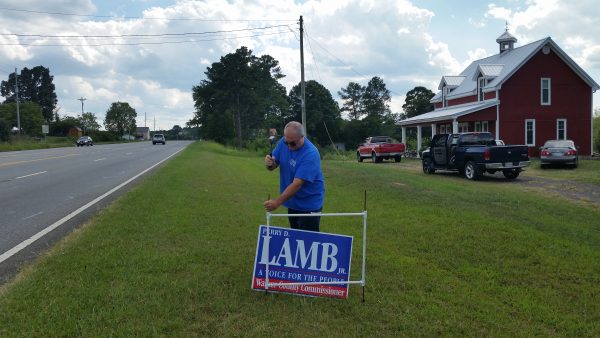 In addition to his door-to-door visits with voters, Perry Lamb has been out delivering and putting up his own yard signs in recent weeks, usually followed closely by someone working for his opponents looking to erect one of theirs.
We can't fully judge a candidate on their campaign, but the way Lamb, Whitfield, and Heiskell are campaigning and putting up signs shows some clear differences in their styles.
Bebe's signs go up in the middle of the night, erected by county employees and people loyal to her because she spends county money with them or their businesses. She treats the county as an extension of herself and her campaign and invests little into it personally, yet reaps the benefits of political office.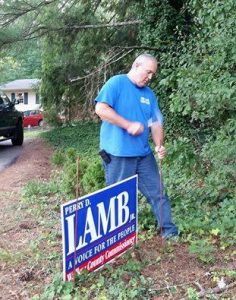 Shannon Whitfield's signs are put up by his "advisor" friends, the same people who paid for the signs, who likely decided on the design of those signs and picked where they'd go. They're out doing the work while he sits back and waits on someone to tell him he's won the election, after which he'll let those same people decide what he'll do in office and have voters talk to those "advisors" when they need something. He's invested almost no time and absolutely no money into the campaign to get him elected.
Perry Lamb is out hammering up his own damn signs, which he paid for out of pocket, and talking to the voters directly about their wants and needs. He works a full time job in a hospital bringing babies into the world then goes out after work to campaign. And hopefully when elected he'll take the same approach to working and listening that he's taking now.


After ten months, LaFayette has finally found its new recreation director.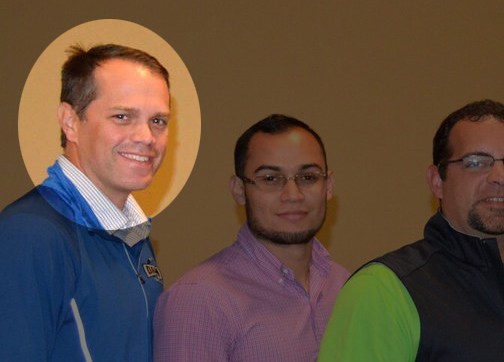 Jason Shattuck, a LaFayette native who's worked in recent years at the Dalton Recreation Department, started with the city last Monday.
WQCH Radio, 09/07/16:

"JASON SHATTUCK HAS BEEN HIRED AS THE CITY OF LAFAYETTE'S NEW RECREATION DIRECTOR, STARTING MONDAY.
"HE IS A NATIVE OF LAFAYETTE AND A 1996 GRADUATE OF LAFAYETTE HIGH. JASON ATTENDED GEORGIA SOUTHERN AND GRADUATED WITH A BS IN COMMERCIAL RECREATION AND TOURISM. HE HAS WORKED AS A YOUTH SPORTS COORDINATOR AT CHEROKEE GEORGIA AND IN SEVERAL SUPERVISORY POSITIONS IN THE DALTON REC DEPARTMENT.
"HE IS MARRIED TO JENNIFER COLE SHATTACK AND THEY HAVE AN 11 YEAR OLD SON.
"CITY MANAGER DAVID HAMILTON SAID 'WE ARE EXCITED TO BRING JASON'S PASSION AND VISION FOR GROWING THE RECREATION DEPARTMENT AND ELEVATING THE QUALIFY OF LIFE IN OUR COMMUNITY'."
He sounds like a great fit; someone with the experience/background we need to have a top-notch rec department that meets the needs of every resident.
(Shattuck was the Dalton Rec Department's facilities guy, overseeing maintenance and construction of buildings and amenities for that community. One of his most recent projects was the expansion of a public skate park – something badly needed in LaFayette.)
Shattuck replaces long-time recreation director Patti Scott who was abruptly fired by the city last November. Her job has been held temporarily since then by the city's information technology guy, Scott Underwood.


LPD seeks suspects in early morning gas station robbery.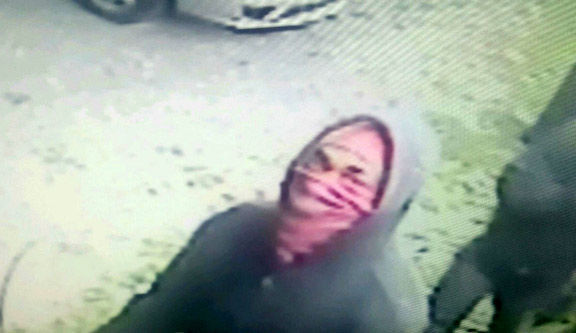 These two masked men broke into the bypass Pit Stop around 1:30 Friday morning, taking $2,500 in cash plus merchandise.
They also stole the locked store's security system storage computer, but photos of the suspects were pulled when that device was located in the woods nearby.
Anyone with possible information about the crime is asked to call LPD's Detective Wesley Steele at 706-639-1540.


Catoosa County's commissioners are pushing for a criminal investigation into Hutcheson's past leaders, looking to figure out how the hospital went from boom to bust in only a few years.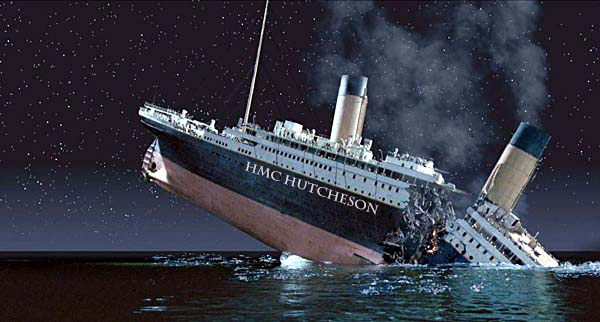 They can't directly request GBI involvement but are pushing DA Buzz Franklin, who can, to call them in. (Will he make that call? Probably not.)
No specific allegations of criminal activity have been made, but Catoosa's leaders voted 4-0 to call for an investigation because their people deserve to know for sure.
Unfortunately at this point it's like closing the barn door after the barn's burned down and the horse is long buried. Why wasn't this step taken years ago by any of the three counties that own(ed) Hutcheson?


A quartet of accident reports and updates from the last week:
Tuesday a stolen pickup truck driven by a man with a woman passenger slammed into a tree off Chamberlain Rd. The woman was extracted with minor injuries; the man fled.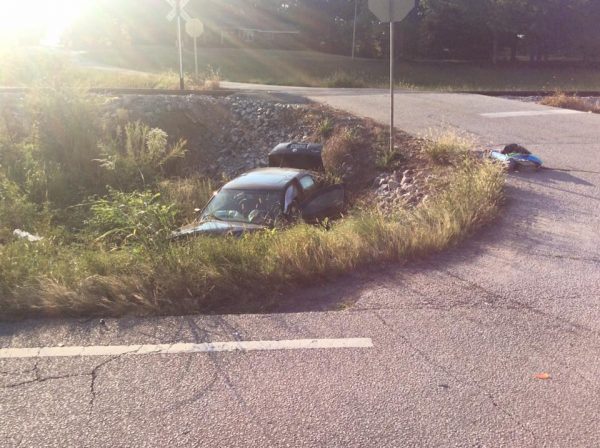 Wednesday an accident on North 27 in Noble involved three vehicles and sent two to the hospital. That wreck was caused by "a young female driver" attempting to pull into the highway from Warren Rd. She and an elderly man driving a pickup truck were sent to Cornerstone for treatment of non-life-threatening injuries.
And Friday night a motorcycle accident on Broomtown Rd. past Roper left a biker in serious condition. (More on that incident later today on LU Facebook.)
Also, additional info on the Sunday night (week ago) accident that claimed Josh Yarbrough's life. Initial investigation reports say the 30-year-old ran off the road, overcorrected, and was ejected from his truck when it rolled over.






More drug arrests, in bulk.
WQCH Radio, 09/06/16:

"THE LOOKOUT MOUNTAIN DRUG TASK FORCE MADE EIGHT ARRESTS IN LAFAYETTE LAST WEEK.
"TWO WERE CHARGED WITH MARIJUANA DISTRIBUTION AT A RESIDENCE ON NORTH CHATTANOOGA STREET: 39 YEAR OLD JULIA NICOLE RIDLEY AND 58 YEAR OLD DANIEL LEE NEAL.
"MORE ARRESTS WERE MADE ON HOLLIMAN STREET, OFF SOUTH MAIN. 56 YEAR OLD JEFFERY MACRET IRVING AND 27 YEAR OLD JAMES EMIL IRVING WERE CHARGED WITH MARIJUANA DISTRIBUTION. TASK FORCE COMMANDER PAT DOYLE SAID THE IRVINGS WERE CONVERTING MARIJUANA INTO HASH, SOMETHING THE TASK FORCE HAS SEEN MORE FREQUENTLY IN RECENT MONTHS.
"A PROBATION VISIT, ALSO ON HOLLIMAN STREET, RESULTED IN FOUR ARRESTS FOR POSSESSION OF METH. THEY INCLUDE 25 YEAR OLD EVELYN RENEE SHELL, 20 YEAR OLD HANNAH LOUISE PARKER, 25 YEAR OLD CHRISTOPHER MICHAEL RAPE AND 27 YEAR OLD GABRIEL ROBERT WILLIAMS."
(Hash is a marijuana concentrate. That's a pic of hash, one form of it, we found online. Looks like a big ol' horse apple. Sometimes it's made more professionally into a brick… That would be a little more appealing probably.)


Thursday evening was LHS' homecoming parade.
The homecoming football game was Friday. LaFayette achieved an encouraging blowout win over Gordon Central.
LaFayette's 56 to 24 win (after a fight on the field) takes the Ramblers to 2-2 for the 2016 season. This Friday will be a bye week; next week LaFayette will face Southeast Whitfield in another home game.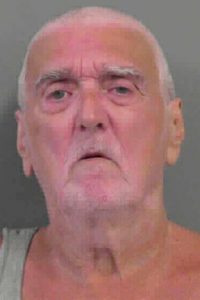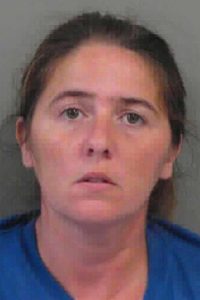 Robert Allen Shaum of Catoosa County, with a Rossville address, has been arrested for child molestation. He went to jail August 30 and was bonded out a few days later.
His daughter Crystal Ann Shaum was arrested before that for trying to interfere with the investigation into what her father allegedly did. She was charged with evidence tampering and lying. She was also released on bond.


Local yute goes to the can for walking while high, possession of weapons and pills.
Law enforcement has not revealed his name or age, so far. The boys has a prior arrest.
WQCH Radio, 09/08/16:

"LAFAYETTE POLICE STOPPED A JUVENILE PEDESTRIAN ON DAUGHERTY STREET, EARLY MONDAY MORNING, AND THE OFFICER SAID THE MALE APPEARED TO BE UNDER THE INFLUENCE OF A NARCOTIC.
"THE POLICE REPORT STATES THAT THE JUVENILE MALE WAS ON PROBATION FOR PREVIOUS OFFENSES. A KNIFE AND SOME PILLS WERE RETRIEVED FROM HIS PANTS POCKET, AND POLICE LATER IDENTIFIED THE PILLS AS A SCHEDULE-4 DRUG. HE RESISTED BEING HANDCUFFED.
"THE DEPARTMENT OF JUVENILE JUSTICE WAS CONTACTED AND THEY ASKED POLICE TO HOLD THE OFFENDER FOR TRANSPORT TO ROME. HE WAS CHARGED WITH POSSESSION OF PRESCRIPTION DRUGS AND OBSTRUCTION."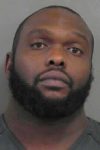 Anthony Lee Moore of Rossville, 36, has joined the population of Catoosa's county jail after allegedly running over a man Thursday night while intoxicated.
GSP and Catoosa deputies say Moore struck Joe Wilkinson, age 60, near Lake Winnie. Wilkinson later died of his injuries at Cornerstone Hospital.
Mr. Moore faces charges of DUI, hit-and-run,not reporting an accident, and homicide by vehicle.


Wednesday afternoon fire crews from Walker County and Hays prison responded to an address on Bigham Road in Trion.
In flames they found a sizable shed, and extinguished the blaze without injury.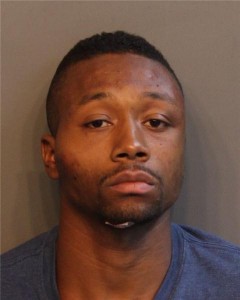 Four years ago, a Chickamauga police officer was shot in the knee by a domestic violence suspect he followed into Chattanooga.
Michael Anthony Brooks II of Lindale California, now 28, went to jail facing nine felonies, including the officer shooting and carjacking.
A few weeks ago he was found not guilty by reason of insanity. He's now in a state mental facility where he'll remain until declared sane, at which point (if ever) he'll be sent back to California.
Brooks' trial took four years because he first had to go to court on federal charges. He was found mentally insane by a federal judge too, so he's batting .1000 on being crazy.


In a rare public disagreement among state leaders, GA Attorney General Sam Olens is siding with the Georgia Board of Nursing in opposition to Secretary of State Brian Kemp's attempts to politicize the body that licenses nurses.
Kemp and Olens are both considered potential 2018 Republican gubernatorial candidates.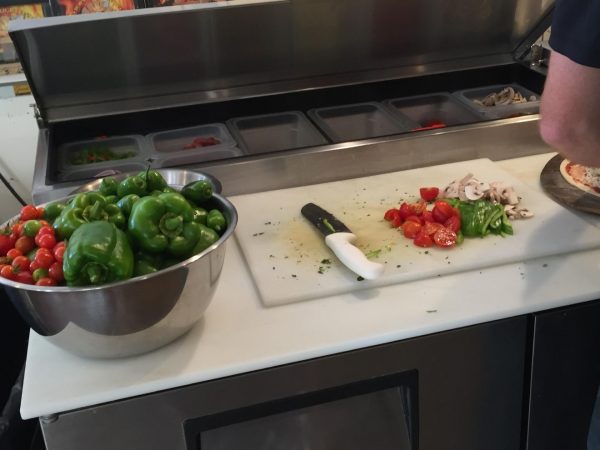 Veggies don't get much fresher than the ones on pizza at Bob's Brick Oven.
Straight off the plant, in the restaurant or a nearby garden, right onto the pie.


On the Park Service's 100th anniversary: Touring every National Park with Dad.


For today's links and any breaking news, follow the Underground on Facebook or Twitter.