2015
09.06
LaFayette's new Bojangles restaurant seems to be moving right along, and should be on track to open by November as originally projected.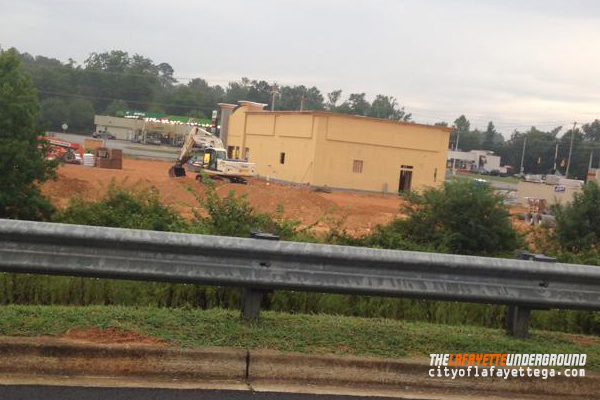 Per reports, the restaurant's construction, electrical, plumbing, signage, and HVAC permits quoted a project cost in excess of $1.2 million. That's a lot of biscuits.
Recent Local Health Inspections:
Queen City Bistro had the worst restaurant score during the last month, earning an 83 on September 3rd. The downtown eatery was cited for moldy cheese, undated chicken salad, and a broken sink.
Penfield Christian Home (which isn't open to the public but does charge money for serving food) also got an 83, on August 27th. Problems there include expired management safety training, no soap or towels at a hand sink, and undated food in the cooler.
Phibb's Bar in Rock Spring rounded out the "B" scores with an 85. That eatery was dinged on August 12th for sour cream kept too warm, improper meat thawing, and an employee without a hair restraint.
El Trio Mexican: 91
Los Guerrero's: 91
Hillbilly's (preliminary inspection before opening): 92
Sonic Drive-In: 92
Pigeon Mountain Country Store/Grill: 93
Dari Dip: 95
Pizza Hut: 95
Pie Slinger's: 96
Triangle Park: 99
Naomi Elementary: 100
North LaFayette Elementary: 100
Lodging Inspections:
The Department of Environmental Health, besides doing quarterly restaurant inspections, also performs annual inspections of "Tourist Accommodations" – ie, hotels and motels.
Morgan Motel on South Main (literally across from the health inspector's office) was visited on September 1st and got a seemingly decent score of 92. But the problems there include dusty air conditioners, dirty towels, and filthy bed sheets. The Morgan is now for sale – hopefully whoever buys it will clean the place up or tear it down.
Key West Inn north of town received a perfect 100 score on August 28th.