2015
02.05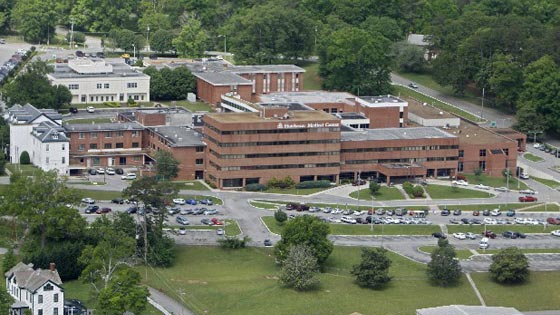 How many years has Hutcheson been bleeding cash, and how many years has Walker County been propping them up with loans?
Commissioner Heiskell tells reporters the county has no idea how our share of the hospital's massive debt can be repaid, and she only started looking into the debts in January.
"'I do understand that the hospital is doing really well and I really do hope that is true,' Heiskell said." Now that's a proactive approach to $16 million in debt that will likely put the county into bankruptcy.
Apparently we expected the state to step in and cover everything if the hospital defaulted. Whups.
Bottom line: We're screwed.



Can you solve the middle math problem? (Instructions at the top.)
Homework sheet handed out this week to K students attending Gilbert.
The error wasn't just made once on the sheet, but twice:

Page was pulled from a Carson-Dellosa "Common Core" math workbook, cheap filler homework worksheet. Looks like the book's author(s), editor, publisher, the local curriculum buyer, and the classroom teacher missed something along the way here.
The book is "compliant" with Common Core standards, but the problem is likely not because of Common Core, but because of cheap books rushed into print to comply with changing guidelines.


Tim Brumlow arrested AGAIN for stealing from relatives.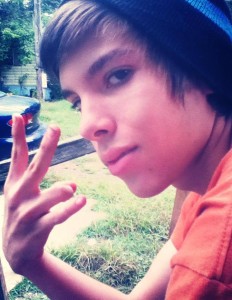 WQCH Radio, 02/04/15:

"A 17 YEAR OLD YOUTH HAS BEEN CHARGED WITH FELONY THEFT FROM THE RELATIVES WITH WHOM HE WAS LIVING.
"POLICE SAY TIMOTHY LEVI BRUMLOW WAS CHARGED IN JANUARY AFTER A SAFE WENT MISSING FROM THE HOME OF HIS AUNT, LOCATED ON STILES ROAD IN SOUTH LAFAYETTE.
"THE SAFE AND IT'S JEWELRY CONTENTS WERE VALUED AT $1,500 ACCORDING TO THE POLICE REPORT. HE WAS PICKED UP FOLLOWING A TRAFFIC STOP THIS WEEK, AND FORMALLY CHARGED WITH TWO COUNTS OF FELONY THEFT BY TAKING."
Brumlow was arrested in December for stealing a relative's purse, now he's stolen an aunt's safe.
He's gonna fast run out of family willing to let him sleep on the couch.


Pedestrian struck by a car last Friday on Trion Highway ID'd as James Riley Hewitt of Trion. Hewitt wasn't killed, but is being charged for walking under the influence and not walking on the shoulder of the road.
The driver will not face charges since Hewitt walked into the side of his moving vehicle.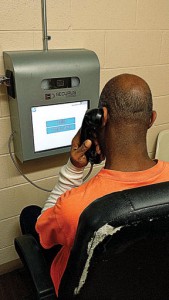 Walker County Jail now has "video visitation" so families can check on inmates via the Internet.
But jail visitors say it's also completely replacing the old style glass-wall visits.
Those who come by the jail to see a loved-one will get the same experience they would over the Internet, minus the $5 fee charged for access from a remote location.
The Sheriff's Office says this will reduce contraband snuck into jail, but the old system didn't allow direct contact with inmates anyway. Most jail contraband comes in via trustees who work outside the jail with minimal supervision.


Sunday the Walker County Messenger and its sister papers transferred to new publishers as part of a bankruptcy sale. Later that day the new owner posted this article, promising his publications will be "watchdogs" that will hold politicians accountable, and will feature editorial pages that welcome dissent.
Hopefully those aren't just empty promises. If the local papers had done all that before, there might not have BEEN a bankruptcy sale.
..and there wouldn't have been a need for LU.


Medical clinic for students AND poor residents of the community to be set up on the Gilbert Elementary campus. How do you feel about this?
WQCH Radio, 02/03/15:

"A SITE HAS BEEN CHOSEN ON THE GILBERT ELEMENTARY SCHOOL CAMPUS FOR A NEW MEDICAL CLINIC, TO BE OPERATED BY PRIMARY HEALTH CARE CENTERS.
"AT THIS MONTH'S MEETING OF THE WALKER COUNTY BOARD OF EDUCATION, MEMBERS HEARD A REPORT THAT A 'MOBILE UNIT' IS READY TO RECEIVE THE CLINIC, AND A SPOT FOR IT HAS BEEN CHOSEN AT GILBERT ELEMENTARY. THE CLINIC WILL BE SEPARATE FROM OTHER SCHOOL FACILITIES ON THE CAMPUS. PRIMARY OPERATES A SIMILAR HEALTH CLINIC AT TIGER CREEK ELEMENTARY SCHOOL IN CATOOSA COUNTY.
"PRIMARY HEALTH CARE HOPES THE CLINIC WILL BE ABLE TO SERVE NOT ONLY STUDENTS AT GILBERT, BUT ALSO LOW-INCOME RESIDENTS OF THE WEST LAFAYETTE COMMUNITY. PRIMARY CONSIDERS WEST LAFAYETTE AN 'UNDERSERVED POPULATION' WHEN IT COMES TO HEALTH CARE.
"THE NEW CLINIC SHOULD OPEN LATER THIS YEAR, ACCORDING TO THE HEALTH PROVIDER."
The medical clinic will be set up in an old trailer behind the elementary school, but Primary Healthcare's business office is in the brick building on Duke and Villanow St. the county owns and rents to them.
Go figure.


Out of touch much?

Somebody's spending too much time away from home. Or perhaps Senator Mullis is confusing his PERSONAL economy with the state's economy.


LU doesn't normally share out-of-county arrests of people who don't live here, but this one is weird.
Chattanooga couple arrested for marijuana possession, plus stealing 57 blocks of cheese, clothing, laundry soap, and random bits of other things from the Fort O. Walmart.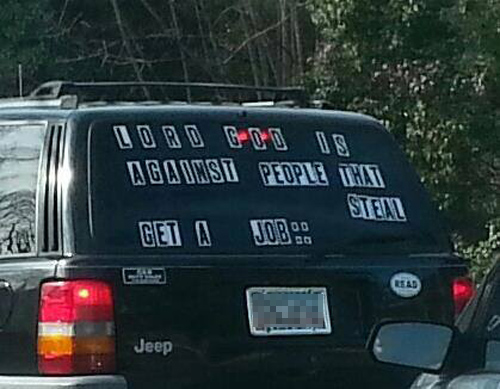 Spotted in town…


GA transportation officials admit a bad stretch of I-75 pavement between Tunnel Hill and Ringgold needs replacement. Plans for repairs are in the system, but nothing will be done for now because there's no money available.
This isn't some driveway – it's the heart of NWGA's economy, and the state can't find funds to keep it maintained.


Do you play an instrument? How about the mandolin?
Lidabell Beagles of LaFayette does, and does it well. And she's in her mid-90's.
Here's Lidabell in Dalton over the weekend, playing away.
Ms. Beagles was last mentioned on LU in May 2013. At the time she was 93.


Last week a judge said GA Agriculture Commissioner Gary Black has "exceeded his power" in trying to regulate harvest dates for Vidalia onions. Black and his office are now prohibited from interfering with onion harvests while the law regulating them is reviewed in appeals court.


For today's links and any breaking news, follow the Underground on Facebook or Twitter.