2014
01.11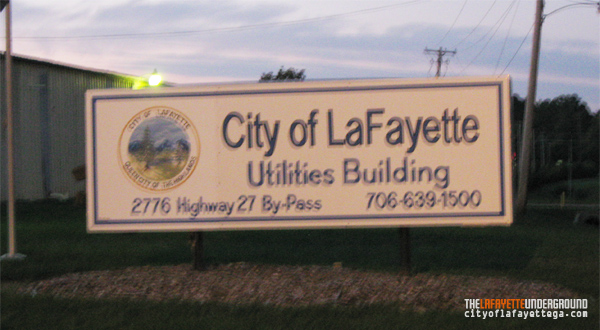 WQCH Radio reports LaFayette codes inspector and Gas Dept director Rod Robertson is retiring in the spring. During next week's council meeting, the city plans to restructure various utility departments and place them all under a single director (current water/sewer director Jim Spier) instead of the myriad of different leaders and departments now. This is expected to make the city more manageable for a yet-to-be-chosen future City Manager.
Under Jim Spier, various aspects of city utilities will be directed by Cliff Snyder (gas), Wally Meeks (water/sewer), Mike Stewart (electric), and Phillip Jeffers (codes enforcement). Former city councilman and crooked contractor Mark White will continue to direct Public Works, which includes garbage, street maintenance, city garage, and cemetery.


Thursday Commissioner Heiskell spent $4,230,000 buying a farm in Noble, promising to make it available for businesses which didn't care to buy it during the last five or six years it was on the market.
Where did the money come from? SPLOST debt, which you'll be paying back during every trip to the store from now through 2020.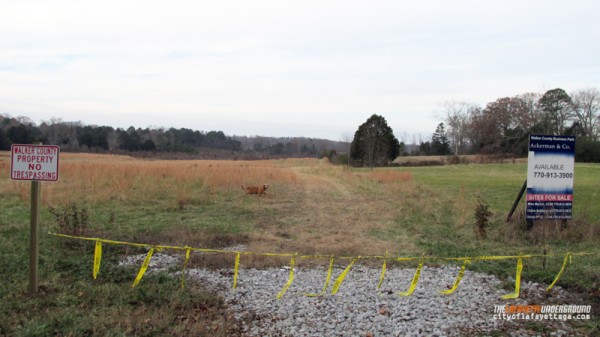 Bebe continues to tell the local paper she's got businesses interested in moving here. She's been saying that since 2002, companies are fighting to come in, businesses are dying to be here, etc. and all she has to show for it are Nissin (which IS a success story) and the fish water factory in Kensington that never opened.
(The county has had the entire site listed for resale through Ackerman for $5 million since at least December even though the papers weren't signed until this week.)


2014 may be known as the year elections never ended. None of the candidates in Tuesday's vote got over 50% support, which means a runoff will be held in a month. We'll also have elections in May and November, plus any other runoffs that become necessary along the way.
(Good year to be in the sign business.)
Former LaFayette mayor Neal Florence (second-place finisher in the election) has now been endorsed by Doug Woodruff, who finished 3rd in Tuesday's vote, and by previous Representative Jay Neal. The vote to decide between Florence and Steve Tarvin will be held February 4th.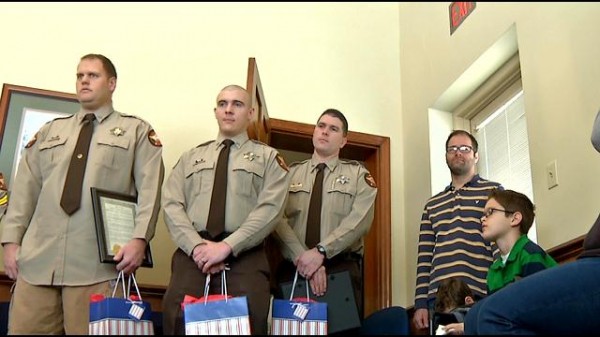 Three Walker Co deputies – Shawn Carter, Zach Simpson and Joshua Mathis – were recognized on Thursday for heroic actions saving a family from a house fire in Chickamauga back during October.
WQCH says three 911 dispatchers were also recognized for their actions during the fire: Scott Wooten, Catessa Blansit and Lisa Pless.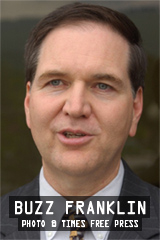 Family members of Dalton McConathy have submitted a 1,000-name petition demanding Buzz Franklin recuse himself from the investigation into McConathy's shooting and present the case to a grand jury.
McConathy was shot and killed during an apparent burglary attempt back in November; so far the homeowner who fired at him has not been charged, and attorneys for the man say he has fully cooperated with authorities.
The argument is Franklin can't be unbiased because he's previously prosecuted Dalton's father for a variety of offenses. If there was some personal beef between the McConathys and D.A. Franklin, this would be acceptable, but he's prosecuted the kid's dad before because the dad is a loser who keeps breaking the law. Franklin has probably prosecuted 20% of Walker County in the last decade – is he supposed to wave his hands and step aside any time someone related to them also faces charges?
Ken Poston is stretching things with this one.


A one-time business owner from Dalton has been sentenced to 18 months in prison for selling precision machinery to Iran, in violation of federal law.
More on the investigation from The Times Paywall Press.


Walker Co Sheriff's Department is looking for info on a theft that occurred two weeks ago on Bronco Rd. Someone took a Honda four-wheeler out of a barn on New Year's Eve. The stolen ATV is described as a green Honda TRX 420.


Last Monday, Commissioner Heiskell appeared on Channel 3 in an attempt to explain, and market, Mountain Cove Farms. She wore her good hairpiece and a uniform apparently obtained from the estate of late North Korean dictator Kim Jong-il:
"The toughest county commissioner I know." Well, whatever..



Music on the Square, which was supposed to reopen in another community after moving out of downtown LaFayette, will simply go out of business.
Wildflour Bakery moved into their old location a week ago.


WQCH Radio, 01/10/14:

"BETTER RETURN THOSE RENTED ITEMS: POLICE ARRESTED A SYLVANIA, ALABAMA WOMAN WHO PAWNED ITEMS OBTAINED FROM A LOCAL RENT-A-CENTER STORE.
"43 YEAR OLD TAMMY MECHELLE SNYDER, WHO LIVED IN LAFAYETTE WHEN THE TABLET COMPUTER AND X-BOX WERE RENTED, IS ALLEGED TO HAVE PAWNED THE ITEMS AT A LOCAL STORE, BEFORE MOVING TO HER NEW ADDRESS.
"SHE REFUSED TO REPAY THE RENTAL STORE, CLAIMING SHE WAS FILING FOR BANKRUPTCY. AFTER POLICE LOCATED THE ITEMS, SHE WAS ARRESTED AND CHARGED WITH THEFT BY CONVERSION AND ENDANGERING SECURITY INTERESTS.
THE RENTAL STORE GOT THE ITEMS BACK."
Ms. Snyder was previously in the news last May when a single-wide trailer she lived in on Baker Hill with thirteen other people burned to the ground.


A Trenton man has been arrested for allegedly leaving his 5-year-old son in a car by himself while on a hunting trip in Alabama. The boy got cold and pushed the car's OnStar button to call police; when they arrived it was 31° inside the vehicle.



Little puff piece on Chattanooga Street Tavern mentions something new: a youth-focused church – "Connect City" – will be moving into Mars Theater any day now.
Connect City church currently meets in Summerville.


Tuesday Chattooga County deputies arrested an escaped convict from Lagrange. He was picked up in Subligna, just on the other side of the Walker/Chattooga line.


WQCH Radio, 01/07/14:

"LAFAYETTE POLICE MADE A COUPLE OF DRUG ARRESTS IN THE PAST WEEK.
ON JANUARY 3rd A VEHICLE WAS SPOTTED WITHOUT A TAG, TRAVELING MAIN STREET AROUND 9 PM. THE OFFICER SMELLED MARIJUANA, AND A SEARCH REVEALED THE DRUG HIDDEN INSIDE THE CAR AND IN A BACKPACK ON THE BACK SEAT. BAGGIES AND DIGITAL SCALES WERE ALSO RECOVERED FROM THE VEHICLE.
"20 YEAR OLD ETHAN KYLE MILLER OF A ROCK SPRING ADDRESS, WAS ARRESTED. WHEN SEARCHED AT THE COUNTY JAIL, MORE MARIJUANA WAS FOUND ON HIS PERSON. HE WAS CHARGED WITH POSSESSION AND POSSESSION WITH INTENT TO DISTRIBUTE.
"IN ANOTHER TRAFFIC STOP ON DECEMBER 30th, POLICE ARRESTED 38 YEAR OLD TRENA MAE BURTON. THE STOP WAS INITIATED BECAUSE OF A HEADLIGHT VIOLATION, BUT BURTON WAS ALSO CHARGED WITH POSSESSION OF METH AND SUSPENDED LICENSE."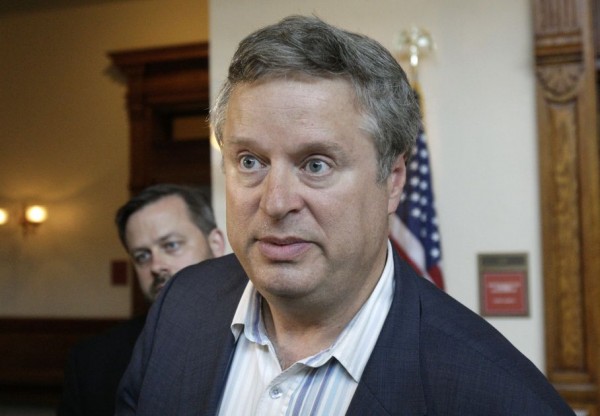 GA State Senator Don Balfour, recently found not guilty of 18 felony charges related to false reimbursement claims he filed with the state, is planning to run for reelection this summer and apparently intends to punish other legislators who tried to hold him ethically accountable.
Balfour, an executive with WAFFLE HOUSE, says he just made mistakes with financial reports, and will be more careful in the future.


Georgia Board of Regents, leaders of state university system, says new standards for teacher training will be more difficult, but will produce teachers better prepared for the classroom.


This just in: Southerners don't like cold weather.
(Tip courtesy of The New York Times.)


A committee of state senators suggest state laws should change to restrict access to criminal records, in order to help ex-convicts find jobs. Committee also wants to restrict release of jail booking reports and mugshots.
State law should REQUIRE release and publication of booking reports and mugshots. This is a bad road to go down.


The man chosen last month to lead Georgia's troubled ethics commission was fired from his PREVIOUS job – judge overseeing workers comp cases – for "failure to meet performance expectations."
He has the full support of Governor Deal, which is a good sign he's probably terrible.


For today's links and any breaking news, follow the Underground on Facebook or Twitter.