2016
02.07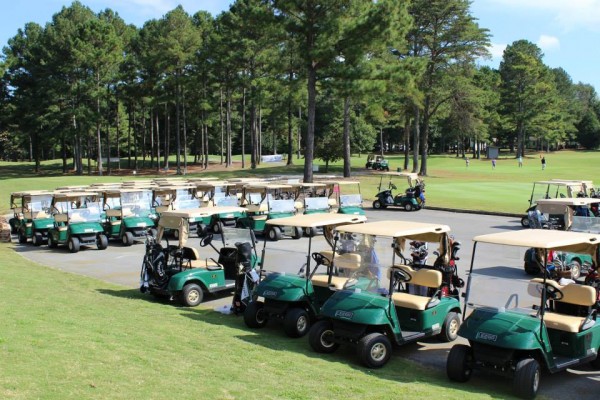 LaFayette's elected leaders have finally recognized a huge problem that has been ignored for years: LaFayette Golf Course costs the city entirely too much money.
In January one council member actually spoke up and opposed extra golf course spending, hopefully signaling a long-sought change in city budget priorities.
WQCH Radio, 01/14/16:

"LAFAYETTE'S CITY COUNCIL MEMBERS ENTERED INTO A CONTROVERSIAL DISCUSSION AT MONDAY NIGHT'S MEETING, ON THE SUBJECT OF THE LAFAYETTE GOLF COURSE.
"THE AGENDA CALLED FOR A VOTE ON A FOUR-YEAR RENEWAL OF THE LEASE ON 60 GOLF CARTS, AT JUST OVER 140-THOUSAND DOLLARS. BUT BEFORE THE VOTE WAS CALLED, COUNCIL MEMBER BEACHER GARMANY HAD COMMENTS PREPARED.
"HE REELED-OUT A LIST OF LOSSES IN THE OPERATION FOR 2015, SAYING 'I DON'T KNOW HOW LONG THE TAX PAYERS CAN KEEP SUBSIDIZING THE GOLF COURSE'. GARMANY SAID THAT OF THE CITY'S PROPERTY TAX REVENUE, 55-CENTS OF EVERY DOLLAR GOES TO PAY FOR LOSSES AT THE COURSE.
"COUNCIL MEMBER WAYNE SWANSON DEFENDED THE GOLF COURSE OPERATION, THEN MADE A MOTION TO APPROVE THE GOLF CART LEASE. HIS MOTION DIED FOR LACK OF A SECOND.
"EVERYONE INVOLVED IN THE DISCUSSION AGREED THAT THE GOLF COURSE HAD A BAD YEAR IN 2015. WEATHER PREVENTED PLAY FOR AROUND 100 DAYS WHEN THE USUAL NUMBER OF 'UNPLAYABLE DAYS' IS HALF-THAT.
"MAYOR ANDY ARNOLD CALLED THE GOLF COURSE 'AN ASSET TO THE CITY' AND SAID THAT THE COUNCIL NEEDS TO 'TRUST THAT THE CITY MANAGER WILL COME UP WITH A PLAN TO GET THE COURSE CLOSER TO BREAK-EVEN' IN IT'S OPERATION.
"AT THE END OF THE DISCUSSION, THE COUNCIL AGREED TO TABLE THE GOLF CART MATTER UNTIL NEXT MONTH'S MEETING.
Huge annual losses at the golf course aren't new. LU first reported on the greens losing "green" six years ago in a report comparing the course's 2008 loss of $193,000 to an excuse city leaders at the time made for not cutting taxes on Roper's electric bill.
Since then the city has continued to throw good money after bad, spending money on golf cart batteries, pavement for the golf course access road, a $14,500 golf-only pickup truck, and replacement water pumps for the greens – all to support a hobby generally enjoyed by the city's wealthiest residents.
GOLF COURSE LOSSES, 2008-2014
| | | | | | |
| --- | --- | --- | --- | --- | --- |
| YEAR | GOLF LOSS | CITY PROP TAX | % PROP TAX | ALL CITY TAX | % ALL TAX |
| 2008 | $193,000 | (Not Available) | N/A | (Not Available) | N/A |
| 2009 | $130,000 | $534,000 | 24% | $4,777,000 | 2.7% |
| 2010 | $214,000 | $464,000 | 46% | $4,124,000 | 5.2% |
| 2011 | $232,000 | $473,000 | 49% | $4,190,000 | 5.5% |
| 2012 | $195,000 | $437,000 | 45% | $4,130,000 | 4.7% |
| 2013 | $245,000 | $496,000 | 49% | $4,181,000 | 5.6% |
| 2014 | $232,000 | $558,000 | 42% | $4,158,000 | 5.6% |
[Most financial data from city reports archived at Walker County Open Records.]
Annual golf course operating losses between 2008 and 2014 ranged from $130,000 to $245,000 – totaling $1.4 million and change over seven fiscal years. All those losses have been covered by transfers from the city's general operating budget.
(That total doesn't include an extra $1.25 million swiped out of SPLOST and the general fund in 2007 and 2008 without public knowledge to build a new clubhouse on the back side of the course where most who paid for it couldn't see it. The old clubhouse torn down and replaced was all of fifteen years old.)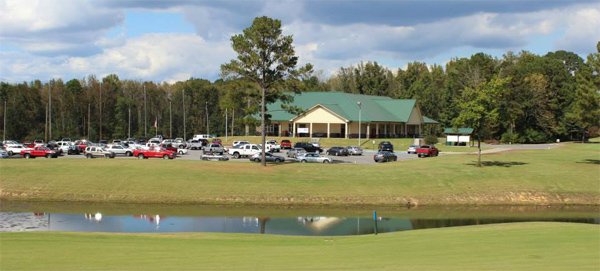 $1.4 million lost during seven years is a sizable percentage of the budget in a city that runs on thin margins. That $1.4 million could have gone to roll back utility bills for residents and businesses, propped up library finances, repaired miles of roads, staffed the city's two closed recreation centers, paid the salaries of an extra three or four police officers – or literally cut city property taxes in half.
LaFayette's 2015 financials haven't yet been made public, but based on Councilman Garmany's statement and the council-wide consensus that LaFayette golf "had a bad year in 2015" it's not a stretch to project losses were as bad, or maybe much worse, during the last year as they were through each of the previous seven.
The city took in $558,000 of property tax revenue in 2014; if 2015's tax revenues were similar, Garmany's figure of 55% would be golf course losses in excess of $300,000 – taking the eight year total over $1.7 million. That doesn't include anything spent since September 30 when the last fiscal year ended OR the extra $140,000 Wayne Swanson suggests spending on golf cart leases this year.
Every LaFayette resident – poor, rich, young, and old – subsidizes golf course losses, through their property taxes and through electric, water, and sewer bills that go to prop up the city's general fund. But the course is used by, at best, 15% of the people who live here.
The hundreds of thousands lost on golf each year should be spent on services that everyone benefits from. LaFayette's government has to be more than a tax-funded life support system for eighteen mediocre holes of golf that can't make a profit while competing with privately owned courses that somehow do.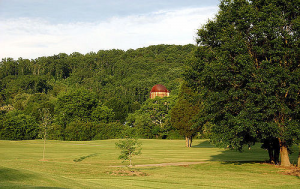 When LU first posted on the golf course in 2009, LaFayette's city government was composed of an almost entirely different group of people – including sports-obsessed coach/councilman Norm Hodge, councilman Eric "I play for free" Talent, and amateur golfer/city manager Johnnie Arnold. Every member of the council, the mayor, and the city manager then seemed to be obsessed with the game, putting it ahead of the city's common good at every opportunity.
That sorry bunch raised city utility rates several times while cutting core services, but at the same time voted time after time to spend more money on golf. Their disrespect and outright contempt for the needs of LaFayette's poor and elderly was hardly disguised, coming to a head in October 2010.
During that month's meeting the council was questioned about the golf course's budgetary burden and its value. They defended golf, defended their free use of the facility, and carried through with plans to raise electric rates to cover a budget shortfall caused BY the golf course.
Fortunately all but one of those council members have since quit, and several have even moved out of town.
The only remaining elected officials from six years ago – both of whom pushed hard last month for the $140,000 golf cart rental and were responsible for the new clubhouse being built years ago – are long-term councilor Wayne Swanson and retired coach Andy Arnold. (Arnold's job change from councilman to mayor fortunately means he only gets to vote in case of a tie.)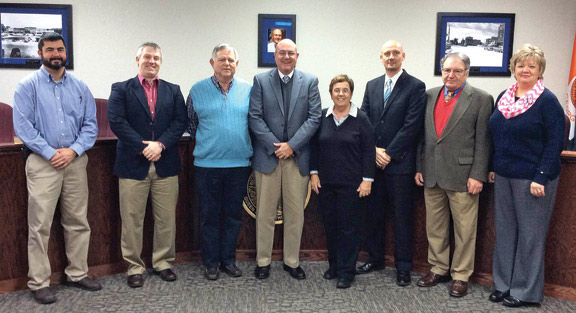 LaFayette's newest councilman, Beacher Garmany [second from right above], blocked that heritage of stupidity in January when he read the list of golf course losses. He was backed up by fellow councilors Ben Bradford, Judy Meeks, and Chris Davis who joined him in refusing to give Swanson's expensive proposal a second or a vote.
All four are to be commended for doing what they were elected to do: represent EVERY resident, even those without deep pockets, by addressing waste like the golf course.
Not that the newer elected council members dislike golf (we understand some of them quite enjoy it) but that's not required. What IS required are sensible decisions that don't make luxuries and pet projects like golf the city's top priorities.
The council's February meeting will be this Monday night at 6:30. Will Meeks, Davis, and Bradford join Garmany again in stopping the $140,000 golf proposal, or will they take the side of Councilman Swanson and Mayor Arnold in throwing more tax dollars down a black (golf) hole? Will they find some less-expensive middle ground compromise?
And beyond February, will the council continue to allow golf to eat up city revenue or will they figure out a way to stem the tide of red ink coming off the greens?
Responsible leadership from the council, along with fresh ideas from new City Manager David Hamilton and a yet-to-be-appointed new recreation director, could propel LaFayette into a better future. That future might involve a leaner, less-expensive golf course, or it might not involve a golf course at all.
The council caved and agreed to the $140,000 golf cart expense – spread over four years.
WQCH Radio, 01/14/16:

"ON A CONTROVERSIAL SUBJECT HELD-OVER FROM LAST MONTH'S MEETING, THE LAFAYETTE CITY COUNCIL VOTED 3 TO 1 IN FAVOR OF A 4-YEAR LEASE-PURCHASE OF NEW CARTS FOR THE LAFAYETTE GOLF COURSE.
"AT MONDAY'S MEETING, CITY MANAGER DAVID HAMILTON EXPLAINED THAT THE PLAN WOULD BE LESS COSTLY THAN REBUILDING THE PRESENT FLEET OF CARTS, WHICH WILL BE TRADED-IN ON THE NEW LEASE-PURCHASE PLAN. TOTAL COST FOR 60 CARTS OVER A 4-YEAR PERIOD, WILL BE $140,630.
"UNDER THE PRESENT CART LEASE, THE CITY IS PAYING ABOUT 59-THOUSAND PER YEAR. THE NEW LEASE WILL BE SUBSTANTIALLY LESS, AT 36-THOUSAND PER YEAR, AND AT THE END OF FOUR YEARS, THE CITY WILL OWN THE CARTS.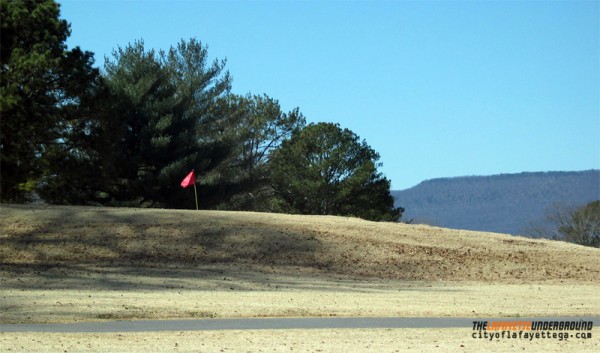 "COUNCIL MEMBERS BEN BRADFORD, WAYNE SWANSON AND JUDY MEEKS VOTED IN FAVOR OF THE LEASE-PURCHASE PLAN. COUNCILMAN CHRIS DAVIS VOTED AGAINST, AND COUNCILMAN BEACHER GARMANY ABSTAINED.
"AFTER THE PLAN WAS APPROVED, MAYOR ANDY ARNOLD SAID LAFAYETTE HAS BEEN INVITED TO A MEETING OF 'GOLF COURSE TOWNS' BEING HELD IN DUBLIN, GEORGIA. HE SEES THAT AS A GOOD WAY FOR MUNICIPAL GOLF COURSE CITIES TO 'BRAINSTORM' WAYS TO RUN THEM MORE EFFICIENTLY. THE LAFAYETTE COURSE IS A PERPETUAL MONEY-LOSER."
Only councilman Davis took a position in opposition to the spending. It's unclear why Garmany, who raised concerns about golf during the last meeting, refused to vote during this one – but even if he had cast a no vote the matter would have been carried forward anyway because of the other three councilors.
Mayor Arnold will probably be the lucky person attending that "golf course towns" event (at city expense), and it'll probably involve a lot of.. golf.
Next time you hit a pothole driving around town, you can thank a city council member, your mayor, and advocates of the city-owned course for spending the money that could have gone to fix that pothole on a different kind of hole.