2011
05.11
Here are point-by-point notes from February's LaFayette City Council meeting, with our commentary following in italics. City Council meetings are normally held at 7:30 PM on the second Monday of each month. Notes from the March meeting and video from April and May will be posted soon.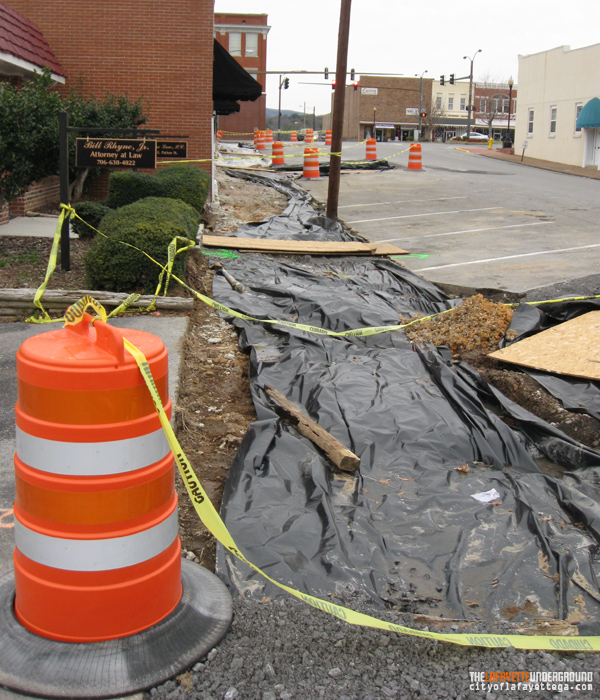 February Meeting: February 14, 2011
Councilmen Norm Hodge and Wayne Swanson absent from meeting; 3 councilmen present barely make up the quorum necessary to approve measures. City Attorney Ron Womack also absent. Mayor asks prayer for Terry Gregg having surgery tomorrow. Invocation led, as always, by Andy Arnold, followed by pledge to the flag. Council votes 3-0 to approve minutes from regular meeting on January 17th (listed as "January 10th" on meeting agenda).
No reason for the absences were given, but the meeting was held on Valentine's day so Hodge, Swanson, and Womack were likely spending time with their significant others. A minimal number of city employees and only two or three citizen observers were at the meeting, so it was understandably quite short.
Council discusses project to expand the city's natural gas service southeast towards the Chattooga County line. After work city gas lines would extend down Trion Highway, Walnut Grove, Harrisburg, and East Broomtown Rd. According to Councilman Andy Arnold the project can be financed through a 15-1/2 year loan from the municipal gas authority if they can get a package ready to submit by May.

Primary customer for the gas service would be 42 chicken houses off Foster Mill, but 50 to 70 homes will also be reached by the new gas lines "if they want it." (So far only two residential customers have requested the service.) Councilman Bill Craig says chicken houses may not use gas service due to availability of "chicken poop burning" equipment being introduced. Arnold claims city will recover its costs in 4-1/2 years and benefit from increased utility revenues but provides no basis for that claim. Council votes 3-0 to give Southeastern Gas Engineering $41,000 to "get the project ready for bids." Total loan amounts and overall project costs should be revealed during May council meeting.
Councilman Craig knows about the "poop burning equipment" because he's involved in negotiations with HERO Biomass, the company that manufactures such equipment, about moving into one of LaFayette's empty industrial buildings. The feasibility of this utility project is questionable – Arnold's numbers probably assume a lot more customers than the city will actually gain, but without seeing his basis for the claims we can't say for sure. Based on previous experience and observation we expect the city to have major cost overruns due to poor planning and probably not finish the upgrade for five or six years, likely resulting in a price increase for existing gas customers – and there's no guarantee the chicken houses won't be poop-burners (or still open) by the time gas lines reach them.
Councilman Arnold proposes amending city Code of Ordinances to regulate landscape watering in drought conditions. This change is required by state law. Under revised code, outdoor watering can only be conducted between 4 PM and 10 AM if a drought has been officially declared. Motion passes 3-0.
Cherokee Regional Library Director Lecia Eubanks updates council about plans for renovating the LaFayette library. Says $2- or $3-million project is "moving along" and construction documents have been put out for bid. 50% of planning and design work is expected to be complete by the end of February. Bids for the project will go out in June and work should begin by September 1st of this year. Eubanks is in negotiations to rent or borrow old Food Lion building for temporary library during renovations, property owner might allow rent-free use and write it off their taxes. Old CVS building next to Bi-Lo also a possibility, closer to the library but not large enough to store everything.
Last September library construction was scheduled to begin in May, that date has now been moved back to this September. Hopefully the dates won't keep shifting since every delay represents more expense. We can also hope that their estimates for the project's overall cost don't grow along with the date changes.
According to Eubanks, State Fire Marshall requires renovated library to add fire sprinkler system, and current water lines to the library aren't big enough to provide sufficient water flow. City Water Director Jim Speir says city can tap into a larger water line on S. Main St. and upgrade lines along Duke, Napier, and Hall to 8-inch pipe. Total project cost with a contractor would be $90,000. Half of the water line upgrade is budgeted within the library's SPLOST money, the rest can be done by city crews without additional cost to the city outside of damaging fresh pavement on S. Duke St. The upgraded line would allow any other buildings along South Duke past the library to get upgraded sprinkler systems if they were ever required to do so. Council passes motion 3-0 and agrees to $45,000 SPLOST expenditure.
Library plans require an additional 25 feet of property behind library for a pond to hold parking lot storm water runoff. City owns property behind library approaching Town Creek. Councilman Craig asks about legality of a city giving property to county agency, gets no clear response from legal counsel or other councilmen. Also asks about an appropriate buffer zone for the creek, is answered with a similarly unclear response. Council votes 3-0 to move line.
Eric Tallent makes motion authorizing Mayor Florence to sign a contract with GDOT for "Phase II" of the ongoing downtown streetscape project. Councilman Bill Craig brings up the issue of parking spots being permanently lost to the sidewalk reconfiguration. Mayor Florence says "we worked to save parking spots" and says four spots were added from the original plan. Councilman Tallent notes that there already aren't enough places to park downtown. Council ignores its own complaints and moves to approve Phase II in another 3-0 vote.
Phase I of the $300,000+ project, which began in October, replaced sidewalks and added new streetlights and planter beds along East Patton Street between the downtown square and the Covrthovse on Duke Street. Phase II will see similar changes made on West Patton between the square to Cherokee Street, on Villanow St. between Duke and Main, and up Main Street towards Joe Stock Park. No word on when the project will be completely done, but as this is written in May we're not even halfway to completion. Work was temporarily halted around the holidays to minimize disruption for downtown businesses, but many in that part of town have gotten frustrated with their customers having to walk over boards to access stores and offices.
The new sidewalks and street lights will look great once the job is done, similar to downtown Chickamauga, but the appearance of downtown isn't as big a problem as the issue two councilmen pointed out – we don't have enough parking spots already, and Phase II of the project will take away as many spots on the West side as Phase I took away on the East. Without parking spots people won't come downtown to shop, eat, or do unnecessary business no matter how good the sidewalks look.
Instead of spending more money on sidewalks and planters, the city should invest into commercial real estate and turn an eyesore into a convenience. The old Walker Messenger building on the corner of Duke and Patton has no historical significance since it was built in the 1960s, plus it's ugly and outdated – making it into parking would be convenient for courthouse visitors during the day and double the number of spots available for business customers in the evening and at night. The building has been listed for sale several years – LaFayette's city fathers should work out a deal with News Publishing Co. (the property owner) and give downtown merchants what they need most: a place for their customers to park.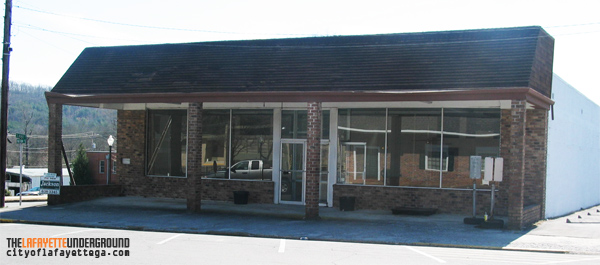 Council discusses purchasing a new Ford F-150 pickup truck for the golf course. The new truck would replace one already at the golf course, older golf course vehicle will then be given to animal control as a replacement for a truck that department totaled. City dogcatcher is currently using vehicle borrowed from Walker County Animal Control. Council discusses virtue of buying locally at Jackson Chevrolet or getting the truck from an out-of-town dealer for $2,000 less with a longer wait. Getting the cheapest vehicle possible requires waiting 13 weeks for a "government package" truck only available from Prater Ford in Calhoun or Brooker Ford in Dalton. Brooker charges $63 more than Prater for the same vehicle but is a closer drive for service. Council debates over $63 for at least 15 minutes, finally votes 3-0 to buy the truck from Brooker for $14,500. Most funding will come from totaled truck insurance payments.
Every council meeting it becomes clearer and clearer that the council's number 1 priority is the golf course. Why does a truck totaled by Animal Control lead to a new vehicle for the golf course? Animal control provides a valuable service to LaFayette taxpayers and probably drives more miles each week than a golf course truck that just goes back and forth from the golf course, the post office, to lunch, and to somebody's home every night.
The council's priorities are also shown in the way they debated for so long over $63 a few moments after approving projects that will cost the city $41- and $45-THOUSAND dollars without blinking an eye. They additionally showed how little concern they have for local businesses when they chose a Dalton truck dealer over Jackson Chevrolet for a difference of only $2,000. Jackson pays city and county taxes and employs more than one local resident – that two-grand won't be much of anything compared to what the city will lose if the Jacksons pack up and leave town. The truck is a waste, but if they have to buy it it ought to be bought from the LaFayette dealership. This is the second meeting in a row councilmen have voted for buy a vehicle from a non-local dealer.
Motion made to give Unique Fabricating South a quit-claim deed for their property on West McCarter Rd. Unique paid off their loan to the city development authority and requests that LaFayette officially end its right of reversion for the land. Approved 3-0.
Recreation Department equipment bids are discussed. Council votes to buy balls from VSN Equipment (?) and baseball shirts from Precision Embroidery of Rock Spring. Total costs are $8,600. Rec Photos are discussed, council votes to continue using LifeTouch Photography for sports photo packages. Packages will cost $7 per participant, city gets a 25% cut.
Item 10 regarding bids to purchase gravel for Lowell Green softball fields is tabled, council wants to find a cheaper gravel supplier. Item will be discussed again in March meeting.
The softball field project is absolutely endless. It began in early 2008, has been moved twice, and has exceeded its original budget by more than 400%. Fields were supposed to open last April, then last June, and by the February meeting the city had set a goal of having them usable by this April. It's good they wanted to save money on gravel for the parking lot, but saving money on the project should have been considered before they spent over $900,000 of city road money to build three softball fields in a swamp. More on this in future meeting notes – LaFayette's softball field debacle is hardly over.
Public Works Director Vanessa Gossett asks to purchase a new sand spreader. The old spreader is on its last legs, having been used by the city at least twenty times. Gossett says the new spreader and old spreader can be used concurrently, helping the city clear streets faster during an ice or snow situation. She also confirms the department has space to store a second spreader unit. Mayor Florence praises Gossett and Public Works again for how quickly streets were cleared during this January's storm. City employes in crowd comment positively about public works sweeping up sand and gravel for reuse and safety. Council votes 3-0 to approve low bid of $11,092 from Cherokee Truck Equipment of Chattanooga.
Back in January the Underground suggested LaFayette get a second drop-in spreader for emergencies. Meeting comments also clarify questions asked here about why the city ran sweepers a week after the snow – although it's still unclear why they did such a spotty, slow job in actually sweeping up the gravel and sand if the plan was to reuse it. There's still some out there on side streets nearly four months after the snow melted.
Councilman Tallent makes a motion to purchase replacement batteries for 21 golf carts. Each cart requires a set of six $100 batteries. City has 58 carts, 33 of those already had battery sets replaced at $75 per battery (or $450 per cart). If properly maintained batteries should last 3 to 3-1/2 years. Tallent says all carts have now been paid off, city was leasing them for $4,000 to $5,000 per month but now owns all carts outright. The carts now "aren't in great shape as far as looks" but without paying for leases city should amortize battery costs in 3 to 8 months. Council votes to buy new cart batteries; unclear exactly how many but official minutes say 21 sets, meaning 21 sets of six at $100 each, or $12,600.

Bill Craig comments that 100 people had played golf the previous sunday and many had to walk due to carts not working. Conversation breaks out and many city employees (including Craig and Mayor Florence) say they played a game over the weekend.
Continual investment into the golf course is throwing money down a black hole. By the time the city breaks even on its new golf cart batteries the worn-out carts will need replacement. Instead of continually chasing its tail, the city needs to privatize or shut down the course. Discussions between city employees about how many of them played reenforces what the Underground has said all along – the course is just a toy for the councilmen and city employees that provides little benefit to the city as a whole. It's great that 100 people played in a single day, but if a majority of those players were city employees that means a good number of those players didn't pay for their game.
City Manager Johnnie Arnold notes that the city's costs for snow removal are now actually $24 or $25 thousand, not the $45,000 originally reported to the newspaper. Arnold also notes that there was no FEMA declaration of emergency made in regards to the January snow, meaning the city won't get 75% of those costs back from the federal government. Arnold notes that there's a three-month window when a disaster can be declared, giving the city a slim hope of being reimbursed. Mayor brags on city departments for quick snow cleanup, third time he's done so in two concurrent meetings.
As previously noted, the city only inflated its snow removal costs in order to get FEMA money. Now that the FEMA funds are unlikely to appear, city has reasons to cut back on its estimated costs to something more acceptable for taxpaying citizens.
Brave Citizen asks for an update on the Otting International property on McLemore St. being purchased by HERO Biomass. Council says buyer [name not spoken during meeting] has met with city attorney and will need approval from the Federal Aviation Authority about using adjoining land, because the facility cannot block airport glide slope. Codes department says other preliminary work on the site has been approved.
Barwick-LaFayette Airport is supposed to be a draw for businesses, but in this case it might interfere with a potential employer moving into town. FAA rules that block buildings near the airport from rising above a certain point may discourage HERO from using the old Otting facility, costing LaFayette a promised 100+ jobs. Since the February meeting there has been no further mention of HERO or the Otting facility.
Councilmen dismiss for closed session to discuss property. No further motions made as result of closed session. Council meeting adjourned.
Documentation: Official City of LaFayette Minutes From 12/14/11 Meeting