2011
06.30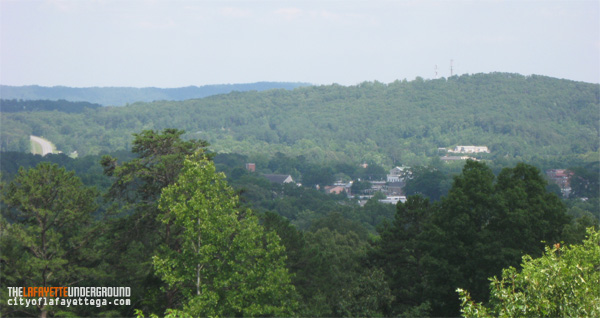 In case you missed it, here's a portion of discussion from the LaFayette Underground Facebook Page last Monday morning:
Underground: Good news: City crews are mowing rights of way around town. Bad news: it takes three guys to run one tractor.

My observation was a tractor followed by a city pickup truck, the truck is following to keep people a safe distance from the tractor which is totally appropriate. The problem is that other worker who looks like Larry the Cable Guy riding in the passenger seat of the truck. That's costing us a lot of money for nothing – shades of the three-man plow truck all over again.

If the city would properly supervise and guide employees we could save money and get better results at the same time. It hurts me every day thinking about how badly we need a change here in LaFayette.

Facebook Reader: How many city employees does it take to change a light bulb?

Underground: First it depends on where the bulb is. If it's at the golf course or airport there's a guy standing next to the light with a spare bulb in his hand all the time ready to change it just in case, for safety purposes. If it's on Duke St. or anywhere east of Main St., three guys will come change it within 6 hours of the burnout.

If it's between Main St. and Chattanooga St. anywhere from three to six guys will show up and change it in a couple weeks if anybody complains. West of Chattanooga Street they'll only change the bulb if they can get a federal or state grant or we do five articles about the bulb on the LU Web site and Wayne Swanson reads some of them.

If there's FEMA money involved they'll send ten guys to change the bulb anywhere in town, then come back three more times in the same week to change it again just to make sure it's OK.
Of course we were being facetious, but the essence of this is sadly true. Much of LaFayette is ignored by the Powers That Be, with little done to pave roads, clean up trash, or stop serial arsonists before they destroy entire neighborhoods. LaFayette residents are getting used to being on their own with brush removal, finding water meters, cleaning up the lake, and even tracking down meat thieves.
Like anywhere else, the City of LaFayette has good employees, adequate employees, and a few bad eggs (hopefully no more arsonist firefighters, murderer cops, or child molester tennis coaches). But any group of people, even good well-intentioned people, that don't have good leadership will sink to the lowest common denominator. Uneven, inadequate services and law enforcement inside the city are the direct responsibility of LaFayette's elected leaders and the unelected department heads they choose to supervise everything.
Those elected leaders, however, are our responsibility. The disdain and disregard LaFayette's mayor, city council, city manager, and police chief have for a good number of the city's residents is partially about class and wealth, but also comes from the fact that far too many in the city's most densely populated neighborhoods don't bother voting in city elections or get involved with the local political process. When we don't care, why should they care?
This fall LaFayette has an opportunity to reshape its own political future. Two of the three councilmen up for a vote in November have indicated plans to give up their seats, meaning at least 2/5 (potentially 3/5) of the current leadership will be different a year from now. This fall the city will also be using electronic voting machines for the first time, giving us a better chance of having votes counted accurately than they have been in the past with paper and pencil ballots counted by FiSDOP wives.
Every LaFayette resident over the age of 18 needs to get registered and vote, get involved in their community, speak up and speak out. Good candidates with good ideas are also badly needed, to give the rest of us someone worth voting and working for. (Candidate qualification for city voting is August 29-September 9.) When few in the city vote it doesn't matter who chooses to run, but without good candidates running it doesn't matter if we vote. It seems almost impossible to do any worse, but without good new people voted in that 2/5 or 3/5 change could end up somehow being worse than the leaders we have now.
It's time to end waste like the "three-man-plow" and time to make LaFayette more than just a life support system for a middling golf course. But that's not going to happen until the people who live here stand up for themselves and take advantage of their legal rights to speak, vote, and change what ain't right in the Queen City.
Over the last few months it may feel like you've been "on your own" with the LU Web site too. We are still working on new content for this blog, and much of the discussion found here is continued in depth with more breaking news on the LU Facebook. We also have video of recent city council meetings on the LU YouTube site.