2015
10.09
Bi-Lo LaFayette is no more. Food City opened this morning at 8 AM, the last former Bi-Lo in Northwest Georgia converted to the new owner's branding.
Regular store hours at Food City will be 6 AM to midnight seven days a week, same as Walmart.
The house brand for Food City is Food Club, the same one sold at Shop-Rite. That will be a little awkward, maybe, although it's all the same as Bi-Lo's Southern Home store brand just with different labels.
LU has seen no customer reaction to the new store, so far.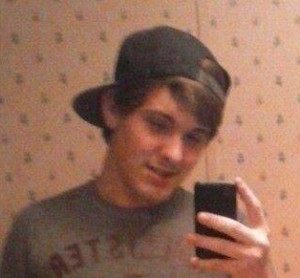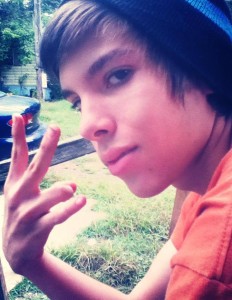 Wednesday GSP arrested Bryce Godfrey of Trion (17) and crime report regular Tim Brumlow of LaFayette (18), on suspicion of stealing a car and breaking into others.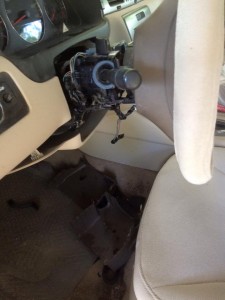 Per reports, they stole a Honda from Thornton Street in town and abandoned it on Monroe Greene Rd. towards Naomi, then broke into (and unsuccessfully tried to steal) other vehicles in that area. When picked up they allegedly had property from car thefts in a backpack.
[Photo at left is from someone on Monroe Greene whose car was broken into. Looks like an attempt was made to steal the car but they couldn't figure out how to start it after tearing the column apart.]
Brumlow has been arrested at least four different times, before this, in the last ten months. Stealing various things from family members, breaking into a house to steal guns, stealing a vehicle, drugs.. Now another vehicle theft.
His crimes are getting more serious but he still walks the streets.
Godfrey hasn't had much reported criminal activity until last month when he was picked up for trespassing and stealing a car. Looks like he's learning fast from his new friend.


Another friend of Tim Brumlow continues going out on his own.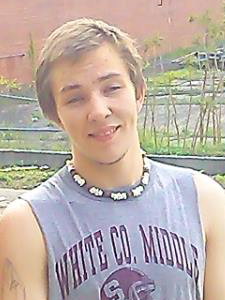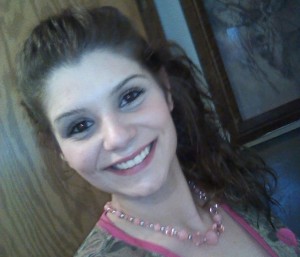 Trevor Wiley (17) and Whitney White (23) arrested for allegedly shoplifting at Walmart last Wednesday.
Store security say they attempted to steal shotgun shells, knives, and makeup.
Wiley was allegedly involved in two of Brumlow's previous crimes earlier this year. White was arrested at Walmart back in April, also for shoplifting, and was banned from the store at the time. Due to the banishment, her latest charges include trespassing.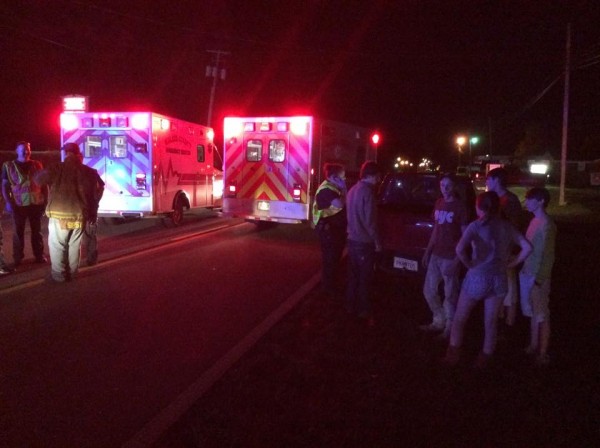 An accident on North Main a little after 9 Tuesday night involved two vehicles. A woman in one car was sent to the hospital with non-life-threatening injuries.


Speaking of wrecks…
The Ramblers faced Heritage High's Generals last night in an unusual Thursday night football game, which they lost spectacularly.
Final score in the latest LHS defeat was 30-0. Ramblers go to 1-5 for the year, 0-3 in region games.

Two more locals arrested for taking a vehicle without permission and fighting. Grown men stealing from their mamas and beating on each other like kids…
WQCH Radio, 09/29/15: "A 'STOLEN VEHICLE REPORT' LED TO TWO ARRESTS LAST THURSDAY [week ago], ACCORDING TO LAFAYETTE POLICE. 22 YEAR OLD ACEA TIMMONS IS ACCUSED OF STEALING A RAM PICKUP TRUCK FROM HIS MOTHER'S HOME ON CULBERSON AVENUE.
"SHE TOLD POLICE SHE HANDED HER SON THE KEYS AND TOLD HIM TO GET HER SOFT-DRINK OUT OF THE TRUCK. INSTEAD, HE REPORTEDLY DROVE THE TRUCK AWAY, HEADING TOWARD CHATTANOOGA STREET. POLICE SEARCHED, BUT DID NOT FIND THE VEHICLE.
"WHEN THEY RETURNED TO THE HOME, THE SUSPECT WAS THERE AND A FIGHT HAD BROKEN OUT WITH ANOTHER MAN. OFFICERS BROKE IT UP AND ARRESTED 45 YEAR OLD DALON PETTIGREW. HE WAS CLAIMING THAT TIMMONS HAD STOLEN SOMETHING FROM HIM; BUT POLICE CHARGED PETTIGREW WITH SIMPLE BATTERY.
"TIMMONS WAS INJURED IN THE FIGHT, BUT REFUSED MEDICAL TREATMENT. HE WAS CHARGED WITH FELONY THEFT BY TAKING OF THE TRUCK, AND WITH DRIVING WHILE HIS LICENSE WAS SUSPENDED OR REVOKED."
Timmons was last in the court reports during December for a public domestic dispute.
Plus: Arrests and jail bookings for Walker County, Sep 28-Oct 4.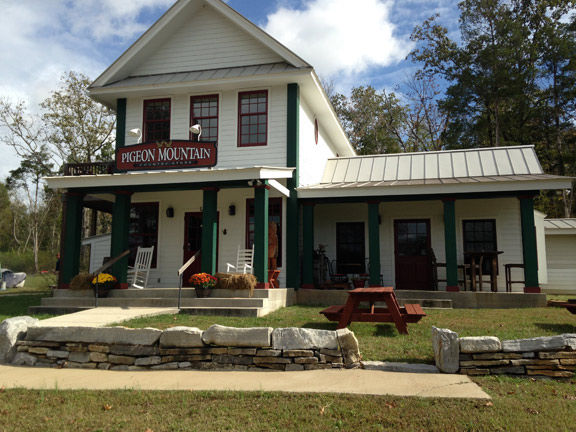 Pigeon Mountain Grill at Davis Crossroads was closed for several days this week after a burglary on Sunday or Monday.
We can't have anything nice because some jerk will steal it.


Family Crisis Center will hold a fundraiser event this Saturday at the Civic Center in honor of Theresa Parker.
(Parker was of course murdered by her LaFayette PD officer husband Sam. She never made it to the Crisis Center because her pleas for help to Sheriff Wilson, Deputy Coker, and the city police chief at the time (now deceased) were ignored.)


The train is coming!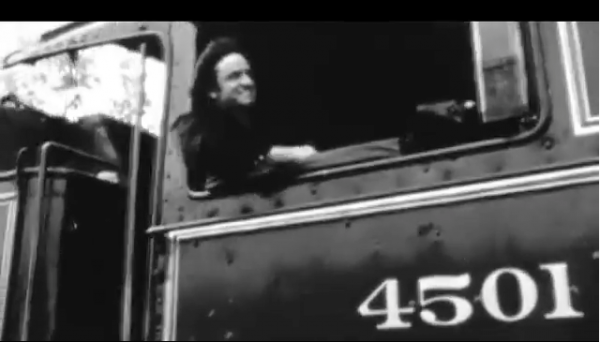 Tennessee Valley Railroad Museum's annual Summerville Steam Special resumes tomorrow and will continue every Saturday (and some Sundays) through mid-November.
LaFayette will see historic Southern Railroad 4501 coming down in the morning and back in the afternoon – great opportunity to get photos or take the kids.


A house fire Tuesday afternoon in Noble caused minor damage. The home is located in the 6100 block of North 27 is near Bell Road.


GNTC is offering free GED practice tests through the end of October. The actual test still costs money but you can take a practice test free before paying for the real thing.
Get that diploma, move ahead in life.


Monday the US Supreme Court denied appeals for four men on Georgia's death row, meaning there are now seven inmates in the state on the cusp of execution.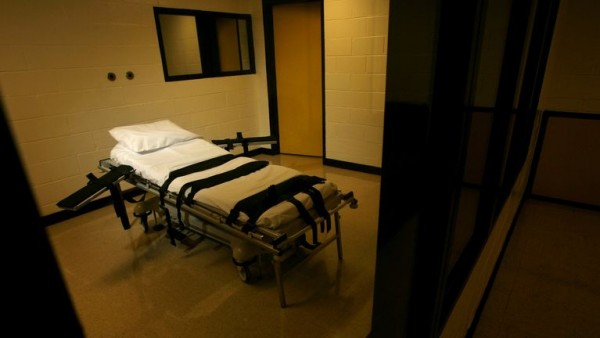 One of the appeals denied was for Brandon Astor Jones, age 72, who killed a man in a 1979 robbery. His accomplice in that crime was executed in 1986, but Jones got an appeal and years of delays because one juror in his trial decades ago had a Bible in the jury room.


If you enjoyed the recent traffic disruptions and road closures of IronMan, you'll be glad to know the event will continue in this area at least once a year through 2019, and in 2017 Chattanooga will host an IronMan World Championship event.
Except for the 2017 championship, future IronMan events will have separate days and sites for men and women to compete. Mens' events will remain in Chattanooga.
Estimated economic impact for Chattanooga is $16 million. Economic impact for Walker County is approximately six cases of beer and a package of Slim Jims.


Comcast plans to force "cord cutters" who stream TV back on its TV packages by capping monthly downloads, like the cell companies do. They're already testing the caps in several major markets, including parts of Tennessee and Atlanta, and will probably roll it out nationally if they don't get enough customer blowback.
This is why service monopolies are bad.


For today's links and any breaking news, follow the Underground on Facebook or Twitter.