2015
01.28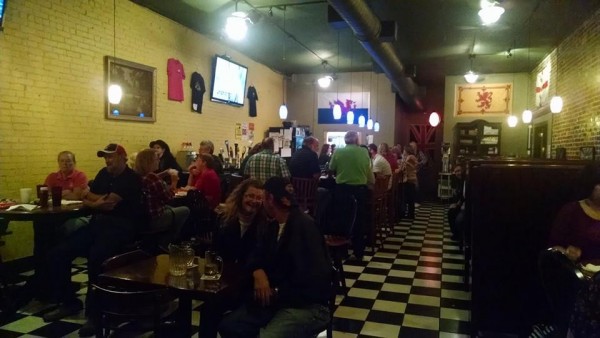 Since opening in November 2012, Chattanooga Street Tavern has been the center of drama and controversy.
Owner Mike Lovelady's political ambitions, his son's fights with employees and various sexual escapades, uninspiring food, poor location, limited parking, conflicts with the city, and regularly bad health inspection scores – capped by last February's party with legally-prohibited hard liquor – have given the establishment a troubled reputation.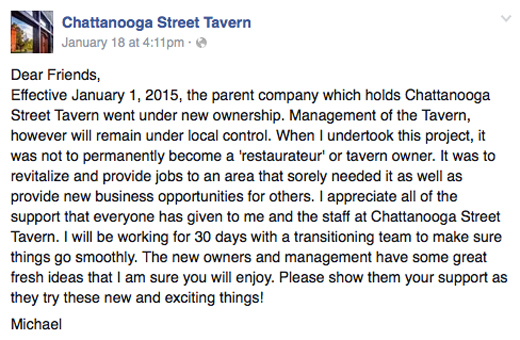 A week ago Lovelady announced he had transferred control of Chattanooga Street Tavern to a new owner, or owners, effective January 1st. He did not, however, identify the owner(s), leading to much speculation of who might be willing to take on such a troubled business and whether or not they can turn it into an eatery LaFayette might be proud of.
Unfortunately the Tavern's new leadership may have the city wishing Lovelady would return.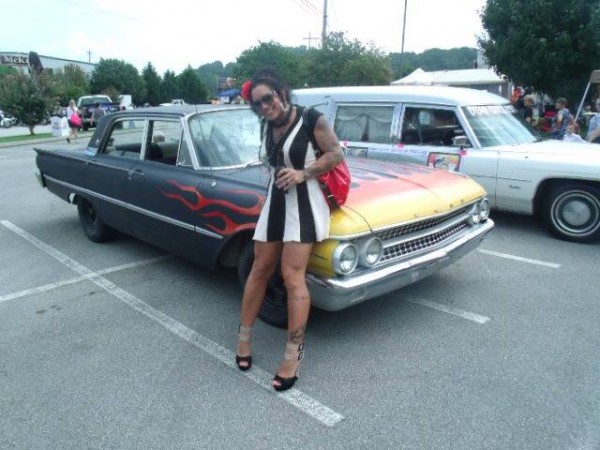 The Tavern's new owner, or co-owner, has been identified as Tabby Holcomb.
Holcomb is a nurse employed at Pruitt Healthcare nursing home (formerly LaFayette Healthcare), but LU readers will probably know her best as the bartender from last year's Valentine's Day Arts Guild fundraiser where hard liquor was sold, in violation of city law – an event that launched World War III in LaFayette.
In subsequent months, Holcomb was the Tavern's biggest advocate, biggest defender of the business' illegal actions, and openly tried to provoke the city. That's when she was just a regular; as owner her position towards ignoring the law isn't likely to improve.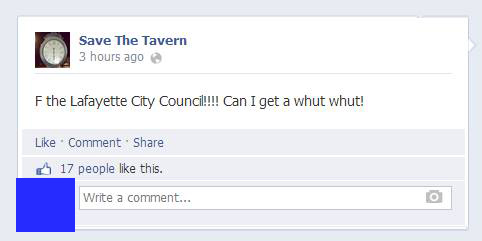 Being a professional nurse and bartender-for-hire doesn't make Holcomb an expert on running a business required by law to make at least 70% of its profits from food sales, and her presence is bound to make the establishment's menu worse than it already is. (First red flag: Tabby's initial move as owner was firing two of the few employees who actually knew how to run a restaurant.)
Holcomb, however, doesn't seem to be the "new" Tavern's biggest potential problem.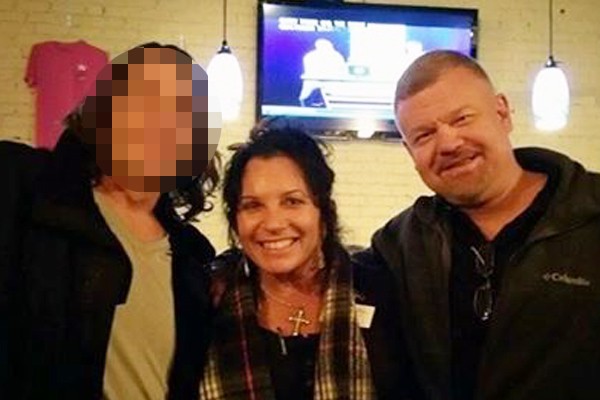 Sources say another partner or participant in the business is Darren Webb, shown above with Tabby in a photo shared on Facebook earlier this week.
Webb is an experienced bar manager.
He's also an experienced criminal, having been charged or suspected at various times of theft, bribery, building bombs, dealing steroids, operating an illegal gambling operation, insurance fraud, and arson.
Which of those skills will he and Tabby fall back on when the Tavern fails to make a profit from selling food? Gambling? Drugs? Paying (or bribing) cops to turn a blind eye? Sending the whole thing up in a cloud of smoke when all else fails?
City of LaFayette Code of Ordinances, 4-120:

"No person shall be granted a pouring permit unless it appears to the satisfaction of the city clerk or a designee that such person has not been convicted or pled guilty or entered a plea of nolo contendere to any crime involving moral turpitude, illegal gambling, illegal possession or sale of controlled substances or the illegal sale or possession of alcoholic beverages … within a period of five (5) years preceding the date of the application and is not on probation or parole."
That rule for obtaining a pouring license applies both to restaurant owners and managers. While it's not clear if Webb is an actual owner in Chattanooga Street Tavern or just an employee, any role for him within the company should be sufficient grounds for the city to refuse the "new" Tavern a pouring license.
If by some error or fluke the Tavern does obtain its business and alcohol licenses and stays open, the business' future could make its checkered past look like a Sunday School picnic in comparison.