2014
10.11
Early Thursday morning an intoxicated driver led police on a high-speed chase from Noble through town to Bi-Lo where he crashed. Authorities say the chase reached speeds in excess of 100MPH while blowing through town.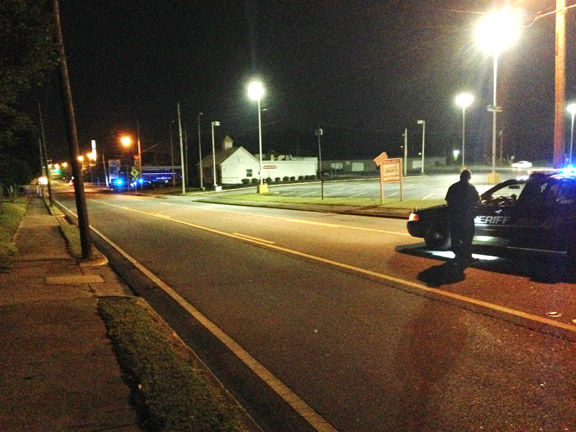 Suspect, who hasn't yet been named, was arrested on Cherokee Street. He was under the influence of alcohol and non-prescription drugs.


All week local media outlets have been pushing a story sent by the Commissioner's Office regarding a lawsuit filed by former State Court Judge Bruce Roberts.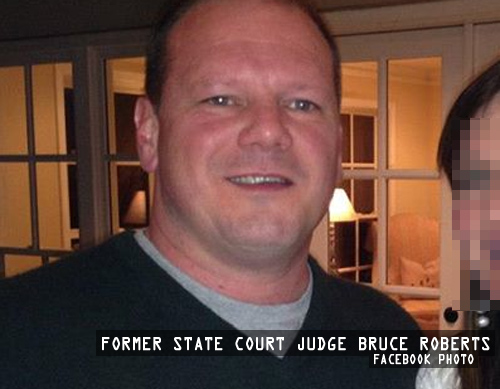 Per all those reports the county won the case, but the legal decision actually went both ways: Roberts' claim that he was underpaid by the county has been rejected, but the county's counter-suit against Roberts for dismissing traffic tickets was deemed a "frivolous claim," and the county has to pay back a portion of the ex-judge's legal fees.
Here's the actual decision. Read IT instead of the filtered press-release-based "news" reports.
Report from the Times Free Press also omits some of the facts, but adds this little gem: "Heiskell, in turn, sued Roberts, claiming he caused emotional distress to Sheriff Steve Wilson when he dismissed about 60 traffic cases after losing his re-election."
So the county and commissioner sued the ex-judge for kicking out traffic tickets, which was his right as a judge, because it made the Sheriff upset? And this is the ONLY thing Steve Wilson has ever gotten upset about? Beyond weird.
All this thing did was cost the county a lot of money. Would have been cheaper to have just settled with Roberts and give him $20k or so than pay county lawyers AND Roberts' lawyers to fight this in court for two years. (Of course it's not the Commissioner's money, it's yours and mine.)
Judge Roberts is now commuting from Villanow to Atlanta every day because he was basically run out of public service in Walker County by the Commissioner and Sheriff, in favor of noted local drunk Billy Mullinax; Mullinax is now refunding illegal court fees charged to dozens of people since he took office – a practice Roberts didn't engage in.


State Rep. John Deffenbaugh says the issue of sole commissioner government SHOULD be "up to the people" to decide, but also states he personally prefers a sole commissioner to a commission – especially if the sole commissioner supports HIM.
He refuses to say here if he'll actually listen to the 1,800 or so people who have signed LU's petition asking legislators for a vote on the matter. His November opponent, Tom McMahan, said he'll try to get it on the ballot if elected.
The House District 1 election is only for western Walker and all of Dade. Not all of us can vote, but those who can should be paying attention to this.
(The Sole Commissioner Vote Petition is one month old today. Do your part and sign.)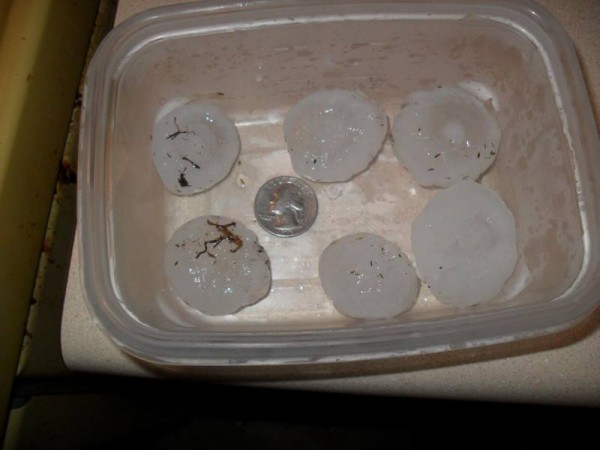 Recent dangerous storms reminds us that the best resource for online local weather coverage is Northwest Georgia Severe Weather Team. Follow them on Facebook or Twitter.


Last night Heritage devastated LaFayette in a 52-9 football blowout.
The Ramblers are now 2-3 for the season; homecoming is next Friday vs. Pickens.




Drug task force warns heroin is becoming popular in the area, gaining on meth and prescription pills due to lower price and increasing availability.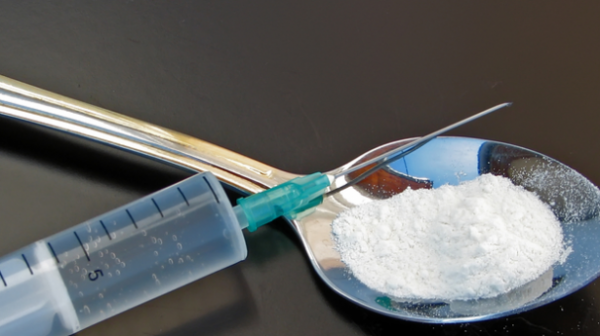 Commander Doyle says the drug is especially bad because nobody here knows the "right" way to use it. At least one overdose, in Linwood, has resulted.
Educate yourself. Figure out the correct way to abuse drugs before you begin.
Maybe the Task Force can sponsor a class? Shooting Up 101.


Whitfield County's five-member commission will hold property taxes in that county steady at 6.061 mills for a third year. That rate is LOWER than Walker County's newly adopted 7.938 mills – and their citizens actually get measurable benefit from the taxes they pay.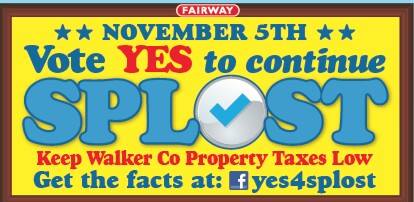 Meanwhile here in Walker, residents are recalling the now-broken promise of last year's SPLOST renewal campaign: "Keep Walker Co Property Taxes Low"
That campaign, run through the Development Authority and Chamber of Commerce, backed by county AND city leaders, was a joke then and now. A joke that's less and less funny by the day as residents begin to get 2014 property tax bills.



Tuesday night the three men hoping to be Georgia's next Governor participated in a debate down in Perry.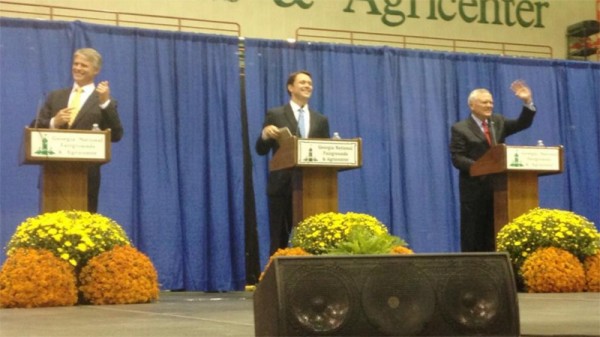 Democrat Jason Carter cited Gov. Deal's ethical failures and handling of education and employment. Libertarian Andrew Hunt promised reform of state laws. Incumbent Deal said the last four years under his watch have been "good" and promised a repeat if reelected.


Did you enjoy the loud music event at Cherokee Farms last weekend?
This weekend they're hosting another one: Fly Free Fest 2014.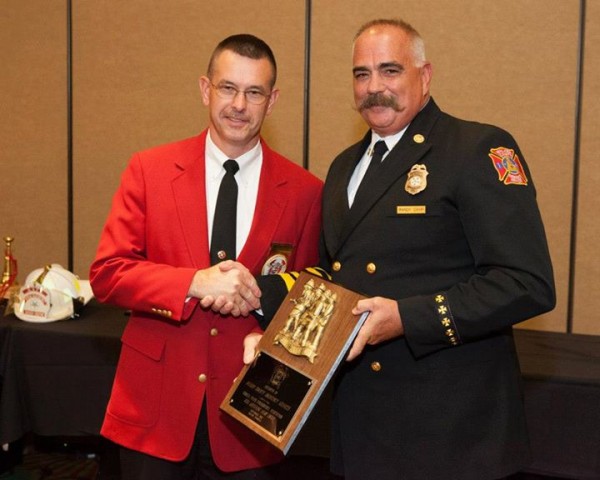 Fire chief Randy Camp and Walker County Emergency Services were recently recognized with a Life Saving Valor Award by the state's firefighter association.


If you or your child are "Star Wars" fans, you might be interested in Star Wars Reads Day at the Summerville Library. Today, 3-5 PM.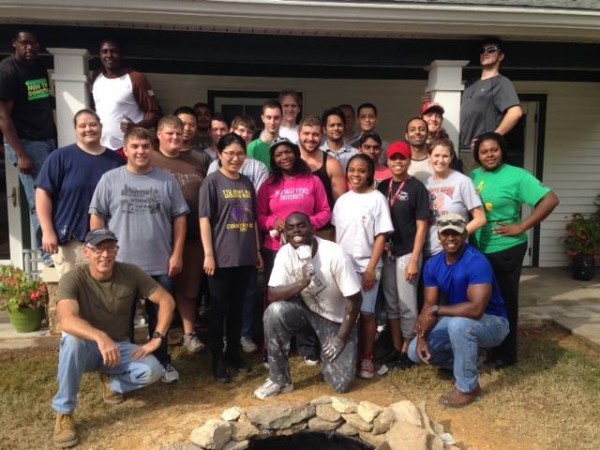 Roper employees doing volunteer service at The Cottage group foster care home.


Tennessee Valley Railroad Museum has two functional, restored steam engines available at the same time (which hasn't happened in decades) and will be making liberal use of them in Walker and Chattooga through mid-November.
Tickets are expensive but standing by the tracks waving when they pass through is, as always, completely free.


What is "civil forfeiture" ? In essence, laws that allow cops to take your property – even if you didn't do anything wrong – and then buy toys for themselves with minimal or no accountability.
The rules have put a hurt on drug dealers, but the majority of cases involve people with clean hands sucked into legal hell.
Every time the Georgia General Assembly considers reforming the state's civil asset forfeiture laws, Steve Wilson and other law enforcement leaders go to Atlanta and push them to stop it.


For today's links and any breaking news, follow the Underground on Facebook or Twitter.