2014
05.29
After years of vague empty promises, County leaders finally announced the "Project Eagle" prospect company's name: Audia Group. Audia is a Pennsylvania-based chemical company which owns Washington-Penn Plastics, the company LU revealed as the county's candidate back in March.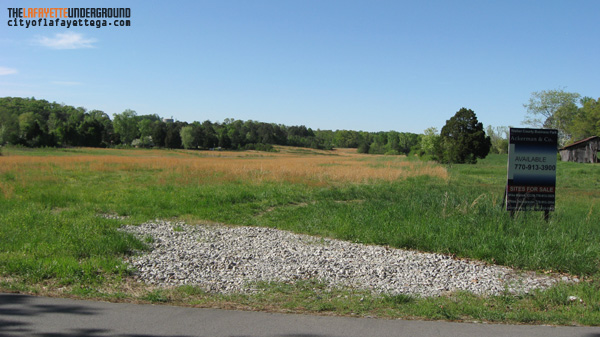 Reports claim the deal is done and Audia is moving in, but so far Walker County has only released a "memorandum of understanding" about the project, which is hardly a signed contract. Various news reports have fluctuated the amount of property involved from 25 to 50 acres, and on UCTV Wednesday night the county claimed it would take up 200 of the site's 400 acres.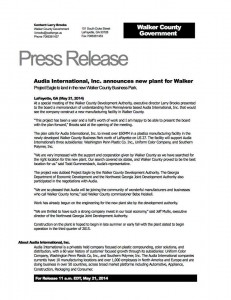 Audia Group has been completely silent so far (e-mails LU sent to the company haven't been answered) and it's unclear if this is supposed to be a manufacturing facility, a transfer station, or a warehouse. Before company details were released, county leaders said this "Project Eagle" would bring in 200 jobs, but now that the project has been announced they refuse to nail down a figure.
The company has about 1,000 employees working in ten locations, so it's likely Walker County won't get more than 100 new jobs out of the millions spent to land the facility, and none of the jobs are going to pay much more than $10 an hour. Bottom line: don't believe it until you actually see some jobs and find out if they actually pay anything.
(Two years ago the county was flooding local media with reports about fifty jobs coming in with the water bottling/fish hatchery plant in Kensington and that place never opened at all, so pardon LU's skepticism.)



LHS principal Mike Culberson fell out of a tree yesterday attempting to retrieve a model airplane. He broke his nose and both wrists, is hurt pretty badly. Surgery is scheduled for Friday.
At least school's out, but employees are still there and the school is apparently trying to make some major hiring decisions with the principal out of commission.


When businesses post fake photos supposedly showing their products, in an attempt to get people in the door, it damages their reputation and makes people distrustful.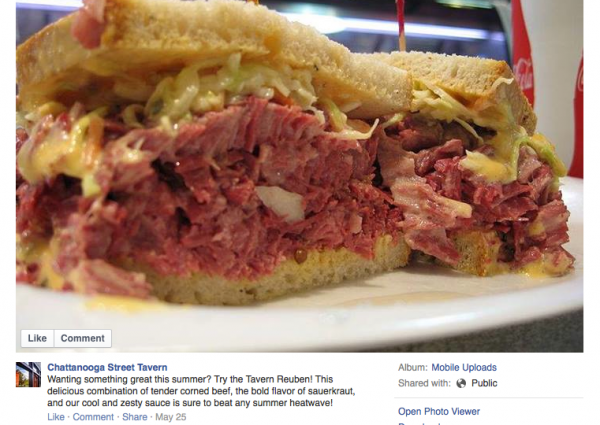 This sandwich is supposedly available at the Tavern but it's an image from Wikipedia; The Tavern Reuben might be fine but this isn't it at all. And that's not the first time the Tavern and affiliated businesses have done that: photos of the Tavern/One Eleven limo, other food items, and even Tavern beer have been faked.
Some argue that every restaurant does it, the food you see in a McDonald's commercial doesn't exactly match what you get at the drive thru because it's well-lit, touched up, and PhotoShopped – but even then the product is the company's own food. The Tavern is using someone ELSE's well-lit, touched ip, and PhotoShopped food claiming it as their own.
Is this kind of thing OK or does it reveal a pattern of deceitfulness?



LHS Marching Band will have new uniforms this fall, but band members and their boosters must repay the uniforms' cost:
WQCH Radio, 05/26/14:

"THE RAMBLER MARCHING BAND WILL HIT THE FOOTBALL FIELD IN ALL-NEW UNIFORMS, THIS FALL. LAFAYETTE HIGH PRINCIPAL MIKE CULBERSON CONFIRMED THAT THE NEW UNIFORMS HAVE BEEN ORDERED.
"THE BAND BOOSTERS HAD EXPECTED THE FUND-RAISING PROCESS TO TAKE UP TO THREE YEARS, BUT SUPERINTENDENT DAMON RAINES GOT SCHOOL BOARD APPROVAL TO MAKE A NEARLY 40-THOUSAND DOLLAR LOAN TO BUY THE NEW UNIFORMS, RIGHT AWAY. THE BAND BOOSTERS WILL REPAY THE LOAN TO THE SCHOOL SYSTEM WITH NO INTEREST CHARGED.
"PRINCIPAL CULBERSON SAID HE HAD RECEIVED AN OFFER FROM A PARENT TO START A FUND-RAISING EFFORT FOR THE UNIFORM PROJECT, AND HE FORWARDED THAT TO THE SUPERINTENDENT FOR APPROVAL. HE SAID MR. RAINES WAS SO IMPRESSED BY EFFORTS TO RAISE THE FUNDS, THAT HE PUT THE LOAN PROPOSAL BEFORE THE SCHOOL BOARD. THEY APPROVED IT AT THE MAY SESSION AND THE UNIFORMS WERE ORDERED.
"MR. CULBERSON PRAISED THE BAND FOR ITS RECENT 'SUPERIOR' PERFORMANCE RATINGS, AND HE HOLDS BAND DIRECTOR ROBERT CLARK IN HIGH REGARD FOR BUILDING THE BAND PROGRAM FROM 33 TO OVER 100 STUDENTS IN RECENT YEARS.
"IF THEY ARRIVE ON TIME, THE BAND WILL BE 'STEPPING HIGH' IN NEW RAMBLER UNIFORMS WHEN FOOTBALL SEASON STARTS THIS FALL."
So who buys uniforms for the football team..?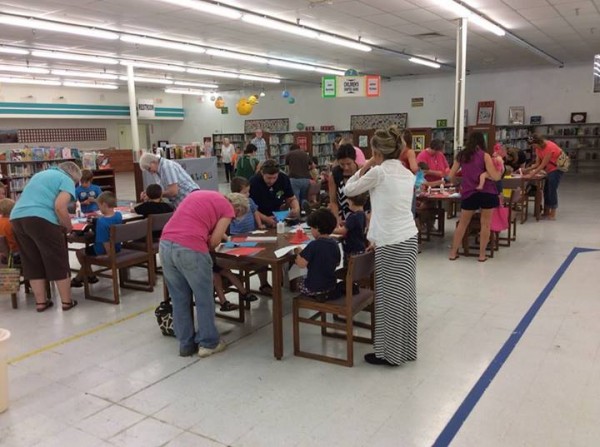 Despite what SOME people claim, the library gets a lot of use. 50+ turned out for a reading program at the makeshift grocery store library Tuesday morning.
LU has verified at LEAST four families in attendance that aren't homeless.


Rep. Steve Tarvin tells reporters when his Crystal Springs factory is completely demolished in a couple years, the site may be occupied by houses as part of an exclusive "gated community" in the heart of Chickamauga.
A 110-year-old manufacturing facility that added jobs and character to the town is potentially being replaced by a mediocre whitebread McMansion subdivision. Yes that will certainly make Chickamauga a better place to live.


Judge Sam Finster was rejected by Chattooga Co voters last week in a three-way race. Finster made headlines last year for illegally charging defendants "court fees" to make accusations go away. (He said he wasn't aware the practice was illegal.)
Finster blames news reporters and social media for his defeat.


Be careful shopping at Walmart La Fayette – they don't seem to care much about pulling expired meat out of the cooler. Pics below taken last Friday:
Local Walmart employees defend their stock rotation (or lackthereof) and say customers should be responsible for checking dates themselves. Walmart corporate gave a more sympathetic response on Twitter.


Latest local arrests, May 15-21.
Post from another news source with some overlap, report for May 19-25.


GA's Department of Juvenile Justice has a 50% employee turnover rate each year – that's worse than a lot of fast food restaurants. Reasons cited for employees leaving are low pay and bad working conditions. The number of employees leaving each year means a lot of supervisors (tasked with the care of incarcerated children) aren't qualified for their positions.


Bridge over I-24 in Dade County added to list of road projects that won't happen, at least not on time, after federal highway fund runs out of cash this summer.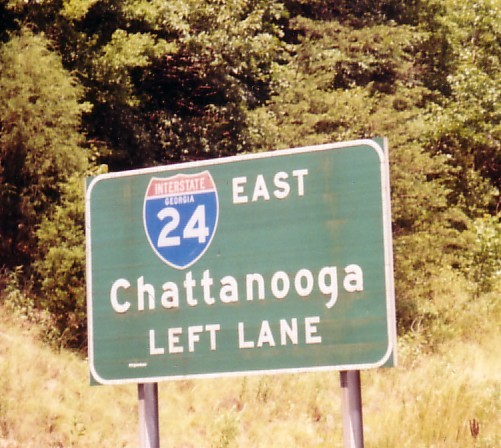 Proposed fixes to the funding shortage are raising gas taxes, raising taxes on businesses, or taxing cars per mile driven instead of taxing fuel.
Not suggested at all: Cutting out waste at the state or federal level and redirecting the savings to road work.
(Meanwhile the State of Georgia has committed about a half billion dollars to building a new stadium for the Falcons.)


GA announces plans to work with a European pharmaceutical co. to begin testing marijuana-derived medication at two state colleges.



Sandy Springs, GA has a law banning the sale of.. adult toys.. inside city limits. A citizen lawsuit over the rule may be heading to the US Supreme Court.


For today's links and any breaking news, follow the Underground on Facebook or Twitter.