2012
11.05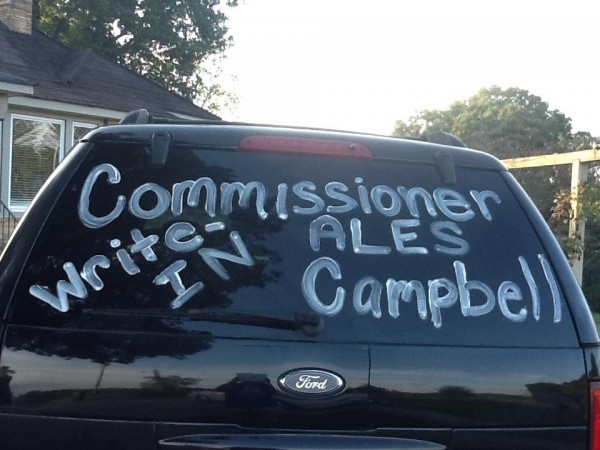 Tomorrow is election day. Just one more day of insanity, and then a break. This year's election has been especially heated, and people in this area have turned out to early vote in record numbers:
11/3
WQCH Radio, 11/03/12: "ADVANCE-VOTING HIT A NEW RECORD FOR WALKER COUNTY, AT 33-PERCENT. BARBARA BERRY WITH THE VOTER REGISTRATION OFFICE SAID THE TOTAL OF VOTES CAST IN-OFFICE, IS 10,081, AND 875 MAIL-IN VOTES HAVE BEEN RECEIVED – FOR A TOTAL ADVANCE VOTE OF 10,956. THAT'S AS-OF THE CLOSE OF ADVANCE VOTING ON FRIDAY AFTERNOON.
"WITH 32,883 REGISTERED VOTERS THAT'S 33-PERCENT VOTING BEFORE ELECTION DAY, NEXT TUESDAY. BERRY SAID IN 2008, ADVANCE VOTING TOTALED 15 TO 20-PERCENT OF REGISTERED VOTERS HERE."
As noted on LU last week, Walker County only had 36% turnout for the entire July primary – some 11,808 votes cast. In July 10,444 (or 30% of registered ) voted for commissioner. That means more EARLY votes have been cast for this election than total votes for the Commissioner primary vote in July.
Are Walker County voters that excited about the presidential race, or being driven by the heated battle for Sole Commissioner? If every voter is looking at President, the incumbent Commissioner has an edge. If people are this excited for the local race, write-in candidate Campbell is the likely winner.
Election (or maybe ejection) news, commentary, and results will be posted throughout the day tomorrow on LU Facebook and posted here for the Wednesday Daily Update.


Over 1.6 million people early voted in Georgia. That's also a huge turnout, but slightly lower than what was seen in 2008 when more were excited about the presidential race than this year. The higher percentage of early voters (comparatively) in Walker than in all of Georgia is a good sign that excitement here is more about the local vote.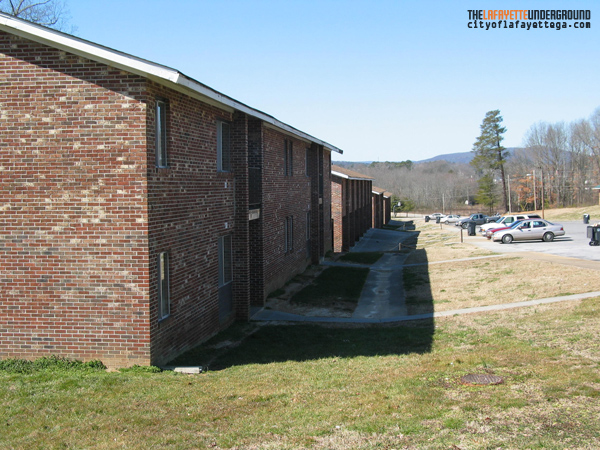 WQCH Radio, 11/02/12: "AFTER NUMEROUS DELAYS, LAFAYETTE'S HOUSING AUTHORITY HAS STARTED WORK ON A 5.6-MILLION DOLLAR PROJECT.
"J.M. WILKERSON CONSTRUCTION GOT THE CONTRACT AND WORKERS ARE REMOVING ASBESTOS NOW, FROM 4 BUILDINGS ON FOSTER CIRCLE. THOSE SUB-STANDARD 2-STORY BUILDINGS, A TOTAL OF 30 APARTMENTS, WILL BE DEMOLISHED AND REPLACED WITH NEW SINGLE-STORY HOUSING UNITS. OTHERS WILL BE BUILT ON THE SIGHT OF THE FORMER HILL HIGH SCHOOL ON CULBERSON AVENUE AT STEELE STREET. SOME DEMO WORK IS ALSO REQUIRED AT THE OLD SCHOOL, WHICH BURNED DECADES AGO. .. THE TARGET COMPLETION DATE FOR ALL 30 NEW UNITS IS JULY OF NEXT YEAR.
"HOUSING AUTHORITY DIRECTOR RUTH BASS SAID DELAYS HAD NOTHING TO DO WITH FUNDING. 'IT WAS ALL JUST RED-TAPE IN THE PROCESS OF GETTING APPROVAL', SHE SAID. THE HOUSING AUTHORITY HAS BEEN SAVING FOR THE PROJECT SINCE 1993, TUCKING-AWAY MONEY FROM LOCAL OPERATIONS AS WELL AS 'CAPITAL FUND MONEY' RECEIVED FROM 'HUD' EACH YEAR. GROUND-BREAKING WILL BE HELD IN ABOUT A MONTH, BASS SAID."
LU first told you about this project way back in September 2010. The plans were done and families had been moved out of the apartments meant to be torn down, but they couldn't get going simply because the federal Department of Housing and Urban Development wouldn't give an OK.
Since then, HUD also tried to force the Housing Authority to give BACK some of the saved funds, punishing the authority for being frugal. LHA finally got a ruling that allowed them to use saved money for this project, and the red tape has been unraveling.
Ridiculous it took about three years to start tearing down buildings after the project was first set into motion and four years to get the new apartments done, but that's what happens when you deal with the United States government.


More than a month into fiscal 2013, Walker County still doesn't have a 2013 budget. The county is bringing in less money than in 2012, but is running on last year's budget until sales tax negotiations are finished- which might take six months. That means the county will probably run out of money before it runs out of year.
Regardless of who ends up as commissioner in January, it will be difficult to avoid raising taxes if every county department spends 5-10% more than it should for six months of the year due to poor leadership.


Ramblers football will face the Cass Colonels at home this week for their final game of 2012. LHS is 1-8, Cass is 4-5. Here's a look at Friday's 47-7 loss to NW Whitfield.


More info on the lawsuit Judge Roberts filed against the county, including a statement from Commissioner Heiskell.


One of the restored storefronts on Chattanooga Street, next to Chattanooga Street Tavern, will soon be home to Heirlooms Vintage Rentals. What do you think of the renovation?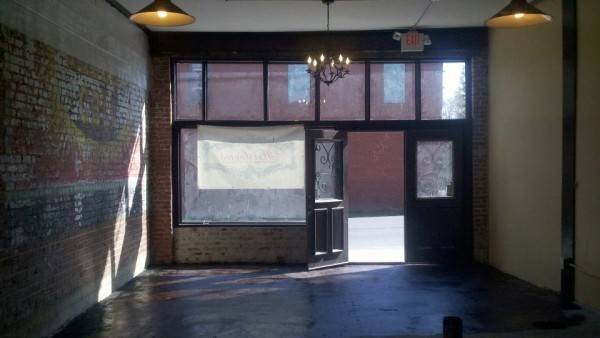 Post Offices in Lyerly and Menlo will not be shutting down, but both will run with reduced hours. Lyerly will be open four hours a day, Menlo will be open six.


Another look at the Charter Schools Amendment. Just one more day and all this will be over…
A lot of people making arguments against the charter amendment point out how many out-of-state interests have contributed money to the groups in favor of the amendment. But a lot of money contributed to the anti-amendment movement is ALSO out of state, and almost none of it comes from classroom teachers in public schools.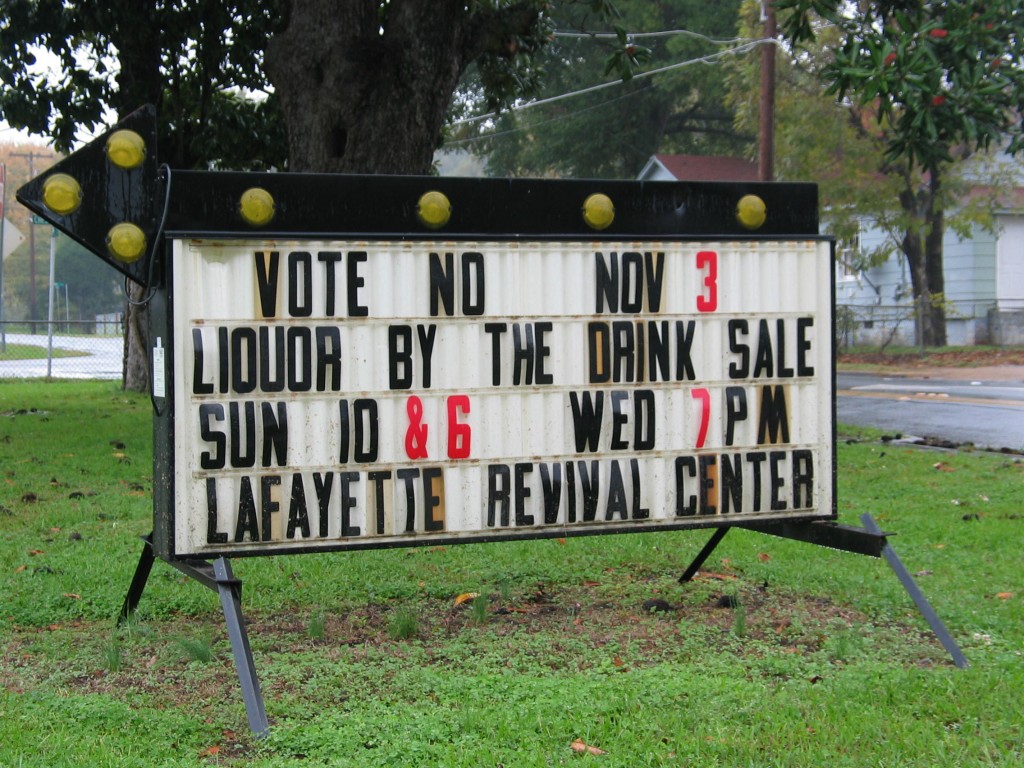 THREE years ago this week on the LU Blog, discussion focused on LaFayette voting on "liquor by the drink" within city limits.
TWO years ago, LU focused on what became known as TSPLOST, or "SPIDITSLUT" – a special 1% sales tax funding roads so general tax money in Georgia can continue being wasted. Voters in all but two regions of the state rejected the ridiculous tax this July. Much of what's said in this piece turned out to be dead-on, and some of the statements apply to other state and local government initiatives besides TSPLOST.
This is one of our all-time favorite LU blog quotes:
"Why are roads made a last priority in the budget, taken care of after so much unneeded junk and waste? Because important budget items can be pushed to the edge and still find voter support. Citizens of Georgia wouldn't vote in favor of a tax to cover state senator paychecks, Georgia Dome renovations, Atlanta airport expansion, MAGLEV train studies, or new misspelled signs for highways renamed after Civil War soldiers – but when those items are paid for with general fund monies, taxpayers willingly approve new taxes for core government responsibilities like roads, schools, and public safety."
Same thing can be said about local SPLOST, except they barely use SPLOST for roads after wasting it on more special projects.

Nice little write-up on CJ's Southern Traditions in the Times Free Press. Support local business by eating in local restaurants.


In January the state will open a new court dedicated to handling tax-related issues. This is a pilot program that could lead to a permanent set of tax courts around the state.

For today's links and any breaking news, follow the Underground on Facebook or Twitter.