2016
03.14
Election registration in Walker County ended with a whimper Friday at noon with very few challengers signed up for most local races.

Congratulations to Steve Wilson, DeWayne Wilson, Carter Brown, Carolyn Walker, John Deffenbaugh, Steve Tarvin, and a handful of other local leaders who automatically get another term for lack of anyone willing to challenge them in the election. They'll be coronated back into their respective positions in January.
What races are competitive? County Commissioner, Georgia Senate District 53, and two School Board seats.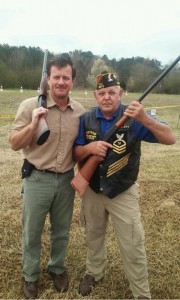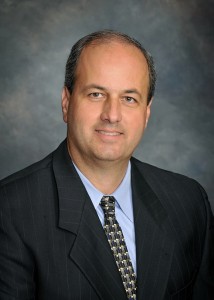 Mike Peardon and Shannon Whitfield will face each other in May to become the Republican nominee for commissioner. One of them will go on to face incumbent commissioner Heiskell and Perry Lamb, who have both said they intend to run as independents. (Independents don't have to actually register until June, so the final lineup for Commissioner in November could still change.)
Phyllis Hunter will be challenged for School Board post 1 by political newcomer Casey Eady, both running as Republicans. Dale Wilson's position on school board post 4 will be challenged in November by the only Democrat who registered, Vincent Murphy.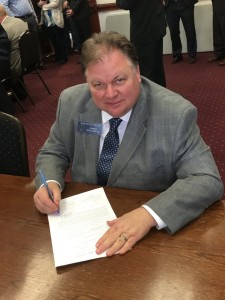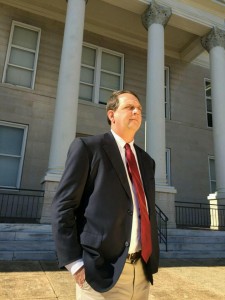 Senator Jeff Mullis will be opposed in May by Trion teacher/coach/politician Lanny Thomas. The winner of that race will take the prize since there's no independent or Democrat challenger.
At the federal level, Mickey Tuck has registered to run for US Congress against current District 14 Representative Tom Graves. (LU takes no position on federal elections, this is just an FYI.) Their race will also be decided May 24th on the Republican ballot.
Now that election qualification is done, it's time to find out what candidates are made of.
LU will be doing Q&A interviews with candidates in contested races soon; if you have a question that should be included, let us know. Comment here or e-mail lu @ lafa.ga .





Another mom of the year candidate.
WQCH Radio, 03/12/16:

"ALCOHOL WAS BLAMED FOR A LOCAL WRECK THIS WEEK, AND A MOM WAS CHARGED WITH ENDANGERING A CHILD BY DRIVING UNDER THE INFLUENCE.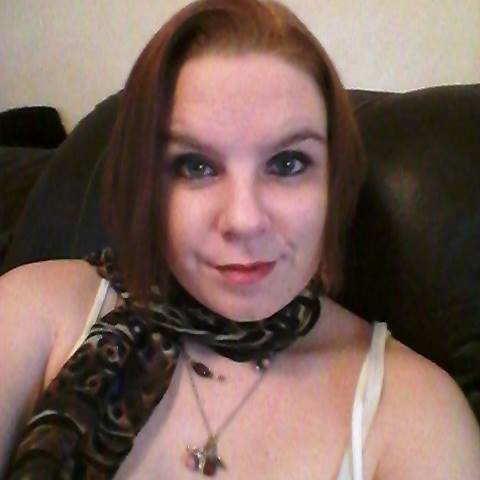 "THE 2-VEHICLE WRECK HAPPENED AT CHATTANOOGA STREET AND THOMPSON, ON MONDAY AFTERNOON. POLICE SAY THE DRIVER AT THE THOMPSON STREET INTERSECTION PULLED INTO THE PATH OF A SOUTHBOUND VEHICLE ON CHATTANOOGA. NO ONE WAS SERIOUSLY HURT.
"POLICE ARRESTED 27 YEAR OLD ASHLEY ROSE VICKERS AND CALLED HER HUSBAND TO PICK UP THE 2 YEAR OLD CHILD THAT WAS INSIDE THE VEHICLE WHEN THE WRECK OCCURRED. SHE WAS ALSO CHARGED WITH FAILURE TO OBEY A STOP SIGN.
"MS. VICKERS FAILED A SOBRIETY TEST AT THE WALKER COUNTY JAIL, ACCORDING TO THE POLICE REPORT."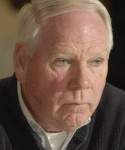 Sympathies to the family of Virgil Sperry, who passed away Friday.
Sperry was a retired businessman who in recent years served as a member of the county Development Authority.
He's also been a major backer of the county animal shelter, local library system, and humane treatment of animals elsewhere.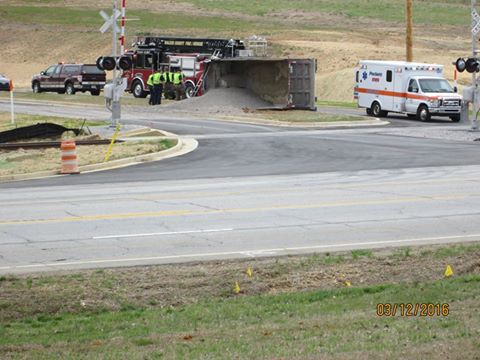 An accident claimed several tons of gravel Friday when a contractor's dump truck turned into the Audia industrial site too fast and flipped.
No injuries were reported beyond maybe hurt feelings.


Pro tip to the tiny group of people challenging incumbent politicians in Walker County: The local media won't cover you unless YOU send them your story ready to print or read. They're not going to seek you out, except for maybe to ask your favorite TV show and church affiliation.
Send out e-mails, both to media and supporters. Regular press releases. Post on Facebook every day. Speel chick is youre frind. Promptly answer e-mails, phone calls, online messages, and social media posts. (Most people figure if you don't answer an e-mail or return a call when you're a candidate, you won't do it once you're a politician.)
Wear real shoes, maybe a tie sometimes. If you paid $3,400 to register as a candidate, spend a few more dollars on clothes and a good haircut.
This stuff isn't that hard but it seems to be something too many people forget. Good candidates with good ideas fall to the wayside because they don't approach campaigning the right way.
(And probably don't ignore LU. Nobody admits to reading it, but somehow everybody knows what's said here anyway.)


Local "couple" busted for underage drinking, drug possession.
WQCH Radio, 03/10/16:

"TWO LAFAYETTE RESIDENTS WERE CHARGED WITH PURCHASING ALCOHOL UNDER 21 YEARS OF AGE, POSSESSION OF MARIJUANA AND XANAX, LAST WEEK.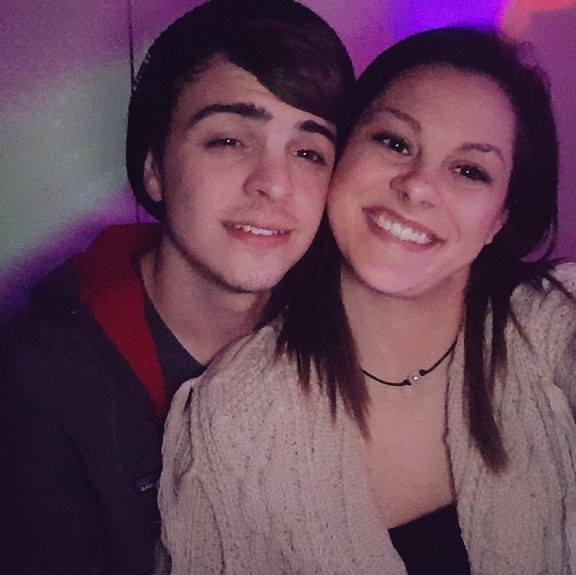 "POLICE OBSERVED 18 YEAR OLD LEVI SHANE EDGEMAN EXIT THE NORTH MAIN STREET KANGAROO STORE AT 1:30 IN THE MORNING, CARRYING BEER, KNOWING HE WAS UNDER-AGE.
"WHEN THE CAR WAS STOPPED AT AMBERWOOD APARTMENTS ON WEST-NORTH MAIN, THE OFFICER SAID HE SMELLED MARIJUANA. INSIDE THE CAR, A SMALL AMOUNT OF POT AND XANAX PILLS WERE FOUND, AND BOTH OCCUPANTS OF THE VEHICLE CLAIMED THEM.
"IN ADDITION TO EDGEMAN, HIS PASSENGER, 20 YEAR OLD TRISTEN NICOLE YOUNG, WAS CHARGED WITH POSSESSION AND UNDER-AGE ALCOHOL."
Where's the arrest report for the person who sold (or gave) the alcohol to Edgeman in the first place?
Plus: Walker County arrests and jail bookings, March 3-9.
Broome, Walker, Young, Edgeman, Vickers, Simpson, Miller, Smith, Scott, and more. The gang's all here!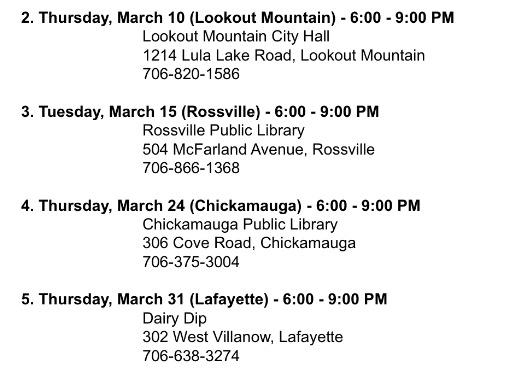 Commissioner candidate Mike Peardon has been meeting with voters around the county and continues to do so, in Flintstone and Lookout Mountain last week, Rossville tomorrow, and then on to Chickamauga and LaFayette.
You don't have to pay $200 to sit at a table and meet Mike, in contrast to.. someone else running for the same office.


Telephone scams run by inmates inside Georgia prisons using smuggled mobile phones continue, even after the arrest of nearly 50 prison workers across the state.
A recent raid on Jimmy Autry State Prison in Camilla produced 28 illegal phones and even scripts inmates have been reading to potential victims, demanding immediate payment for fake overdue fines and fees.


When Back Alley Productions finishes remodeling Mars Theater, they're planning performances that will make the facility a "theater for everyone."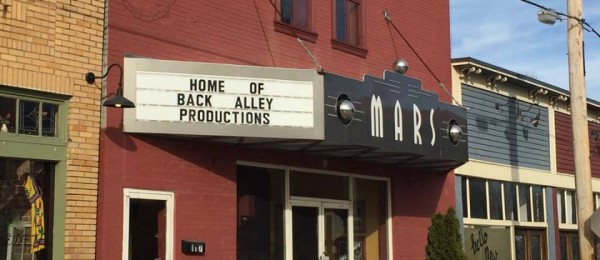 The first show – "Death of a Salesman" – will be held there in May, auditions for that performance begin on site today.
Their second performance later in the year will be "The Importance of Being Earnest in the Zombie Apocalypse."


In Georgia, DNA evidence isn't enough to automatically get a convicted killer a new trial.
Devonian Inman has spent ten years in prison for murder, and new DNA evidence strongly suggests that he isn't guilty of the crime – but he's so far not been given another chance in court to prove it.
We're all for justice, when somebody commits a crime they ought to be punished for it. But if evidence that wasn't originally available shows that they could very well be innocent, and someone else who did the deed is free, then the state has a responsibility to make sure the man gets his day in court.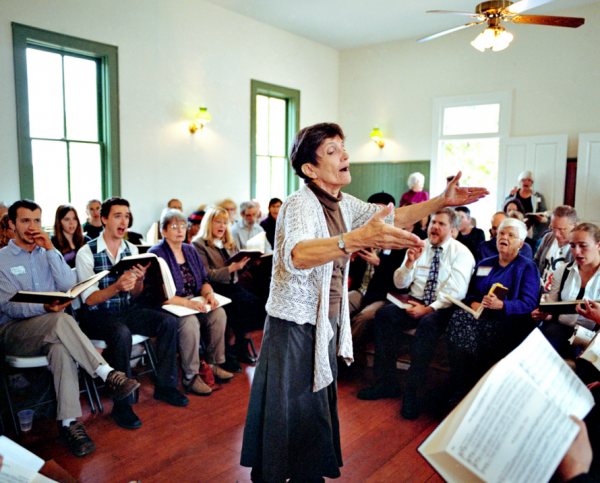 Is church music entertainment or worship? Seems like in most churches now the music is for listening, not singing – and a lot of it is written for that purpose.
Back in the day, EVERYBODY sang, using music written to accommodate every voice. That old style hymn still exists in pockets all over the country, and it's attracting even non-believers to join in.


For today's links and any breaking news, follow the Underground on Facebook or Twitter.