2013
02.25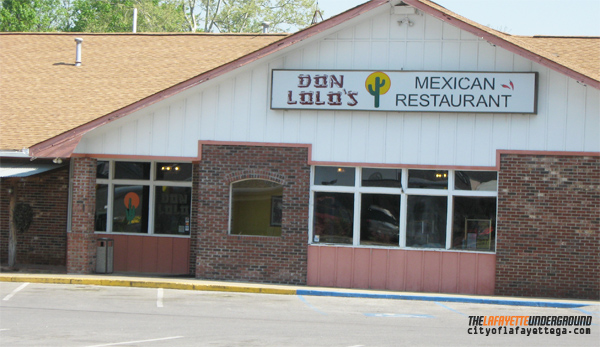 Don LoLo's Mexican Restaurant was closed for business during dinner Friday and all day Saturday and Sunday. A sign on the establishment's door said it was closed due to a family emergency and would reopen Monday. However, customers and several employees report being told the store closed temporarily because of a "gas leak" requiring extensive repairs.
DLL has had issues with paying its employees on time and in full, naturally leading to speculation that the oldest of LaFayette's three sit-down Mexican eateries might have closed due to financial problems. (Two conflicting stories about the untimely closure just make those concerns stronger.) Hopefully there was just a family emergency or gas leak, but if the restaurant doesn't reopen for lunch today there's a good chance it never will.


Ringgold cop Tom Evans was dismissed last week as result of an investigation into special treatment he provided to an intoxicated woman who exposed herself to him and an equally intoxicated FBI agent. The woman is married to one of Catoosa County's wealthiest men; the drunk FBI officer is Ken Hillman, special agent in charge of investigating sex crimes against children. The fired officer's WIFE is Assistant District Attorney Beth Tate, who frequently prosecutes cases made by the Hillman and the FBI.
But the cheap mystery novel plot doesn't stop there.
The FBI is also investigating Agent Hillman separately for providing non-officers access to his office. That investigation is causing doubts about the entire "Crimes Against Children Task Force" which Hillman leads (or led until it apparently shut down). Hillman and his office have close ties to many in local, state, and federal law enforcement; officers from GBI, Dalton and Rossville PD, and Walker and Catoosa sheriff offices were part of his outfit.
More than a few local law enforcement leaders and employees of the district attorney's office might well be losing sleep over this and what else the FBI could stumble into.


WQCH Radio, 02/22/13:

"LAFAYETTE'S DOWNTOWN BUSINESS AREA IS OVER 140 PARKING SPACES SHORT OF THE CURRENT NEED. THAT WAS THE ASSESSMENT PRESENTED BY DOWNTOWN DEVELOPMENT AUTHORITY DIRECTOR MATTHEW WILLIAMS, AT A TOWN HALL MEETING ON THE SUBJECT THURSDAY NIGHT. THAT FIGURE WAS DERIVED BY TAKING NATIONAL STANDARDS OF PARKING SPACES NEEDED PER 1,000 SQUARE FEET – FOR THE VARIOUS TYPES OF RETAIL AND OFFICE SPACE REPRESENTED.
A downtown with more customers than parking spaces isn't a bad problem to have. But finding a solution to that good problem is a bad problem; no solution will please everyone, and some of the suggested fixes could be worse than insufficient parking spots.
"DOWNTOWN HAS ALWAYS HAD A SHORTAGE OF PARKING, BUT NO ONE SPOKE IN FAVOR OF PAID-PARKING ALTERNATIVES, SUCH AS PARKING METERS. RONALD UNDERWOOD FAVORED A 2-HOUR LIMIT FOR ON-THE-SQUARE PARKING. ON THE EAST SIDE OF THE SQUARE, ATTORNEY DAVID CUNNINGHAM SAID THAT MEMBERS OF CITY CLUB ARE TAKING ALL THE AVAILABLE SPACES, AT TIMES.
"ON THE WEST SIDE OF THE SQUARE, A COUPLE OF BUSINESS OWNERS SAID EMPLOYEES PARKING IN CUSTOMER SPOTS, IS THE BIG PROBLEM. THE OWNERS OF BUTTERCUP ALLEY SAID THE QUICKEST-FIX MIGHT BE SOME NEW SIGNAGE HIGHLIGHTING THE AVAILABLE OFF-SQUARE PARKING. ANOTHER SUGGESTION WAS TO CONVERT PATTON AND VILLANOW STREETS TO ONE-WAY TRAFFIC, MAKING ROOM FOR A NUMBER OF NEW CURB-SIDE PARKING SPACES. THERE WAS ALSO MENTION-MADE OF A PARKING DECK, BUT THE DDA'S WILLIAMS SAID THE COST WOULD BE PROHIBITIVE: SEVERAL MILLION DOLLARS.
"WILLIAMS SAID THE DDA PLANS TO CONSIDER A SUGGESTED ORDINANCE THAT WOULD LIMIT ON-THE-SQUARE PARKING TO 2-HOURS, ON WEEKDAYS FROM 8 AM UNTIL 5 PM. THAT WOULD HELP WITH THE CURRENT ALL-DAY EMPLOYEE AND BUSINESS OWNER PARKING PROBLEM.
"THE CITY WOULD USE CURRENT PERSONNEL TO ENFORCE THE PARKING LIMITS, SO COST WOULD BE MINIMAL. SUGGESTED FINES FOR PARKING LONGER THAN TWO HOURS, RANGED FROM $10 TO $80, DEPENDING ON THE NUMBER OF OFFENSES. ANY SUCH ORDINANCE WOULD HAVE TO BE APPROVED BY A VOTE OF THE CITY COUNCIL."
To avoid running off customers, the city should start with the simplest and least disruptive solutions first: new signage pointing out other parking spots, and pushing downtown business owners to make their workers (and themselves) park off the square. The next solution, if that fails, would be a time limit (the suggested 2 hours) for all downtown parking. Enforcing that could be tricky; would it fall on codes enforcement, which has only two overloaded employees? Or would parking limits become the responsibility of LPD, which also seems to be stretched thin and has a reputation for not enforcing rules fairly?
Changing any streets downtown to one-way would be a drastic move and a bad idea. One-way streets discourage business because they're harder to navigate, and the city just spent an absolute ungodly amount of (mostly state) money redoing the streets being discussed along with their parking spaces and sidewalks. (The reconfiguration actually removed several parking spaces we DID have downtown.) Villanow Street can't be made one-way regardless, because half of it is state highway and the rest is a major connector through town.
The elephant in the room here is the Walker County Courthouse, which doesn't have enough parking for employees OR customers. People doing business in the courthouse, or the Sheriff's Office, or the Commissioner's Office, often end up parked along the square – or take up spaces behind the square where downtown employees could park. There's not a thing the city can legally do about THAT except knock down a building to put in another parking lot, which it apparently isn't willing or able to do.


Saturday was the last day of business for Mainstreet Package.
The little beer, smokes, & cokes store opened in October after significant controversy surrounding a proposed drive-thru window. Time during several city council meetings was devoted to discussing the pros and cons of such a setup, and the council had to actually modify zoning laws a bit to accommodate the business. In the end they got their window, but it doesn't seem to have helped very much.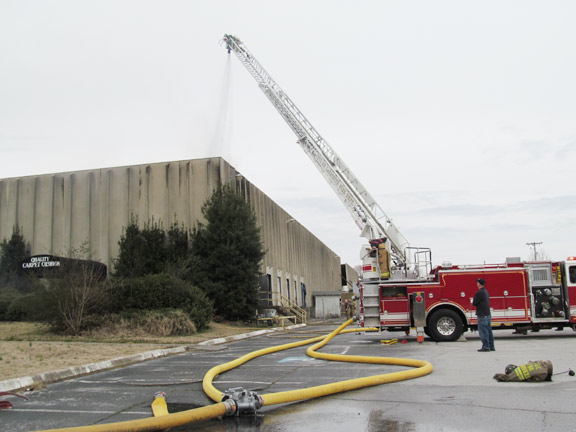 Last Thursday's fire at the abandoned Quality Cushion mill has been deemed arson. A $10,000 reward is offered for information leading to an arrest.
You can contact LPD/LFD directly, or LU can pass the tip along for you anonymously – if you don't mind giving up half the reward.


Music on the Square announces their lineup for this year's music festival on May 18th. Performers include Dave Gibson and Doug Stone.


Meanwhile, the city's May arts and crafts festival has been formally cancelled.
Or has it?
Downtown Development Authority member Chapman Jewelry says there will still be a crafts festival held on the same day as Music on the Square.
It's cancelled, but it's not. Call when you figure this one out.


Proposal to sieze 1.5 square miles of Tennessee in order to access water already passed the GA House, now a committee in the Senate has also approved it. One more vote and the bad idea goes before Governor Deal.
Or as John Deffenbaugh might say, we've gotten to second base.


Summerville man arrested last week for a hit and run/DUI in Walker. Not sure exactly where "Sales Lane" is, can't find it on a map.


Thursday the state executed an inmate guilty of murdering two college students in 1995. His father was an FBI agent at the time.

For today's links and any breaking news, follow the Underground on Facebook or Twitter.