2012
10.10
Yesterday Walker County Attorney Don Oliver held a press conference announcing he's uncovered documents showing Ales Campbell's husband's business owed back taxes on a fired employee years ago, all of which has been addressed, and then said he doesn't know if it impacts the election or not, then recused himself because he's the county attorney – which is why he shouldn't have done any of this in the first place. What a joke.
The Times Free Press actually quoted Ms. Campbell instead of just running a press release from the Commissioner's Office. Campbell verified three different tax issues – an IRS lien, a property lien from the state of Georgia, and an unpaid inventory tax bill. The first two, according to the candidate, had been taken care of some time ago (documents verify the IRS problem was resolved) and the local inventory tax problem was paid the day it came to her attention.
In later reports the county attorney said Walker County Elections Registrar Barbara Berry called him in to check out the tax issues, but it's still not clear where the Campbell family's tax documents came from in the first place since supporters of Commissioner Heiskell had them before the candidate did. For more breaking news and updates on this, check LU Facebook throughout the day.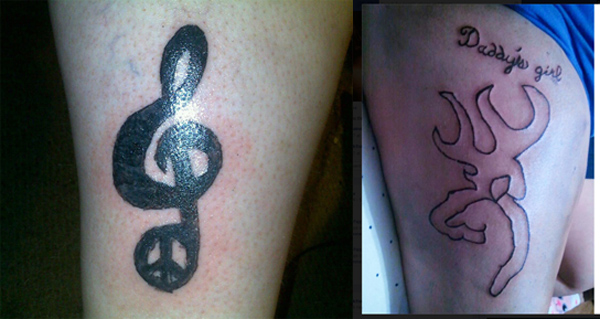 A local amateur photographer has been offering people $20 "tattoos" like these while she "learns" how to do them. Several things to remember: Unlicensed tattooing is illegal in Georgia. You can get sick and die (or at least have scars) from poorly done tattoo work. These aren't real tattoos; they're scratches like you get in prison. After all that, the tats are ugly (no offense to whoever got this one). Buyer beware.
Discussion of these two images on Facebook Tuesday night became absolutely epic.

WQCH Radio, 10/09/12: "IN WHAT MUST BE A RECORD, THE LAFAYETTE CITY COUNCIL COMPLETED THEIR MONTHLY MEETING AGENDA IN JUST 18-MINUTES FLAT, MONDAY NIGHT
"BY THE NARROWEST OF MARGINS THE COUNCIL PASSED AN ORDINANCE UPDATE THAT ALLOWS FOR PACKAGE BEER SALES AT A DRIVE-THROUGH WINDOW. THE REQUEST HAD COME FROM THE OWNERS OF MAIN STREET PACKAGE, SET TO OPEN SOON IN THE FORMER LOCATION OF THE PET PALACE ON NORTH MAIN.
"WHEN THE VOTE TO ALLOW A DRIVE-THROUGH WINDOW FOR BEER SALES CAME UP, COUNCILMAN CHRIS DAVIS VOTED YES, WAYNE SWANSON VOTED NO, AND ANDY ARNOLD ABSTAINED. COUNCIL MEMBERS MEEKS AND BRADFORD WERE NOT PRESENT. THAT LEFT THE 'TIE BREAKER' TO MAYOR NEAL FLORENCE, WHO VOTED IN FAVOR OF THE ORDINANCE CHANGE."
Under an hour would be a record from our experience.. 18 minutes is unreal. That's what happens when you meet on a Federal Holiday and only three of five councilors show up. No excuse for Andy Arnold to not vote though, unless he has a personal/business connection with the owners of the drive-thru beer business. Seems like he never votes on alcohol issues, which is probably wise for him politically but doesn't do any favors for the people of Ward 1 he's supposed to be representing on the council.
The city is also going to survey all its "attachment agreements" or the money being paid to the city by utilities for using city-owned power poles to distribute things like telephone or cable TV service. That should help bring in a little more money.
Scare On the Square was officially set for Halloween night, Wednesday the 31st. Curfew for Halloween is 11 PM. And LPD got two new patrol cars. That's about it for the October meeting.


Last night's Chamber Candidate Forum at the Civic Center was attended by all six Walker County candidates: Heiskell, Campbell, Wilson, Westbrook, Deffenbaugh, and McMahan. Those present report a decent crowd. No specifics yet on what was said, but video was made and should be available here tomorrow. Check LU Facebook through the day for new information.
The LU Q&A for Commissioner will be posted tonight at 6 PM.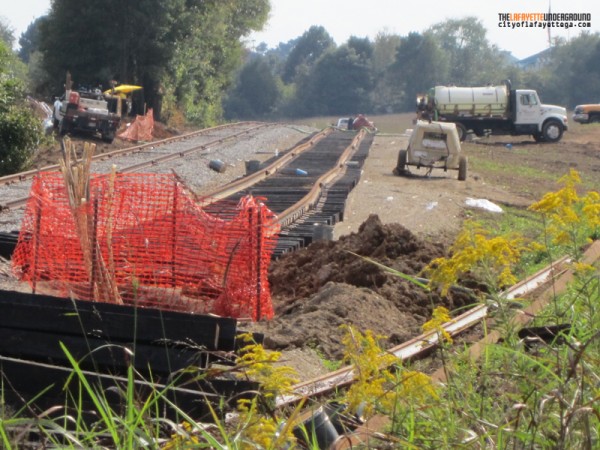 The rail construction project in Rock Spring is definitely going to be a spur, a side-track, for loading or unloading rail cars. Here's the latest photo. Still don't know who's going to use this thing: North GA Logistics, Nissin, Shaw/Synthetic, or some other unannounced business.
If the county is involved, expect a press conference any day now proclaiming it a solution to all the county's job problems and crediting Bebe Heiskell with the construction.


Last week Bebe Heiskell took time out of her busy schedule to join Steve Wilson in renaming a driveway after radio host Tommy Jett.


The state hasn't raised our taxes, but new rules for online sales mean we will pay more. Closing loopholes makes taxes "fairer" but run the risk of annoying us all as they cut out our special little no-tax islands.
We'd be fine with the application and enforcement of the new online sales tax rules if they cut all the sales taxes -online and off- by a percentage point to make up for the increase in revenue.




In Red Bank TN, a PTA president has been arrested for writing $904 of checks to benefit herself out of the PTA account. We share this only to point out the differences between Red Bank TN (which has a terrible reputation for corruption) and Walker County GA where our elected sheriff and his deputy have done the same thing without any consequences or media attention.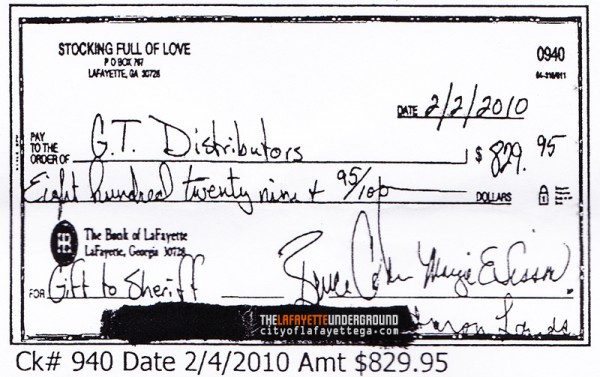 Not much difference between her $904.07 of checks (plus another $180 petty cash) and the $829.95 plus God-Knows-How-Much Bruce Coker and Steve Wilson have spent on themselves and their friends out of Stocking Full of Love donations.

For today's links and any breaking news, follow the Underground on Facebook or Twitter.