2015
09.29
A winning bidder for Walker County's ambulance service has not yet been formally announced, but the final decision has been made – and made public by the owner of a losing bidder.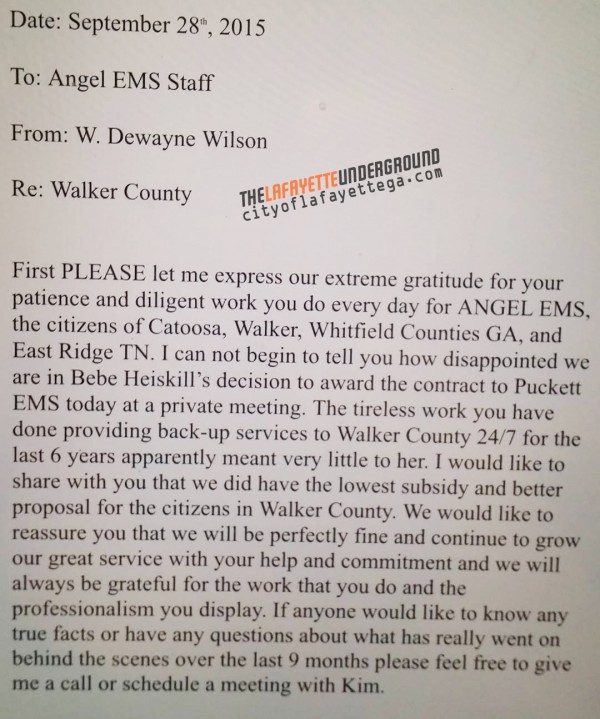 DeWayne Wilson, owner of Angel Medical (and Walker County Coroner among many other things), sent this message to his employees yesterday, bemoaning Commissioner Heiskell's secret decision to transfer the ambulance service and equipment to Puckett Medical.
Puckett, based out of Powder Springs GA, reportedly offered $1.5 million for the county's EMS team, versus Wilson's Angel offering "about $1 million." Puckett also offered to charge county residents $850 per ambulance ride and $12 per mile vs. Angel Medical's $950 and $16.50 per mile.
Puckett's annual fee to the county is $250,000, some $40k higher than the $210,000 fee Wilson offered to charge. That's in line with what the ambulance service is said to cost the county internally now, minus employee liabilities. (If annual fees are backed out of the sale price, no money would change hands for several years.)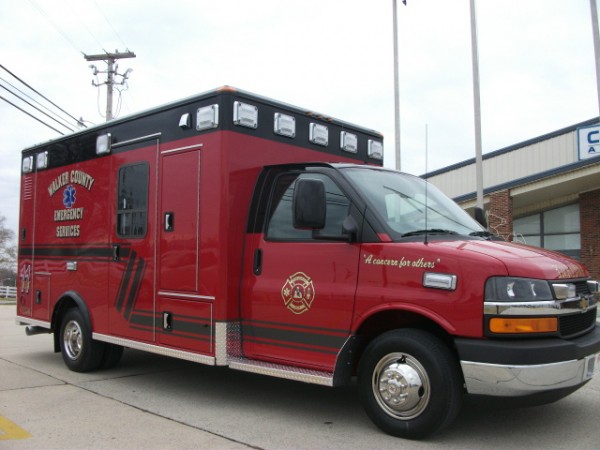 Wilson says his offer was the better deal, which doesn't seem to be the case – although it's not clear exactly how close either company could come to matching the current level of coverage. Both would likely cut back the number of ambulances available, and Puckett is rumored to be planning a huge reduction.
(Offers from a third bidder, American Medical, were not revealed in any media reports and seem to have been summarily dismissed by the Commissioner. An initial proposal from July "selling" the ambulance service to Hutcheson for a fictional $2 million was abandoned when man+dog realized Hutcheson is going out of business.)
DeWayne Wilson also says Commissioner Heiskell held a "private meeting" with Puckett Monday to give them the contract. He mentions the process has taken "the last 9 months," indicating Heiskell was in talks to sell the ambulance service six months before she made those plans public or even revealed them to her employees. Both of those statements, if true, could violate state rules for the bidding process. (Good luck getting anything done about that.)

Dade County has used Puckett since Walker County bought Hutcheson's ambulance service in 2010, and most in Dade have said they're happy with the company. How well that translates to Walker's much larger territory and population is yet to be seen.
We could find out as soon as Thursday, as the original plan was set to begin on October 1st and Heiskell has insisted all along she needs EMS employees off the county's budget by that date. Talk about short notice…