2014
04.21
Preliminary accident report from GSP says driver of school bus that ran over Zackery Bryant one week ago was not distracted or visually impaired. The boy apparently dropped his Nintendo DS and was killed after reaching down in front of the bus to retrieve it. The accident was an accident, not malicious, and not something avoidable or due to negligence.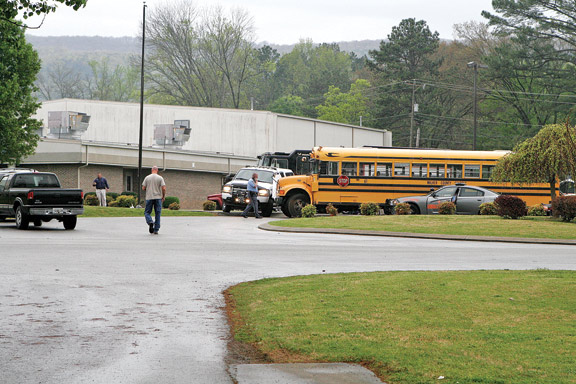 A lot of articles have been making hay over the driver and his name, reporters have tried to speak with the man and his family… There's really no reason to harass the guy or blame him for this; it could have happened to literally ANY bus driver in the county – he just happened to be the one behind the wheel when it occurred.
School policy and procedure for unloading students has also come under fire, and it seems more likely a failure in that area is responsible for the tragedy than driver error. Superintendent Raines says four or five adults are normally present at Chattanooga Valley Elementary every day to supervise children exiting busses, and every driver is trained each year.
Raines explained current rules in place are one reason why the system has been able to transport thousands of children every school day all year long without incidents like this occurring previously. However, the school system IS reviewing school bus safety protocol in light of Monday's tragic accident and will make changes if any are deemed necessary.
None of that changes the pain of a dead six year old child. Final services and a candlelight vigil for Zackery were held over the weekend.





Another person taking advantage of relatives. Sinking pretty low, if this proves true: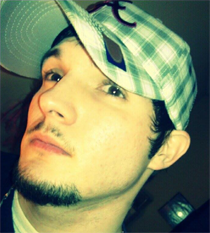 WQCH Radio, 04/17/14:

"LAFAYETTE POLICE MADE AN ARREST IN A SECOND RECENT CASE, INVOLVING FINANCIAL FRAUD ON A FAMILY MEMBER.
"23 YEAR OLD PATRICK RYAN SMITH OF A SMALLWOOD STREET ADDRESS IN LAFAYETTE, IS ACCUSED OF TAKING HIS MOTHER-IN-LAW'S CREDIT CARD FROM HER HOME ON APRIL 4th, AND USING IT IN THREE UNAUTHORIZED TRANSACTIONS. ONE CAUGHT ON VIDEO WAS A $680 CASH ADVANCE AT THE REGION'S BANK ATM IN LAFAYETTE, ACCORDING TO POLICE.
"SMITH WAS CHARGED WITH THEFT BY TAKING AND THREE FELONY COUNTS OF FINANCIAL CARD FRAUD."

During last Monday's City Council meeting, LaFayette leaders decided to rename the city's airport "LaFayette Regional Airport – Barwick Field."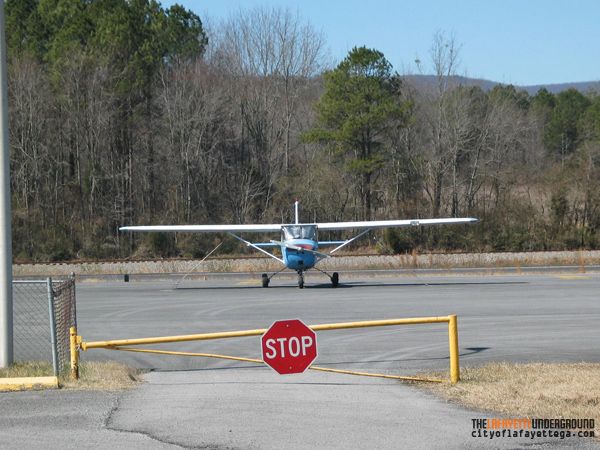 Barwick name is marginalized but still remains – how do you feel about the new brand?


Traffic disruption, police activity, and injuries observed Thursday morning in Rossville came from a stabbing inside a vehicle. Man with a knife cut himself before attacking the driver he was having some kind of argument with.
Apparently someone failed to grasp how "murder-suicide" is supposed to work.


Voting registration deadline for upcoming election is today. If you aren't registered or need to update your information, time is running out. Registration can be done in person at the COVRTHOVSE elections office or, now, online.


Hey Georgia Department of Transportation – we found your mower.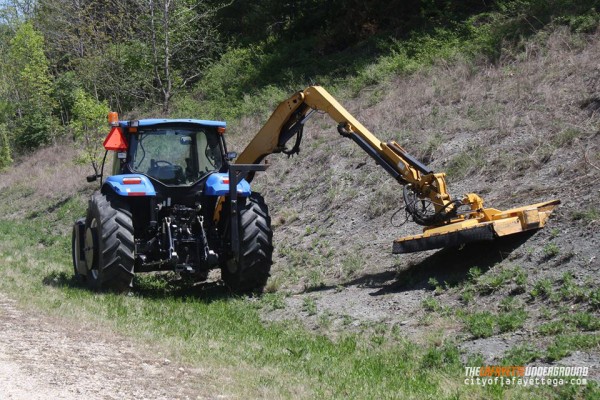 Readers who regularly drive through the area say this pricey state-owned tractor has been sitting on the side of 2-A near Ridgeland HS for at LEAST four weeks, and one says it seems more like three months since it was abandoned.
Per one local, the machine broke down and is waiting on hydraulic parts to come in – apparently on horseback from Yugoslavia.
A new tractor of this model, without mowing arm, costs around $80,000. If the state doesn't want it back, somebody in the Rosville or Fort O. area is eventually going to stake a claim…


This month Gov. Deal has signed off on hundreds of measures approved by the General Assembly, including a handful of tax breaks for various companies and charities.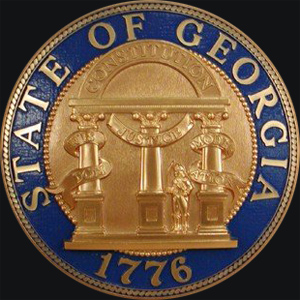 Exempt activities now include food banks, companies using "alternative fuel" vehicles, video game developers, and businesses buying construction material for new stadiums in Atlanta.
HB 958 continues sales tax exemptions for food banks like The Care Mission an additional two years. It also brings back the state school shopping tax holiday, tax breaks for buying energy efficient appliances, and gives up to $25 million in income tax breaks (over two years) to companies developing video games in Georgia.
There's also some language that extends property/sales tax breaks on material used for "competitive project[s] of regional significance" meaning basically the planned new stadiums for the Falcons and Braves.
HB 958 was approved by Senator Mullis and Rep. Deffendum but voted against by Rep. Tarvin.
Another bill, HB 348, gives tax breaks to companies that buy "alternative fuel" vehicles. THAT rule was pushed by UPS, which stands to save several million a year in taxes. UPS executives attended the bill signing ceremony and apparently did everything except sign the law themselves. The measure was again backed by Mullis and Deffendum but rejected by Tarvin.
The well-discussed new gun bill Gov. Deal is about to sign has at least one flaw – in their rush to pass a gun bill during the super short legislative session, State Legislators forgot to specify WHEN new gun laws would actually start.



Over the last weekend and next Saturday, the county and local vets will be providing discount rabies shots. Here are the times and locations: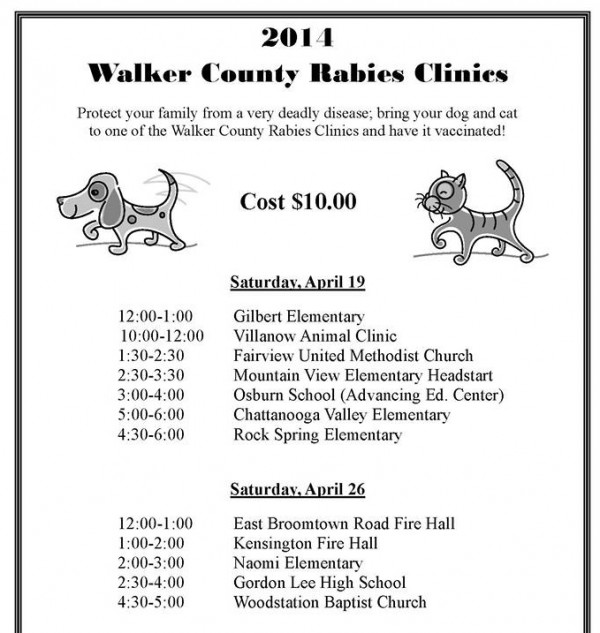 Catoosa Co. Probate Judge Gene Lowery, formerly an officer with Catoosa Co. Sheriff's Office and a leader at Peavine Church, passed away Wednesday after a battle with cancer.


Georgia has until May 14th to fix problems with the state food stamp program or $15 million in federal funds will be lost. Gov. Deal made some stopgap moves last month to fix issues inside the DFCS-run program but apparently those steps aren't getting it done.


WQCH Radio, 04/17/14:

"LAFAYETTE'S FIRE CHIEF, ROBERT BUSBY, IS PROUD TO ANNOUNCE A NEW, LOWER I.S.O. RATING FOR THE CITY.
"THE INSURANCE SERVICE ORGANIZATION RECENTLY SURVEYED THE LAFAYETTE FIRE DEPARTMENT ON FACTORS SUCH AS EQUIPMENT, WATER SUPPLY, COMMUNICATIONS AND THE NUMBER AND TRAINING LEVEL OF PERSONNEL.
"CHEIF [sic] BUSBY SAID THAT AS OF MAY 1st, THE NEW RATING FOR LAFAYETTE FIRE WILL BE A 3-9. ONLY 2,200 FIRE DEPARTMENTS IN AMERICA HAVE A CLASS 3 OR BETTER RATING, BUSBY SAID. LAFAYETTE HAD A RATING OF 6 FOR MANY YEARS, AND IN I.S.O THE LOWER THE NUMBER, THE BETTER THE RATING. CHIEF BUSBY SAID IT'S ESPECIALLY 'REWARDING' TO GET A 3 RATING IN A DEPARTMENT WITH BOTH PAID AND VOLUNTEER STAFFING.
"'THIS ACCOMPLISHMENT WAS MADE POSSIBLE THROUGH THE SUPPORT OF OUR MAYOR, CITY COUNCIL, CITY MANAGER, OUR FIREFIGHTERS, WATER DEPARTMENT AND DISPATCH CENTER', BUSBY SAID. A NEW 75-FOOT LADDER TRUCK, IMPROVED WATER SUPPLY AND TRAINING FACILITIES ALL HELPED WIN THE NEW, IMPROVED RATING.
"CITY OF LAFAYETTE INSURANCE CUSTOMERS SHOULD EXPECT A LOWER COST OF FIRE INSURANCE IN THE FUTURE, DUE TO THE IMPROVED I.S.O. NUMBERS."
Walker County got a lower ISO rating several years ago and homeowners found out it did absolutely nothing for their insurance rates because many companies group ratings together, like 1-4 is one rate and 5-7 is another rate. Also the companies don't typically see the change unless customers make them aware of it and provide documentation.
It's good the city is now safer, but don't expect to see this actually make a lot of difference in insurance payments – especially if your insurance is paid with your mortgage; monthly escrow amounts will be going UP when county property taxes rise this fall.


Residents near Watoosa Ridge, in Rock Spring on the border of Walker and Catoosa, are fighting over a proposed new cell tower.


Parents in Marietta informed a school that their children would not be participating in upcoming CRCT tests.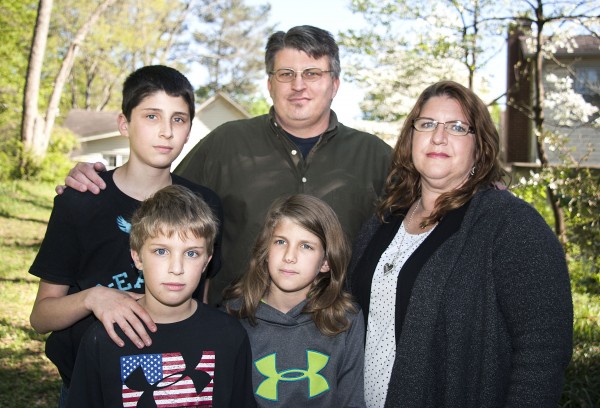 Principal arranged a meeting with the parents, then sent police out to meet them with threats of trespassing charges when they arrived.
This school year is the last for CRCT; next year students will be subjected to mandatory new tests required by Common Core standards.


As expected, Gov. Deal has "prior commitments" which will keep him from participating in a televised debate of governor candidates.
That "prior commitment" was likely a vow not to be part of a debate.


59-year-old Cobb County man sentenced to ten years in prison after writing a detailed letter about plans to kill, cook, and eat the wife and children of a judge who oversaw his divorce.


Attendance at events commemorating the Civil War's 150th anniversary has been universally disappointing. Stores lose money on war-themed items and local governments around the south throw money away hoping tourists will care about or even remember long-deal generals and long-settled conflicts.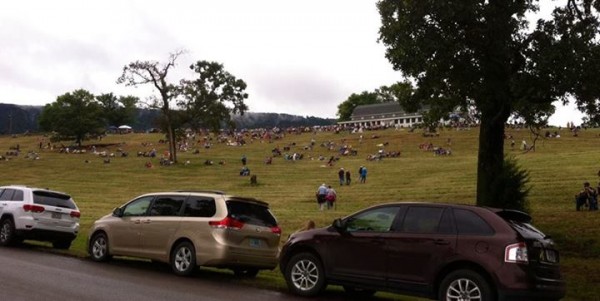 Civil War tourism is dead.. Somebody needs to tell local leaders.
How many millions of dollars have Walker County, Chickamauga, LaFayette, the state, and NWGAJDA wasted over the last twenty years trying (with little success) to make this area into a Civil War tourism mecca?


In somewhat similar news, one of the most intact Revolutionary War sites is located in Georgia. The property near Sylvania saw a small British force defeat an even smaller group of American patriots in 1779.
It's state-owned recreational land, but isn't specifically set up for historical preservation despite the presence of artifacts and soldiers buried in unmarked mass graves. Apparently there's no money to set up historic sites for wars NOT fought in the 1860's.


The Care Mission now has a Web site.


GA Board of Regents has raised tuition at all state colleges for the 12th straight year.
DSC is of course included in the increases. Here's how the numbers add up for a typical student at Dalton State.

For today's links and any breaking news, follow the Underground on Facebook or Twitter.