2013
12.11
In a semi-coherent video, Commissioner Heiskell explains (sort of) that Walker County is being fined by the state because property values are too low.
You may need a translator, and a stiff drink, to figure this out:
News reports on her statement don't make it much clearer:
WQCH Radio, 12/06/13:

"WALKER COUNTY HAS BEEN ASSESSED A FINE BY THE GEORGIA DEPARTMENT OF REVENUE, BECAUSE THEY CONTEND THAT PROPERTY VALUATIONS HERE, ARE TOO LOW. COMMISSIONER BEBE HEISKELL SAID THE FINE IS FIVE-DOLLARS PER PARCEL, WHICH TOTALS OVER 165-THOUSAND DOLLARS.
"'WE THINK THEY'RE WRONG', THE COMMISSIONER SAID – 'AND WE ARE CURRENTLY IN NEGOTIATIONS TO SHOW THEM THEY'RE INCORRECT'.
"THE DEPARTMENT OF REVENUE CLAIMS THAT WALKER'S PROPERTY VALUATION HAS BEEN TOO LOW FOR THE PAST THREE YEARS, EVEN THOUGH THE LEGISLATURE FROZE VALUATIONS THROUGH 2011.
"'THE LOCAL BOARD OF ASSESSORS IS BETWEEN A ROCK AND A HARD PLACE', HEISKELL SAID. 'IF THEY VALUE PROPERTY TOO LOW, WE GET FINED AS A COUNTY, AND IF THEY VALUE IT TOO HIGH, CITIZENS GET UPSET'. THE LAW REQUIRES THE BOARD OF ASSESSORS TO KEEP PROPERTY VALUES AT 40-PERCENT.
"HEISKELL ADVISED THAT CITIZENS WHO BELIEVE THEIR PROPERTY VALUE HAS BEEN PLACED AT TOO HIGH A LEVEL SHOULD GET A PRIVATE APPRAISAL, AND THEN APPEAL WITH THAT INFORMATION, TO THE BOARD OF ASSESSORS."
Bottom line, your taxes will go up soon because of reappraisal or an adjustment of the percentage of each home's value the county taxes. The county's latest fine from the state – Heiskell's third huge fine in the last 18 months – may also contribute to higher taxes or cut services down the road. (An e-mail to Georgia Department of Revenue asking for clarification on this issue had not been answered as of noon today.)
In the video, Heiskell says "we've lost a lot of value because we've lost a lot of property."
Property doesn't just disappear, it went somewhere – somebody owns it and pays taxes on it. UNLESS it's owned by government or a church. How many acres have the county and state bought in the last five years, taking them off the taxable list?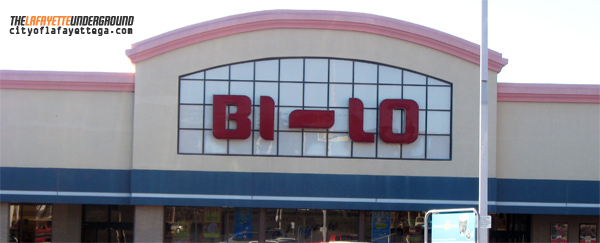 Bi-Lo/Winn-Dixie has apologized for miscommunication about donations made in stores for The Care Mission, and says the Mission will get all of the food AND cash collected in local stores:
"..As long-time supporters of Care Mission and other local organizations, it pains us when good intent goes awry. After a little research, we now understand your frustration. Our in-store signage stated that we are collecting donations for Care Mission, when, in fact, the intent of the program was to direct funds to the closest Feeding America food bank for the ultimate benefit of Care Mission.
"..But our signage didn't reflect this. Processes may be perfect but people aren't, and we sincerely apologize for our miscommunication. It also brought to light a service-fee issue, and because of that, Care Mission will receive every cent that was donated by our generous customers.
"Being local is a natural extension of our core business, as well as being a neighbor our neighbors can count on. We thank you for calling to our attention what wasn't right … so that we can make it so."
Appreciate the company dealing with this and finding an acceptable end to this story.
Also, big thanks to all the people who contacted Bi-Lo or WD to make them aware of the issue, and to sources who passed along e-mails making LU aware of what was happening.




During Monday night's LaFayette Council meeting, long-time city employees were honored for their service and Mayor Florence was recognized for showing up most of the time since 1991. Council also voted to expand gas lines to Center Post, and raised taxes – but only on hotel rooms.
WQCH Radio, 12/10/13:

"MAYOR NEAL FLORENCE WAS PRESENTED A WATCH ENGRAVED WITH AN APPRECIATION MESSAGE FOR HIS SERVICE FROM 1991 UNTIL HIS FINAL MEETING MONDAY NIGHT. CITY EMPLOYEES WERE HONORED FOR YEARS OF SERVICE, AND SUSAN PATTERSON BYRD HAD THE LONGEST 'SERVICE TO THE CITY' MILESTONE, AT 40 YEARS.
"THE GAS LINE EXTENSION APPROVED IS ABOUT 3 MILES OF PIPE DOWN EAST BROOMTOWN ROAD TO CENTER POST. THE LINE WILL PASS 24 CHICKEN HOUSES AND MANY HOMES ALONG THE ROUTE. THE ESTIMATED 135-THOUSAND DOLLAR INVESTMENT SHOULD BE REPAID IN GAS SALES WITHIN 3 1/2 YEARS. THE CITY PUBLIC WORKS DEPARTMENT WILL LAY THE GAS LINE UNDER THE DIRECTION OF THE GAS DEPARTMENT, SAVING A GREAT DEAL COMPARED TO CONTRACTOR SERVICES.
"THE COUNCIL ALSO VOTED TO INCREASE THE HOTEL-MOTEL TAX FROM THE CURRENT 5 PERCENT, TO 8 PERCENT. UNDER THE NEW 8 PERCENT MOTEL TAX, 3 PERCENT WILL GO TO THE CITY'S GENERAL FUND AND 5 PERCENT WILL GO TO TOURISM AND PROMOTION. ACCORDING TO DDA DIRECTOR MATTHEW WILLIAMS, THAT WILL RAISE THE ANNUAL PROMOTIONS BUDGET TO OVER 100-THOUSAND DOLLARS PER YEAR, AND BROADEN THE TYPES OF PROMOTION THE CITY CAN USE, AS WELL.
City council also agreed to spend $10,000 on an "ADA [Americans with Disabilities Act] Transition Plan" stemming from a public meeting about handicap access held on November 19th.
(As a side note, the city Facebook page posted a meeting summary, for the first time ever. That's a huge step forward and something needed for many years.)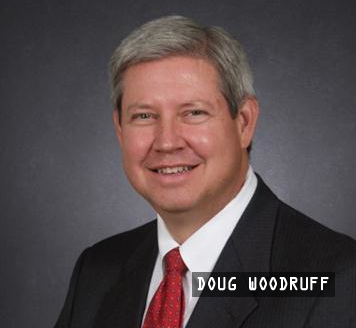 GA House District 2 candidate Doug Woodruff now has a Web site. He's also on Facebook.
Woodruff is running against Steve Tarvin [ Web / Facebook ] and outgoing LaFayette mayor Neal Florence [Web / Facebook ].
Early voting for that race begins next Tuesday, December 17th. The actual vote will be held January 7th.


Joe Hendrix, who shot Ronald Westbrook Thanksgiving week, had been harassed at home a week earlier by someone looking for a previous occupant of the house. Hendrix's attorneys say his reaction to Westbrook banging on the door was reasonable, in light of the previous encounter with someone else.
Sheriff Wilson verified the first incident, which means (you'd think anyway) some kind of report was filed. Which means it might be possible to verify, or even to find who it was.


A Walker County Transit employee reports the county is doubling rider fees from $2 per trip to $4. Round trip fees would likewise double from $4 to $8. Riders of county public transit say signs have been posted, promising the rate increase will begin on January 1st.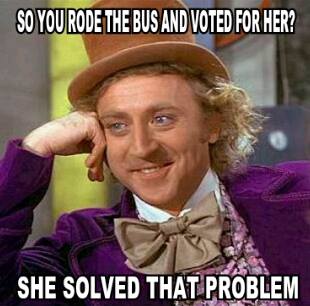 Commissioner Heiskell attempted to shut down the county bus service for poor, elderly, and disabled residents back in July, but kept it going after attention from LU resulted in citizen backlash.


County finances apparently require a 100% increase in bus fare, but the county's tax-subsidized restaurant in Kensington has plenty of money to hire more people: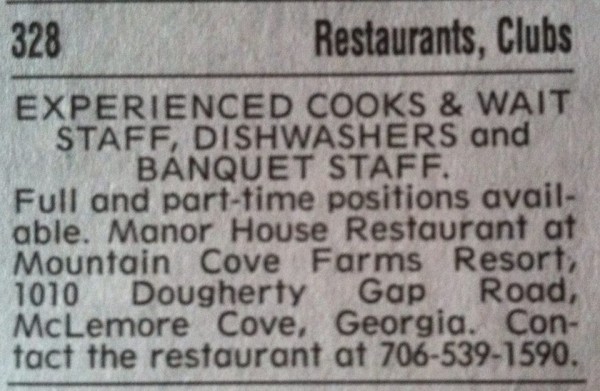 If you don't mind a 90-minute daily commute from LaFayette, this may be the job for you.


Speaking of county finances.. Chattooga County has held public meetings to adopt a budget for the current year, which started in October. Walker County has yet to present any budget or hold any budget meetings and likely won't until next summer when the fiscal year is nearly done.
If the state is going to fine Walker County for something, it should be for THAT – running nearly a whole year with no budget, year after year. State law requires a budget be set, so when are they going to come up here and make Bebe set one?


Maryland Fried Chicken began advertising their expansion in LaFayette back in August, but didn't file for permits to remodel the old dog grooming/beer store building on North Main St. until November. At this rate they might be open by the 4th of July.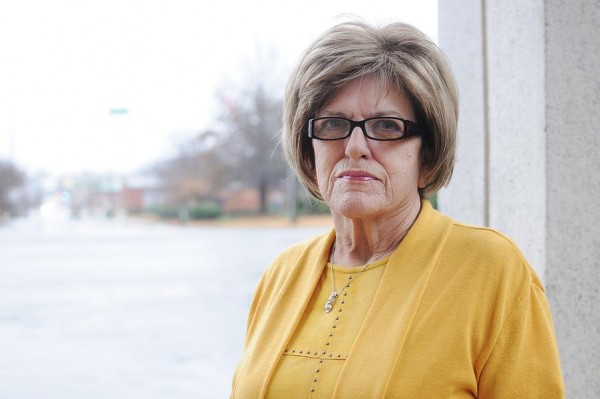 First Student bus driver Cynthia Hall, who was fired after calling police to a school bus full of unruly kids last month in Dalton, tells her side of the story. She says she did what she had to do because the national bus conglomerate doesn't provide support for its drivers.


Monday actor/celebrity Ashton Kutcher and his actress girlfriend visited Chattanooga, and took a tour of Rock City Gardens in Walker County.
Apparently this is newsworthy, so here you go.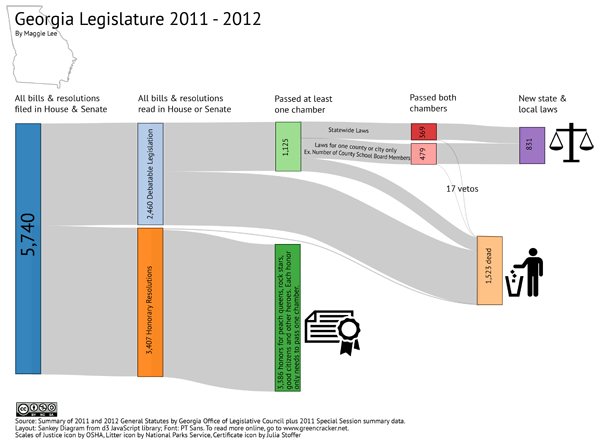 During their 2011-2012 session, Georgia legislators proposed over 5,000 bills and resolutions. More than 3,000 of those were time-waster resolutions honoring various individuals and organizations. Of the rest, more than half were never approved; only 831 actually became law, and 479 of those were laws only applying to certain counties or cities.
A majority of the legislature's time seems to be spent on those resolutions, like the one Jeff Mullis set up honoring Lauren Alliana for… whatever it is she's done for us. Or the one he passed recognizing Roy Parrish's years of service to himself.

The General Assembly is currently out of session, but legislators can pre-file bills for consideration next year, before Atlanta shuts down for the Holidays. One pre-filed measure expands State Senate terms from two years to four, but caps senators to a maximum of fourteen years in the General Assembly. (4×3 is 12 but the extra two years would allow sitting Senators to finish their existing terms after the law starts.)

Another bill the legislature will probably look at? A measure from last year creating a state-owned Venture Capital Fund that would make investments into startup businesses. Unfortunately that violates the state constitution.
Before that happens – disgraced, indicted GA Senator Don Balfour will stand trial next week on eighteen counts of fraud and perjury. A judge rejected attorneys' claims that a sitting state legislator cannot be prosecuted.


Undercover video shows dogs used to test dental implants at UGA's Georgia Regents University in Augusta. Animal advocates say the tests are cruel and unnecessary; school leaders say the tests are needed to make sure coatings on the devices are safe for humans, and insist the animals were all treated humanely.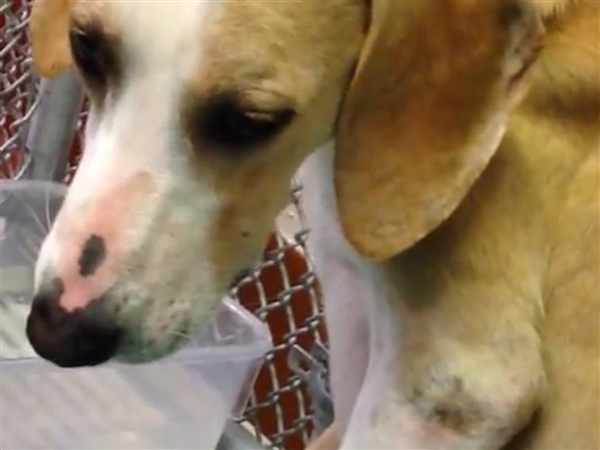 GRU officials wrote an article explaining the school's practices and defending the way animals have been handled


After ending a ten-year live-in relationship, Christopher Ned Kelley was sued by his ex-fiance for breaking their engagement. He was eventually ordered to pay her $50,000 – most of which was legal fees.


Georgia's Aviation Authority was created to own and operate state-owned aircraft to the benefit of various state agencies. The state got rid of most planes to save money, but the agency (headed by the governor) still exists, and still costs Georgia taxpayers a million dollars a year.


For today's links and any breaking news, follow the Underground on Facebook or Twitter.