2012
10.12
Shortly before Midnight Thursday, eyewitnesses in the Naomi area reported what appeared to be some kind of law enforcement raid on Ken Visage Rd. or one of the nearby side roads. Multiple law enforcement, fire, and possibly Drug Task Force units were gathered in the parking lot at Skate n Play before heading out to do.. something. Updates as they're available through the day today on LU Facebook.


There's been a lot in the news this week about Ales Campbell's tax records. Supporters of Commissioner Heiskell have been posting outdated files on Facebook and handing them out in parking lots, telling voters she's a deadbeat and ineligible to run for Commissioner or serve once elected. They also used County Attorney Don Oliver to spread this to the media with a press conference on the county's dime.
WQCH Radio, 10/10/12: "THE ATTORNEY FOR WALKER COUNTY GOVERNMENT, DON OLIVER, CALLED A PRESS CONFERENCE TUESDAY MORNING TO SAY HE IS RECUSING HIMSELF FROM FURTHER INVOLVEMENT IN A POLITICAL CONTROVERSY BREWING IN THE RACE FOR COMMISSIONER.
"OLIVER SAID THE COUNTY ELECTIONS SUPERINTENDENT, BARBARA BERRY, CONTACTED HIM – ASKING IF HE COULD VERIFY THAT WRITE-IN CANDIDATE ALES CAMPBELL HAD UNPAID TAXES. OLIVER SAID HIS ASSISTANT DID THE RESEARCH AND VERIFIED 'DELINQUENT TAX EXECUTIONS WHICH MIGHT RELATE TO THE CANDIDATE'. IN A CHATTANOOGA TIMES FREE PRESS ARTICLE TODAY, CAMPBELL ADMITTED OWING BACK TAXES, AND SAID THE DEBTS HAVE NOW BEEN PAID AND CLEARED.
"OLIVER SAID THE WALKER COUNTY BOARD OF ELECTIONS WILL HOLD A REGULAR MEETING FRIDAY, AND ON THE AGENDA IS CONSIDERATION OF WHETHER THE CANDIDATE'S WRITE-IN STATUS CAN STAND, IN LIGHT OF THE ACCUSATION. IT IS POSSIBLE, OLIVER SAID, THAT MS. CAMPBELL COULD BE CONSIDERED ELIGIBLE TO RUN FOR THE OFFICE, BUT THAT THE TAX ISSUE COULD RENDER HER INELIGIBLE TO ACTUALLY HOLD THE OFFICE OF WALKER COUNTY COMMISSIONER. MS. BERRY SAID SHE INVITED THE WRITE-IN CANDIDATE TO ATTEND FRIDAY'S MEETING OF THE ELECTIONS BOARD."
There are three sets of tax issues. One is a local inventory tax for her husband's business that wasn't paid. That one was less than $500 and taken care of within hours of the candidate being made aware of it. The other two are old issues with the IRS and a loan company which were paid years ago. Documents to verify one have been produced, and documents for the other are being mailed in from out of state.
Ms. Campbell will be at the Walker County Elections office Friday morning at 8:30 to address the Elections Board. She says she will verify owing no back taxes and confirm (again) her eligibility to run for and serve as county commissioner.
Statement from Campbell: "I invite everyone to come to the Elections Board meeting tomorrow morning at 8:30 a.m. at the courthouse where I will address the breach of elections codes in the handling of a verbal complaint against me which resulted in a politically charged press conference on county time (one of which would not have been necessary if elections codes were followed)! I will voluntarily present receipts & releases (although I'm not required to because no written formal complaint has been filed against me) & ask for a public apology & press release from Ms. Berry for not following O.C.G.A. #21-2-6 and other elections guidelines, and possibly doing damage to my campaign. I do not owe taxes on a local, state or federal level. I also believe THE MUDSLINGING SHOULD STOP!"
The candidate is expected to make a formal statement to the media once the Elections Board meeting concludes. Local media outlets aren't expected to cover the statement or anticipated decision to re-certify Campbell the way they covered Don Oliver's original press conference. Again, the issue here isn't that the elections board is checking this – they should check into issues like this (with EVERY candidate, not just those challenging incumbents) – but the way it was handled by Mr. Oliver. There was no written complaint filed and no reason for the County Attorney (a convicted felon who supports Ms. Heiskell's reelection but cannot vote) to hold a press conference on this matter until after the Elections Board meeting.


WQCH Radio, 10/11/12: "LAFAYETTE POLICE HAVE MADE AN ARREST IN A DOMESTIC CASE THAT THEY SAY, EVOLVED INTO A KIDNAPPING. 38 YEAR OLD RUSTY ALEXANDER OF LAFAYETTE HAS BEEN CHARGED WITH BURGLARY, KIDNAPPING, FALSE IMPRISONMENT AND SIMPLE BATTERY ACCORDING TO CAPTAIN STACEY MEEKS.
"THE VICTIM, A FORMER GIRLFRIEND OF ALEXANDER'S, TOLD POLICE THAT SHE RECENTLY RETURNED HOME TO FIND THAT ALEXANDER HAD BROKEN IN TO HER APARTMENT. MEEKS SAID ACCORDING TO HER ACCOUNT – ALEXANDER CONFRONTED HER ABOUT SEEING SOMEONE ELSE AND THEN PUNCHED HER IN THE FACE, PRODUCING A BLACK EYE.
"SHE SAID HE CALLED HER SUPERVISOR AT WORK, SAYING SHE WAS SICK AND WOULD NOT BE COMING IN. HE IS THEN ALLEGED TO HAVE TAKEN HER ACROSS THE STATE LINE TO ALABAMA, WHERE SHE WAS HELD AGAINST HER WILL FOR TWO DAYS.
"MEEKS SAID SHE THINKS ALEXANDER WAS GIVING THE BLACK EYE A CHANCE TO HEAL, SO THAT HE WOULD NOT BE IMPLICATED IN A CRIME. ALEXANDER WAS TAKEN TO THE WALKER COUNTY JAIL, AND DETECTIVE DARIN KELLEY IS INVESTIGATING THE CASE."
There are some questions being raised about the girl involved, but if this is true (any of it really) it's a disturbing case. Hopefully LPD will get to the bottom of it shortly.


Here's Video 1 from the Ales Campbell portion of Tuesday night's Candidate Forum:
More: Video Part 2 | Video Part 3 | Video Part 4
So far only the Campbell portions of Tuesday's forum have been provided. Anyone with other candidates' sections is encouraged to e-mail the video (or links to it) to LU at lu@cityoflafayettega.com.


Apparently $20 tattoos are not a good idea.
Has that ever been mentioned here? Seems like it has.


Wednesday the LaFayette Middle School Ramblers whipped Chatt. Valley 27-14.
Later in the day LHS girls softball team won against Ringgold, claiming the championship and a 12th straight winning game. They played at LaFayette's new $900,000+ softball field at Lowell Green rec. center.


Mars Theater District Inc announces its first tenant: "Heirlooms Vintage Rentals Boutique will be located on 121 North Chattanooga Street adjacent to Chattanooga Street Tavern. Mandi Millican, proprietor"
Not sure how well that business will do in LaFayette but good luck to them. It's what we want: something on the West side that isn't a liquor store, gas station, or pawn shop.


Chattanooga Times Free Press takes very thin look at taxes in Walker County. Lookout Mountain cut their budget and is trying to sell t-shirts to build sidewalks (seriously), Rossville residents are all about killing their library to keep taxes from going up, and Bebe still doesn't have a 2013 budget almost two weeks into the fiscal year.
"'The economy is really, really in the toilet right now,' Heiskell said. 'I could use some more [revenue], but when the economy is bad, it's not a time to raise taxes.'"
In 2010 the county's economy was as bad, if not worse, than it is now, and she raised property taxes saying it was up to her based what she knew we needed, not on what the people of the county wanted or requested.
But she wasn't up for reelection that year. Are her decisions really based on what we need, what the county needs, and what's best overall – or just on keeping herself where she is? Will she still say the same thing next year once she's safely back in power?


Highlights from yesterday's Walker County Commissioner meeting: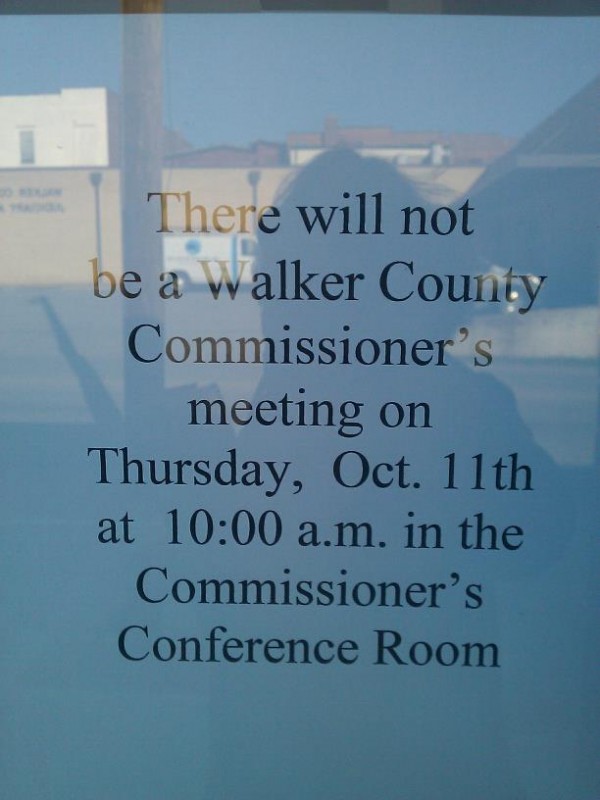 This is what meeting attendees find at Bebe's office about every-other week.


How's Georgia doing for economic growth? The answer is a resounding "meh."


Covenant College is right across the Walker-Dade line, but seems like it never gets mentioned here or in local news. Here's a little bit about leadership changes there. A former student is now college president.


Have you picked a spot to watch the Summerville Steam Special come through tomorrow? Here's a bit of video shot for LU last year off McCarter Rd.


LPD announces plans to begin doing "Telephone Welfare Checks" for the city's elderly and disabled:
City of LaFayette Facebook, 10/11/12: "Telephone Welfare Checks can be done for elderly or shut-in residents. The LaFayette Police Department is compiling a list of phone numbers to be called during regular office hours, Monday-Friday to check on those residents health and welfare. If you have a family member or neighbor who might like to be added to the phone-check list, call Captain Stacey Meeks at the Police Department at 706-639-1540."

For today's links and any breaking news, follow the Underground on Facebook or Twitter.