2012
06.19
Updated July 30, 2012 to add February receipt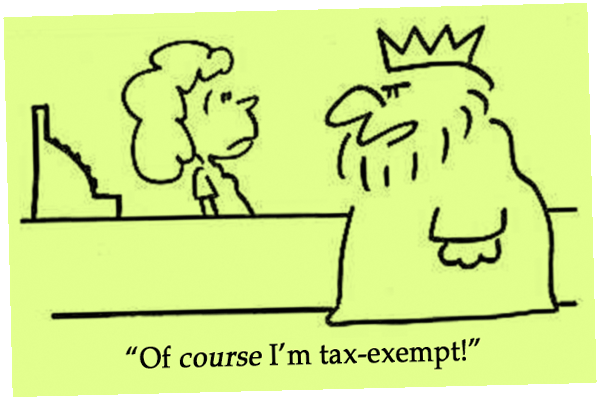 Most purchases in Georgia are subjected to a 4% sales ("sales & usage") tax. With three additional local taxes (LOST, SPLOST, and ESPLOST) the total sales tax paid on purchases in Walker County is 7%. In Tennessee, where residents don't pay income tax, base state sales tax is 7% on most items. Hamilton County's local tax brings the total there up to 9.25%.
As a benefit to particular people or industries, Georgia and Tennessee both exempt certain items, like medical supplies or groceries, from all or most sales tax. Purchases meant for resale are exempt too since they'll be taxed again when the buyer resells them. This is, for the most part, fair and appropriate.
Both states also allow particular organizations to exempt themselves from paying the tax; Schools, nonprofits, churches, and government agencies – among others considered beneficial to the community – can skip paying state and local sales tax in Tennessee. Georgia (excepting churches) does the same thing. Organizations wishing to be tax exempt must file appropriate papers with each retailer they do business with, and often sign a form stating that the purchase will only be used for charitable purposes.
This, too, is for the most part fair and appropriate.
What isn't fair or appropriate is when items purchased tax-free are bought to benefit an individual person instead of the public. And Walker County's legitimate tax ID number has been used for that very thing: to help one person avoid paying her fare share of sales tax.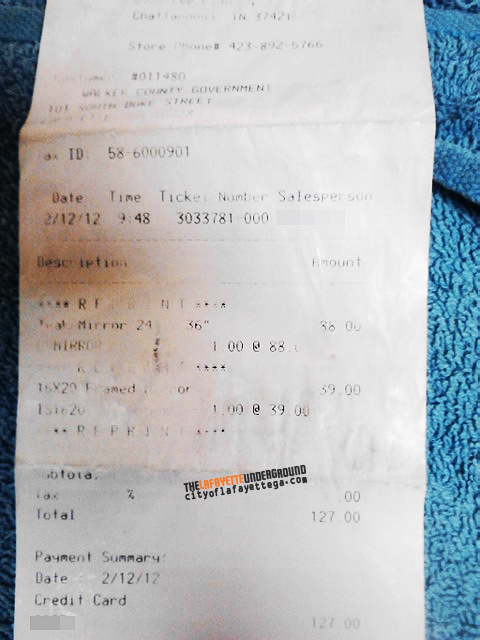 On February 14th 12th, Walker County Sole-Commissioner-For-Life Bebe Heiskell visited Southeastern Salvage in Chattanooga with her granddaughter. According to store employees, the two of them picked out some mirrors and wall art, discussing how nice the items would look in their home. At one point they were overheard discussing the items as a birthday present for the teenager. Heiskell paid with her personal credit card, but gave the cashier Walker County's tax ID number to make the purchase exempt from Tennessee sales tax.
We looked up Tennessee's sales tax laws, and found that technically the Volunteer State doesn't give tax breaks to out-of-state government entities. That means no purchase made with Walker County's tax ID, even ones made for legitimate reasons, should be exempt in Tennessee. Responsibility for that mistake falls on the store that accepted the number.
However even if out-of-state government purchases WERE allowed in Tennessee, it would still be illegal and unethical for anyone working in government or another exempt organization to use that entity's exempt tax number for their own benefit. It's also illegal in Tennessee to pay for tax exempt purchases with a personal check or card (as Bebe did); payment must be directly from the exempt organization.
This wasn't a one-time mistake.
On another trip to Southeastern Salvage on April 23, Heiskell purchased a hand-tufted wool rug for the bargain price of $49. Again, the purchase was declared tax exempt and the Commissioner saved herself $4.53 meant for Hamilton County and the State of Tennessee.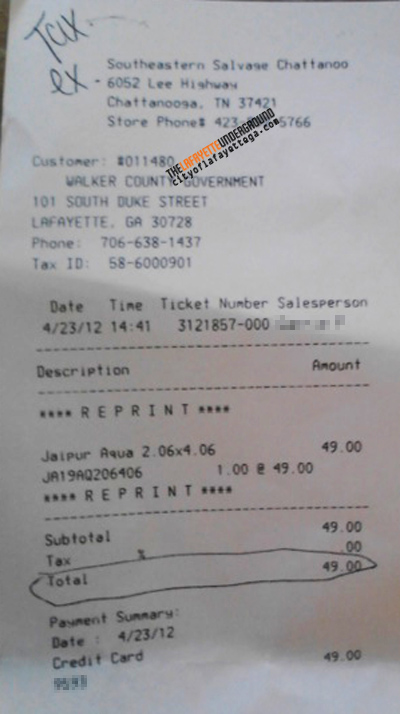 If Bebe Heiskell cheats sales tax laws at Southeastern Salvage, it's not much of a stretch to assume she's done the same at other stores in Tennessee, and likely in Georgia as well. How often does Madame Commissioner shop in Walker County without paying the required taxes? Hopefully never, but in light of her behavior in Tennessee we have to wonder.
Heiskell has been a strong advocate of sales taxes to keep property tax rates low. She's fought year after year to encourage voters to keep the SPLOST sales tax, and Walker County's general budget would collapse without the 1% LOST tax charged on everything sold in the county. She's also advocating for the TSPLOST sales tax increase voters will see on their ballots in July. So it's ironic that the county's sole commissioner is out at the same time breaking laws to avoid paying her own share of sales taxes in a neighboring community.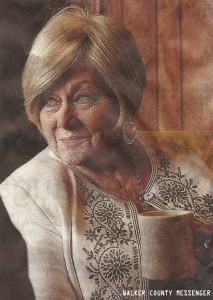 If Walker citizens somehow exempted themselves from paying sales tax in the county, Bebe would raise hell, bring in lawyers to rectify the situation, and complain the entire time to any media outlet that would listen. But when it comes to her own pocketbook she bends the rules and any possible excuse is perfectly acceptable.
The commissioner, or her supporters, will explain away the incidents mentioned here. She made a mistake, it didn't happen, or it doesn't matter because the amounts of money are so small.
But it wasn't a mistake, it did happen, and these few dollars of sales tax not paid in Tennessee are a big deal, because they reveal much about Heiskell's attitude and behavior in general. She hasn't just made herself tax exempt, she's habitually exempted herself from rules and standards the rest of us must follow.
She's exempted herself from sales tax, from transparency, from honesty, from having to listen to her constituents. She's broken laws about prison labor abuse, environmental destruction, nepotism, even public intoxication – and engages in shady business deals with other untrustworthy people.
Things that would get anyone else in trouble, or send them to jail, are acceptable for Heiskell. That mindset of being better than everyone else, of being above the rules, is a direct result of her thirty-plus years in government and twelve years of sole leadership in Walker County. It also comes from her position being unaccountable – she answers to nobody except the voters, and voters stay in the dark because of her "gentle treatment" by intimidated spineless local media.
This summer Walker County citizens need to show Bebe she's not exempt from the rules, and not exempt from scrutiny, by holding her accountable at the ballot box. If Heiskell is voted out of office in July, she can start paying her fair share and obeying the law like the rest of us do.
America doesn't have a king, and Walker County shouldn't have a queen exempt from the rules she makes the rest of us follow.