2012
06.13
There will be a community prayer service and rally for Austin Whitten tonight at 6 PM on the football field at LHS. Looking like half the town will be there. They'll be taking up a collection for the family afterwards.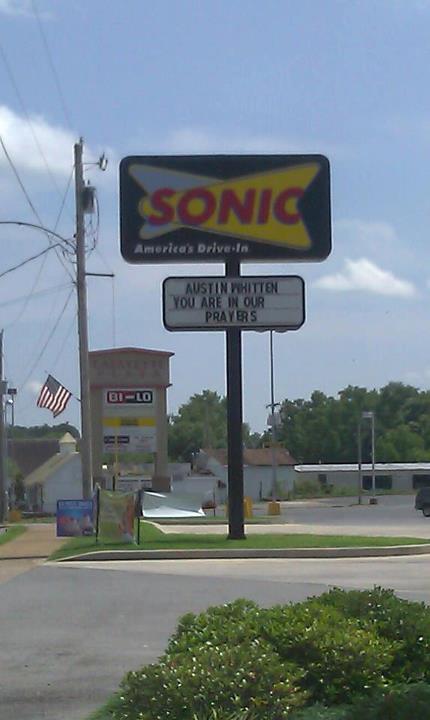 Whitten broke his neck in a swimming pool accident last Saturday and has been paralyzed from the chest down. He has had several surgeries to repair damage and take pressure off his spine, and is still in the hospital as this is written.
According to Channel 3, the family has been told that Austin has less than a 1% chance of walking again. He was put on a ventilator yesterday for breathing issues related to a cold he had before the accident.
CatWalkChatt, 06/11/2012: "The ceremony, which will be held at Jack King Stadium on the school's campus, will include guest speakers and singers. Donations will be taken at the conclusion of the night with all the money raised going directly to the Whitten family."
An account for the Whitten family has been set up at the Bank of LaFayette. The account is to "help offset the costs of medical expenses, travel money, and other needs."
Donations can be sent to the Bank of LaFayette at PO Box 1149, LaFayette, in care of Austin Whitten. Prayers can be sent in the usual way.

Update on the Cagle's robbery arrests. The Sheriff's Office says four guys stole two vehicles, then went back for four more – and walked home after? The numbers still don't make sense.

WQCH Radio, 06/12/2012:
"LAFAYETTE'S CITY COUNCIL VOTED TO DROP THE POSITION OF PUBLIC SAFETY DIRECTOR IN FAVOR OF NAMING SEPARATE CHIEFS FOR THE POLICE AND FIRE DEPARTMENTS. ALSO MONDAY NIGHT, THE DECISION WAS MADE TO RETURN TO ONCE-PER-WEEK GARBAGE PICKUP, NEXT MONTH. BOTH OF THOSE MOVES WILL SAVE TAX DOLLARS, ACCORDING TO THE CITY MANAGER."
"IN THE PUBLIC SAFETY DEPARTMENT THE NEW MANAGEMENT WILL ELIMINATE THE POSITION OF ASSISTANT PUBLIC SAFETY DIRECTOR, SAVING THAT SALARY. NEITHER THE POLICE NOR FIRE CHIEF WILL MAKE AS MUCH AS THE FORMER PUBLIC SAFETY DIRECTOR, FOR A NET SAVING IN DEPARTMENT SALARIES.
"CITY MANAGER FRANK ETHRIDGE WILL HIRE THE TWO NEW CHIEFS, AFTER POSTING THE POSITIONS FOR THE REQUIRED THREE DAYS. IN THE MEAN TIME, HE SAID, BENJIE CLIFT WILL SERVE AS INTERIM POLICE CHIEF AND CAPTAIN ROBERT BUSBEE WILL BE INTERIM FIRE CHIEF. THE NEW LEADERSHIP STRUCTURE WILL TAKE EFFECT NEXT MONDAY, JUNE 18th. AS TO THE PERMANENT CHOICES FOR THE TWO CHIEFS, MAYOR NEAL FLORENCE SAID 'WE WOULD PREFER PROMOTION FROM WITHIN.'
"IN ADDITION TO THE SAVINGS, COUNCIL MEMBERS COMMENTED THAT THEY LIKED EACH DEPARTMENT HAVING IT'S OWN CHIEF, REASONING THAT IT WILL BE BETTER FOR MORALE IN BOTH PUBLIC SAFETY BRANCHES."
Eliminated the assistant Public Safety job, and the Mayor wants an insider.. We're told by people close to LPD that the City Manager would have appointed Clift this week if Skipper Dunn hadn't threatened a lawsuit if the job wasn't posted as the law requires. That's why they're posting it for the legal minimum three days so people can waste their time putting in applications, just to see Clift named Chief next week. Robert Busbee is already a shoe-in for the new fire chief job, as well.
If they appoint Clift to be the new permanent chief it will be a real disappointment on many levels.
Clift offered to be an LU source, off the record, if we'd filter everything about the department through him. This is after he threatened our "outed" contributor with a trespassing charge unless LU buried those letters about Freeman abusing employees. Those reasons alone are enough to reject him as the chief.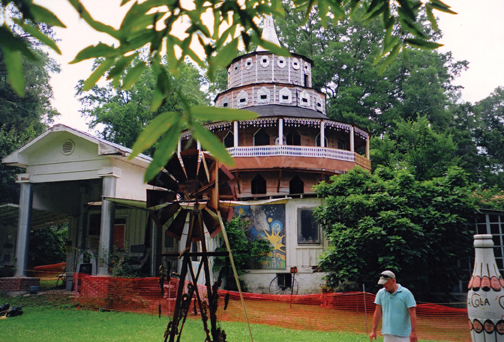 Paradise Gardens near Trion is getting a grant of almost a half a million dollars to pay for restoration in progress. The money comes from the federal gov't, several foundations, and some regional banks.

The GBI is temporarily prohibited from providing handwriting analysis to state law enforcement agencies because all the crime lab's scientists failed a key test.
Everybody in GA prison today because of a case with handwriting evidence will be filing for an appeal now.

Not local, but worthy of discussion:
CNN: Father kills man sexually abusing his daughter
*beats him for two hours* Aww, killed you. Oops!
He's lucky he was just punched to death.

Your advertisement on this site could be seen by hundreds a day for only pennies. Support the Underground with a block ad from Project Wonderful.
For today's links and any breaking news, follow the Underground on Facebook or Twitter.