2012
06.12
Nick Snyder, the guy we told you confessed to the Cagle car thefts and vandalism, has after 17 days finally been charged with the crime. Jessie Clayton and two unnamed juveniles were also picked up. Clayton confessed and named Snyder, which apparently made it hard for the Sheriff to keep insisting nothing links Nick to the thefts.

Wilson is bad to pontificate and predict the outcome of investigations that haven't been conducted yet. A benefit, apparently, of being the final word in local law enforcement with the DA in your pocket. It works, except for when somebody else confesses too and world + dog find out because the suspects all have big mouths.
Other reports say Snyder and Collins ripped off ANOTHER dealership in Rossville.. And remember last week they picked him up for having that scrap metal and batteries from another dealership in LaFayette, although how they knew it came from there and not Cagle's is beyond us.
Two Jeeps in Rossville, a Jeep top in LaFayette, and a Wrangler and a Cherokee or Liberty from Cagle's. Somebody really likes Jeeps.

We knew Nick Snyder was involved within 72 hours of the crime, it wasn't difficult. Feels like they did everything possible to NOT solve this thing and the people involved were so utterly stupid about it that they couldn't keep from arresting them. But Snyder isn't in custody; he apparently took off after being bonded out for his other arrests.
The leading theory was seven people stole six cars in one trip or four stole three cars in two trips.. Seven seems the most likely of those possibilities. We've also heard the stories about this coming from a big drinking party, and the property on Pigeon where all the vehicles were taken (including the XTerra before it ended up off Round Pond) is used for G—-t underage booze parties on a regular basis. That might be why this open and shut case with a confession took "hundreds" of investigative hours and two weeks to halfway solve.
"Sheriff Wilson praised the diligent work of detective sergeants Mike Hinch, J.B. Mullis and Jeff Herpst for solving the auto theft cases."
Thanks for letting the main guy who confessed run off, and then arresting three others after they admitted it and surrendered. Good work while you were eating lunch or something.

Last night the City Council voted to split police and fire chief, also voted to resume once-weekly trash pickup again. SunRae Water didn't show up for the meeting but "sent their regrets" and requested a time to speak during July's meeting.
The garbage change is "effective immediately" which means no more Friday or Monday pickup, again, after having restored two-day service last week.
There will be no letters or billing notices, you're expected to rely on "local media" for this info – so be sure to tell your neighbors what's going on. Most of the city doesn't follow LaFayette-based media like LU or WQCH.
New bigger cans are promised for those who need them, call the city and ask for one. If they don't provide it, contact your councilor. A second can is $12 a month for those who need more capacity.
No decisions made about who to put in the fire or police chief positions now that they're split. That will be addressed again later.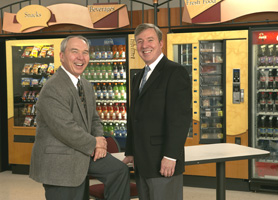 "RE Services is very proud of our heritage and we look forward to opening many new frontiers. Our goal is to remain independently owned, not controlled by outside investors." –RE Services Web site
Company insiders say RE Services/Restaurant Enterprises is selling out to Five Star Foods. No official announcement yet, and no word about any changes that might be made as a result.
The deal will be effective July 1st. The Ledbetters, soon to be former-owners of the business, are reaching retirement age and none of their adult children have an interest in taking over the company. Another unique local business taken out of local hands because nobody cares enough to keep it going independently.

Donation Drive tonight for Donnie Farmer, who lost everything in a fire last week. The drop-off is at One Eleven, they're asking for gift cards and clothing items to help Farmer. Can also drop stuff off at ShearTime, his mom works there.
"On Tuesday June 12 at 7pm we will be having a Gift Card and clothing drive for the family of Donnie Farmer who lost everything in a fire last week. If you can contribute any of these items, please bing them by One-Eleven this Tuesday. The needs are as follows: mens 34 waist, large shirts, Boys size 10-12 husky pants, Female size 5 and medium tops, Baby boy 3-6 months and sizw 2 diapers. Donnie's parentsw are Doug and Wanda Farmer of Sheartime on the square."

Even state legislators are beginning to oppose the TSPLOST sales tax we're being asked to vote for in July.
Supporters of the tax are in a minority, but they have a lot of resources (including tax dollars) at their disposal to "sell" voters on its supposed merits.
However, opponents are starting to get organized and stating clear reasons why TSPLOST is a bad deal for the average citizen. They're even selling anti-TSPLOST yard signs to offset the pro-tax signs that will pop up like mushrooms as the election grows closer.
Fixing what's broken with GDOT would save a good portion the money TSPLOST is expected to bring in. There are possible problems with the state constitution, federal laws about treating different districts unevenly, and projects in some areas that nobody likes.

Quotes from Steve Wilson, Tom McMahan, and David Ashburn about political party allegiance (or lack thereof) at the local level.
We don't disagree with anything they say here. Regardless of how you feel about party issues like homosexual marriage, abortion, the national debt, and foreign relations, they don't really come into play for the Tax Commissioner, Sheriff, or Coroner.

Peach Pundit / It's Not Just About College:
"Students early in high school need to be given salary and benefit information for welders, electricians, and plumbers. They also should take a look at current unemployment rates for C student recent graduates of colleges with dubious majors. A college degree is not a guarantee of employment or financial success. A real job skill would serve many of Georgia's students better, and would help attract the employers here that we need."

Eight blocks of downtown Summerville have been listed on the National Register.

WQCH Radio, 06/11/2012:
"THE KU KLUX KLAN HAS PETITIONED THE GEORGIA DOT TO ALLOW THE GROUP TO 'ADOPT' A HIGHWAY IN NORTHEAST GEORGIA. THE GROUP SAYS IT IS SIMPLY A CIVIC MINDED MOVE TO CLEAN UP LITTER ON THE ROAD IN UNION COUNTY.
"GEORGIA'S ADOPT A HIGHWAY PROGRAM BEGIN IN 1989, ENLISTING VOLUNTEER GROUPS TO CLEAN ROADSIDES OF LITTER.
"GDOT IS PLANNING TO MEET WITH LAWYERS FROM THE STATE ATTORNEY GENERAL'S OFFICE TO DECIDE HOW TO HANDLE THE REQUEST. THEY COULD BE FORCED TO CHOOSE BETWEEN APPROVING THE APPLICATION, DENYING IT, GOING TO COURT OVER THE MATTER, OR SIMPLY DISCONTINUING THE 'ADOPT A HIGHWAY' PROGRAM ALTOGETHER.
"STATE REPRESENTATIVE TYRONE BROOKS, HEAD OF THE GEORGIA ASSOCIATION OF BLACK ELECTED OFFICIALS, CALLED ON GDOT TO REJECT THE KLAN APPLICATION EVEN IF IT MEANS A COSTLY LEGAL FIGHT."
They have a right to exist and meet just like anybody else, it's in the Constitution.. Doesn't mean the state has to accept the request if it uses the word Klan in it though.
According to additional reports, the group name is "The International Keystone Knights of the KKK" and the sign on GA 115 would say "IKK Realm of GA, Ku Klux Klan"
Our bet: the state will end "Adopt A Highway" as a result of this action. How many of the Adopt a Highway groups actually pick up trash often enough to make a difference? Probably a small percentage of them.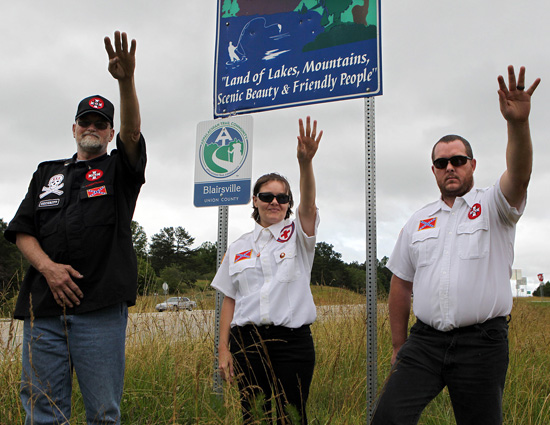 Most Klan groups now, what's left of them, are mostly talk. They're practically a joke. The last Klan activity in Walker County was in 1989, a protest against laws regulating junkyards. They got together and asked the community to vote down zoning laws because it would hurt their junk car businesses, and the community ignored them.
After that they all died or hung up the hood and ran for office.
For today's links and any breaking news, follow the Underground on Facebook or Twitter.