2012
05.21
Information about last Wednesday's termination of LaFayette Police Chief Tommy Freeman has been trickling in.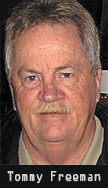 City Manager Etheridge says "the official reason was a loss of trust from the council and myself and his ability to manage the department" but we know that's just the beginning of the reasons for it.
According to the Walker Co Messenger, an investigation of the chief done by the City Manager found rampant abuse, at least nine different incidents where specific officers were mistreated, use of inappropriate language, laziness, and retribution against officers who didn't support him. In other words, verification of every single thing the Underground has said about Freeman for the last two years, and then some.
(By the way: good job Messenger for finally jumping in this issue after ignoring it for the last five years. Too controversial to touch two weeks ago is your headline this week; if you want to stop bleeding readers you should stop leaving all the best stuff for bloggers to cover. Tommy Freeman's behavior has been the worst-kept secret in town for years.)
Etheridge reprimanded Freeman for his behavior and poor management style, but it's not clear if the chief would actually have been fired if not for his response to the reprimand: "'On Monday in apparent retaliation to your staff you removed television and internet access from most of the po-lice department offices,' the termination letter continued. 'Your efforts to reassign individual officers with a meet-ing set for this Friday for your sergeants and lieutenants also spread concerns of demotions and firings.'"
A meeting scheduled for last Friday where a lot of officers would have seen their careers ruined by Freeman never happened, because Freeman's own career ended on Wednesday.
Also from The Times Free Press:
"Mayor Neal Florence said the council wasn't aware of any turmoil between Freeman and other employees before the March meeting. But he admitted there was at least one complaint by a former employee against Freeman two years ago that didn't raise city officials' concerns.
"Another employee who resigned in November 2010 sent letters to Arnold and the City Council after he left. He claimed Freeman was verbally and mentally abusive and that his behavior had demoralized the department, making it difficult for police to do their jobs. ..Florence said the council didn't look into the allegations at the time because Vaughn already had resigned. 'It wasn't a concern at the time,' Florence said.
Neal Florence needs to go about fourteen years ago.. If he doesn't retire under his own power next year as he's told people he will, the citizens of LaFayette need to retire him. Let him go play golf with Tommy. He had every opportunity to know, and when the complaint letters came in he got them to Freeman instead of acting on them – or gave them to Johnnie Arnold who passed them to Freeman. It's a real slap in the face, and has been all along, that he's done so little in the twenty-plus years he's been mayor.
Also the Times Free Press obtained Freeman's employee record from Griffin, GA and found problems with it.. Why couldn't the city have done that in 2007?
Several City Council planning meetings scheduled for last weekend have been moved to the first weekend of June. We're told the meetings had been planned long before the Freeman firing became an issue, but no doubt the council will begin discussing his placement during those conferences.

The Walker County Sheriff's Office employee arrested last week for stealing from the evidence room has now been identified as 39-year-old Scott Davis. According to media reports, Davis has been helping himself to guns no longer needed for evidence. He's now facing 11 charges of theft.
According to people close to the case, Mr. Davis' wife suspected him of cheating on her. She snooped around and found the guns, along with prescription drugs from the jail, in his possession. She told another officer she knew, he told Sheriff Wilson, and Wilson called the GBI. Steve then went back to sleep.
As usual, it all comes down to accountability. Davis wasn't accountable to anybody, nobody was keeping an eye on him, and if not for a problem keeping his pants zipped, would likely have never been caught.

Chattanooga Times Free Press: "Unemployment rates fall in Tennessee, Georgia"
Will Bebe try to take credit for this?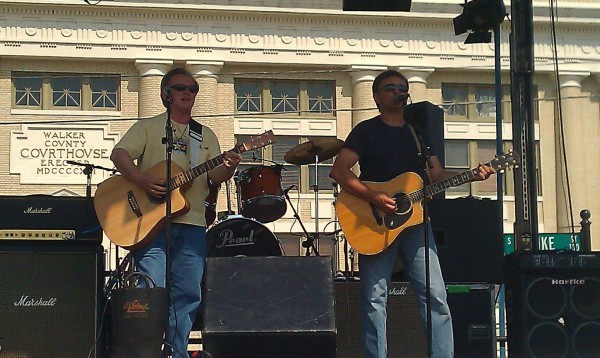 The second-annual Memorial Day Music Festival was a success. Organizers estimate more than 3,500 people attended throughout the day.
The only complaint we've heard is about scheduling. The headliner group, Little Texas, was supposed to be on stage at 9:30 and didn't play their first chord until nearly midnight. It was a free concert so you can't complain much, but next year organizers should either put the headliner second or third from the end so people with children can go home, or advise that their announced schedule isn't likely to be accurate.
Since this year's Music On the Square Memorial Day Music Festival wasn't held on Memorial Day weekend, and the name is a pain to say and type, a shorter catchier title is needed. So far suggestions are "Music, Squared" and "MVSIC AT THE COVRTHOVSE." What do you think?

30-year-old registered sex offender Adam Chastain of Murray County has been arrested for an alleged rape committed at Dalton State College back in April. He was, and still is, a student there.
Should colleges screen a students' criminal history before accepting them for attendance? Certain crimes can be overlooked, but seems like it's a bad idea to have 30-year-old registered sex offenders in class with 18 year olds.

1) Get appointed to state board overseeing property. 2) Approve plan to have state lease your property. 3) Resign when media finds out 4) Cash checks. = profit!

Another scam to watch out for.. If you get a text message from your bank or card company, don't call the number in the text – call their official line and make sure where the text came from.

A quick-thinking Catoosa school bus driver saved his 20+ elementary and pre-K passengers Friday when the bus they were on caught fire.

Local book alert: Jordan's Journey
"The book traces the major family lines of Pope, Jordan, Scoggins, and Holcomb, along with the associated families of Clement, Love, Robbs, Goodson, Visinand/Whisinant, Anderson, Chapman, Lawrence, Rambo, Hawkins, Ward, Keown, and Cavender. Other allied families are discussed, as well as general local history of the Armuchee Valley region of northwest Georgia."
The accompanying blog also has some local content, and photos we'll probably steal later on.
For today's links and any breaking news, follow the Underground on Facebook or Twitter.