2011
04.10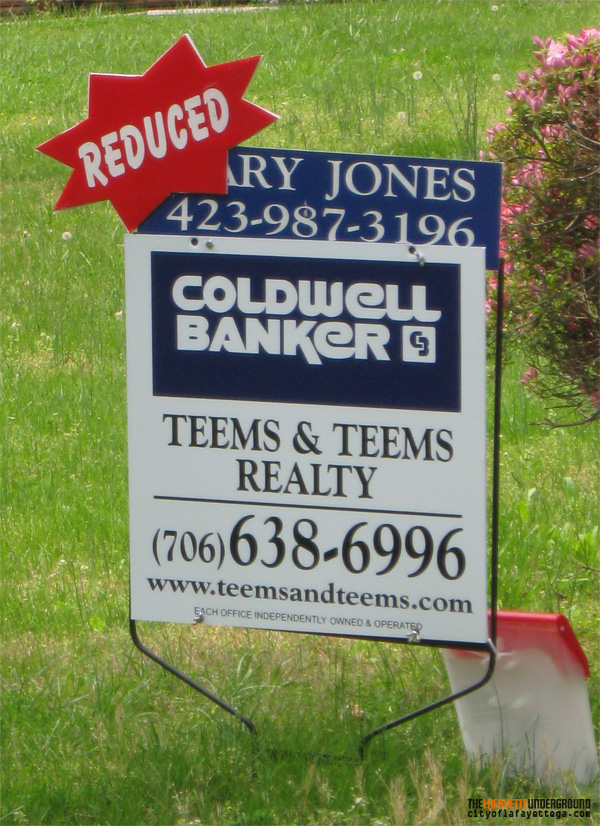 According to an article submitted by Jackson Realty, a total of 37 homes were sold by realtors in Walker County during the month of March. Those 37 homes sold for $2,384,461, averaging $64,444 each. The median value of those homes was $52,000, meaning 18 sold below that price and 18 sold above it.
In February 36 homes were sold. The average sale price was $93,215 and the median $77,500. January figures were nearly identical, 33 homes averaging $104,063 with a median of $79,000. For all of 2010 441 Walker County homes were sold (average 36.75/month) with a median price of $81,900. (No total 2010 value was provided so the year's average can't be calculated.)
Putting March's numbers into comparison with previous months, it seems we've hit some kind of housing price rut – the $52,000 median is only 67% of the February median and 63% of the median for last year. Until April numbers come in it won't be clear if the situation is temporary or permanent, but a full return to 2010 prices is highly unlikely.
Housing Sales Numbers:
| | | | | |
| --- | --- | --- | --- | --- |
| MONTH | SALES | AVG PRICE | MED PRICE | % PREVIOUS |
| AVERAGE '10 | 36.75 | N/A | $81,900 | N/A |
| JANUARY '11 | 33 | $104,063 | $79,000 | 96.5% |
| FEBRUARY '11 | 36 | $93,215 | $77,500 | 98.1% |
| MARCH '11 | 37 | $64,444 | $52,000 | 67.1% |
These figures are only for sales through a licensed realtor so it's possible the price drop is a result of higher-priced homes being sold directly by their owners or through other back-channels – but since the number of properties being sold remains essentially unchanged that's an unlikely explanation. It's also possible that the homes being sold are smaller or sitting on smaller properties. The most likely explanation is the same number of same-size homes have continued to sell, but at a much lower price than we've seen in almost a decade.
That's bad news for real estate companies since lower sale prices mean lower commissions. But don't lose sleep over that; agencies in Walker County have fewer competitors than ever, so the homes and other properties that do sell are being sold by a smaller core group of agents. That isn't much comfort for Walker County homeowners trying to sell out: most homes purchased since the mid-1990′s are now worth less than what they cost to begin with – but county tax appraisals aren't being adjusted to reflect the new pricing.
On the flip side, lower housing prices benefit those looking for somewhere to live. As we noted last month, many LaFayette families have been forced to move in with relatives because housing costs haven't fallen as fast as incomes. If March's sale prices stick that situation may change considerably. Lower sale prices will make home ownership possible for more families and should make the county more attractive to potential new residents; meanwhile some homes that were for sale at higher prices may end up being rented out instead. An influx of new rental homes should force rent prices down, benefitting those poorer families struggling to make ends meet.
We don't want to see real estate prices completely collapse and know lower home prices hurt those looking to sell, but this 1/3 drop in housing costs is beneficial to a majority of Walker County residents and an important step towards economic recovery that will benefit all of us.