2010
04.16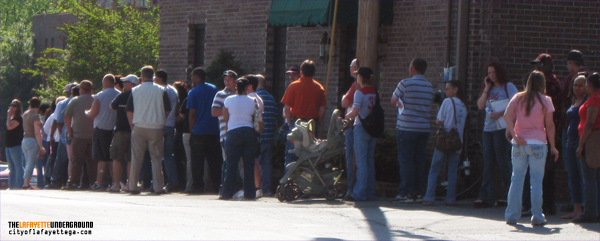 Traffic through downtown LaFayette was briefly brought to a standstill Friday morning as hundreds of people lined up in front of the Walker County Messenger office and around the block towards Kentucky Fried Chicken. With no parades and no special giveaways at KFC in sight, we quickly investigated and found the cause for all this commotion: a jobs fair-turned-circus at the Bank of LaFayette Community Room. The jobs fair was reportedly sponsored by Roper, all to fill ten open positions there even as other local manufacturers are rumored to be preparing for layoffs.
This isn't quite a depression-era job line (LU photos were taken after much of the crowd had dissipated), but it's obvious that the people of LaFayette still care and still greatly depend on Roper even if the city's leadership doesn't.
Were you in line for a Roper job? Working for a place threatening to lay people off? Join the discussion below.