2016
11.06
Walker County set an early voting record this election year: 13,756 ballots cast during the last three weeks – plus another thousand "absentee" ballots sent in the mail.
That's 41% voter turnout, which is decent for the entire election – and actual election day isn't until Tuesday. (Polls will be open Tuesday 7A to 7P.)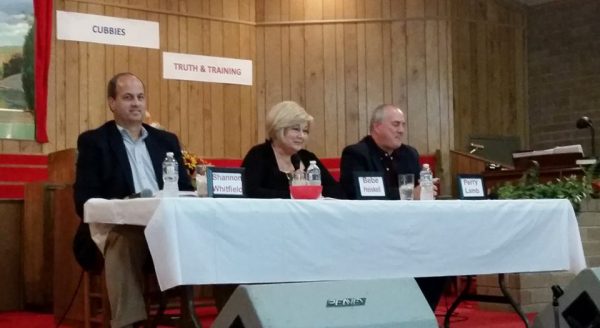 When asked by the local paper what their "top priorities" are for next year if they win the vote, Walker County's three commissioner candidates gave varying answers.
Bebe Heiskell said she'll work on roads, which she hasn't done in the last sixteen years, and get sole commissioner on the ballot – something else she's intentionally blocked since taking office.
Perry Lamb said he'll make sure the county's own charter is being followed, demand the sole commissioner issue be on a ballot soon, do a forensic audit to find out where the county's money went, and work to cut department budgets as possible by 10%.
Shannon Whitfield said he'll work to reduce debt, set up an advisory team to help him, and won't do an audit – but if he finds any problems with the county's money he'll let the state know.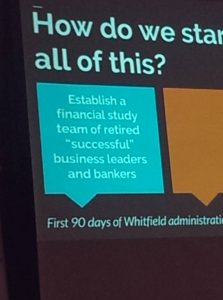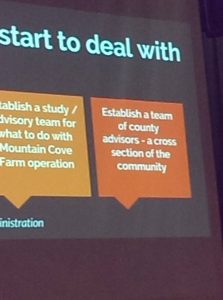 Whitfield has said several times now that it will cost too much to do a full investigative audit. But he'll set up a "financial" team to check into it, and if they find any problems they'll let the state know.
Some of the people on his financial team, including himself, may have things in the county's finances they don't want people to find out. The ONLY way to do a financial investigation is to have it done by someone independent who has nothing to lose from telling the truth.
We wouldn't put up with Bebe auditing herself, so why is it acceptable for her presumed replacement to do his own audit?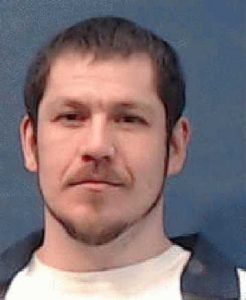 Two Walker deputies were injured Thursday morning, with one sent to Cornerstone for treatment, after being stabbed or cut by a suspect.
Early reports say Jimmie Goins, 32, was prowling inside a Rock Spring apartment and went after officers with a kitchen knife when confronted.
Goins, who got out of prison four days earlier – last Sunday – now faces a laundry list of new charges.
He has past felony convictions for battery, obstruction of law enforcement, damaging government property, DUI, meth, and marijuana.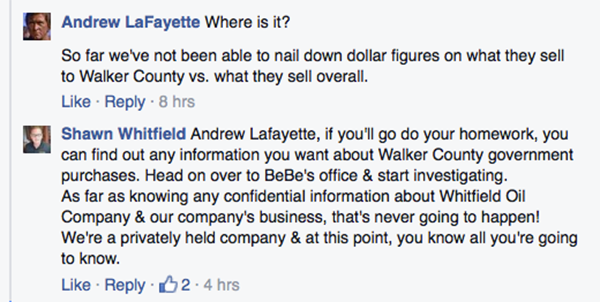 Commissioner candidate Shannon Whitfield, who has repeatedly refused to reveal anything about his personal finances or the books of his family business, says Perry Lamb should be disqualified from the election because he filed for bankruptcy a decade ago.
Lamb overcame a huge debt caused by the housing market implosion and is now able to pay for his own campaign. He says the experience of going bankrupt gave him a better understanding of how most people in the county live and showed him how to live on a budget.
Not everybody can get a ready-made business handed to them by their daddy, with an office, title, and guaranteed business from the government. Some people actually have to work for a living, and sometimes debt happens.
(Perry mentioned his bankruptcy on his campaign web site and has been open about it from the beginning, this is becoming news now because Team Whitfield has nothing else to throw at him with the election getting close and Lamb rising in popularity.)
For months now, Mr. Lamb has gone door to door around Walker County, shaking hands and talking to the average man or woman about what they want and need from their local government.
Lamb hasn't been reported to the ethics commission. He hasn't been cited for shenanigans with his donations, he hasn't cashed big checks from companies in Tennessee, and he hasn't made personal attacks against his opponents – something Whitfield nor Heiskell can claim.
He's earned your support by investing his own sweat, funding, and shoe leather into this campaign while the other two candidates for commissioner have sent their teams out to do dirty work on their behalf.
If you want to see actual change in Walker County, beginning next January, then you need to touch the button for Perry David Lamb, Jr. next Tuesday.



Last week Walker County was served with paperwork for two civil lawsuits, both due to alleged unprofessional behavior in the Sheriff's Office.
One stems from a May incident where (now former) deputy Wesley Holland is accused of having physical relations with a female inmate being transported to Dunwoody.
The other is a previously unreported matter where a (so far unnamed) jail employee allegedly called an inmate the "N" word.


Record crowds Friday evening at Bebe's Walker County State Fair.
There has to be tens of people there. Maybe.
But Bebe is still making the most of it. Heiskell will get the maximum re-election value she can out of what YOU'RE spending on this crap-show.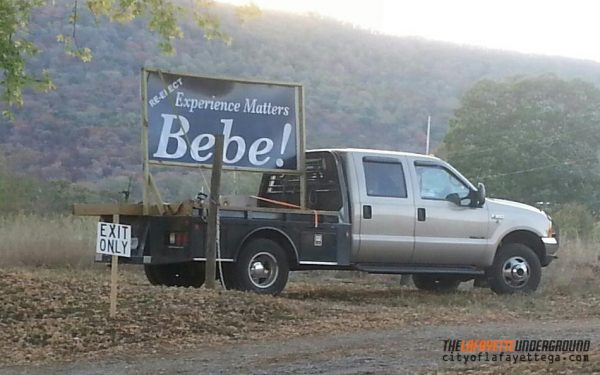 (This isn't a county vehicle but it's at a county facility. Probably breaks a law somewhere.)
In related news: The failed county-owned restaurant at Mountain Cove Farms is set to reopen, tentatively by December 1st. So far the name hasn't been announced.
This time the county (or, more specifically, the county development authority) will be a landlord instead of running the business; Greg Cornelison of Greg's in Chickamauga is renting the Manor House Restaurant space from the County Development Authority.
Terms of the lease haven't been made public, but considering how little traffic there is out there, he'll have to get it dirt cheap to have a chance at success.




More random woods fires in Walker County, this one Thursday on Corinth Road.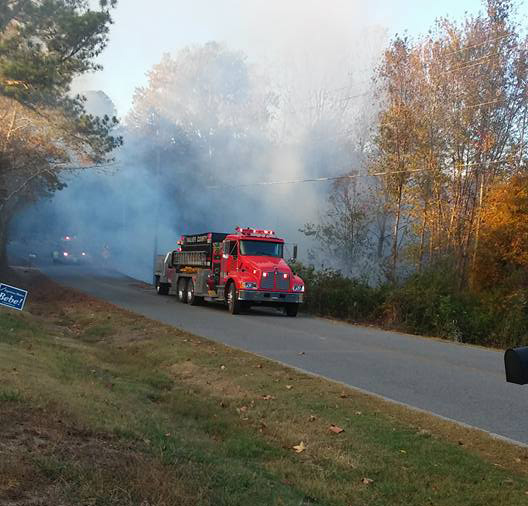 The fire was extinguished, then reignited, and was extinguished again.
No word on the fate of that Bebe! sign.


Friday night LaFayette ended its 2016 football season with a rare win, beating Gilmer, on the road, 10-7.
That takes LHS to 3-7 for the year, the most games won under coach Chad Fisher and the best season record since 2011. But their year is done.
Ridgeland also won Friday, 44-6 v. Southeast, taking them to a division-winning 8-1. They'll go on to the playoffs this next Friday.
Gordon Lee goes 5-5 with a 28-14 loss to the Walker Wolverines of Marietta. Their season is also probably done.



Alleged meth-head thief busted on Taylor's Ridge.
WQCH Radio, 11/03/16:

"THE LOOKOUT MOUNTAIN DRUG TASK FORCE, ASSISTING OTHER AGENCIES IN INVESTIGATING A MULTI-STATE THEFT RING, MADE AN ARREST IN THE WOODS ON TAYLORS RIDGE, TUESDAY.
"TASK FORCE COMMANDER PAT DOYLE CHARGED 42 YEAR OLD ERIC SHON BURKE WITH POSSESSION OF METH AND POSSESSION WITH INTENT TO DISTRIBUTE. DRUG WEIGHING AND PACKAGING MATERIAL WAS ALSO CONFISCATED, ALONG WITH ABOUT 12-THOUSAND DOLLARS IN STOLEN PROPERTY. DOYLE SAID THE STOLEN GOODS INCLUDED A VEHICLE AND A 4-WHEELER TAKEN FROM FLOYD COUNTY GEORGIA, WITH OTHER ITEMS RECOVERED FROM ALABAMA THEFTS.
"ANOTHER SUSPECT GOT AWAY AFTER A BRIEF FOOT CHASE. DOYLE SAID THE MEN WERE HIDING OUT AT THE END OF OLD VILLANOW ROAD IN A REMOTE LOCATION ON TAYLORS RIDGE, NEAR LAFAYETTE."
This is now being referred to as a multi-state theft ring.
Mr. Burke has a long list of criminal convictions including meth, armed robbery, theft, and shoplifting. All, until now, in Chattooga County.
He got out of state prison on September 16th after spending nearly two years behind bars. Before that he did a twelve year sentence. (Impressive he's gotten this deep into a "multi-state theft ring" in only six weeks.)
Prison must be awfully nice, these guys get out after years and years inside and after a few days or weeks go right back.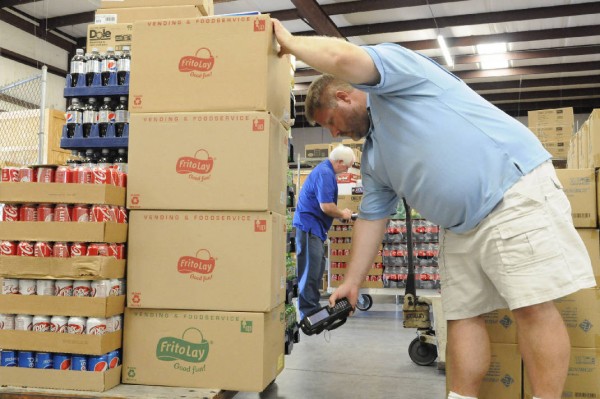 Five Star Food Service, which bought Restaurant Enterprises of LaFayette a few years back, has now itself been sold to a investment firm.
Sounds like there will be few if any changes made at the local level, at least for now.


A police pursuit on foot Wednesday, beginning on Daugherty St, resulted in the arrest of two.
One of the suspects taken into custody is reported to be LU frequent-flier Ryver Mitchell.


Wednesday Governor Deal, who won't run for office again and doesn't care what you think of him, flew into Trion for lunch.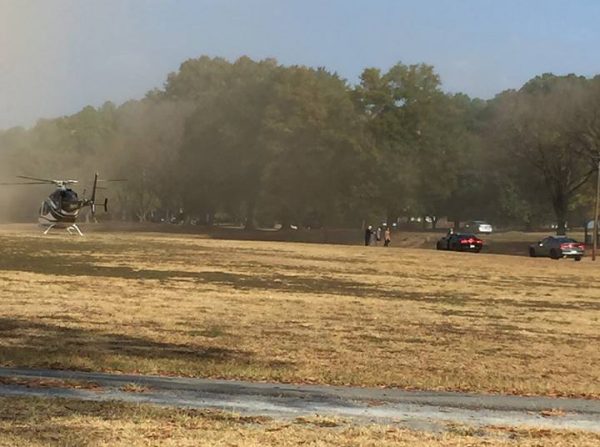 He met with the Trion Rotary and Optimist clubs then flew off somewhere else, where he'll hopefully stay.
Meanwhile, Deal is in trouble for calling black people "colored" in a speech about his dying ballot measure about schools.
His office said the governor was referring to the NAACP and misspoke, which seems like a stretch at best.


Colonial Pipeline projects they'll have fuel supplies back to normal by the end of the day today.
Good job not getting in a panic – there will fuel, and we'll all survive.


This guy already knows how most of Walker County will feel if Shannon Whitfield wins the election: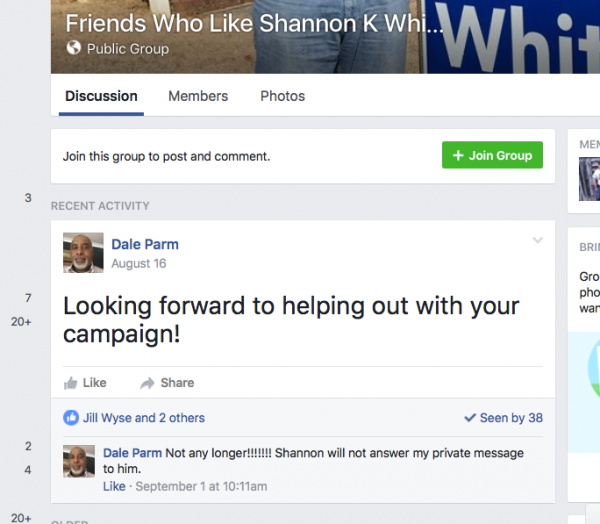 Walker County in November: "RAH RAH GO SHANNON BEAT BEBE!!@!"
Walker County in March: "WHY WON'T SHANNON ANSWER THE PHONE? WHY IS BOBBY TEEMS MAKING DECISIONS ABOUT BUDGETS?"


Fairyland Elementary, atop Lookout Mountain, will soon have a "floating aquaponics greenhouse."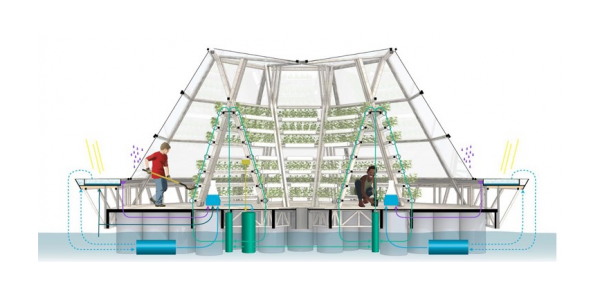 You've probably never heard of that before. The one in Walker County will be the world's first, an idea conceived by former school system John Parker, who now works for an aquaponics company – the same company that will build the greenhouse.
The school is seeking to raise $150,000 from the community to pay for the project. Based on this, little or none of the cost will come from the school system's tax-funded budget.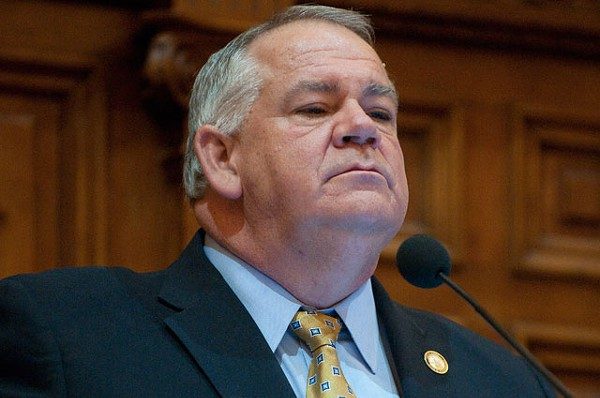 Georgia Speaker of the House David Ralston took a small slap on the wrist last week as punishment for misusing funds meant to help his law firm's clients.
Georgia, where ethics come to die.


For today's links and any breaking news, follow the Underground on Facebook or Twitter.