2016
09.24
Bebe Heiskell didn't include a court-ordered $8.7 million payment to Erlanger Hospital in her 2017 budget, because she's not planning to pay it.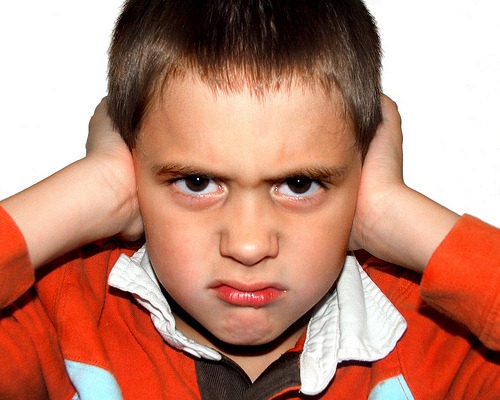 Heiskell's plan to deal with Hutcheson debts has been consistent: pretending it doesn't exist. The legal equivalent of a kid plugging his ears and going NAH NAH NAH when asked why he broke a window.
(She took a similar approach to the problems that led to Hutcheson's demise in the first place, which is how we got to this point.)
In a "community meeting" Bebe claimed she's studying several ways to deal with the Hutcheson debt, but she wants to keep battling it in court.
She goes on to blame the county's problems on everything from the school system to juvenile justice and claims, again, that Audia will solve every problem despite having less than 50 employees – most from out of state.
As for Bebe's next county budget…
It's not YOUR money, Bebe. IT IS NOT YOUR DAMN MONEY.


Last weekend a pipeline leak and shutdown in Alabama threatened to disrupt gasoline supplies for much of the eastern US.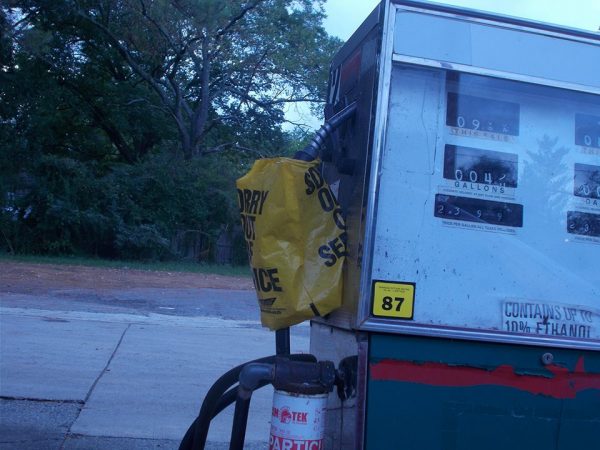 Fears of gasoline shortages led to runs on the pump, which of course resulted in some temporary outages in stations around the area – but no gas station was out of fuel long, as deliveries (from further away) continued.
Georgia law prohibits gasoline price gouging during emergencies, but Gov. Deal signed a redundant executive order Monday saying the same thing – gas stations can raise prices but not in a ridiculous, abusive amount to take advantage of the situation.
Deal's office rightly said we wouldn't run out of gas state-wide if people only buy the amounts they would normally purchase instead of panicking and buying extra for no reason.
Now that initial concerns have faded, the supply situation seems to have stabilized – although prices are still about 25 cents a gallon higher than they were before the problem began.



A rollover accident Wednesday night near the 193/341 intersection (the one on our end) sent four young men to the hospital.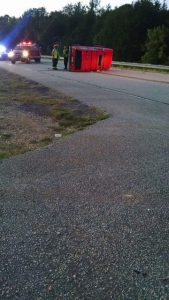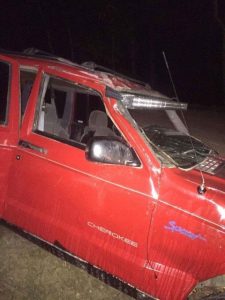 Four boys riding in a Jeep Cherokee ended up with minor injuries, despite one passenger not wearing a seatbelt.


Earlier this month El Trio Mexican Restaurant got a 79 on a health inspection.
A 79 in't too bad, except for the part where inspectors found live insects inside three food containers that weren't properly covered.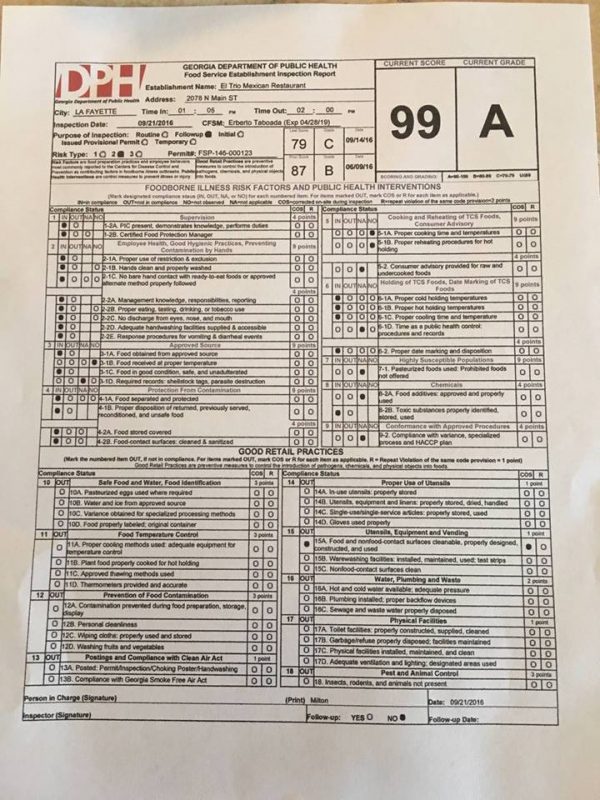 On reinspection the eatery earned a near-perfect rating of 99, with no bugs.



Hide yo wife, hide yo chillens: IronMan returns to Walker County this weekend for a third year.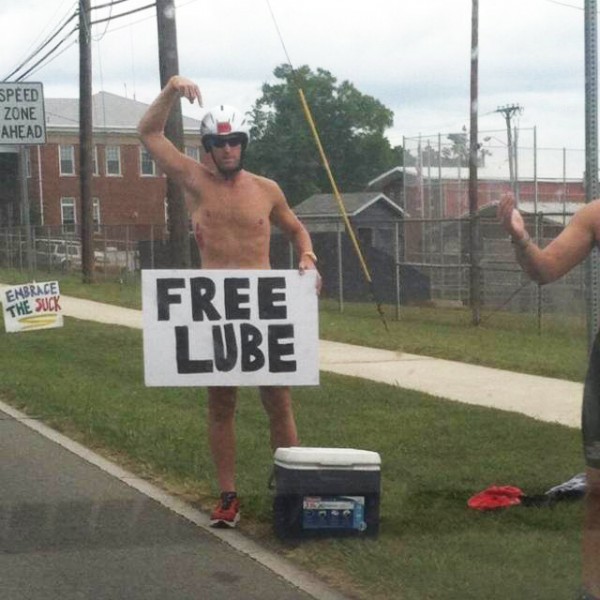 Sunday the bike portion of the endurance race will close or delay the same roads as last year: portions of 193 from Flintstone into Kensington, Cove, West Cove, Hog Jowl, and various routes into or out of Chickamauga.
If you're driving through those areas this weekend add extra time to your plans, and drive carefully.


Did you get your invitation to Bebe's community meetings?
A campaign mailer thinly disguised as official information (so it could be legally sent with tax dollars), to promote campaign rallies disguised as public meetings.
That's Bebe's Walker County.
[Video courtesy Rebecca Lynn Swanson]


Speaking of election crap: If you're not a registered voter, or need to update your registration after moving, getting married, etc. you have until October 11th to take care of that for the upcoming fall election.
Early voting in that contest, which includes the presidential election and county commissioner race, begins October 17th. The actual vote will be November 8th.


Overwhelming shoplifting is one of many reasons businesses close.
People defend stealing from chain stores asa victimless crime, but these companies will pack up and leave town if they lose so much money to theft that their locations here don't make money.
WQCH Radio, 09/19/16: "A SHOPLIFTING ARREST AT THE LOCAL WALMART 'GOT A LITTLE PHYSICAL' LAST WEEK, ACCORDING TO THE POLICE REPORT. 49 YEAR OLD RODNEY EUGENE SPATES [left] TANGLED WITH WALMART SECURITY IN THE PARKING LOT, WHEN HE WAS CONFRONTED FOR TAKING DOG FOOD AND OTHER CONSUMABLES WITHOUT PAYING.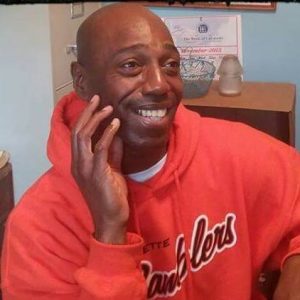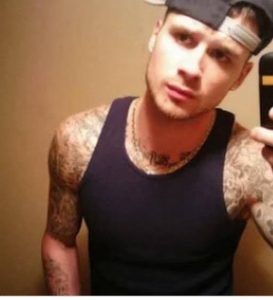 "IN ANOTHER CASE, 27 YEAR OLD TRAVIS WELLBORN [right] WAS CHARGED WITH SHOPLIFTING AT THE WEST MAIN KANGAROO STORE. HE WAS CAUGHT PUTTING AN ITEM FROM THE MEDICINE AISLE IN HIS POCKET, ACCORDING TO STORE PERSONNEL."
This kind of crap is why the LaFayette and Trion Walmarts aren't 24 hour stores. So much theft during overnight hours they don't make a profit. (If theft during the day is too frequent they might become zero-hour stores.)
Maybe public shame will encourage these guys not to steal again.


There is no clown. Stop messaging LU asking about clowns, and stop calling 911 for clowns.
The "clown" in Summerville wasn't real, and people in other communities are going to jail for spreading rumors about clown kidnappers. The clown in Fort Oglethorpe was a 7-year-old in a Halloween costume.
Go watch TV or something and stop worrying about clown rumors started in middle school bathrooms then spread online.


Recently Walker County Chamber of Commerce put this banner on its Facebook page, encouraging support for local businesses.

Just one problem… Where in Walker County was this picture taken?
[hint: it was not.]
Eat. Shop. Enjoy LOCAL, the next time you visit beautiful downtown Harrodsburg, Kentucky – where this photo is from.
(After this was posted on LU, the Chamber changed its Facebook cover photo to a LaFayette downtown picture. Much better.)


The election for sole commissioner in Chattooga County is almost as heated as the election in Walker.
One topic of contention in that election, between Jason Winters and Jimmy Holbrook, is the size and condition of Chattooga's jail.
Holbrook says the county should invest in a new jail instead of paying other counties to house its inmates. Winters says they should just declare an emergency to get around a court order from 1984 saying they can't keep more than 47 inmates behind bars in the current ancient facility.
Chattooga has needed a new jail now for decades, and apparently needs a better commissioner than Jason Winters has turned out to be.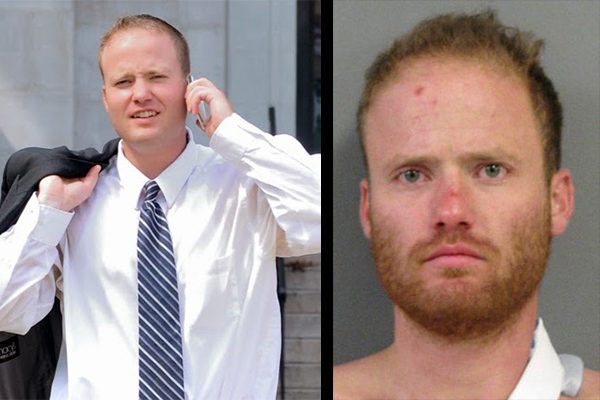 Former Chattanooga lawyer Matthew Jack Fitzharris, who broke into a random Catoosa couple's home in July and tried to move in with them before being shot in the arm, will not stand trial – for now anyway.
First, he's got to have three months of mental health evaluation.


Another milestone for political ethics in Georgia.
Gov. Deal has appointed Jake Evans, the son of his personal lawyer, to sit on the State Ethics Committee – meaning he'll be one of the people who makes decisions about campaign finance law violations.
Evans will, in theory anyway, have to sit out any matters involving Deal or his dad.


For today's links and any breaking news, follow the Underground on Facebook or Twitter.