2016
09.17
Crime in the Rossville area came to an end Thursday with the opening of Walker County's new unmanned sheriff station.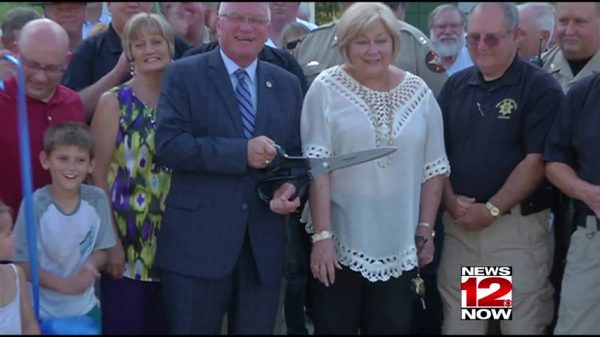 The satellite office in Ridgeland Business Park off Wilson Road, which was remodeled with magic beans instead of scarce county tax dollars, has put fear in the hearts of every potential thief, drug user, and child molester in North Walker County – all of whom packed up and left the state after hearing of the office's ribbon cutting ceremony and the dignitaries who appeared in support.
Walker County has no additional officers to assign to the station, but Sheriff Wilson said "eventually we might be able to have a part time clerk here – if funds are available."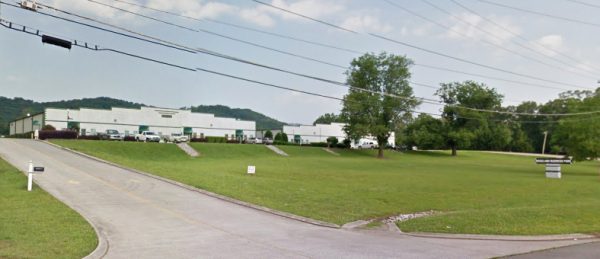 For now, the office will primarily serve as a badly needed bathroom stop and free coffee area for deputies who would otherwise be stuck on the roads in their brand new patrol cars.
(Isn't it amazing how quickly Bebe can get something done in an election year when she's struggling and needs support from a popular Sheriff with political capital to burn?)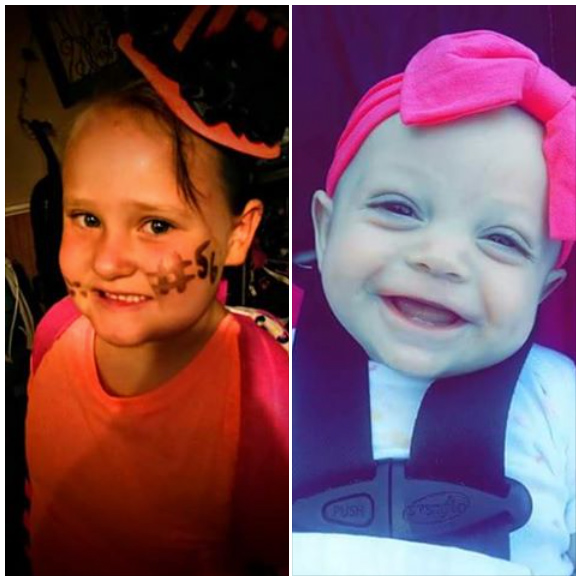 Services for Nataleigh and Jocelyn Long, the two girls killed Tuesday in a house fire, will be held at Wallis-Wilbanks.
Family visitation will be tomorrow from noon to 8 PM, funerals at 5 Monday night.
A bakesale fundraiser for the girls' family was held Friday at Saddle Ridge where the younger of the two attended school. Donations are still being accepted at the school for anyone who couldn't make it to that event.



The iconic 1940's glass block facade of the old Coca-Cola building that houses LaFayette PD will soon be gone, replaced by generic, modern plate glass windows.
WQCH Radio, 09/14/16:

""THAT ORIGINAL ART-DECO GLASS BLOCK DECORATION ON THE FRONT WALL OF LAFAYETTE'S PUBLIC SAFETY BUILDING, IS ABOUT TO BE REPLACED WITH A MODERN LOOK.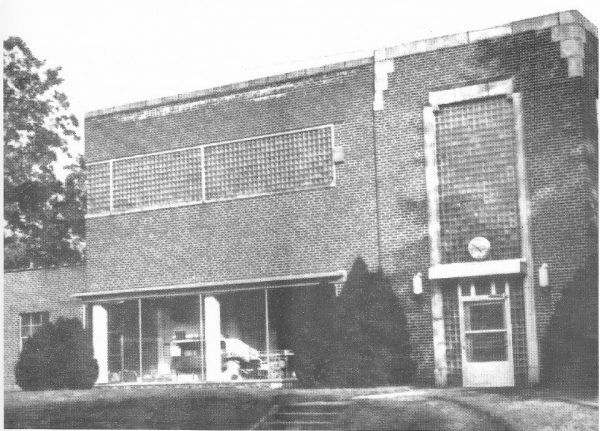 "THE 1938 BUILDING, WHICH ORIGINALLY HOUSED LAFAYETTE'S OWN COCA COLA BOTTLING PLANT, HAS SUFFERED FROM RAIN WATER LEAKAGE IN THE PAST FEW YEARS, AND POLICE CHIEF BENJIE CLIFT SAID THE OLD GLASS BLOCKS ARE TO BLAME. RAIN SENDS WATER DOWN THE WALL AND INTO THE LOBBY FLOOR, AND THE MOISTURE IS ATTRACTING INSECTS AND SPIDERS, CLIFT SAID.
"THE CITY COUNCIL APPROVED A LOW BID MONDAY NIGHT, TO REPLACE THE ORIGINAL GLASS BLOCKS WITH BRONZE REFLECTIVE PLATE-GLASS, AT A COST OF JUST OVER 22-THOUSAND DOLLARS."
Wonder what the cost difference would be to just put in new not-leaking glass block?
The city already ruined the historic character of this building with the metal peaked roof and vinyl siding added a few years back to fix a leaking roof; this just adds insult to historical injury.


Many customers of Walker County Water & Sewer Authority in the Mission Ridge/Ridgeland area lost water in the middle of last week, due to multiple water line breaks.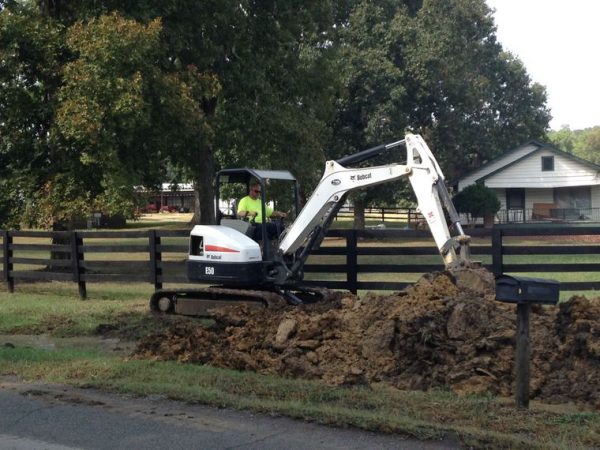 The county's water subsidiary lost "hundreds of thousands of gallons" over a two day period as Water Authority employees and at least one private contractor worked to restore service.
The breaks were blamed on the drought and settling ground, but lack of maintenance might have also played some role in the infrastructure breakdown.


This week LU has gotten multiple reports of county employees illegally erecting campaign signs for Commissioner Heiskell.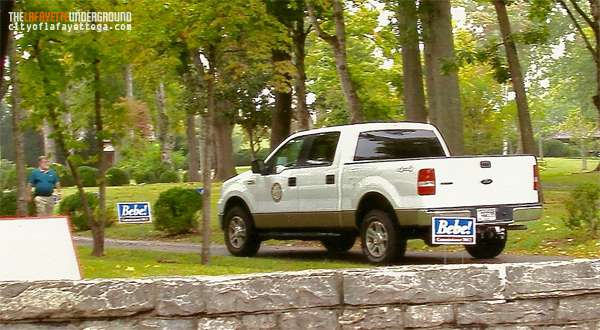 We've heard of this happening during past election cycles, and saw it done in person years before there was an LU. (This photo from 2012 is of Chickamauga's then city manager John Culpepper putting up signs for a Bebe fundraiser.)
If you see a government employee or government vehicle being used to put up campaign signs or doing anything else illegal/unethical THIS year, for ANY candidate, get a photo or a video – and send them to pics@lafa.ga.
It's against the law for her to have this done, and if we get enough evidence of it happening and raise enough of a stink over it, the state might actually do something.


"Disorderly conduct" – the catch-all crime that can fit any suspect in almost any situation.
WQCH Radio, 09/14/16:

"LAFAYETTE POLICE HAVE CHARGED TWO PEOPLE WITH DISORDERLY CONDUCT THIS WEEK, IN UNRELATED CASES.
"19 YEAR OLD CASSEY MARIE PHILLIPS WAS ARRESTED AFTER HER FORMER GIRLFRIEND ACCUSED HER OF HARASSMENT, VERBAL ASSAULTS AND OF PLACING A NUDE PICTURE ON HER SOCIAL MEDIA PAGE.
"IN THE OTHER CASE, 57 YEAR OLD ERNEST LEE SMITH WAS CHARGED AFTER A RELATIVE ACCUSED HIM OF PULLING A KNIFE. SMITH WAS FOUND SITTING NEXT TO A PACKAGE STORE ON WEST VILLANOW, INTOXICATED. THE REPORT STATES HE ADMITTED TO PULLING A KNIFE ON HIS COUSIN."
Plus: Walker County arrests, September 8-14.
(This will be the final Walker County arrest report since the new Sheriff Office annex put an end to all remaining crime in the county. Pretty soon we'll be able to turn the jail into a Mexican restaurant.)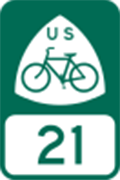 LaFayette is seeing an uptick in bicycle traffic this weekend as BRAG – Bicycle Race Across Georgia – cuts through the area, en route from Chattanooga to Summerville and then south.
BRAG will follow the region's new marked bicycle route: USBR 21.
Many local motorists hate the sight of bikes on their roads, but with a designated and signed bike route, this will become a regular thing.


Who holds the power in Walker County?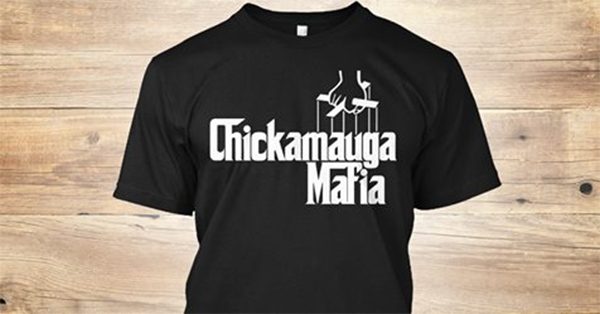 With this shirt, you do.
Chickamauga Mafia t-shirts, hoodies, and stickers now available again, but only until Wednesday.
It's an offer you can't refuse.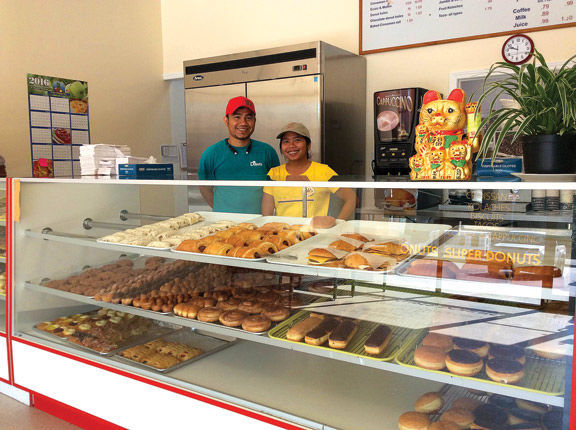 Have you checked out the new donut shop yet?
SuperDonut, in front of Walmart, is open M-F 5-5, 6-5 on Saturdays and 6-1 on Sundays.
They've been operating for about a month.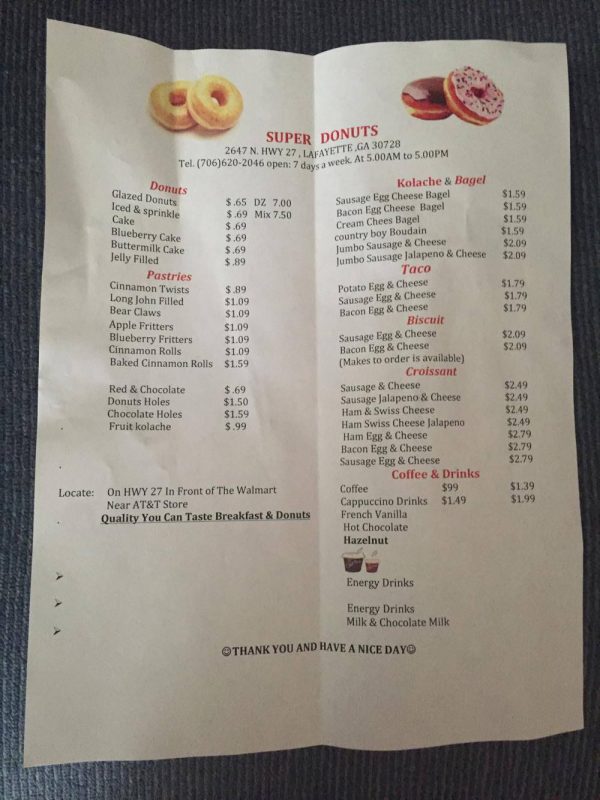 Here's their menu from a few weeks ago..
Old standbys like donuts and breakfast sandwiches mixed with some new stuff we haven't seen in LaFayette before. The place is getting great reviews.


For today's links and any breaking news, follow the Underground on Facebook or Twitter.