2016
08.12
How do leading Commissioner candidates Perry Lamb and Shannon Whitfield feel about sole commissioner goverment?
Will they push for the changed form of government voters demand, or will these challengers be satisfied to leave the current broken system in place if they're elected?
For years, those in charge insisted that Walker County's citizens preferred sole commissioner government.
In May that old myth was proven wrong. 75% of Walker County voters said they want a change, or at least a chance to change, to a board instead of a sole leader.
That vote wasn't binding, and no change will be made unless those in power recognize the vote and push to adopt a board of commissioners. Legislators are free to ignore that vote entirely or delay it until 2020 or 2050 or 4050 while pretending to act.
The next sole commissioner, whoever it is, will have much influence over that process – so it matters where they stand on the issue.
They can push legislators to act, push them to delay, or do nothing at all. And when we DO finally begin to change to a board, the commissioner at the time will have influence over how that plays out and how the new board is structured.
After watching this, which of these men do you think seems most likely to actually fight for the change we need?


Walker County is getting yet another Dollar General.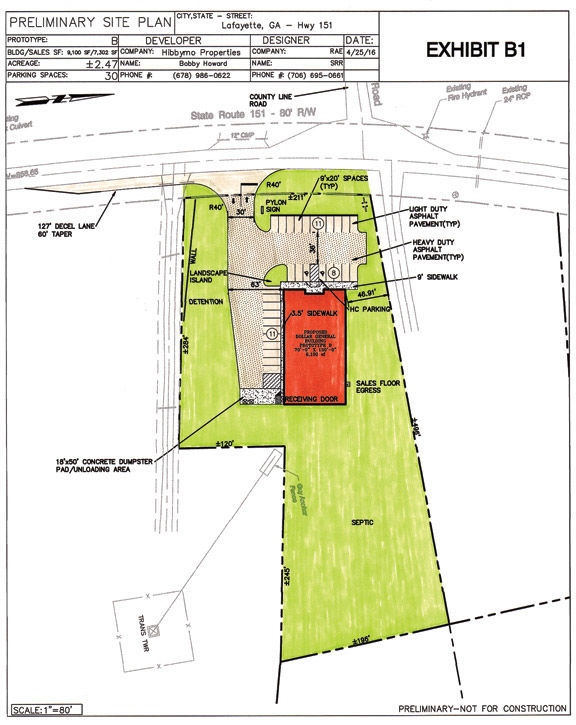 This one will open on 151 by County Line Road at the Walker/Catoosa line, across from Pit Stop. The new store will belong to David and Patricia Phillips of Boaz, Alabama.


Did you get your tax assessment letter yet?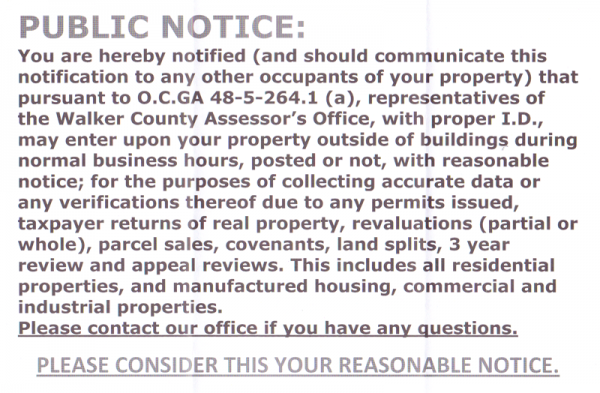 Many report home values shooting up by 50% or more in the assessment, and others say their home values actually dropped a tick. (If you feel the assessment of your property is wrong, you have 45 days to appeal.)
The letter is NOT your tax bill – it's just a notice of what the county thinks your property is worth, the taxable value. The tax amount included in the letter is based on last year's tax milage, or the amount the property value is multiplied by.
Commissioner Heiskell still hasn't set her portion of the taxes yet for this year – that multiplier.
(Bebe said Thursday she's not to blame for the letters you've gotten, because she doesn't appraise houses – and claims the assessor's office hasn't done anything in 12 years. Why does that department have a budget if it doesn't do anything?)
Because so many properties are now appraised higher, the county will make more money from property taxes even at the same tax rate as last year. Don't be shocked if Bebe lowers the rate a tenth of a percent as the election nears and claims to have cut your taxes even while most in the county will get a higher bill to pay and the county rakes in more than it did in 2015.


Six Rossvillains were arrested Thursday morning during five drug raids.
They all face charges of drug trafficking.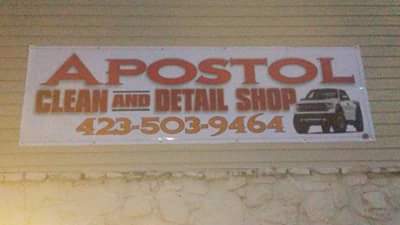 Among those going to jail are Cindy Boatwright Apostol, Theodore H Apostol Jr, and Theodore H Apostol III – the latter two owners of Apostol Clean & Detail Shop in Rossville, son and grandson of long-time (now deceased) LaFayette building inspector Jack Apostol.


Monday night in the August business meeting, your city council decided to finally take down the overgrown, rusty chain-link prison fence surrounding the golf course.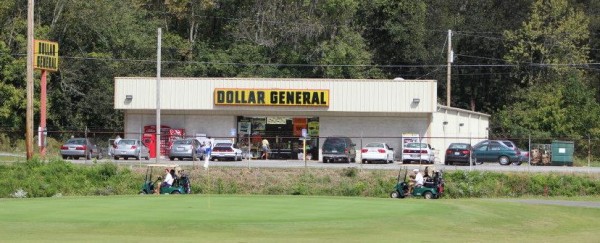 They also voted to move next year's Freedom Festival back to the Friday before July 4th (and leave it there), and set a date for the first Honey Bee Festival to June 3rd, 2017.
WQCH Radio, 08/09/16:

"AFTER MONTHS OF PUSHING A 'NEIGHBORHOOD REVITALIZATION CAMPAIGN' THE LAFAYETTE CITY COUNCIL VOTED TO 'TAKE SOME OF THAT MEDICINE, TOO' AND CLEAN UP A CITY-OWNED EYESORE ON SOUTH MAIN STREET.
"AT THE AUGUST MEETING, COUNCIL VOTED TO TAKE DOWN THE RUSTY, OVERGROWN BARBED WIRE FENCE THAT NOW OBSCURES THE VIEW OF THE CITY GOLF COURSE. COUNCILMAN BEN BRADFORD MADE THE MOTION, AFTER SHOWING PICTURES OF THE FENCE SECTION ALONG SOUTH MAIN WITH WEEDS AND TREE OVERGROWTH THAT HAS TAKEN IT OVER. BRADFORD SAID IT'S A SHAME TO BLOCK THAT VIEW OF THE CITY'S LARGEST GREEN-SPACE.
"A PROGRESS REPORT WAS ALSO MADE ON THE LOCAL PROPERTY MAINTENANCE-PUSH. THE CITY HAS RECORDED A TOTAL OF 34 BLIGHTED PROPERTIES CORRECTED, SINCE THE NUISANCE ABATEMENT CAMPAIGN BEGAN EARLIER THIS YEAR.
"AFTER A LOWER TURNOUT AT THIS YEAR'S FREEDOM FESTIVAL, WHICH WAS HELD ON JULY 4th, THE COUNCIL AGREED TO RETURN TO THE OLD ORDER AND HOLD THE EVENT NEXT YEAR ON THE FRIDAY BEFORE THE 4th. ALES CAMPBELL OF THE LAFAYETTE WOMAN'S CLUB, WHICH CO-SPONSORS THE EVENT WITH THE CITY, TOLD THE COUNCIL THAT THE CLUB PREFERRED TO RETURN TO THE FRIDAY BEFORE, AS WELL. SO, NEXT YEAR'S FREEDOM FESTIVAL WILL BE HELD ON FRIDAY, JUNE 30th.
"THE NEW 'HONEY BEE FESTIVAL' – WHICH WAS AGREED-TO BY THE COUNCIL LAST MONTH – HAD IT'S FIRST DATE SET, AS WELL. THE HONEY-THEMED FESTIVAL WILL BE HELD ON SATURDAY, JUNE 3rd, 2017.
"AND THERE WILL BE A NEW ADDITION TO 'HERITAGE DAY' IN LAFAYETTE, THIS FALL: A PARADE. THE COUNCIL APPROVED THE SHORT PARADE ROUTE FROM THE SQUARE TO JOE STOCK PARK, TO BE HELD ON THE MORNING OF HERITAGE DAY, SATURDAY, OCTOBER 1st."

Summerville Check into Cash employees Annie Marie Powell and Mackenzie Joyane Tucker arrested on forgery charges.
Investigators found the two had taken out loans in the names of Check into Cash customers and pocketed the funds for themselves.
If you've used this business, keep an eye on your credit report.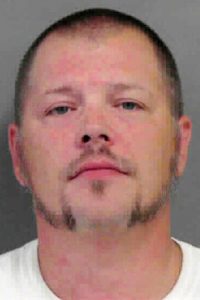 Anthony Ray Stanley of Tunnel Hill has been arrested for molesting two girls at a Catoosa church.
He wasn't at the church for services, but working construction there under a contractor on a weekday. The alleged victims, both under age 10, were at the church with their grandma.
Stanley has been a registered sex offender since 2007, for a crime he committed in 2002 – and had on his ankle bracelet while working at the unnamed church.


Trion's city government is taking a major step to battle future flooding.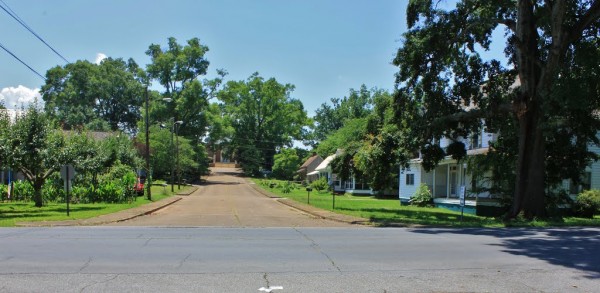 The mill town is buying land in the floodplain from Mt. Vernon mills so protective levees can be repaired or upgraded.
Other ways of reducing floods on the Chattooga River are being considered – before a repeat of 2009 puts Trion back underwater.


Bronco Rd. woman goes to jail for growing pot, destroying evidence.
WQCH Radio, 08/10/16:

"THE DRUG TASK FORCE CHARGED A LOCAL RESIDENT WITH 'MANUFACTURING MARIJUANA' FOLLOWING A TIP. 28 YEAR OLD ASHLEY MARIE HELTON WAS CHARGED AT HER RESIDENCE ON BRETT LANE, OFF BRONCO ROAD, LAFAYETTE.
"TASK FORCE COMMANDER PAT DOYLE SAID IT APPEARED SOME OF THE EVIDENCE HAD BEEN DESTROYED WHEN THEY ARRIVED LAST FRIDAY, BUT A COUPLE OF MATURE MARIJUANA PLANTS WERE FOUND GROWING OUTSIDE THE RESIDENCE."
Wonder how she "destroyed" the evidence of marijuana?
Possibly in a fire? A series of small fires…


In mid-June, LU shared a post from Mountain Top Boys Home asking for help to purchase a new van for resident use. Readers were challenged to help them get over the top to obtain a decent vehicle for the young men living in the Villanow facility.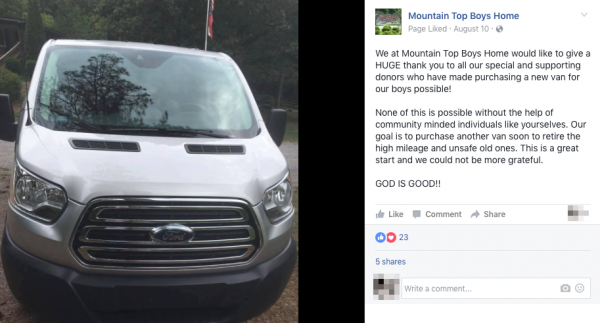 This week they announced the needed van has been purchased. It's unknown if any LU readers helped out, but SOMEBODY did. Good on them, whoever it was.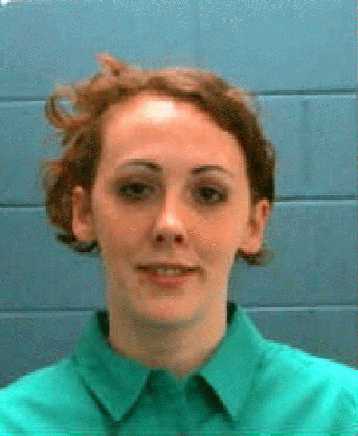 All the things you don't do in a car, done at once, lands local woman in jail. Again.
WQCH Radio, 08/10/16:

"A LOCAL WOMAN DREW THE ATTENTION OF POLICE WITH SOME ERRATIC DRIVING, MONDAY NIGHT. OFFICERS SAY THE NISSAN SENTRA HIT THE RAILROAD TRACKS ON PATTON STREET AT SUCH A HIGH RATE OF SPEED, THE DRIVER COULD NOT MAINTAIN HER LANE. SHE STOPPED AT THE INTERSECTION WITH CHATTANOOGA STREET FOR SOME TIME, THEN SPED SOUTHBOUND 'LAYING DRAG', ACCORDING TO THE REPORT.
"POLICE FOUND THAT 33 YEAR OLD AUTUMN LEIGH HICKS HAD LOST HER LICENSE IN 2014. THERE WERE OPEN ALCOHOL CONTAINERS INSIDE, AND THE CAR TAG BELONGED ON DIFFERENT VEHICLE.
"SHE WAS CHARGED WITH DUI, DRIVING WITH A REVOKED LICENSE, OPEN CONTAINER, FAILURE TO MAINTAIN LANE, NO INSURANCE AND ACQUIRING A LICENSE PLATE FOR THE PURPOSE OF CONCEALING IDENTITY."
Ms. Hicks spent time in state prison for the same kind of stuff: fleeing police, reckless driving, and "violating motor vehicle law."
She was arrested in Catoosa earlier this year and last summer for the same stuff also, violating motor vehicle laws and fleeing from police.
Looks like she's on a hard road that doesn't go anywhere good.


Georgia's ballot access laws are among the nation's most restrictive, intended to make every candidate run under the party label.
Parties are done, and it's time to change the law so anyone who wants to run can do so no matter what party they claim, or when they claim no party at all.
We've seen at the local level how difficult it is for a candidate to get on the ballot. Perry Lamb spent three months and thousands of dollars to get barely enough signatures to qualify, and he was only able to do that because the other candidates for the same office are so terrible.
Why should you have to claim to be a Democrat or Republican (or in Walker County, just an R) to run for office?


Walker State Prison in Rock Spring recognizes 12 employees for their years of service.


For today's links and any breaking news, follow the Underground on Facebook or Twitter.