2016
05.23
On Tuesday, Walker County voters will choose between Mike Peardon and Shannon Whitfield as the Republican Party candidate to take on incumbent commissioner Bebe Heiskell in November.
Who are the candidates, and where do they stand on local issues that matter?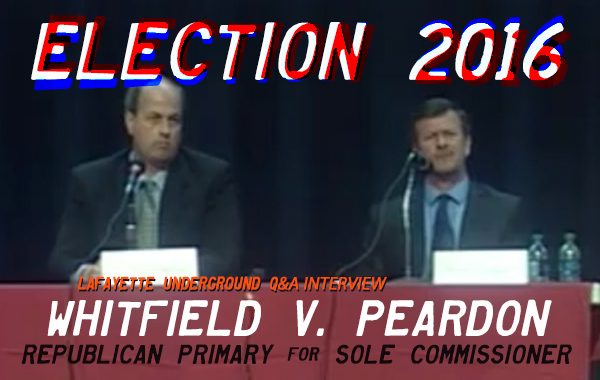 Both candidates for the Republican commissioner nomination were e-mailed these questions at 2:20 PM on April 30th. They were asked to respond by noon on May 4th. Mr. Peardon did not initially receive his e-mail and was sent the questions again on May 3rd.
Peardon responded before the deadline. Mr. Whitfield did not respond by the deadline, and two weeks-plus after the deadline has still not responded to the message – although he did confirm on Facebook (before the deadline) that he received it.
Since Mr. Whitfield elected to skip this opportunity to directly communicate his ideas to the people, his questions will be answered (where possible) using statements he's made in other venues. LU research answers and commentary are in italics.

LaFayette Underground:
What is your full name, age, and home address?

Peardon:
michael wayne peardon ,46 ,256 Tammy lne. lafayette

Whitfield:
[No response]
Whitfield is also 46. He lives on Dana Lane in Chickamauga.

LaFayette Underground:
How can voters contact you or stay in touch with your campaign? (Please include info like e-mail, phone, Web site, social media, etc)

Peardon:
facebook, walkerstrong.net,peardonmike@gmail.com,423 595 1400

Whitfield:
[No response]

LaFayette Underground:
How long have you lived in the area, and have you lived anywhere else? If you've lived elsewhere, how does Walker County compare to those places?

Peardon:
I have lived aprox. 34 years in Walker County.
I did live in catoosa county a few years,Walker County has a style totally different ,and offers subdivision living our farm living,There are many more places of solace to be found in Walker County than Catoosa County.

Whitfield:
[No response]

LaFayette Underground:
Starting as early as you want, what kind of education do you have?

Peardon:
I attended Pondsprings elementary,then Chattanooga Valley High School.I was trained as a Walker County volunteer firefighter,basic firefighting,first aid etc.I took and past the ASVAB military test,then entered the military training program where i recieved,hand to hand combat,m16 ,hand grenade,claymore mine,first aid,compass,field training,and HET training.Chattanooga state trained me to get my electrical license and the other 3 business license, i was able to pass the State test, after studying literature.

Whitfield:
[No response]

Mr. Whitfield graduated from Gordon Lee in 1988. He has admitted he did not attend college or tech school (which means he has the least formal education of the four announced commissioner candidates, including Bebe Heiskell) but says he has "over 30 years of 'real world' business experience" running his father's company, Whitfield Oil.

LaFayette Underground:
What jobs and/or previous elected positions have you held?

Peardon:
I have never ran for office,i started out working in mills around the area and cutting yards on the side..At age 22 i was supervising in the grey cloth dept.at Durham knitting in Lafayette.After that job i worked at loomis armored first shift, and kenco second shift.I left my first shift job and put an add in the paper to do handy man work.Some may remember my add as (Christian man ready to work for you).As i pursued my career in construction,i attended Chattanooga State to receive my electrical license started wiring houses.As i started making more money,i chose to buy a property occasionally to fix up and rent.I studied and returned back to the state board and received my fieldline and sewer,soil and erosion and builders license,to diversify myself and save cost on rental property investments as they came along.I have been self employed for the last 20 years and own and manage 16 homes in Walker County and continue to keep my license current to maintain my homes,and do an occasional side job at times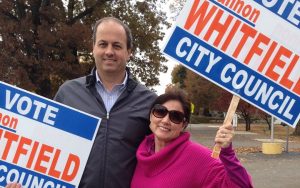 Whitfield:
[No response]
Whitfield's campaign bio lists only one paid job: working for the family business. He has served in leadership of many civic organizations, including the board of Cherokee Regional Library, Walker Chamber of Commerce, Oakwood Christian Academy, and the City of Chickamauga Planning Commission. He was elected to Chickamauga City Council in 2013 and served on that board from 2014 until he resigned last fall to run for Commissioner. He also resigned from the Chamber to campaign but is still on the library board.

LaFayette Underground:
What do your education and experiences contribute to make you a better Commissioner?

Peardon:
On hands training in many areas,whereas to be able to understand the needs people may encounter. I can use my education,life,s experience,common sense,and economic skills ,to turn this County around.

Whitfield:
[No response]

LaFayette Underground:
For Mr. Whitfield only: For most of the last forty-plus years, Walker County's commissioners have been from Chickamauga. Many living outside Chickamauga have felt overlooked by prior leaders and hesitate to vote again for someone else living in the same area. How can voters in LaFayette, Lookout Mountain, Rossville, and other communities be sure you'll represent their interests as adequately as you'll represent voters in Chickamauga?

Whitfield:
[No response]

LaFayette Underground:
For Mr. Peardon only: You've held no prior elected office, you have no political experience, no law degree. How can you compensate for this lack of experience in government, especially compared to Commissioner Heiskell's decades of service?

Peardon:
I believe that decades of service,in office can result in oversights, of how hard it is to make a living,thus becoming unattached to the struggles we face on this side of the government.I believe ,people are sick of politicians,and want a common person to help them,one that is not apart of business as usual for certain ones.As far as a law degree,the incumbent started as a secretary,the other commissioner owned a sawmill and the commissioner before that, started out climbing poles,now i am not downing none of them,but in comparison i am not aware that any of them held 4 state license ,in development and business.I can use my common sense,my experiences,my compassion for the working class to make Walker County Strong.Today a own four homes that are paid for,of which one i just built,my car,truck,dump truck,trailer,backhoe,and tractor are paid for,i owe no credit card debt,i have $114,000 in my rainy day fund,my wife and i are living on residual income and my credit score is 800.I also have a 3 acre lake, that i built and property in Catoosa County that is paid for. I believe my hard work,common sense,economics, and education trumps my opponents !

LaFayette Underground:
What motivates you to run for this position?

Peardon:
You know ,some people do not believe that God speaks, but have no problem admitting that the devil does.I experienced an overwhelming feeling inside to run for this job.I took my feelings to prayer many,many times.I even ask my church to pray for me ,but did not tell them what was concerning me.I recall it was on a Tuesday that i entered the court house ,to sign up.I got to the top step and just could not get a peace in my heart.I was still struggling with the decision Wednesday ,as i went to church . I took my concerns with me to the altar. Thursday morning i woke up at 4 am" which is unusual for me". I went into my office and prayed and read my bible and got absolutely no answer from God.Frustrated ,i turned on the television and the Pastor T.D.Jakes was on,his first words was so powerfully relevant to the words i had shared to only a few close friends and relatives.This man literally preached against the one and only excuse i was using in my mind,that was keeping me from signing up.Then he finished with my other thought ,which was David and Goliath.I had stated previously that this would be a David and Goliath issue, for a common man to run against the incumbent.I signed up that day and ironically,i was second only to Mr.Nelms signing and assumed my Goliath was the incumbent.A few weeks later a very tall man entered the race,and in the primary i will face him!

Whitfield:
[No response]
During the March 26th candidate event, Whitfield said he's running to "bring solutions" to the county's "big" problems. He admits he was hesitant to run but God told him to join the race: "I've said for fifteen months I wasn't going to do this and the Good Lord changed my heart and my mind and said that, uh, He did want me to do this so that's why I've entered this race." [Video 1, 8:13-9:02]

Recently, however, Mr. Whitfield's campaign manager Bobby Teems said HE had to push Whitfield to run: "he didn't need or want this job I learned [sic] on him heavily to run.."
By several accounts, Whitfield was chosen to run and pushed to do so by a group of influential people, including Teems, who then also approached other potential candidates and tried to convince them NOT to enter the race. God may have played a role in Whitfield's decision to run, but it was hardly God alone who initially chose him.

LaFayette Underground:
What do you consider the biggest failures of the current Commissioner?

Peardon:
I do not like pointing out others failures.

Whitfield:
[No response]

LaFayette Underground:
Can you name two things the current commissioner has done that you agree with or will try to emulate?

Peardon:
1.Protecting the nature beauty of the mt.cove farm.2.

Whitfield:
[No response]

LaFayette Underground:
If elected Commissioner, what are your top priorities for the next four years?

Peardon:
1 lowering our debt.2. hire and promote County employees from inside when possible.3. share the purchases of goods to all businesses in our County.4.protecting our natural resources 5.help to promote a multi board commission .6.make sure our pension plan is in order 7.try to reduce insurance cost on the employees.8 try to grow small business thru incubator grants.9.standardize our County,combating burned out,abandoned homes.10.extend help to the veterans and elderly.11.help promote volunteer firefighting.12 to be pro growth for an ever growing County.

Whitfield:
[No response]

LaFayette Underground:
What are five ways you as the next Commissioner can cut waste in the county's budget?

Peardon:
1.place a freeze on hiring ,until i personally see if the job requires two persons or one. 2.require all County vehicles to be logged.3.solid lined item budgets 4.educate and implement lowering energy consumption cost.5.monitor accounts,employee credit cards etc.promote volunteers.
During the March 26th candidate event, Peardon spoke of refinancing the county's debt or changing the frequency of debt payments in order to cut down interest in order to save money. He also spoke of combining redundant employee positions and cutting out unreported benefits to certain people allowed to use county equipment for their own purposes. Add those to the list he shared above.

Whitfield:
[No response]
Mr. Whitfield said on March 26th the biggest management problem Walker County has is the landfill, which he said lost $654,000 last year. He mentioned Mountain Cove Farms as also being a money/management problem, but said "probably the most glaring is definitely going to be the landfill." His stated plan to fix the dump is change its management and change its gate locks so garbage haulers can't leave trash without paying for it. [Video 2, 17:46-21:23]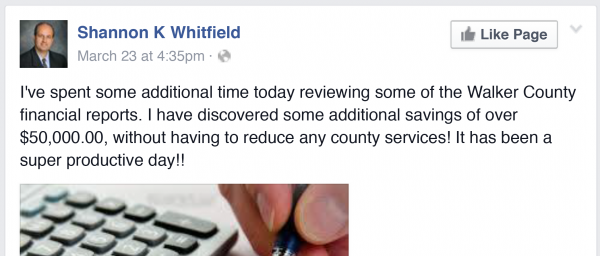 Whitfield said on Facebook in March that he's "discovered some additional savings of over $50,000" without cutting services. When pressed, he would not say what those savings are and after almost two months still has not done so.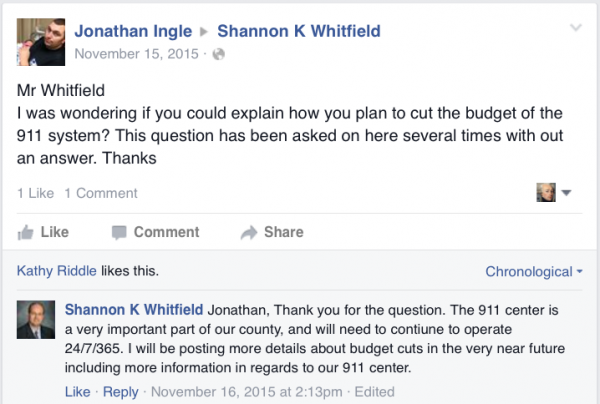 Whitfield's earliest statements when first announcing his candidacy were about finding savings in the county's 911 center. Since then he's been asked repeatedly what his plans to save money at 911 are, but he has yet to reveal his intentions in that area – some six months later.
Another area Whitfield has suggested for savings is ending the position of full-time county attorney. He says the county hires outside lawyers to handle most legal matters anyway, so why not just do that and cut out the $100k+ a year currently paid to convicted drug dealer/lawyer Don Oliver? And rightfully so. Peardon, by contrast, has said he wouldn't fire Oliver – at least not first thing.

LaFayette Underground:
As Commissioner, what will you do with the county's three libraries? Do you feel current library funding is sufficient, and if not where will you find the money to expand library services?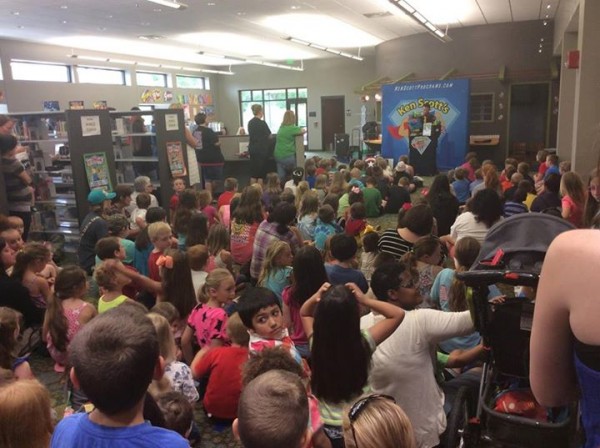 Peardon:
With the many other issues at hand ,i have not done a cost analysis on the County libraries.Learning is wisdom,wisdom is power and power is strength.If elected i will leave the budget just as it is until i can investigate.I do know that this service helps alot of people who cannot afford or do not have excess to computers.I believe award ceremonies for the blessed people who donate to our public libraries is a priority.

Whitfield:
[No response]
Whitfield has said he plans to fully fund the libraries when he takes office. He's also promised library leaders, as a member of the library board, that he'll fix their budgets if he's elected. He has not yet revealed where he'll get the money to do that. [Video 2, 56:23-57:43]

LaFayette Underground:
Most voters agree that Walker County's roads and infrastructure (bridges/water/sewer) have slipped into terrible condition under the watch of Commissioner Heiskell. As Commissioner, what will you do to bring the county's roads into decent shape, and what will your construction priorities be?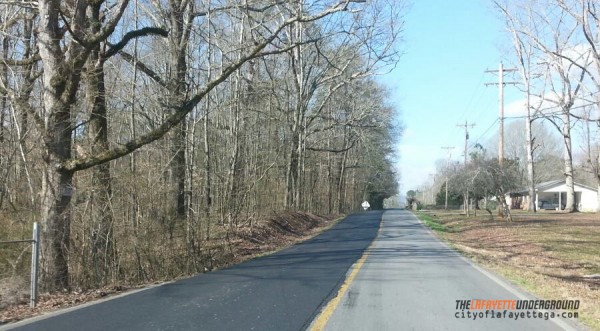 Peardon:
Our current splost monies is being paid out to the bonds created recently,and this does put us into a tight position.I will do a cost analysis on our County employees paving verses outsourcing.I believe the state offers 9 miles of paving and i will take full advantage of that.my construction priority will be fixing our roads rather than building community centers in rural areas.

Whitfield:
[No response]
Walker County has no SPLOST money left, and Commissioner Heiskell traded away almost all the road equipment to one of her campaign contributors. With no money for paving and no money to buy equipment with, the only resource available to the next commissioner – at least until the current SPLOST expires in 2020 – will be the money Georgia gives for local paving: the nine miles of road Peardon speaks of here. Heiskell already paves those nine miles of road every year through contract work. Thanks to her mismanagement, there's no good answer to this question and no good road repair options for ANY future commissioner regardless of who that person turns out to be, unless they raise taxes.

LaFayette Underground:
Did you support the 2013 SPLOST tax renewal, why or why not? Do you believe the millions of dollars raised through SPLOST have been spent appropriately and in the manner originally presented to voters?

Peardon:
Yes,because if used properly it relieves stress on the tax payer at a suttle rate,and allows people from other counties to contribute.The SPLOST money has not fully been used properly.

Whitfield:
[No response]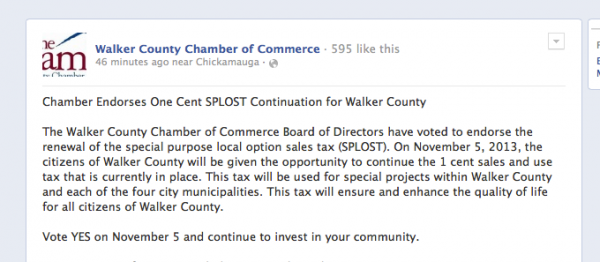 Whitfield campaigned for the 2013 SPLOST while he was running for Chickamauga council. The Walker County Chamber board (which he was a part of) also voted to endorse the 2013 SPLOST tax, and the Chamber distributed pro-SPLOST signs during that election.
Whitfield has admitted in social media comments now removed that he backed the 2013 tax and would support it again in the future regardless of who was in the Commissioner's office (including Heiskell) but does agree revenues collected from the tax have been badly misspent.

LaFayette Underground:
How about the $13.5 million spent (so far) on the Noble industrial park and the Audia plastic business? Heiskell says all that money has so far created only "about 50" jobs – was all this spending worth what we've gotten in return? How would you have handled that project differently if you had been Commissioner?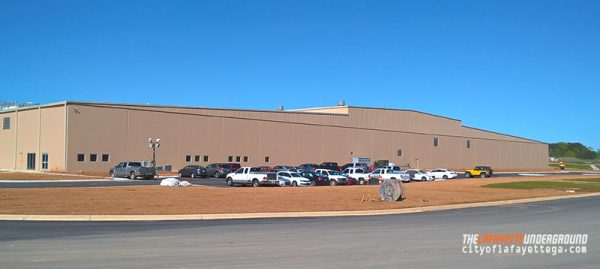 Peardon:
I believe in incentives ,but if it does not pay for itself in 5 years, than i do not believe that it is a good deal for our County in its current financial position.I would broker a deal with a maximum 5 year return.

Whitfield:
[No response]

LaFayette Underground:
To Mr. Peardon only: During the March 26th candidate forum, you said "I would do everything possible to open the door, for industry into our county." But you also said "I don't agree with using taxpayers' money, millions of dollars, to bring em in." What middle ground approach can you take to economic development that is "everything possible" without using tax dollars?

Peardon:
I did say that,and what i am saying is millions of dollars is a door left to wide open in the event like this one where i feel we gave to much for to little in return.I also said i would not give the money away ,which reflects what i feel really happened.I don't believe in using tax payers money in that huge quantity of money given our current debt and no solid 5 year return on it.This venture and the millions spent does not fit the category of the budget and debt we have as an investment,but rather a County that had less debt a rainy day fund and money to take a chance.I would use tax payers money for incentives but not at the rate of return of the Audia project given our position.As we are vulnerable to debt,i feel a more common sense and safer approach would be in smaller diversified investments that are less likely to take us over a financial cliff,considering the portfolio of Walker County,unless it paid back short term.The incubator grants are a great asset to small businesses.Google and read up on them.
Chattanooga has been praised for its economic development deals that gave away government-owned land and millions in tax benefits to companies like Volkswagen and Wacker Chemical – but those same deals also came with requirements for the companies that received them. Wacker, for example, has to repay some of its tax breaks because a figure for created jobs wasn't met. In Walker County no business that gets a deal has to meet any kind of goal, and there's no punishment for those plans that don't work out to the county's benefit. In the future, any kind of deal regardless of the size should require companies to meet goals or give something back or forfeit their benefits and repay what they've been given. Hopefully that's the approach any future commissioner(s) will take. [Video 1, 21:23-23:09]

LaFayette Underground:
How do you feel about the way Walker County Development Authority operates? Is WCDA an effective, efficient county-owned entity or are reforms needed? What changes (if any) would you want to see at WCDA?

Peardon:
Well their mission is to improve the quality of life and increase community wealth for Walker County by expansion and growth of industries and diversification of the local economy.By definition i believe they have failed that mission, and the commissioner serves on the board ,which ultimately results that she has the final say.Development is a process of nurturing dreams by means of opportunity, with a plan based on on your current ability to afford it.I feel that this job rest on the Commissioner and should fall under her pay grade.

Whitfield:
[No response]
Every city in Walker County has one appointee to the Development Authority. Chickamauga's appointee is Evitte Parrish, a councilman who served alongside Whitfield. LU asked candidate Whitfield in early March if he had given Parrish feedback about the Development Authority, specifically the huge debt deal it pushed through for Commissioner Heiskell last year. That question, too, he has chosen not to answer.
The Whitfield family probably can't complain too much about the Development Authority, considering the assistance they got from that entity twenty years ago when Whitfield Oil needed a bigger facility.

LaFayette Underground:
Last fall the Development Authority locked taxpayers into a multi-decade commitment to a 1-mil property tax as part of a complicated deal involving county properties such at the Civic Center and Mountain Cove Farms. Do you have any thoughts on the purpose of this scheme or how it might be reversed? If Mountain Cove Farms CAN be untangled from that deal, what do you propose doing with it?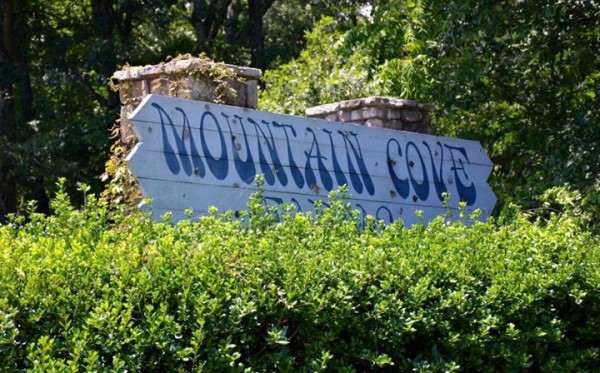 Peardon:
The budget had to be balanced and borrowing money was the only way at the time, that it could be done to pay back Erlanger.As far as it being a scheme i have not uncovered any plots of conspiracy in the matter.As commissioner, i will do everything possible to protect the natural beauty of the mcf property.If it is untangled from the bond and moneys ventured can be restored back to the County i would sell the mcf ,but would place strict zoning to insure that the natural beauty was protected.The farm currently has 33 weddings scheduled this year at$ 2500 to$ 3500 each.The store is open a few days a week.they recently installed a disc golf course that brought 400 people and some cabins where rented.The County Fair brings in some money.Its in a crawling stage as it took a big hit by the restaurant failing but in the event i see that it can stand than i would not cut it down.It has been a huge burden and failure in the past but maintains a glimmer of hope.

Whitfield:
[No response]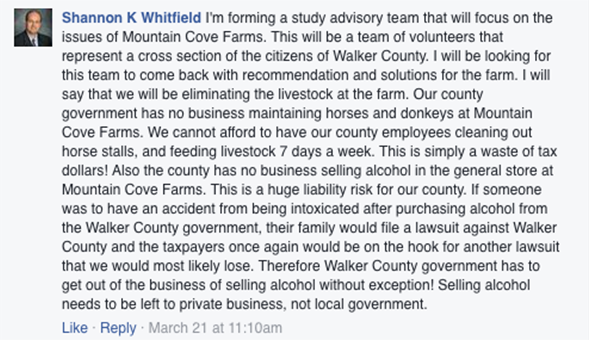 Whitfield has said he wants to do away with livestock at the Farm, and has stated on several occasions the farm's store and now-closed restaurant should not sell alcohol. He has not said if the store will remain open or if he would consider reopening the restaurant, which lost $800,000 during the few years it was open even WITH alcohol sales. Whitfield's Web site says he will "put together a team to study what our options are for Mountain Cove Farms."
A new commissioner should do whatever possible to get that property back into the private sector, paying property taxes and not competing with private businesses. Tourism in Walker County (especially on the south end) is a dead-end. The best use for a farm is farming. Short of selling the Farm (which might not be possible), the county should look at leasing it out to an established farm or farmer for agricultural production.
Walker County absolutely should NOT spend another penny on the lost cause of turning MCF into a wedding resort, amusement park, retailer, or fairground – because all those ventures just cost money they can't make back.

LaFayette Underground:
Walker County contributes over $100,000 a year to the Northwest Georgia Development Authority. The county also gives NWGAJDA office space at the Civic Center. That agency, funded by Walker, Catoosa, Dade, and Chattooga, employs GA Senator Jeff Mullis as its director and (in theory) promotes business development in the area. Do you feel Walker County gets its money's worth out of NWGAJDA? Is Mullis an effective leader of that entity?

Peardon:
I don't think that Jeff,s effectiveness can be to blame ,as there are more underlining factors involved in who makes the final decisions in the County.Jeff, is in my opinion more than qualified to help our County and has in the past.The problem i am seeing is to many chiefs and not enough Indians.
Mullis' one qualification for his position is being State Senator and a friend of Commissioner Heiskell. Having him on the county payroll, in essence, makes him available to run interference for the counties when they have conflicts with the state – or when a commissioner wants legislation spiked.
When asked in a tax meeting during 2010 what Mullis has done for the county through NWGAJDA, even Commissioner Heiskell could only come up with "he went to Germany and sent back information." His job needs to end, and the NWGAJDA should be reformed or dissolved entirely to save the counties money that produces no measurable benefit.

Whitfield:
[No response]
May 16th on UCTV, Whitfield said NWGAJDA needs to be examined and should have better processes.
Mr. Whitfield's position on NWGAJDA might be impacted by his campaign manager Bobby Teems recently being appointed to that body's board of directors by the Chamber of Commerce. Teems is the one who "learned on" Whitfield to run, so don't expect Whitfield to go against Teems' wishes – whatever they are – when it comes to this authority.

LaFayette Underground:
As Commissioner, you'll be appointing people to a number of authorities and panels. Commissioner Heiskell has been criticized for putting the same people on more than one authority board at a time. Will you follow that practice? Will you encourage any board members (such as John Culpepper) with double appointments to give one of them up? How will you, as commissioner, determine who gets those kinds of assignments?

Peardon:
I have no plans of firing anyone off of a board, as i have no cause,but will evaluate each board for effectiveness.I know john and if i find that his performance is hindered by being on another board i would address that.John has many years experience in his field and is a great asset of knowledge.I will put my feelings aside for the welfare of the County.

Whitfield:
[No response]
Whitfield hasn't to our knowledge touched on this topic, but we know he has already offered board memberships (on new boards yet to be created) to some campaign supporters and at least one potential election challenger who chose not to run against him. His decision-making process for board appointments before taking office has already shown favoritism and runs along the same lines as the incumbent's. THIS is how we ended up with Bebe's Hospital Authority and Development Authority boards.

LaFayette Underground:
If you had been commissioner during the last eight years, how would you have handled the Hutcheson situation? If current legal battles between the Hospital Authority, Erlanger, Regions Bank, and other Hutcheson creditors are still going on when you take office, will you continue that fight or work to find a settlement? As commissioner what will you do to provide Walker County residents access to health services even with Hutcheson outside of the county's control?

Peardon:
Not being in all the meetings that where held ,i don't think its fair to say what i would have done.Hindsight is 20 20 and clearly now we see the mistakes.I am still amazed that all these paid professionals could not fix our hospital.i have a conspiracy state of mind as to why our hospital went away.If i take office i will have to way the cost ,those cost cannot be calculated yet because they continue to climb.Health care incentives to clinics that are willing to come into walker County would be a start but the hospital has not gone anywhere,as to say there is a facility currently there.We need to encourage ideals to the current owner,because the bottom line is having a facility close by no matter who owns it. If need close medical attention and don't have time to get elsewhere ,than i wont question what is over the door.The hospital needs to work on it public relations problem.I think a medical bus is in their best interest .Offering blood pressure screening and instilling trust in the community.

Whitfield:
[No response]

LaFayette Underground:
Was Commissioner Heiskell's decision to sell off the county's well-run ambulance unit, and then pay $250,000 a year back to its buyer for the same services, a good plan? What approach will YOU take towards EMS service for the county in the future?

Peardon:
I cant begin to tell you how displeased i am that a local service in our County did not get this contract.How can we expect them to grow as big as puckett if we dont help grow them.Our government is to be related as a chair,and our local businesses are the legs.I will make every opportunity to do business with our businesses first!
Doing business with a "local" ambulance company would have meant signing a contract with Angel Medical of Catoosa, which is owned by crooked county coroner DeWayne Wilson. Heiskell's decision to sell the ambulance service was a bad one, but she at least went with a professional company in Puckett EMS instead of giving the business to despicable Wilson. Peardon is behind the curve on this one, but he at least answered the question.

Whitfield:
[No response]

LaFayette Underground:
How do you personally feel about sole commissioner government? Not the vote on it, but the system itself.

Peardon:
I believe it is the most effective in small areas. Walker County already has a board of commissioners, with all of the authorities that we are paying money to.The problem is we cant get them all into the same room and it becomes a he said she said form of government with room for finger pointing.Lets have meetings open to the public with board members that have to be accountable ,without picking up the phone and calling the other authority.We are suffering from the lack of transparency thru the many avenues of governments.
Mr. Peardon, on March 26: "So yes, I support a multi-board commission." [Video 1, 35:55-39:28]

Whitfield:
[No response]
Mr. Whitfield has been asked this question time after time and has yet to say how he personally feels about sole commissioner government. He's stated he supports the VOTE on it, to get the matter settled, but he has never directly said he prefers a change.
Whitfield has, in fact, said the two forms of government are similar and there's no advantage to one over the other: "those strengths and weaknesses [of the two systems] are pretty equal." [Video 2, 25:45-32:13]
Whitfield went on to compare changing the county's form of government to a "bad divorce" and claimed (wrongly) that a board would be more expensive than a sole commissioner – but DID say the supposed cost of a board shouldn't be deciding factor for keeping or dropping the current system.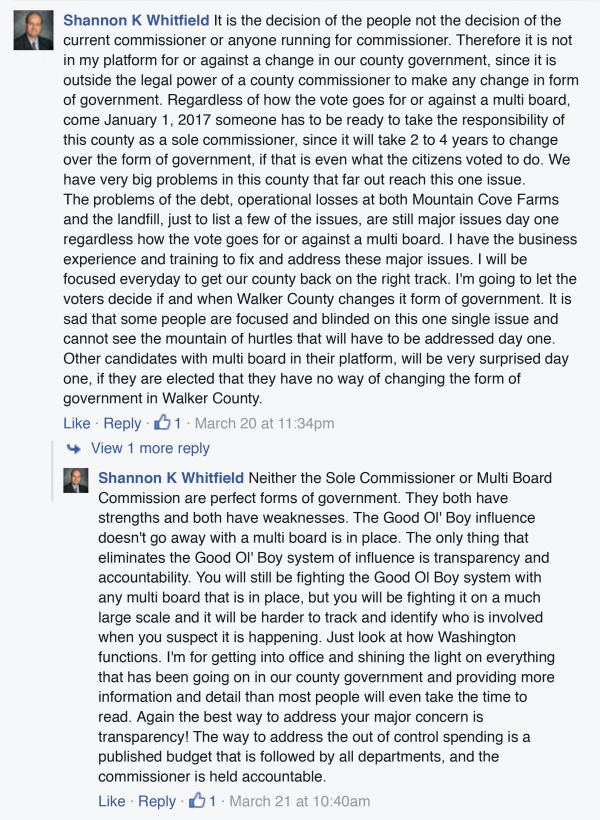 If those video comments didn't make Whitfield's personal feelings about sole commissioner clear, here he is on Facebook in March saying a board makes it harder for citizens to "track and identify" who is involved with bad decisions (an argument Bebe has made many times), adding how it's "sad that some people are focused and blinded on this one issue" – an issue he apparently doesn't intend to waste any time on once he's elected, despite the obvious brokenness of continuing with the current system.
Whitfield continually says the best way to fix county government is to make the commissioner accountable, yet won't take a stand for the one thing that would add accountability to the commissioner's office: a board, with checks and balances, to reduce potential abuses and keep the county's goals from mirroring one person's personal personal goals the way they are now.
In March, Whitfield was also asked about term limits. He said he likes the idea, but doesn't want to add them to the county's charter because "when you take that charter and you give it to the state and you unlock it, they have full reigns to change anything they want to change." [Video 2, 46:10-47:54]
The charter would also have to be opened to change the county's form of government. If he's unwilling to "unlock" the charter for term limits, which he claims to support, would he be willing to open the charter to make a change he apparently doesn't want made?
Whitfield's unstated but clear opposition to bringing in a board of commissioners to replace him is one of the biggest problems with his candidacy, and gives pause to many who would otherwise be happy to vote for the man on Tuesday and in November.

LaFayette Underground:
The county's form of government can only be changed by legislation. But the person who serves as Commissioner has a great deal of influence over that process. If Walker County elects to put sole commissioner on the ballot in a binding way, will you work with Rep. Tarvin and the other local delegates to expedite that process instead of waiting until 2020 or 2022 as he's suggested he'll do?

Peardon:
If the County votes it in,than i will do everything in my power to see that it is enforced.

Whitfield:
[No response]
Whitfield has said within the last few weeks that if the sole commissioner ballot initiative passes, he will leave it up to the legislators to handle. He won't interfere with the will of the people, which is good, but he won't encourage the county delegation to act sooner than they want to – which is bad, considering how resistant to change they've been in the past.
Representative Tarvin (who would be responsible for filing legislation to make a change) said last fall that he doesn't intend to do anything, even if the sole commissioner ballot initiative passes, until 2020 – because nobody will run for commissioner if they can't be guaranteed the job's full salary for four years. He's also admitted that he prefers the current system.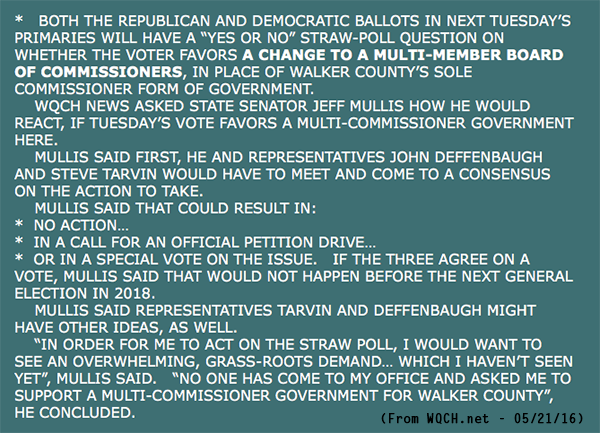 Senator Jeff Mullis would have to sign off on the legislation from Tarvin to make it official, and he told WQCH last week that he might not do anything at all even if the ballot initiative is approved, because he's never been directly asked to make such a change.
Walker County needs a commissioner whose first matter of business next January 1st is to call Mullis and Tarvin and tell them to make this happen, NOW, and hold them accountable if they fail to follow the will of the people.

LaFayette Underground:
For Mr. Whitfield only: During the March 26 candidate forum, you spoke of an "advisory board" of volunteers who would represent areas of the county FOR you, even as you served as commissioner and made the decisions. You said this board would meet with you, throw around ideas, and help you make decisions. How would the membership of this board be chosen and how would its members be held accountable? How would this unelected panel be any better than a regular board of commissioners that would be held accountable by the voters?

Whitfield:
[No response]
Whitfield has mentioned three different boards he intends to create: An economic board, this "advisory" board mentioned on March 26th, and a Mountain Cove Farms board. All the boards would be filled with people he chooses, who presumably could be removed for disagreeing with him, and would have no authority to actually make decisions. [Video 2, 11:04-14:13]
A county run by unelected boards under a sole commissioner would be the only form of government worse than what we have now – the unchecked power of a sole commissioner/dictator combined with a panel of unaccountable yes-men and yes-women to shield that commissioner from dealing directly with the public and give the illusion of accountability only a real elected board can provide. This idea is frankly dangerous.

LaFayette Underground:
For Mr. Whitfield only: Also during that candidate forum, you spoke of a "financial team" that you've already picked to assist with the county's money issues. But when pressed on Facebook later to name this team, you said they won't be identified until January – after the election. Why should voters wait on you to reveal these kinds of details until after the election? Isn't that a transparency issue like the ones we've all criticized the current Commissioner over?

Whitfield:
[No response]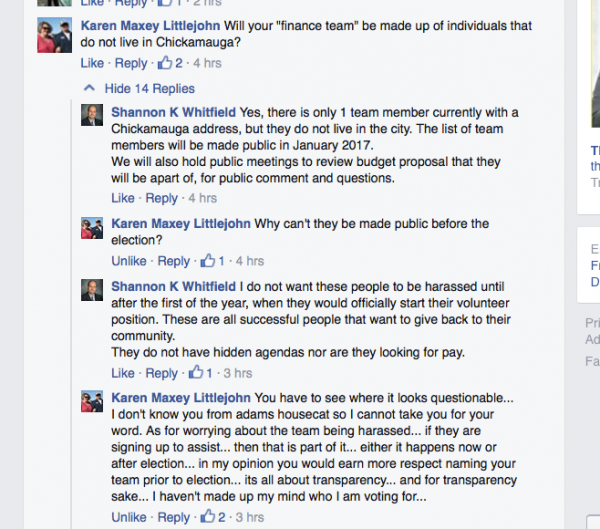 Who will serve on these boards? Unnamed "volunteers" drawn from his list of campaign supporters and potential challengers who agreed not to run against him. He hasn't asked for volunteers publicly, nor has he advertised for quality candidates – yet the positions are already filled. Because he's handing out leadership roles based on friendship and support, not qualification. Which is why he won't name them until he takes office.

LaFayette Underground:
One of the hallmarks of the incumbent commissioner's administration is a lack of transparency, especially in financial matters. Will you make a commitment to improve transparency by holding evening meetings with agendas announced a week in advance, videoing all meetings, having line-item department budgets, releasing financial reports on a monthly basis, and making meeting minutes and videos/financial reports/county documents available on the Internet?

Peardon:
I have pledged to have such website up an running within my first year.Most likely late into the year to give time for my analogies .

Whitfield:
[No response]
On May 16th, Whitfield committed to do this while on UCTV. But his personal actions, so far, do not match his words.

If a candidate can'tbe transparent NOW while he's facing the voters, why should we expect him to become transparent after he's elected to office and has absolute control over the county for four years? The time to open up is before the vote, and voters would do well to note his lack of transparency while they're still in a position to do something about it.

LaFayette Underground:
Will you also commit to expand the county's current annual audit to include affiliated entities such as the Development Authority, water boards, library system, Hospital Authority, Stocking Full of Love, etc. that aren't currently being audited on a regular basis? Will you audit the Tax Assessor's office and make sure property records are accurate? Will you make public the names and dollar figures attached to bids from county vendors?

Peardon:
I will audit the tax Assessor's office and will do bidding in an open to the public way.All the authorities will be demanded to become transparent and report but i can't speak on the fact of them being put on the annual audit until i look into it.It does seem that there would be no reason as to why they are not.

Whitfield:
[No response]

LaFayette Underground:
A new commissioner should be looking forward and working towards the future, but we also have to address damage from the past. How seriously will you check into the actions and decisions of your predecessor and her employees, especially in regards to illegal or unethical behavior? Will you subject the county to a full, detailed, forensic audit to check out past spending and financial reports? If such an investigation or audit uncover anything potentially illegal, will you request help from the GBI so we can hold responsible parties accountable for their behavior?

Peardon:
I would report any and all illegal activities that i should find. I understand that Senator Mullis and Sheriff Wilson are the only two ,that can make that call.If your asking for a very costly venture to the taxpayer ,than my answer would be no.

Whitfield:
[No response]
Whitfield claims he would contact the GBI if anything criminal was uncovered, but has stated that a detailed forensic audit would cost a half-million dollars-plus. It's unclear where he got that figure from, but it ought to be worth that much to make sure those who have abused tax dollars by amounts much greater than that are brought to justice. Mr. Peardon's statement about "a very costly venture" seem to reflect the dollar figure Whitfield has rolled out regarding such an audit. [Video 1, 31:19-32:57 / Video 2, 59:08-59:27]
Instead of doing an independent outside audit, Whitfield says he'll leave investigating the county's financial problems up to his "financial team" – one of those unelected bodies filled with his campaign supporters whose names he won't reveal until after the election.
Neither candidate seems to be taking a very strong position on this matter. Until Walker County can commit to investigating and prosecuting past unethical/illegal actions from county leaders and employees, the current toxic environment of abuse will never go away.
Heiskell and county attorney Don Oliver have both admitted to actions that could likely put them both (at least Oliver) in jail. But that won't happen if their misdeeds aren't taken seriously and investigated properly.

LaFayette Underground:
For Mr. Whitfield only: As a sole commissioner, you can't recuse yourself from voting on matters that could be considered a conflict of interest with your family business or its customers. Will Walker County under your leadership completely stop doing business with Whitfield Oil? If not, how can voters be sure that your actions are for their benefit and not your own? Are you willing to share your personal finances or the finances of your company to assure Walker County taxpayers that you aren't personally profiting from your decisions?

Whitfield:
[No response]
Whitfield refused to answer this question directly for months, saying only that he would follow the rules – but wouldn't clarify what the rules were (under his thinking) or what impact that would have on his company.
Finally last week on UCTV he said that he WILL continue to buy fuel from his family business when he takes office, citing state law that says he can do so IF the company is low bidder. (He also said the company's management team won't change if he's elected.) Fortunately for him, its not hard to be the low bidder when you know what the other bids are, and no other companies bid because of the county's bad reputation and past refusal to do business with anyone other than Whitfield.
Whitfield has distanced himself from Whitfield Oil Company, claiming in his financial disclosure report that he doesn't have any "interest" in the company financially other than being an employee and CFO. (He also claims no ownership in his wife's store or any assets or investments other than his home.) Per the law's definition, he's claiming he doesn't get a share of the profits and doesn't stand to inherit the company from his parents – which seems unlikely.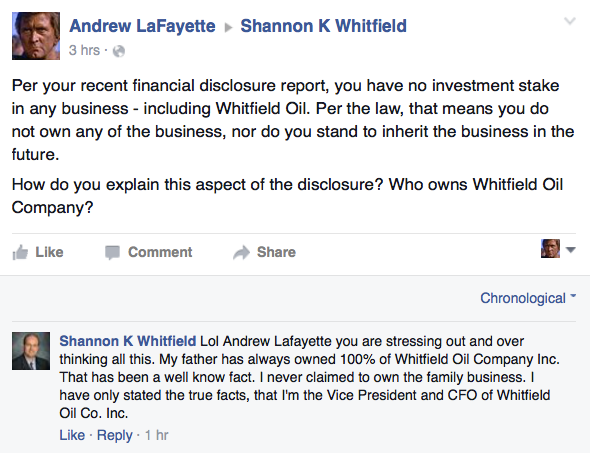 He might be able to LEGALLY do business with his own company when he takes office, but ethically he shouldn't. This is similar to Commissioner Heiskell claiming she isn't breaking the county's nepotism rules because she's not the direct supervisor of her relatives that work for the county – even though she's supervisor of their supervisors. Is that the kind of legally twisted "ethics" Walker County needs to continue?
There's also been some question of how much money Whitfield Oil actually gets from Walker County, the profitability of those sales, and what percentage of sales or profits come from that county business.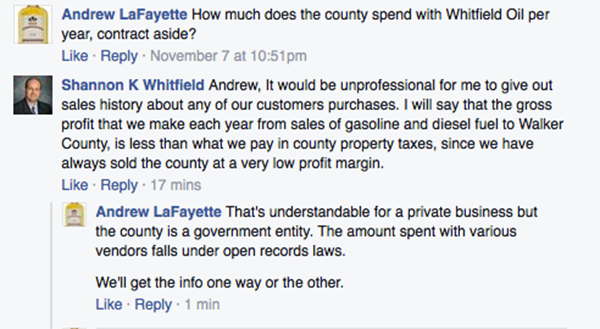 Despite Shannon's refusal to give numbers, LU has confirmed that Whitfield Oil did $1.2 million with Walker County during 2013 (the last year with readily available figures) – but there's no way to determine if that's half the company's sales or the tiny percent Whitfield has suggested. There's also no way to know, without the Whitfields releasing the figures, what kind of profit margin they have on those sales.
There's also a risk of Whitfield Oil getting additional business from companies that want to do business with the county under Shannon Whitfield's leadership. If a company like Talley Construction began paying more money to Whitfield Oil on one side in return for more county business or higher county payments for work on the other side, how would we know? The only way would be for Whitfield Oil Company to open its books and verify nothing shady was going on.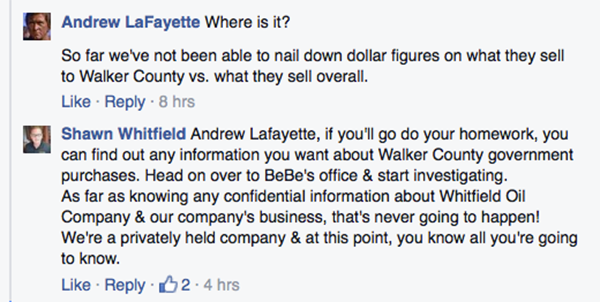 Shannon's brother Shawn, also involved in the family business, has made it clear that kind of transparency will never happen.
This is the textbook definition of "conflict of interest." There might be nothing shady going on, but there's a potential here for major corruption that might never be made public – and the Whitfield family apparently has no plans to clear up corruption concerns by opening their company's books or their personal finances. For that reason, Shannon should man up and agree not to do business with himself or his family after he takes office, but he has every intention of continuing business as usual.

LaFayette Underground:
For Mr. Peardon only: In your line of work, there are many opportunities to benefit from government leniency. Inspections, permits, surveys, zoning changes, and other processes all impact professional builders. Will you give up outside work, especially as a builder, while serving as Commissioner? If not, how can voters be sure that your actions are for their benefit and not your own? Are you willing to share your personal finances or the finances of your business to assure Walker County taxpayers that you aren't personally profiting from your decisions?

Peardon:
Yes i would commit to not building houses while in the office of commissioner unless i decided to build a personal house,which i have no plans to do as i just built mine.Personal records , i have no problem reporting them.
Peardon said May 16th on UCTV (after these answers came in) that he will have his properties managed by a third party and won't take an active role in running his business while in office.

LaFayette Underground:
As a sole commissioner, how will you keep yourself from being unduly influenced by the county's power players? Those people who give money to campaigns, owners of large businesses or land tracts, who have well-known and respected names, politically connected folks who have in the past controlled and pulled the strings… How can Joe Voter know you'll listen to HIM as attentively as you listen to those who have called the shots in the past?

Peardon:
I have no connections with the current string pullers and have no desire to show partiality to none.My job will be performed with the best interest of the taxpayer.I sold a personal house to run my campaign, so as not to feel obligated to any campaign contributions.

Whitfield:
[No response]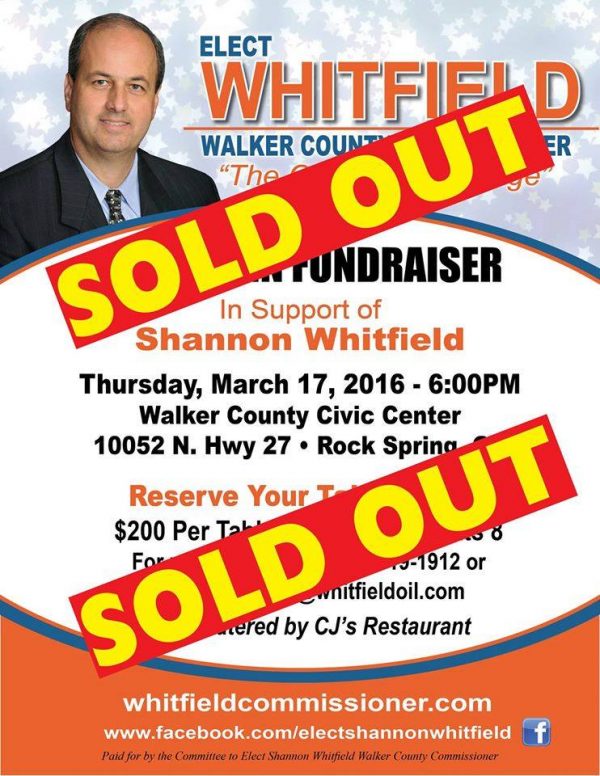 Whitfield, despite having considerable funds available to pay for his own campaign, has reached out to the county's power players and held fundraisers for his run. He's accepted donations from some of the same people who have in the past kept Heiskell in power, and is now giving some of those people appointments on his made-up boards. But he'll surely listen to you too – right?

LaFayette Underground:
What personal beliefs or other criteria will you use when making decisions for the county?

Peardon:
My standard is the king James bible.I encourage folks to read it ,for details.

Whitfield:
[No response]

LaFayette Underground:
What sets you apart as the BEST candidate to become the next Commissioner? Why, in general, do you deserve voter support?

Peardon:
I don't deserve anything, as i have worked for what i have.The fact is ,that voters deserve me.

Whitfield:
[No response]

LaFayette Underground:
Is there anything else voters should know about you? Family, faith, philosophy, inspirations, etc.?

Peardon:
I am here to serve.

Whitfield:
[No response]

LaFayette Underground:
Thank you, Mr. Peardon, for your prompt answers.

Tomorrow's most crucial election is the choice of Whitfield or Peardon for Commissioner candidate. While there will be another chance to vote for Commissioner in November, the quality of the candidates in that race will be determined, in part, by what voters do on May 24th.
If Walker County wants a polished, professional, experienced business leader with some yet-undetermined plans for the county, then Shannon Whitfield is their man. Unless they want that candidate to also be transparent in his plans, advocate for the end of sole commissioner government, not be beholden to the current status quo, or ethically refuse to do business with his family's company.
Mike Peardon's campaign is rough and unprofessional, and his written communication skills aren't especially polished. He's not the ideal candidate. But he DOES communicate, and he's been transparent from day one. He's not planning to create more boards full of supporters to run the county by proxy, and – most importantly for many voters – he has taken a firm position against continuing sole commissioner government.
There's no ideal candidate in this race, not hardly, but there is a clear choice between sticking with the kind of leadership we've had in the past and need to get away from, or an honest person seeking to change what's broken in the county to the best of his ability.
Polls will be open for voting on Tuesday from 7 AM to 7 PM.