2016
03.20
Commissioner Heiskell claims she's running as an independent this fall because Walker County's Republican Party has abandoned her.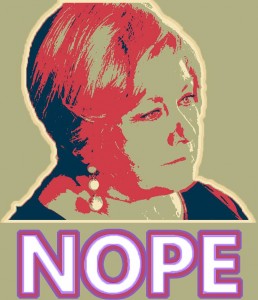 She should worry less about the party and more about the voters, since their opinion of her is all that really matters. Those voters seem prepared to abandon her in droves.
Her claim of party abandonment is a stretch, considering the party itself has no legal authority to reject candidates – even if some of its members have pushed for her time in office to end.
The GOP has happily waved her banner for years and would do so again this year if she registered. They have no choice, even if they had to hold their nose while doing it. She's done them a favor in her decision to break affiliation with them, because it allows other candidates for various offices to distance themselves from her stink.
More piddle paddle from Bebe here via her local mouthpiece, if you've got an empty stomach.


Even without Bebe's participation, Walker County's Republican Party held its convention this morning, to elect delegates and handle regular party business.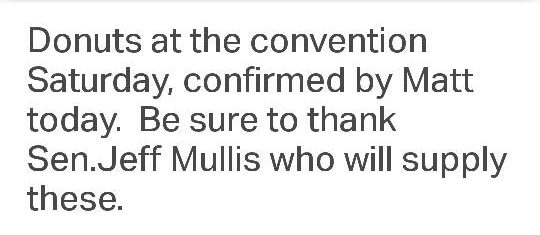 Attendees were bribed for support with free donuts, which party leaders want everybody to know were provided by Senator Mullis. (Screenshot from an e-mail sent to all party members.)
We're not sure if it's legal for a candidate in a competitive race to give "donations" back to potential voters at a political meeting. Even if it's legal, it's not ethical.
Senator Mullis knows all too well how easy it is to persuade people with food. Look at all the free meals HE gets in return for screwing his constituents in favor of large business interests.


Thomas says he should get your vote in May to replace Jeff Mullis because Mullis doesn't listen to voters.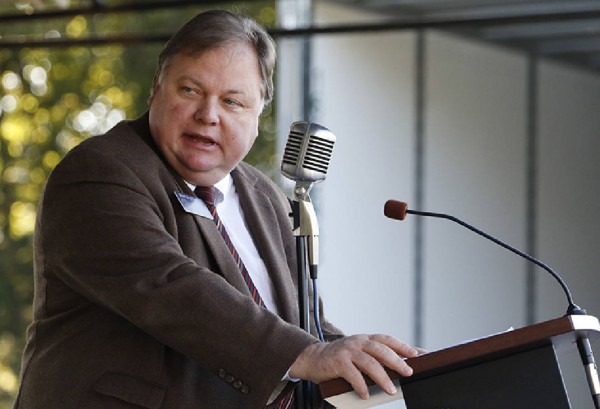 He notes that Jeff has still completely ignored the demand for a change in the sole commissioner system, suggesting he would be more responsive.
Thomas adds that he has a better understanding of educational issues as a retired educator than the thick Senator from Chickamauga.



More alleged crime at City Club.
WQCH Radio, 03/18/16:

"A 20 YEAR OLD LAFAYETTE RESIDENT HAS BEEN CHARGED WITH STEALING A MAN'S WALLET, WHILE HE EXERCISED AT CITY CLUB ON THE SQUARE.
"THE VICTIM FILED A REPORT WITH POLICE JUST AFTER NOON ON SUNDAY. HE SAID HIS WALLET WAS MISSING FROM HIS GYM BAG WHEN HE RETURNED HOME, AFTER EXERCISING. IT CONTAINED $170 IN CASH AND A DEBIT CARD.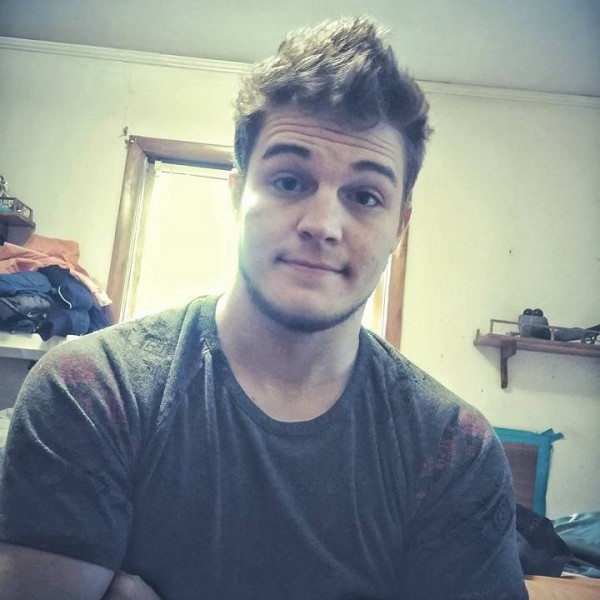 "HE LATER TOLD POLICE THAT TWO YOUNG MEN HAD LEFT THE PLACE IN A HURRY, AND IDENTIFIED THE ONE WHO WAS EVENTUALLY CHARGED WITH THE THEFT: CHARLES ALLAN 'CHAZ' RICHARDSON.
"THE SECOND MALE TOLD POLICE WHEN INTERVIEWED, THAT 'CHAZ MOST LIKELY STOLE THE WALLET'. WHILE LIFTING WEIGHTS, HE SAID 'CHAZ CAME UP AND SAID WE NEED TO LEAVE NOW'. RICHARDSON DENIED STEALING THE WALLET AND IT WAS NOT RECOVERED, ACCORDING TO THE POLICE REPORT.
"POLICE ARE ALSO INVESTIGATING ANOTHER WALLET THEFT REPORT AT CITY CLUB THAT OCCURRED ON FEBRUARY 28th."
(City Club insiders say this report is somewhat inaccurate; Richardson and his friend were spotted as suspects by a club employee, not the theft victim.)
Also: Local arrests, March 10-16.



The city's annual East Egg Hunt scramble was held yesterday in a new location: The old LHS football field on First Street.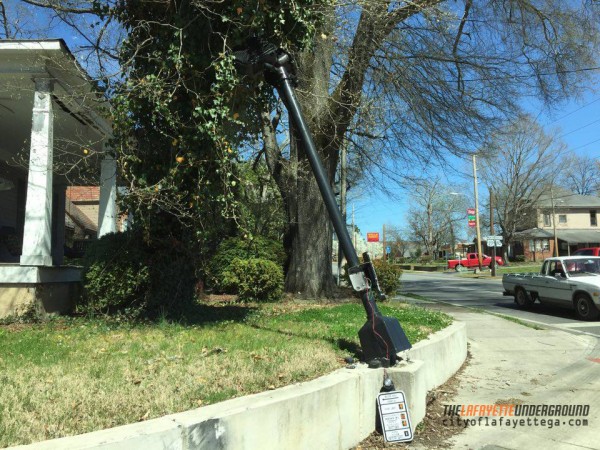 Another semi truck accident at one of LaFayette's too-tight intersections.
Crosswalk sign at South Main and West Main falls victim to a semi truck. This happened Friday afternoon, LPD was on the scene ticketing the driver afterwards.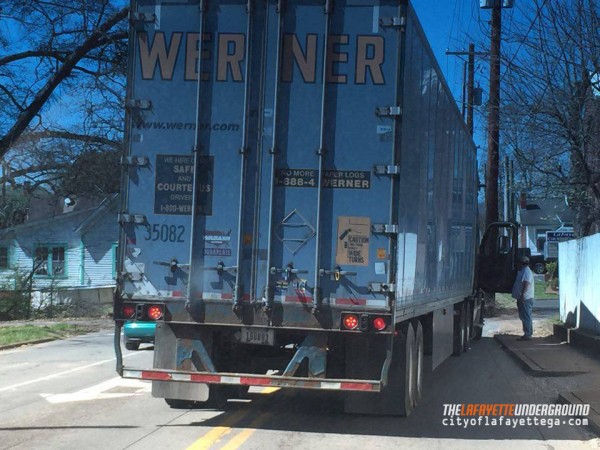 Truck drivers have to be careful when swinging wide and not swing TOO wide.
At the same time, you have to admit the city's major roads along Main Street, here at West Main and on the square, are not semi-truck friendly at all. Which means they're not very business friendly, either.


What's on fire in Villanow?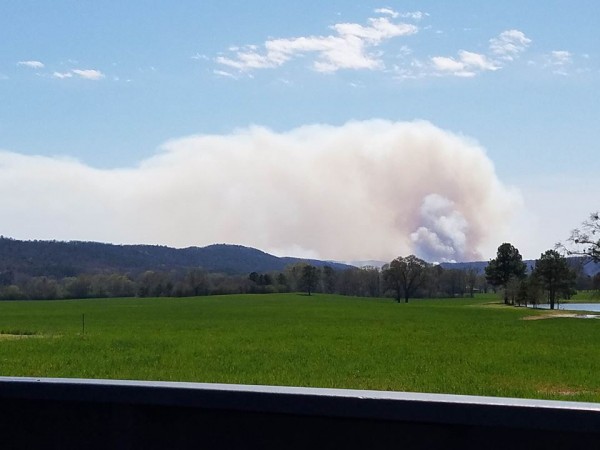 It's another Forestry Service controlled burn.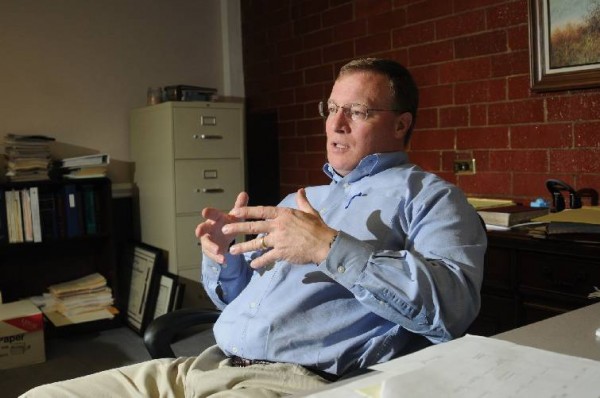 Days after qualifying to run for reelection, State Representative Tom Weldon of Ringgold announced he won't serve another term afterall. That means his sole challenger, ex-Catoosa Commissioner Dewayne Hill, wins by default – unless someone qualifies to run as an independent OR the state Republican Party reopens qualification.
Weldon is also a lawyer, and serves as Hutcheson's main defense attorney – a position that would put him into conflict if a Hutcheson-related issue ever came before the legislature. Another Hutcheson concflict: His father is a physician on one of Hutcheson's many boards.
Rep. Weldon's addict brother was involved in an incident last year that strongly suggests police evidence tampering – another reason for the Weldons to step out of public service.
(Maybe Rep. Weldon decided it was easier to give up than to get his Web site back from the Japanese?)


Another wreck Friday afternoon on North Main in front of Ivy Cottage/Pizza Hut.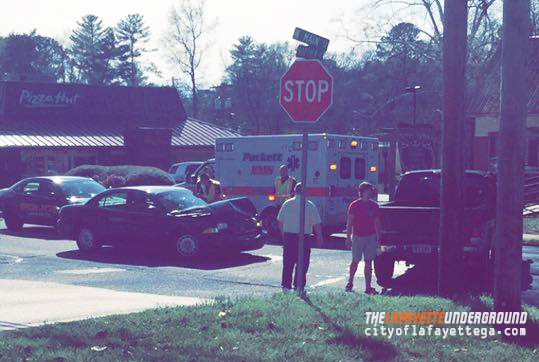 This happened around 4, no details.


The state has given Trion an all-clear for its response to the "sludge truck" spill on a Walker County road last week.
Sewage originating from Trion's doo-doo factory was accidentally dumped on Hwy 151 by a contracted truck, but Trion employees quickly cleaned it up while law enforcement blocked the road.
Four accidents were reported as a result of the spill.


Georgia government leaders can claim they want transparency, but in practice many state agencies are clear as mud in their operations and activities.
One example? State law allows Georgia Board of Pharmacy to keep the details of an Atlanta prescription drug theft case out of public view, a situation that protects the identities of two who allegedly stole over a million doses of powerful painkillers for their own benefit.


Picnooga and Deep Zoom Chattanooga, two local history sites started by men with ties to LaFayette, continue to make news.
..and make history.
Picnooga was launched by David Moon, an LU regular who lived for a while in LaFayette. Deep Zoom belongs to Sam Hall, whose family owned the Walker County Messenger for the majority of the 20th century.
Both have also been involved in supporting LaFayette Library.


Last summer state and federal politicians were scrambling to remove symbols associated from the Confederacy and/or southern heritage from public venues.
This year that effort has played out, and many in public office are pushing back to protect history.


For today's links and any breaking news, follow the Underground on Facebook or Twitter.