2015
08.22
An independent trustee appointed to oversee Hutcheson's bankruptcy has asked a judge to stop keeping the hospital's creditors on hold.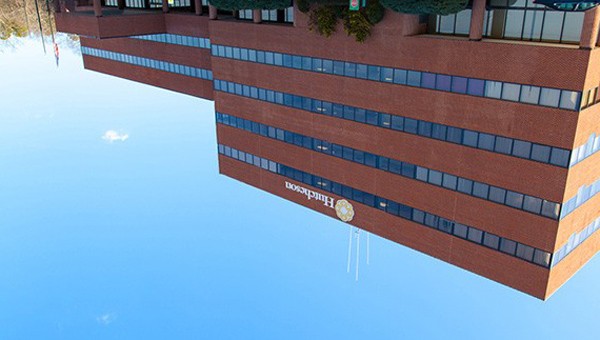 He cites an extra $5 million in debt HMC has piled up since declaring Chapter 11, and says hospital administrators haven't yet set a plan in place to save the sinking ship. He says the situation may put patients at risk.
If Hutcheson is exited from Chapter 11 bankruptcy it will likely have to file for Chapter 7, which is liquidation.
Hutcheson leaders deny everything, claim it's all great, all this is just a lie. Keeping their heads buried in the sand just like they have all along:
The Chattanoogan, 08/20/15:

"Martin Ochs of the U.S. Trustee's Office said the hospital appears to be losing about half a million dollars per month since it filed for bankruptcy protection 10 months ago.
"..Rob Williamson, Hutcheson attorney, said, 'Patient care has not suffered. In some ways it is better than when this action was filed.'"
In six months this will be an Erlanger owned and run facility, and Walker County will get the bill for whatever's still owed out of Hutcheson's many county-backed loans.
(If they ever write Walker County a $2 million check for the ambulance service, we better not cash it. That'd be a hell of an overdraft fee when it bounces.)


GA State Senator Jeff Mullis has endorsed Jeb Bush for president in 2016, and joins Bush's election campaign.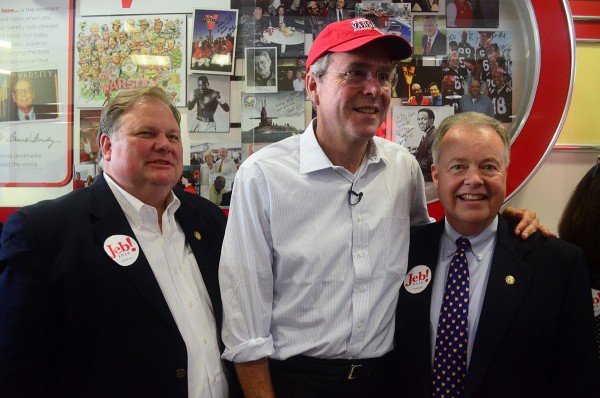 When not in Atlanta being wined and dined by lobbyists whose interests conflict with yours, Mullis is SUPPOSED to be working with the NWGAJDA to attract businesses into the area. He's paid handsomely for that role by Walker, Dade, Catoosa, and Chattooga.
Will Jeff's work to elect Jeb leave time to do.. whatever it is he does with the NWGAJDA? (Ha! Trick question! He doesn't do anything in that job anyway.)
One good thing about this: if Jeb DOES get elected president, Senator Mullis will end up as Ambassador to Pizzastan or something and we'll be rid of him, for a few years anyway.
Assuming he doesn't eat himself to death first which seems to be a real possibility.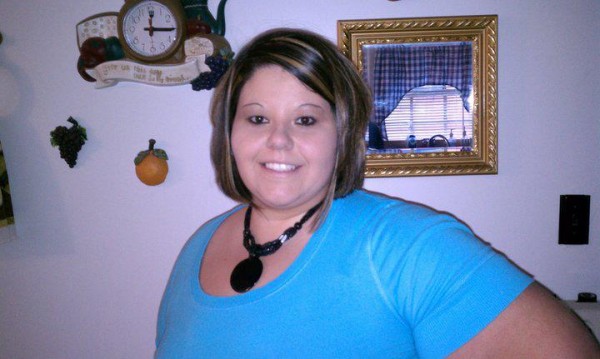 Marquette Wallin, employee of Cozy Manor assisted living, arrested Sunday after being found passed out in her car at the North Main Kangaroo. Officers allegedly found her in possession of various drugs belonging to Cozy Manor residents.
She's now unemployed and faces ten criminal charges.


A TV program filmed in the Kensington area back in June has now been verified as a reality show about street racing.
The production company, Original Media, does a lot of programming for Discovery and History like "Storm Chasers" and "NY Ink" but doesn't seem to have a currently airing show about racing. (The company also produces video for other entities so they could be contributing to an existing show owned by some other group.)
The show was filmed on the state-owned county-controlled airport runway across the road from Mountain Cove Farms, with permission from the county. They also blocked off a section of Hwy 136 with county/state permission, although that isn't mentioned in the linked article from Channel 12.
An organization opposed to street racing objects to the show, saying it encourages youth to drive dangerously on public roads. Sheriff Wilson agrees and warns about following the show's example, but he can't protest TOO much since his office helped the production company use a section of state highway for filming.


At noon Friday a LaFayette resident was awarded a new car, courtesy of the Georgia Lottery.
Linked article doesn't name the winner, but the Lotto Web site identifies the recipient as Nichole Hall.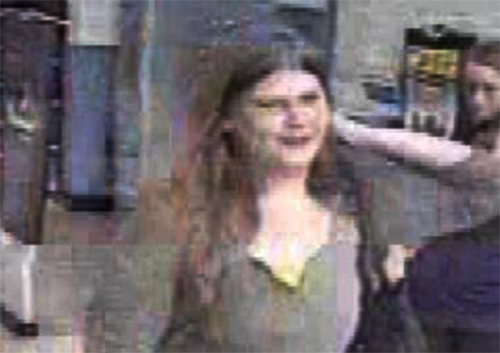 LPD seeks information on this woman seen Thursday at Walmart. It's unclear why they're interested in her.


Mark Willingham went to jail a week ago Wednesday after attempting to steal from Walmart. He allegedly opened packages of hardware items, dumped them in his pockets, and tried to leave through the garden center.
Charles Wayne Morgan of Daugherty St. charged with making terrorist threats.
Last Saturday, per police, Morgan said he would go to Walmart and buy bullets to "shoot everyone" if a neighbor's relative didn't pay a $20 debt.




The closing date for LaFayette's Comcast office is now set for September 11.


Fight at Trion Walmart Sunday afternoon started when one man accused another of texting his wife.
Rickey McCurry beat up Justin Hawkins, then told a Chattooga deputy he'd have to make him sit down – which the deputy proceeded to do.
"The deputy asked McCurry to sit down and McCurry reportedly replied 'F*** you, I don't have to sit down. If you want me to sit down you'll have to make me sit down.' The deputy then told McCurry he would assist him in sitting down. McCurry replied, 'Do it then. 'The deputy then assisted McCurry in sitting down."
That's some good writing.


This year kids who catch lice at school risk bringing home a strain of the pest with immunities to common lice medicine.
Apparently the bugs have adapted to resist pyrethroids, the insecticide used in most over-the-counter lice killers. Experts give advice to treat an infection, but it's pretty much the same as with normal lice: wash and comb hair and anything the hair has touched.
*scratches*


A Georgia resident who recently spent time in California has been diagnosed with plague, the first case in Georgia history.
The patient was not identified, nor was his location revealed. Health officials say not to be concerned because he's already received treatment.


A little love for the Underground.

We love you guys, too. Thanks for reading and supplying enough tips, photos, comments, donations, and ideas to keep LU running for the last almost six years.
We've got no paid staff, no dedicated office, no business lunches or retirement fund. Just a handful of crazy malcontents tired of the status quo, who want political change and better news coverage.


Current copyright law prohibits farmers and mechanics from modifying software code to fix electronic brains in tractors and other equipment, which often makes simple repairs cost thousands of dollars and take days.
The US Copyright Office will soon decide if farm equipment is exempt from the law. IF they grant an exemption for agriculture (which might not happen) it will only last three years.


For today's links and any breaking news, follow the Underground on Facebook or Twitter.