2015
08.16
As reported earlier this week, Manor House Restaurant at Mountain Cove Farms is no more.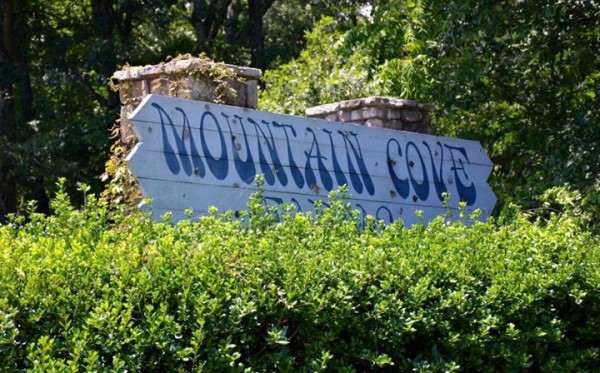 The eatery, which Commissioner Heiskell says she "slapped together" in 2013, cost Walker County taxpayers about $800,000 to run – plus $146,000 in restaurant equipment.
More reaction to the closure and huge financial losses:
Times Free Press, 08/15/15:

"According to this paper's Tyler Jett, the restaurant, which [Commissioner] Heiskell hoped was going to be a tourist hot spot (seriously), lost about $800,000 from mid-2013 to April of this year. Wow.
"That's a ton of coin. If we round it up, let's say that number is over 24 months, then we're talking around $33,333 a month in losses for two years.
"Makes you wonder: Were they rolling the silverware in hundred-dollar bills?"
The restaurant opened in September 2013 and the financial losses were through April of this year – $800,000+ lost in just nineteen months. Higher than speculated: over $42,000 per MONTH of cash down the drain. Labor costs aside, that still sounds like an awful lot of shrimp and steak going home in somebody's purse.



Residents of Pear Pine Trailer Park are still without water, three-plus weeks after it was disconnected due to the absentee landlord not paying his utility bill.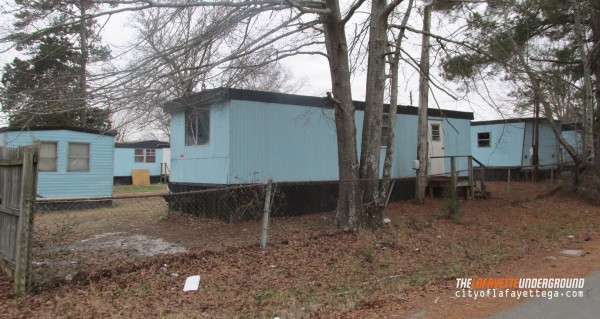 Many who lived there have moved on (everybody left SHOULD move on), the water meter has been vandalized but not successfully reconnected, and City Manager David Hamilton says the property doesn't meet minimum standard and risks condemnation.
What's that mean or do to the owner? Probably not much.
The city should extend some help to these people, not in getting water service but in finding another place to live. The city cannot, however, just give them housing – which is what some of the remaining residents expect.
The people left at Pear Pine need to save the $400 a month they were paying in rent, to somebody who's not there to collect it, and apply that to a deposit somewhere else.


The Georgia Sheriff's Association has chosen as its new leader a man who steals money from a children's Christmas charity and tolerates his friends abusing women.
That's of course our own Sheriff Steve Wilson.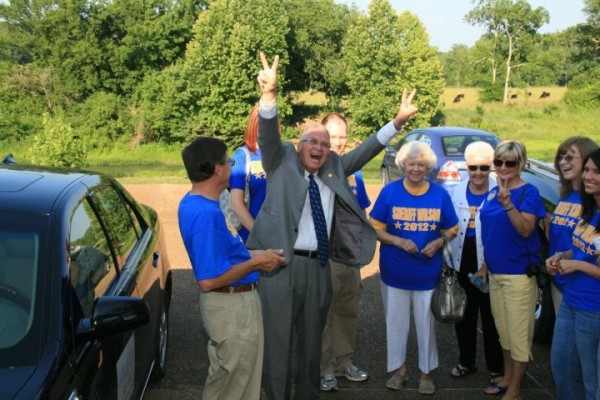 We don't need no stinkin' ethics!
The Sheriff's Association is a lobbying organization that keeps the state from reforming laws that might keep cops from taking property without a conviction or kicking down doors and blowing up babies for thin reasons. They've also been the primary opponent of medical marijuana. Its opposition to reform won't change (and could well get worse) under Wilson's leadership.
Wilson also says here he plans to run again for Sheriff in 2016, of course. That's two declared candidates for next year's election – both incumbents.


The Chicken House in Rock Spring works on the honor system – take an item from their stand, you leave them money. Of course the honor system doesn't work when people are dishonorable.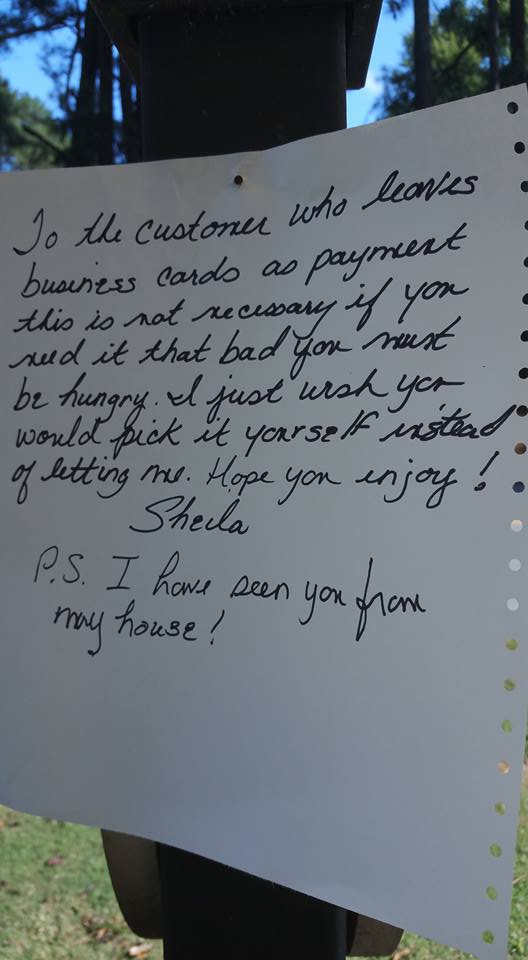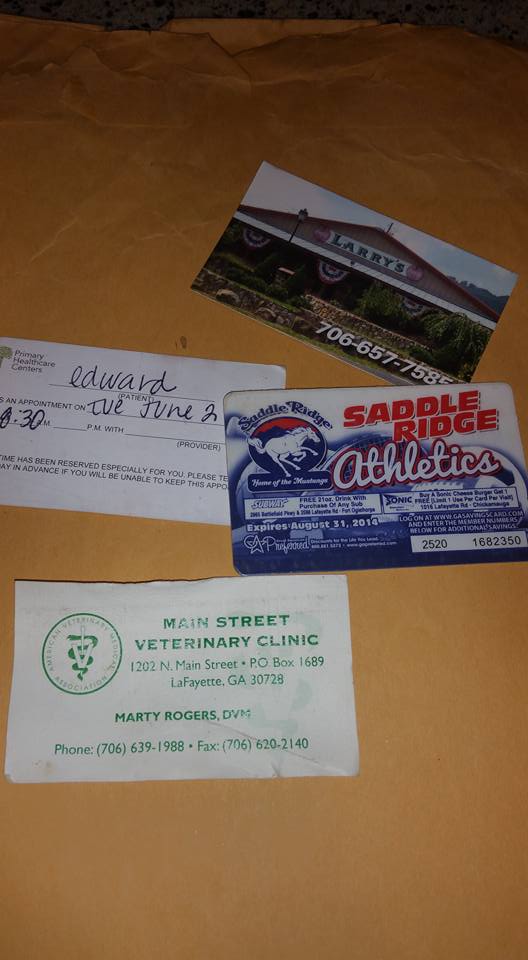 This week the business complains of being paid in business cards instead of currency. Cards from various unrelated companies are being picked up by some random thief who pokes them in the produce/flower stand's payment box so it looks like they're paying.
Somebody should be ashamed.
This is (yet another reason) why we can't have nice things.


High school football returned Friday (kinda) with a pre-season scrimmage between LHS and LFO.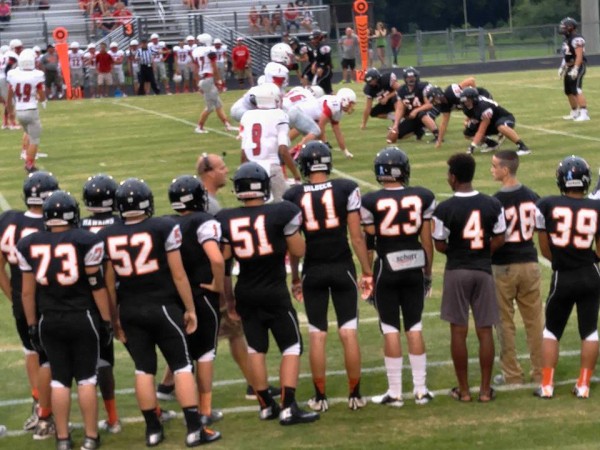 The game, hosted at LaFayette, was a blowout: the Ramblers won 34-0. LHS benched its varsity team for the last quarter and let the freshmen play, with little noticeable difference on the game's outcome.
Hopefully that momentum carries into the regular season, which begins on August 28th at home vs. Gordon Central.





If you don't want the cops to chase you, don't run…?
WQCH Radio, 08/14/15:

"LAFAYETTE POLICE ARRESTED A 24 YEAR OLD MAN ON A CHARGE OF PROWLING, AFTER HE RAN FROM THEM INTO A WOODED AREA BEHIND THE PARK REC CENTER.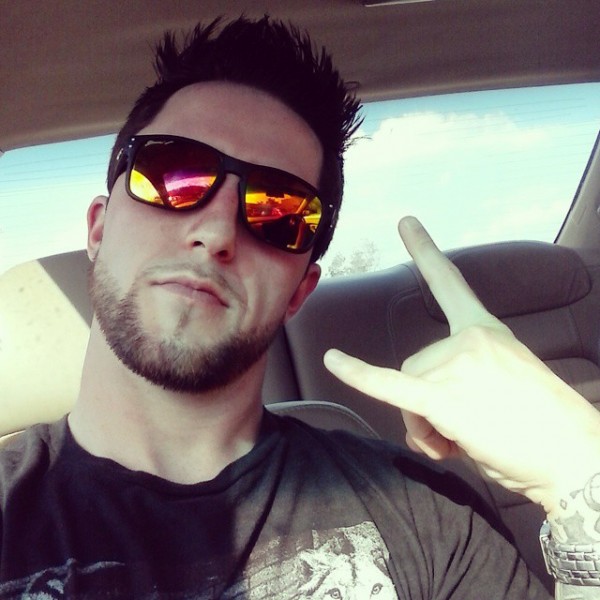 "OFFICERS SAY DUSTIN EDWARD BOWLING WAS WALKING WITH HIS HANDS IN FRONT OF HIM, LIKE HE WAS CARRYING SOMETHING. WHEN TOLD TO STOP, HE DUCKED INTO THE WOODS AND RAN.
"LOCATED IN THE WOODS, OFFICERS COULD FIND NOTHING THAT HE MIGHT HAVE DROPPED, ACCORDING TO THE POLICE REPORT. WHEN ASKED WHY HE RAN, HE REPLIED THAT 'HE DIDN'T LIKE POLICE'.
"BOWLING WAS LIVING WITH HIS GRANDMOTHER IN AN APARTMENT ON WEST-NORTH MAIN STREET. SHE SAID SHE HADN'T SEEN HIM IN THE 24 HOURS BEFORE HIS ARREST.
"IN ADDITION TO THE PROWLING CHARGE, BOWLING WAS CHARGED WITH OBSTRUCTION."

Another arrest at the Depot Park or Caboose Park on West Villanow near Mars Theater.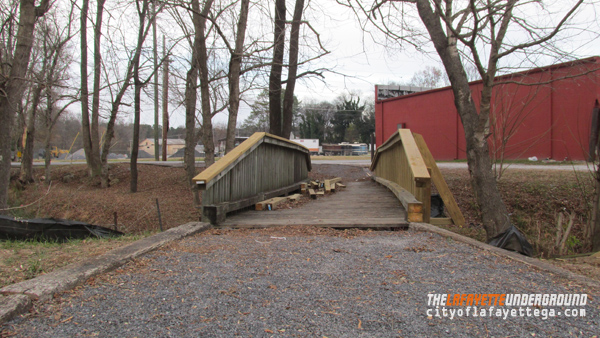 This time Darin Henderson and Anita Cox were arrested for disorderly conduct after an alcohol-fueled fight got loud. Officers were unable to charge them further because evidence of whatever they were doing was mixed in with all the other trash left in the park.
(Mr. Henderson was last arrested in West LaFayette a few weeks earlier for a similar incident played out on city streets.)
The site has attracted drunks and homeless people since it opened several years ago; the only solutions seem to be either increasing police presence in the area or closing the park entirely.
LU shared some photos about problems at the Caboose Park last fall, and encouraged LPD to spend more time there. Hopefully they're cracking down, but officers can't spend their entire shift there 24 hours a day. There doesn't seem to be a good solution.


Local arrests, August 6-12.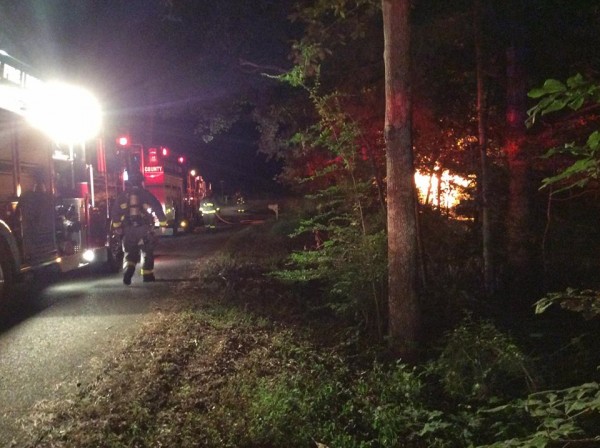 House fire on Corinth Rd. called in around 1 AM Friday.
House was unoccupied, no injuries.


Walker County loses another talented employee.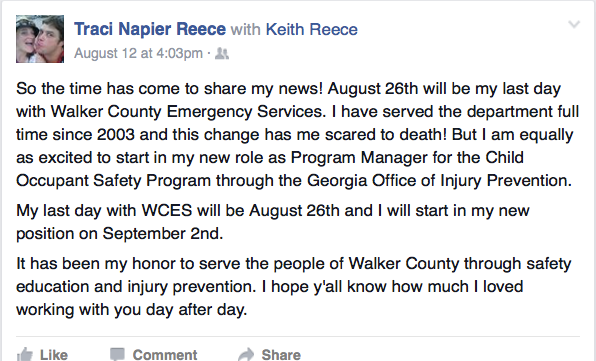 Emergency Services outreach/education director Traci Reece announces she's taken a job with the state and will be done with WCES at the end of the month.
Reece has worked for the department since 2002, and has taught community classes through the fire department for the last four years. She does Lunch n Learn classes, safety seat checks, and sends fire trucks to schools and libraries for the kids.
Traci's job will not be re-filled, meaning many of those activities will probably end after this month. Any that continue will hardly be done as well as they've been done under Ms. Reece.
There's one last Lunch n Learn scheduled for the 26th, Reece's last day on the job.


Reward offered for info on a home burglary committed the first weekend of August.
Dr. McCary lost about $725 of property from his pool house on Sunrise Drive. Items taken were a Samsung TV, a DirecTV box, and a Sony radio.
If you have any info on the theft, call LPD at 706-639-1540.


LaFayette's Comcast office is scheduled to be closed soon. The closest location for paying bills and dropping off equipment will be on Battlefield Parkway.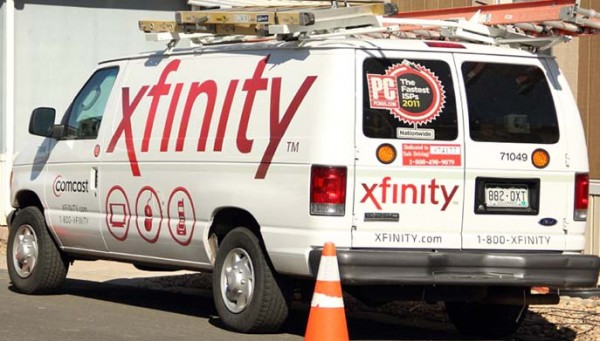 Do you pay your cable bill in person? How many LaFayette Comcast customers even know where the LaFayette office IS?
(LaFayette's Windstream office also closed, to the public anyway, a year or so ago. Theses businesses don't want to see you, just your money.)


Michael Joseph Lucas, who was arrested in Michigan and taken to Chattooga County earlier this week, is one of eight men accused of murdering Alford Morris behind bars at Hays Prison.
The killing took place in 2011, Lucas was released from Hays in 2012.


Sons of Confederate Veterans say Nathan Deal's decision to rename Confederate holidays on the 2016 state calendar is "an act of dishonor" and part of a campaign to whitewash historical and religious holidays.
Deal has done this, and pulled the Georgia Sons of Confederate Veterans license plate, but at the same time says "we cannot deny our heritage."
He said he'll leave all these issues for the State Legislature to work out next year even as he's working behind the scenes to make changes on his own.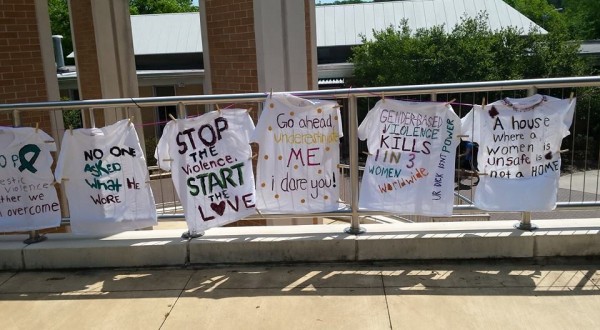 Sex Assault Victim Advocacy Center in Fort O is being investigated by Georgia's attorney general for possibly falsifying reports about classes it didn't teach (but was supposed to) in order to obtain grant money.


Summerville man arrested for stealing beer and Red Bull from Trion Walmart while riding an electric scooter.
Store employees saw Richard Bannano, Jr. steal the drinks and got his tag number. When police came to question the 40-year-old he tried to pay for the stolen items and was taken into custody.
Did they take his scooter to jail with him?


What's Georgia's biggest industry? Not manufacturing, not technology, not transportation. It's agriculture, contributing some $70 billion a year to the state's economy.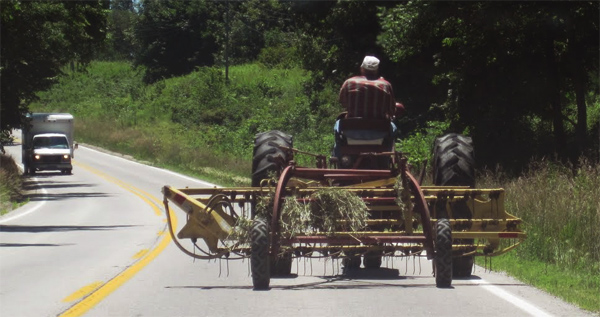 Old methods meet new, and new crops like blueberries replace old standbys like tobacco and sod.
Drought in the west gives Georgia a prime opportunity to show strength in farming, but does agriculture get enough attention when pushing economic development?
"'Agriculture is not what we do until we can find something else better to do,' [AG Commissioner Gary] Black said. 'It's what we must do. It's what we're meant to do.'"
Agriculture is constrained by weather, water, and land. We've got good weather and most of the state has good water, but once you bulldoze a peanut farm or a horse pasture and build something on it, that's farmland you're probably never getting back.


For today's links and any breaking news, follow the Underground on Facebook or Twitter.