2015
06.19
During the last week, LPD has taken a number of notorious local troublemakers off the street – again. Most of these names should be familiar: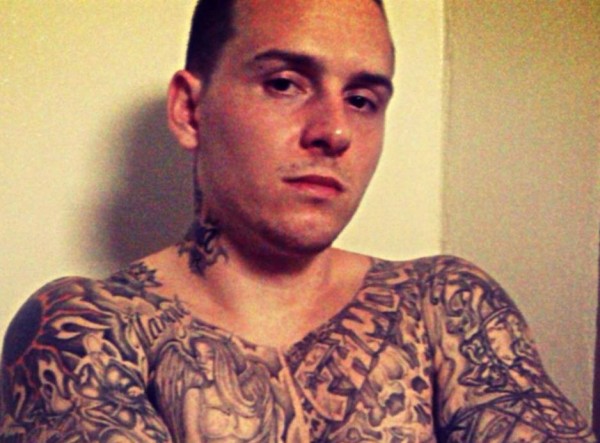 WQCH Radio, 06/17/15:

"LAFAYETTE POLICE REPORT THREE ARRESTS FOR DRUG POSSESSION, FOLLOWING TRAFFIC STOPS MADE IN TOWN:
"37 YEAR OLD CHRISTOPHER TEAL DALTON OF LAFAYETTE, WAS CHARGED WITH PRESCRIPTION DRUGS NOT KEPT IN ORIGINAL CONTAINER. HE RAN FROM OFFICERS FOLLOWING A TRAFFIC STOP. A TIP WAS RECEIVED THAT HE WAS HIDING BEHIND A LOCAL BUSINESS, AND POLICE ARRESTED HIM THERE. THE TAG WAS NOT REGISTERED TO THE VEHICLE HE WAS DRIVING AND HE TOLD OFFICERS HE FOUND THE TAG AT A JUNKYARD. HE WAS CHARGED WITH SEVERAL TRAFFIC AND VEHICLE OFFENSES.
"25 YEAR OLD COREY CHAZ WARREN OF LAFAYETTE [depicted above] WAS CHARGED WITH MARIJUANA POSSESSION AND DRIVING WHILE HIS LICENSE WAS SUSPENDED. HE REPORTEDLY GAVE OFFICERS A FALSE NAME AT THE TIME OF HIS ARREST, CLAIMING TO BE HIS TWIN BROTHER.
"AND 37 YEAR OLD THOMAS CHANSEY MOSLEY OF LAFAYETTE WAS CHARGED WITH POSSESSION OF MARIJUANA, EXPIRED TAG AND DRIVING WHILE HIS LICENSE WAS WITHDRAWN."
Mr. Warren got out of prison at the end of May after serving only three years of a 12-year sentence for various crimes including drugs and burglary. Hope they kept his cot warm, he'll be back in it soon.


It didn't begin there. Another notorious local punk arrested for the thousandth time after allegedly hitting a woman. Drugs also found, of course.
WQCH Radio, 06/16/15:

"LAFAYETTE POLICE AND THE DRUG TASK FORCE ARRESTED A LOCAL MAN ON DRUG POSSESSION AND BATTERY CHARGES, FRIDAY.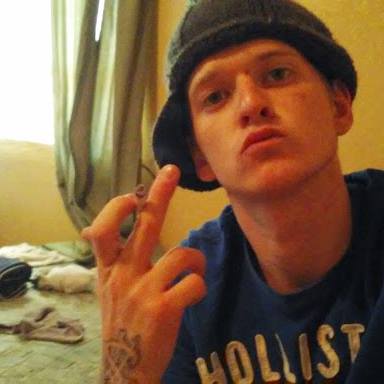 "DETECTIVE WESLEY STEEL SAID THAT 21 YEAR OLD MICHAEL CHANCE ELLISON WAS BEING SERVED A WARRANT ON THE BATTERY CHARGE, WHEN PROBABLE CAUSE WAS OBSERVED FOR THE SEARCH WARRANT. THE TASK FORCE THEN FOUND MARIJUANA AND ICE, A FORM OF METH, INSIDE HIS LANGLEY APARTMENT AT 307 SOUTH MAIN.
"THE BATTERY CHARGE WAS FROM AN INCIDENT THE DAY BEFORE. DETECTIVE STEELE SAID A WOMAN WHO HAD LOANED MONEY TO ELLISON HAD STOPPED-BY TO COLLECT. SHE AND HER AUNT TOLD POLICE THAT AS THEY WERE LEAVING ELLISON'S APARTMENT, HE STRUCK THE WOMAN ON THE BACK OF THE HEAD, RAISING A 'KNOT'."
Drugs, burglary, violence, even arson and rape in his background. Not to be ugly here but if he stays in jail this time, LaFayette will be a safer place. Allegedly etc. whatever.


A special train excursion pulled by one of Tennessee Valley Railroad Museum's steam engines came through LaFayette Wednesday.

The steam excursion was part of an event for timepiece collectors in Chattanooga.



Last week LU shared photos of vandalism done to two county road mowers. Commissioner Heiskell said via Facebook the damage would cost about $8,000.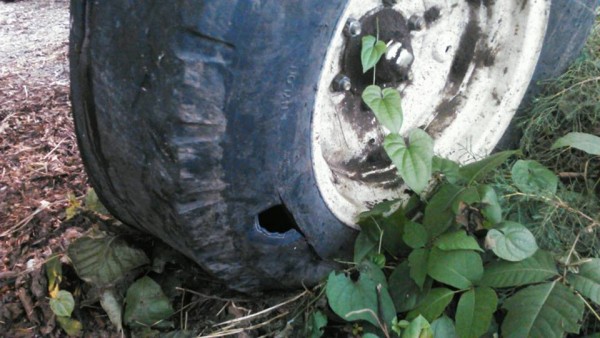 This report from the paper says the total damage done is $4,800. Still not good, but not as bad; Bebe's never been good with numbers.


Walker Co Sheriff's Office seeks info on the whereabouts of Davis Oliver Brown. Brown may be connected to a vehicle burglary.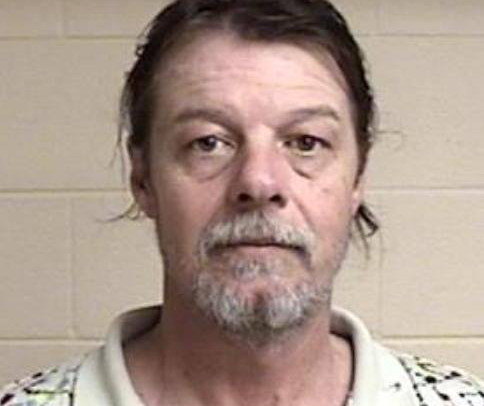 "WALKER COUNTY SHERIFF"S OFFICE MOST WANTED
"This weeks Walker County Sheriff's Office Most Wanted is Davis Oliver Brown. Mr. Brown is 6 feet 2 inches tall and weighs 240 pounds. He has Brown hair and Brown eyes. He is being sought in connection with a felony entering automobile. If you have any information on Mr. Brown's whereabouts please contact the Walker County Sheriff's Office Warrant Division at 706-638-1909 ext 1227."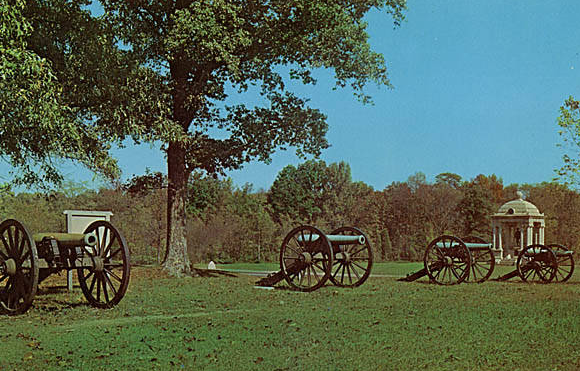 LaFayette Road through Chickamauga Battlefield is expected to reopen any day now after months of construction. [Road actually opened officially at 9 this morning.]


Angela Achuff, 30, arrested last Thursday for trying to steal a phone, SIM card, Chinese food, and a newspaper from Walmart.
Other local arrests, June 11-17.



Georgia's Cannabis Oil Registry database is now active, so law enforcement and physicians can verify who's actually allowed to have marijuana-derived oil for medical purposes.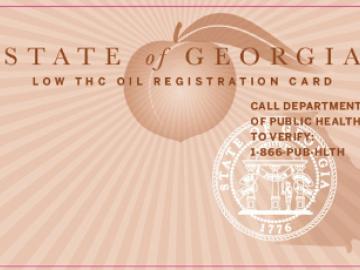 Patients who qualify for treatment can pay $25 for a card good for two years.


Physcians Family Care (often called "After Hours" even though it hasn't been that in years) was broken into over the weekend. Thieves got nothing but a locked box with keys in it.
Possible suspect described as a heavyset woman with dark hair driving a blue minivan – so 40% of the women in LaFayette are possible suspects. That should be easy to narrow down…


This is a new thing? Thought we already did this…
WQCH Radio, 06/16/15:

"THE CITY OF LAFAYETTE PUBLIC WORKS DEPARTMENT IS GETTING INTO THE DUMPSTER BUSINESS.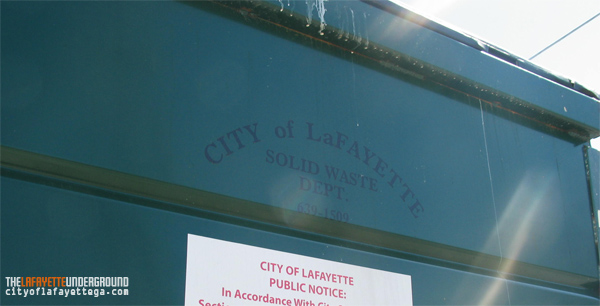 "AT THE SUGGESTION OF CITY MANAGER DAVID HAMILTON, THE CITY COUNCIL APPROVED A TRUCKLOAD PURCHASE OF NEW DUMPSTERS AT JUST OVER 10-THOUSAND DOLLARS. THE 12 NEW DUMPSTERS WILL BE RENTED OUT TO LOCAL BUSINESSES, WITH A WEEKLY PICKUP BY THE CITY GARBAGE DEPARTMENT.
"HAMILTON SAID IT WILL MEAN MORE REVENUE FOR THAT DEPARTMENT, SINCE LAFAYETTE HAS NEVER RENTED DUMPSTERS BEFORE. HIS RESEARCH INDICATES THE INVESTMENT IN NEW DUMPSTERS COULD BE PAID BACK IN AS LITTLE AS ONE YEAR."
Sounds like they're just getting MORE dumpster to set out, because we definitely have municipal dumpsters being picked up at private businesses… Hopefully this will be a source of income for the city, as promised.


New GA fuel tax – a flat rate of $.26 per gallon instead of the old percentage tax – begins July 1st. For now, with gas at its current price, gas will cost more. But when gas prices go up the tax won't change as it did in the past. [This tax will be more per gallon than GA has been paying as long as gas stays at $3.70 or below. Once it gets over that point this is actually a tax cut.]
Semi trucks and "alternative fuel" vehicles will also face new tax penalties after the beginning of July.


Movies In the Park returns tomorrow night around 9 PM with "Paddington."
Free outdoor movie for kids and (patient) adults at Joe Stock Park.


For today's links and any breaking news, follow the Underground on Facebook or Twitter.