2014
11.13
Monday night LaFayette City Council voted to post signs banning large trucks from West Villanow Street, due to trucks damaging signs and curbs on the narrow renovated downtown square.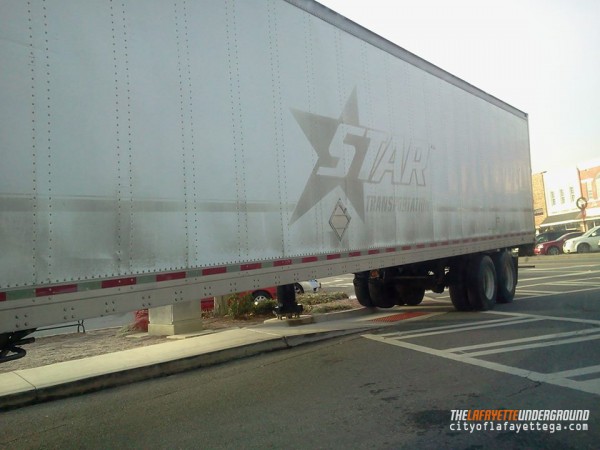 LPD chief Clift advised against the plan, saying rules aren't enforceable and hurt businesses. Councilman Bradford was the idea's primary promoter, insisting trucks should be banned because of the cost of replacing damaged signage.
Council voted in favor of the signs 5-0 and asked Clift to put together a map for trucks to bypass town – which is what businesses will also do if their trucks can't get through.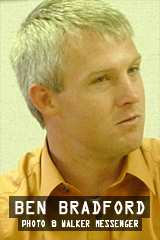 The problem comes from all that work done downtown several years ago, which started under a different mayor, different city manager, and mostly different council.. People were concerned then about how narrow the streets were being made, how hard the corners would be to turn, and how many downtown parking spaces were being lost. Leaders mostly ignored those complaints – now we pay the price.
(Since the council voted 5-0 to keep 18-wheelers off West Villanow, can we assume all five of them will volunteer to carry items from parked trucks on the square down West Villanow to Shop-Rite, Freds, and Dari-Dip when deliveries arrive?)
We redo the downtown sidewalks every five years, so when the next rehab project starts in 2016 the city can rip out all the expensive work done last time and put the square back to how it was in 2010.
Also in the meeting: a discussion of speeders on Fortune St. in Linwood, bonds for LaFayette Housing Authority, and other matters of regular business.



Walker County faces tens of thousands of dollars in fines (growing by $1k a day) for environmental damage done on Lookout Mountain as part of a doomed walking trail project. The environmental issues were discovered over a year ago, and fines began accumulating on September 11 of this year – a total of $53,000 as-of today.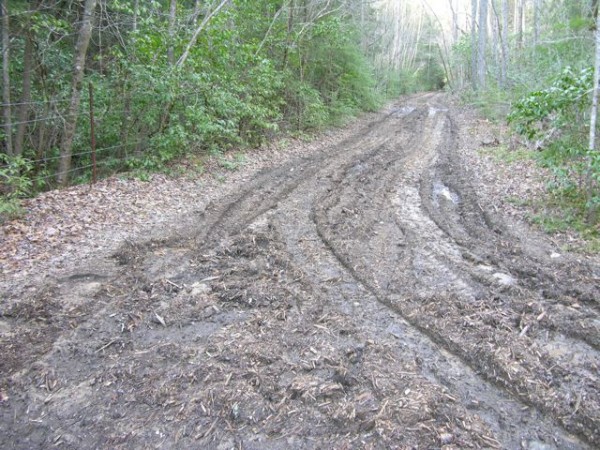 The project, which has taken several years and already cost taxpayers thousands of employee work hours, is supposed to convert the old Durham Railroad bed (which was abandoned over sixty years ago) into a walking and biking trail. Portions of the trail crosses private property without landowner consent and may never be open. Most of the rest runs along the Lula Lake Land Trust, controlled by the Commissioner's friends in the Davenport Family who stand to benefit from the access road.
The article refers to (but doesn't share) an old e-mail sent from County Attorney Don Oliver to Senator Mullis, complaining about the impact fines might have on the Commissioner's 2012 reelection campaign. (LU shared that e-mail two years ago here.) Notice they were worried about the political impact for Bebe and Jeff Mullis more than the fines themselves, which come out of YOUR pocket.
Mullis intervened in 2012 to give the county more time, but EPD rules were ignored for two more years, until September when the fines were ordered. Those fines can still be avoided IF environmental repairs are completed in December, but no work to clean up the mess is currently being done.
Channel 3 called Commissioner Heiskell to ask her about the county's fines and why no cleanup work is ongoing, but she didn't answer or return "multiple phone calls" from their reporter.

Sad news from Trion..
WQCH Radio, 11/11/14:

"FAULTY SPACE HEATER STARTED A HOUSE FIRE IN TRION, THAT KILLED TWO FAMILY MEMBERS MONDAY MORNING.
"STATE INSURANCE AND FIRE COMMISSIONER RALPH HUDGENS SAID THE FIRE HAS BEEN RULED 'ACCIDENTAL'.
"THE DEAD WERE IDENTIFIED AS 22 YEAR OLD CHRISTIAN PRUITT AND 50 YEAR OLD FLADIO CORNEJO LOPEZ. LOPEZ WAS PRUITT'S UNCLE.
"THE EARLY MORNING FIRE HAPPENED ON 9th STREET IN TRION. THE CITY OF TRION VOLUNTEER FIRE DEPARTMENT AND TRION POLICE ASSISTED IN THE INVESTIGATION ."..GEORGIA HAS RECORDED 94 FIRE DEATHS THIS YEAR."

Female winner of Saturday's 26-mile Chickamauga Battlefield marathon has been disqualified and removed from the list of finishers.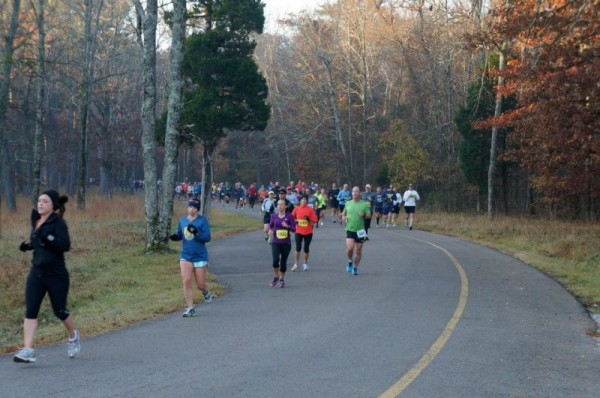 Race officials say it was physically impossible for her to have run the last half of the race in the time she claimed, especially in light of how long it officially took her to finish the first half. The runner blames faulty timing equipment.


Now that the election is done and GA Republicans have a guaranteed majority for the next few years, talk shifts to raising taxes. Your elected lawmakers may soon increase the state gas tax to pay for roads, since the money they get in the general fund goes to things like the new Falcons stadium and development deals for campaign contributors.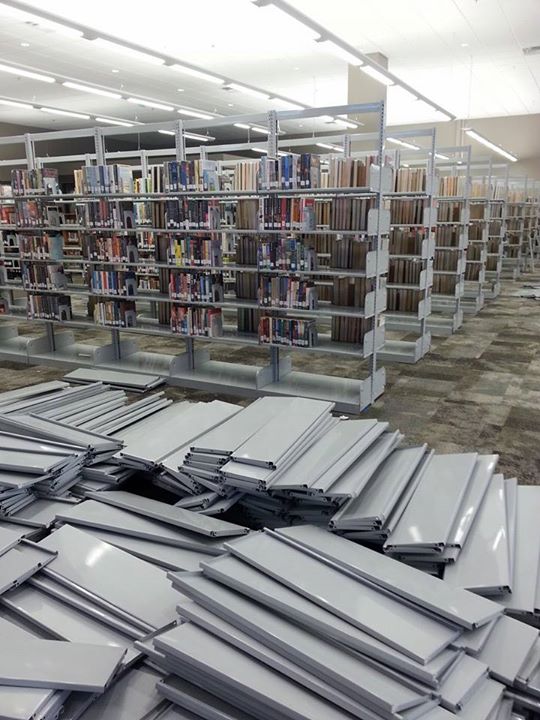 Apparently we're still going to have books at the new library. Or some really funny looking computers.


What got stolen today?
*spins the wheel*
Some tweaker is the lucky winner of a heat and air unit from an abandoned house on Fitzpatrick Drive!
Runners-up: Arrest reports for November 3rd through 9th.



Empty Stocking Fund (the area's LEGITIMATE Christmas charity) now accepting applications from needy families. Organization distributes groceries during the holidays for the less fortunate.
Deadline to apply is December 5th. Many will apply on December 25th and wonder why they don't get any help…


A lawsuit against GA Department of Corrections, resulting from an inmate death at Hays Prison in December 2012, has been settled by the state for an undisclosed sum – likely in the seven figures.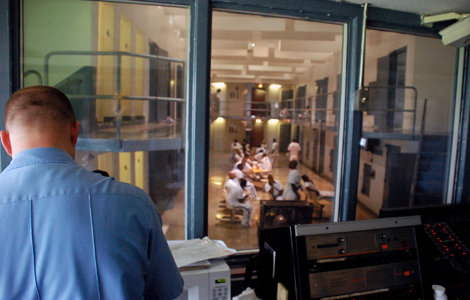 Another round of suits was filed last month by family members of other inmates killed behind bars at Hays around the same time. Those are also likely to be settled, with your tax dollars.


A TV production company seeks "small town mayors" in Georgia who are "especially colourful and eccentric" for an upcoming reality show.
Oh if only we hadn't rejected the Mike Lovelady campaign a year ago. LaFayette could be a televised laughing stock right next to "Small Town Security." and Honey Boo-Boo.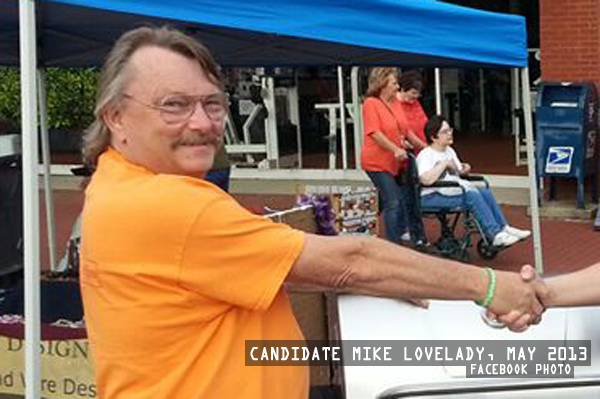 New this fall: "Idiot Mayors from Small Idiot Towns, Featuring Mayor Mike Mullet."
In the pilot episode (and every subsequent episode) see Mayor Mullet get into a fist fight over his son's latest sexual escapades.


How did your favorite eatery do?


For today's links and any breaking news, follow the Underground on Facebook or Twitter.