2014
06.16
A shooting Friday afternoon on Lookout Mountain left one Walker County deputy injured and the Sheriff's Department K9 dead.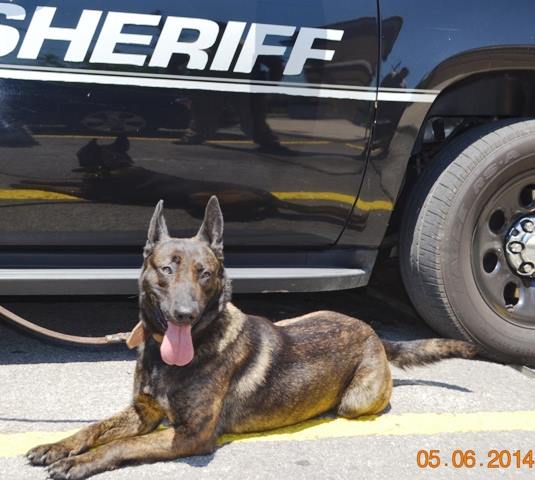 Steven Lee Waldemer of Idaho, on probation from a kidnapping sentence and out of touch with authorities, is suspected of sexually assaulting a local woman in front of her children and assaulting one of the kids inside a camper trailer on Moon Lake Rd.
Walker County deputies attempting to apprehend the man Friday were fired at; a shotgun blast hit deputy Donnie Brown in the face and neck and killed the county's new police dog, Tanja. (Per WQCH, this was the first crime scene deployment for Tanja, who joined the department only a few weeks ago.)
Officers from Chattooga and Dade arrived after the shooting, but the suspect managed to slip by at least 12 deputies when their view of his camper was obscured by the gas and smoke they filled it with while trying to drive him out.
After escaping, Waldemer headed towards Alabama on foot and was arrested in the woods without further incident. He now faces pretty much every charge you can think of.
Deputy Brown was released from the hospital and is expected to be OK. A memorial service for Tanja will be held in the near future.





City hearing regarding Chattanooga Street Tavern beer and wine license will be held at 9 AM.
This hearing isn't about the morality of selling beer, it's about violating city rules about how and where alcohol can be sold. The city's initial investigation of hard liquor served during a Valentine's Day party led to discovery of three possible law violations: hard liquor stored at the Tavern, alcohol being served to Tavern employees, and serving employees who were also minors. Other issues may also surface during the hearing.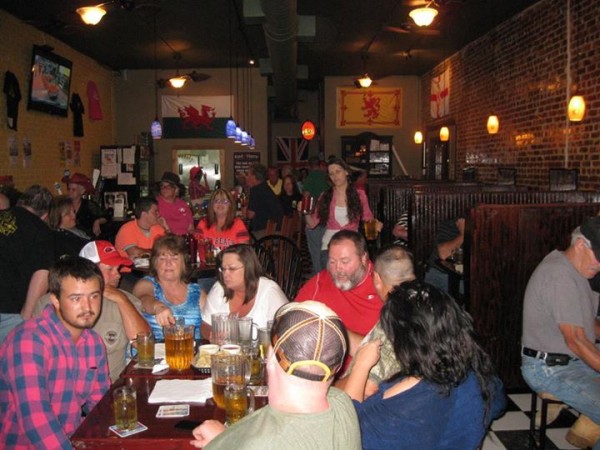 LaFayette council can hand down a fine, temporarily suspend the Tavern's pouring license, permanently suspend their pouring license, or turn a blind eye to flagrant violations of the law in favor of what Tavern owner Mike Lovelady refers to as "progress."
Lovelady is fully aware of everything he's accused of doing wrong, but so far he's refused to directly address any of that. Instead he's used a multitude of profiles and pages on Facebook to attack the city (and LU often as not) for trying to enforce the law.
He and his supporters have spoken of vast conspiracies against him, of people who hate alcohol, people who hate businesses, personal vendettas, etc. but nothing at all about the core accusations of serving the wrong kind of alcohol to the wrong people at the wrong place at the wrong time in blatant, intentional violation of the law.
The hearing will likely draw a sizable crowd, probably a majority pro-Tavern considering it's scheduled during hours when most people are at work.


Also starting 9 AM at city hall: David Hamilton's new career as LaFayette City Manager.
Hamilton replaces former City Council member and business owner Max Morrison, who's been holding down the Manager's office as an unpaid interim for well over a year.


How does Nathan Deal handle ethics concerns?
He attempts to change the rules so ethical problems can't be reported.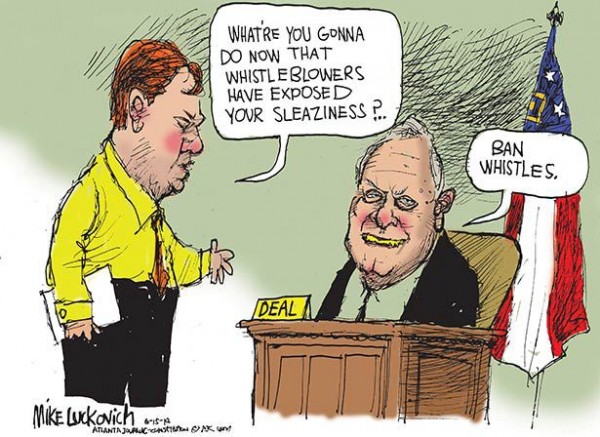 Not exactly a surprising attitude. This is how we handle ethical problems in Walker County too. Attack, threaten, pressure, and belittle the people who call out leaders for their bad behavior, then try to change the subject.
Meanwhile Georgia is spending $1.8 million to make legal cases from former employees of the State Ethics Commission go away. A month ago another ex-Ethics Commission worker was given a $1.3 million settlement after she accused Gov. Deal of having her fired for investigating him. That's a total of $3 million and counting.
(Having trouble supporting Nathan Deal OR Jason Carter for governor? There WILL be a third choice on the November ballot – Libertarian Andrew Hunt.)




Paaaavement!
WQCH Radio, 06/13/14:

"LAFAYETTE'S CITY COUNCIL DISCUSSED STREET PAVING PROJECTS, AT THE JUNE MEETING. IT WAS AGREED TO USE-UP THE REMAINING STATE PAVING MONEY ON THREE SMALL STREET PROJECTS: CULBERSON, DICKERSON AND WOODLAND.
"MAYOR ANDY ARNOLD SAID THE COMMITTEE SPECIFICALLY CHOSE TO RE-PAVE CULBERSON AND DICKERSON, BECAUSE OF THE EARLIER DECISION TO CLOSE WARDLAW STREET TO THROUGH-TRAFFIC. THOSE TWO STREETS NOW HAVE HEAVIER TRAFFIC BETWEEN NORTH MAIN AND DUKE STREETS, DUE TO THE CLOSURE OF WARDLAW AT THE PUBLIC SAFETY BUILDING.
"OTHER STREETS IN THE CITY ARE EARMARKED FOR PAVING USING SPLOST SALES-TAX MONEY. A LARGE PORTION OF THE 'PIE' WILL GO TO ONE MAJOR PROJECT: SOUTH CHATTANOOGA STREET. CITY MANAGER MAX MORRISON SAID CHATTANOOGA STREET HAS TO HAVE MAJOR WORK UNDERNEATH, BEFORE PAVING OF THE STREET SURFACE CAN BEGIN.
"'CHATTANOOGA STREET COULD BE A WHOLE SPLOST BY ITSELF', MORRISON SAID. IT NEEDS REPAIR OF THREE UNDERLYING BRIDGES OR CULVERTS, PLUS REPLACEMENT OF WATER AND GAS PIPELINES. WHEN CHATTANOOGA STREET IS READY FOR PAVING, THE CITY WILL BID THE PROJECT OUT TO A CONTRACTOR. MORRISON SAID THAT PAVING WILL BE DONE IN STAGES, PROBABLY BEGINNING AT ROPER AND HEADING BACK INTO TOWN."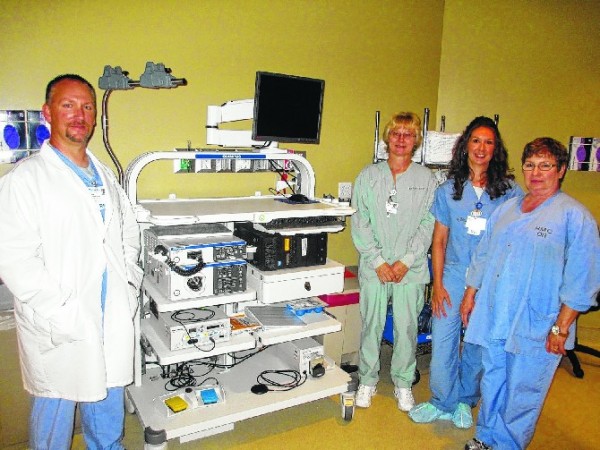 Hutcheson takes out a loan to cover debt while selling it's radiology unit, then spends money it doesn't have to open a GI lab.
Hope they know what they're doing, for once anyway..


Couple from Snellville arrested Thursday after trying to buy prepaid credit cards with fake money. They were picked up at the Dollar General in Trion; authorities suspect they've been hitting DG stores all over Northwest Georgia with the same scheme for a while.


Another find of bad product in a local grocery store.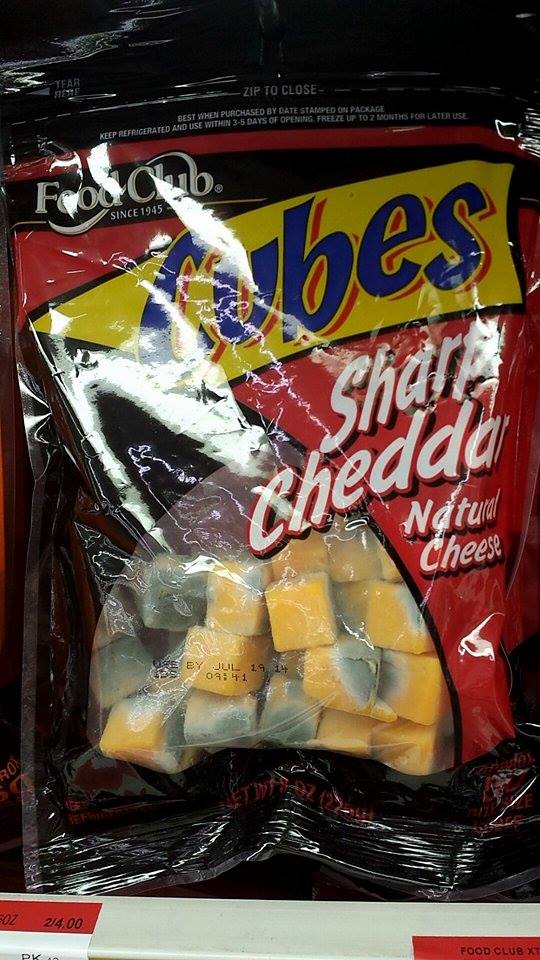 This package of ruined cheese was shot last week at LaFayette Shop-Rite. Photographer says store employees were notified of it and didn't take any action; hopefully it's gone by now.


Chickamauga residents are paying the price for Crystal Springs shutting down last summer.
Citing the closed factory's utility usage, Chickamauga leaders raised the city's water price and will soon increase storm sewer fees for residents and remaining businesses.


Chattooga County man suspected of meth production leads deputies into Alabama, then attempts to get away by diving into a river and trying to swim through rapids.
(He was unsuccessful.)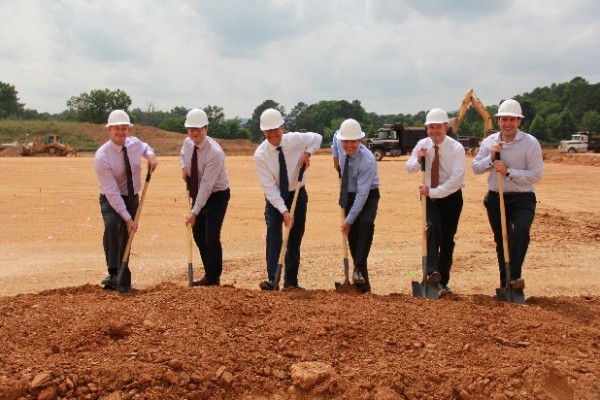 A few days ago IVC broke ground on a new $100 million flooring plant being constructed in Whitfield County's Carbondale industrial park. When the mill is finished early next year it will offer jobs to 200 people – many of whom might live on the East side of Walker County.


Georgia state laws regarding unclaimed assets have one of the lowest standards in the world – a checking account with no activity after a single year can be seized by the state as abandoned. Savings accounts can be taken over after three years.
This is verified by the state, although they claim that every reasonable effort will be made to reunite assets with their owners before the state takes it.
So if you save your money for a year, the state can take it. If you're pulled over by a cop and accused of a crime, even if you didn't do anything wrong, the state can take your car or anything in your car.
Various proposals to make these unfriendly laws better for citizens have been rejected time and time again, in a state supposedly led by conservative politicians.


"A cantankerous press, an obstinate press, a ubiquitous press must be suffered by those in authority in order to preserve the even greater values of freedom of expression and the right of the people to know." -U.S. District Court Judge Murray Gurfein, 1971

Gov. Deal has appointed Bobby Cagle, state Pre-K program director, to take over leadership of troubled Georgia DFCS.


GA driver's licenses can now display a driver's blood type, to help paramedics responding to emergencies.
Drivers can opt in to the new feature, it's not mandatory.


Two "consumer advocate" groups pushing for deregulation of cable companies are actually funded and run by (surprise!) cable companies.


For today's links and any breaking news, follow the Underground on Facebook or Twitter.