2012
11.08
Election is over, back to business as usual.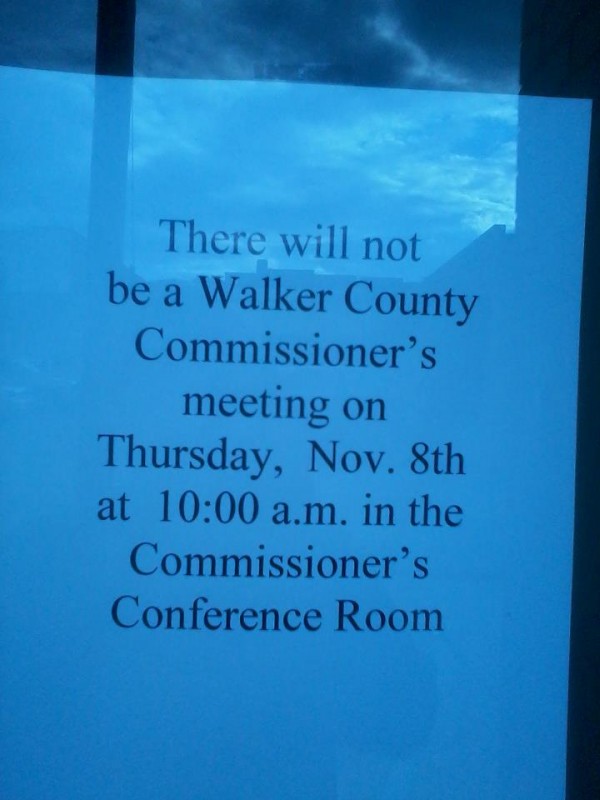 Three weeks in a row with no commissioner meeting in Walker County. The Commissioner is required by law to meet at LEAST once a month, and is supposed to spend a majority of her time talking with constituents. TV doesn't count, or shouldn't anyway.
After winning reelection in what may very likely be her last race, any reasons Bebe Heiskell ever had for being transparent or listening to county residents are pretty much done.


Commissioner Heiskell credits her write-in opponent's votes in Tuesday's election to "social media" (i.e., the Underground) and says the results show people of Walker don't want a commission.
"'I've never had anyone approach me about it. I'd never heard anyone mention it until Shaw's campaign.. It's not something that's in demand in Walker County. Catoosa County calls me and wants to talk to me sometimes and says they wish they still had a sole commissioner form of government.'"
It seems highly unlikely that Heiskell has never had anyone approach her about multi-commissioner government in the last twelve years – although she is admittedly somewhat intimidating to approach about anything. Even if she hasn't been approached, she's been asked via letter, telephone, or e-mail. LU has e-mailed her about it on two different occasions and hasn't gotten a response yet. (Keep in mind LU contributors are voting, tax-paying citizens of Walker County, too.)
As for the employees of Catoosa County – of COURSE other government employees wish they had a sole elected leader with no accountability. "Remember back when we could steal and lay around and do whatever we wanted as long as we campaigned for the sole commissioner? God I miss that."
WQCH Radio, 11/07/12: "AFTER LAST NIGHT'S VICTORY, HEISKELL SAID THE OUTCOME SHOWS THAT RESIDENTS ARE SATISFIED WITH THE CURRENT SYSTEM. A RECENT ARTICLE IN THE WALL STREET JOURNAL MADE 'SPORT' OF THE OFFICE, INSINUATING THAT WALKER COUNTY IS 'BEHIND THE TIMES'. HEISKELL SAID: 'IF WALKER COUNTY RESIDENTS WANT TO VOTE ON A FIVE-MEMBER COMMISSION, THEY CAN PETITION THEIR LEGISLATIVE DELEGATION TO PUT IT BEFORE THE VOTERS… IT'S UP TO THE PEOPLE, NOT THE COUNTY COMMISSIONER'."
But every time a state legislator is asked about this, they say it's up to the commissioner to request a change. The legislators actually change the county charter, but generally refuse to do so without cooperation from the local government. However, this statement shows Heiskell is turning control over to the people. Citizens of Walker County should respond to her challenge and actually petition their state legislators, one of them anyway, to let them vote on a commission.
Senator Jeff Mullis and John "Jeff Mullis Jr." Deffenbaugh aren't going to listen to voters on this issue, but Representative Jay Neal might. Rep. Neal's personal cell phone number (per his Web site) is 423.421.3292. Let him know how you feel on this issue before the General Assembly reconvenes in January.

The same article linked above also discusses Steve Wilson's fifth successful reelection campaign.
Wilson says his 80% victory is "very humbling."
Apparently his definition of the word "humbling" isn't the definition in the dictionary. It's highly unlikely that this latest political victory did anything except make his big head bigger, if that's even possible. If he gets any more smirky his face will fall off.

The victim of Tuesday's two-car crash in Noble has been identified as 65-year-old Allan Kellett, who lived nearby. His wife Joy went to Erlanger ICU. The guy who pulled out in front of them was "treated and released" for apparently minor injuries.


As previously mentioned, Democrat State Rep. Barbara Massey-Reece of Menlo, completing her seventh two-year term representing Chattooga and Floyd, was defeated Tuesday night by former Floyd Co. commissioner Eddie Lumsden, Republican. She won Chattooga and lost in Floyd with total votes leaving her about 500 behind the challenger.
John Deffenbaugh defeated Tom McMahan 10,478 votes to 4,775, taking GA House District 1. HD1 covers all of Dade County and about 2/3 of Walker in the West. Both men are from Dade, meaning Deffenbaugh will be the first Dade resident to represent the county in Atlanta in over forty years. Since Rep. Jay Neal lives right over the Catoosa line (with a Chickamauga address), neither of Walker County's State Representatives will be county residents next year – a first for the county. That leaves only Chickamaugan Jeff Mullis in the State Senate, and he seems to represent the interests of UPS and Caterpillar more than the interests of the county as a whole. Although he does run when Bebe calls him for personal favors…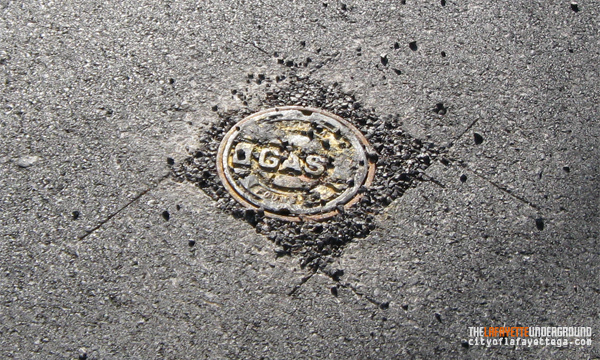 A year ago last week on the LU blog, city residents were celebrating the first new paved roads in their neighborhoods in over a decade. Yay for nice pavement – until they cut holes in it a few days later. A year ago last week on the LU blog, city residents were celebrating the first new paved roads in their neighborhoods in over a decade. Yay for nice pavement – until they cut holes in it a few days later.


Here are some recent GA Supreme Court decisions regarding fax advertisements and worker's comp claims.
GA Supreme Court is also currently hearing a case about changing the state's method of executing criminals on death row.

For today's links and any breaking news, follow the Underground on Facebook or Twitter.