2011
10.28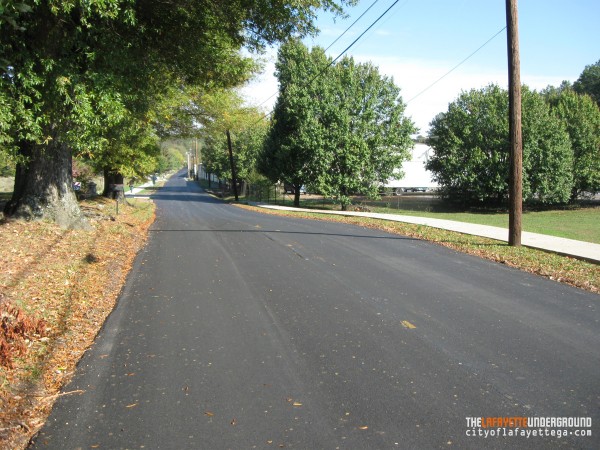 People tend to take photos of rare sights or unusual events, things like a lunar eclipse, graduation, a family vacation. Bigfoot. That's why we've dedicated this week's Friday Photo to one of the rarest sights of all – fresh asphalt on the west side of LaFayette.
It's been decades since the city did any road projects with its own funds, and jobs this year are no exception. One segment of repairs this year and two in 2010 were related to 2009 floods, and two this year were done with state money. But the city can at least get credit for electing to use its state money for residential streets on the side of town most in need of road work. Last year road funding went to Duke Street in front of City Hall and Gasque Drive at the golf course where nobody lives and hardly anyone drives.
After 2009's record-setting rains, LaFayette requested FEMA funding to repair culverts under several flood-prone streets in West LaFayette and Linwood. Despite minimal visible damage (all due to the city's refusal to keep ditches and drains maintained) FEMA accepted the claims and gave the LaFayette a 75% match for $350,000 of street repairs. Georgia threw in an additional 10% match, leaving the city responsible for only $52,500 – most of which came from paying employees to do the work.
Last year a portion of that funding was used to install larger custom concrete culverts beneath West Indiana Street at the railroad crossing and on Enloe Street in Linwood. Culvert replacement required new asphalt over the dig sites, resulting in a few yards of fresh pavement on both streets, the first in that section of town in many years. Funding didn't provide for widening or improvements, so Enloe is still barely one vehicle wide – but about a quarter of that winding, weird, former one-way street is now paved smooth.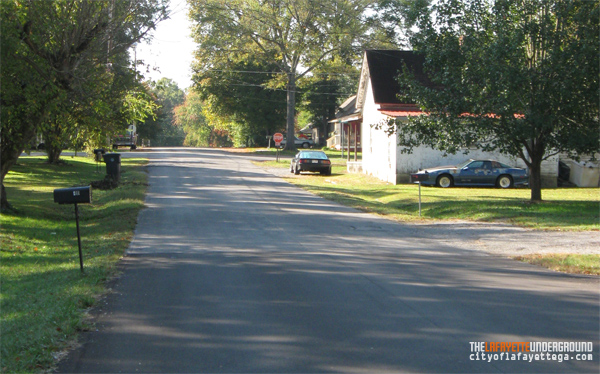 The project's biggest portion was replacing culverts on Magnolia Street. Magnolia was in no better or worse shape than any other street in West LaFayette, but for whatever reason it was proclaimed to need $180,000 worth of culvert replacement. (One neighbor says the membership of Ridgeview Baptist played a role in the decision to pick Magnolia over some other thoroughfare.) Pavement was removed in April and May of 2011, new culverts were installed over the summer, and after months of waiting finally new asphalt was laid around the end of August.
Repaving wasn't the goal of this project, it was about replacing culverts – so the new asphalt only covers areas where drains were replaced. Magnolia, between West Main and Spencer Street, now has a patchwork of new pavement mixed with old, a repeating pattern of smooth solid blacktop followed a few yards later by rough older pavement. It's definitely an improvement, and several of the worst potholes on Magnolia happened to be in places that needed new culverts – but it's not the miles of unbroken pavement we'd like to see there.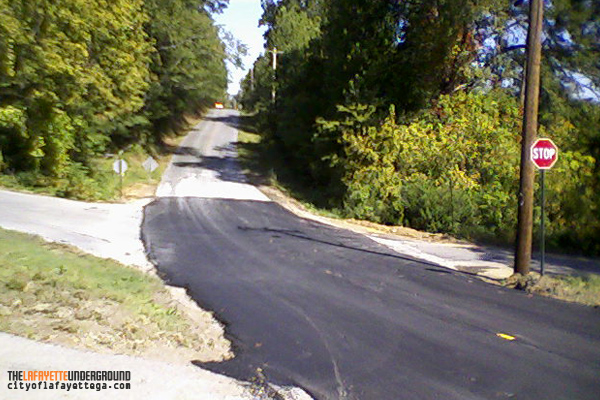 In June LaFayette cut the old pavement on Probasco Street and installed several new culverts, then filled them with gravel that washed away on a regular basis. After two months of people beating their vehicles to death on ruts cut into the already horrible road, LaFayette finally repaved Probasco between Chattanooga Street and Bradley Avenue. The city also repaved the full length of King Street at the same time. Neither of those had been significantly repaired since they were part of the now-defunct City of Linwood over twenty years ago.
That project was completely funded through Georgia's Local Assistance Paving Program (LARP), a small amount of money the city gets every year for resurfacing streets. City Council candidates Judy Meeks and Melvin Bridges are both taking credit for starting this project years ago when they served on the council before; credit for getting road work done in Linwood and West LaFayette actually goes to sitting councilor Wayne Swanson, who's mentioned the shape of King Street multiple times during the last year.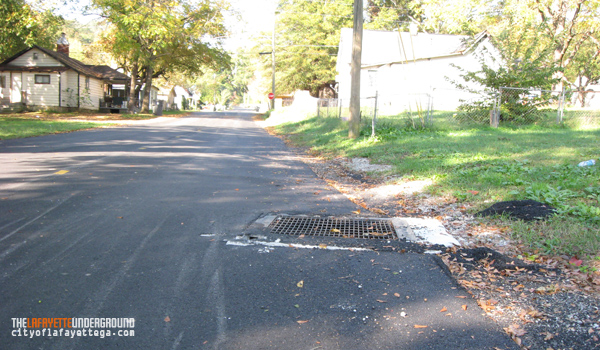 LaFayette Public Works made a minimal effort to repair and upgrade culverts and drains on Probasco and King before paving began, but most of that effort was wasted. More an attempt to look like something had been done than an actual attempt to accomplish a specific goal – as evidenced by the poorly engineered drain pictured above. Water tends to flow downhill, not up, but this new drain is a good inch higher than the surface of King Street. Water will flow into the ditch opposite before getting deep enough to make this grid useful. New drains on Probasco aren't likely to work much better.
We're still unsure if that shows stupidity or brilliance from the city. None of these drains will do a thing to avoid flooding or keep the roads passable in a heavy rain, but LaFayette might qualify for more FEMA pavement money in the future when streets buckle in a flood. It's likely not intentional, just sloppiness and incompetence, because designing something to fail on purpose would require more skill than the city currently possesses.
Speaking of sloppiness and incompetence…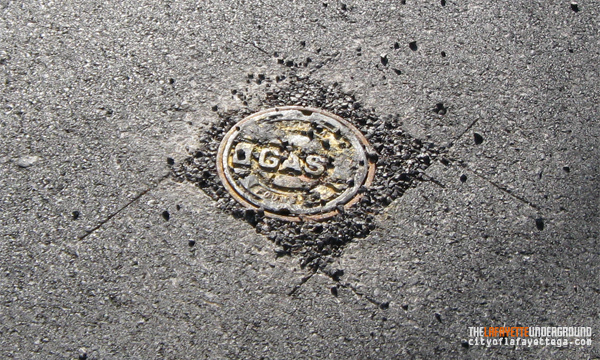 Public Works didn't wait three weeks before chopping through the freshly laid pavement. Probasco Street now features at least three ugly six- to eight-inch-wide gashes like the one above: fresh asphalt cut through and patched with loose tar and gravel. The city either didn't plan to need access to its gas lines again, or purposefully decided to pave over the openings and dig them up later instead of building up the openings and paving around them. We've now replaced ruts and chuckholes with intentionally-made gas-access potholes guaranteed to grow after a few winter freezes or a couple dozen passes from Plowzilla.
This kind of poor planning is why we can't have nice things. The new pavement is great and the effort required to have it is appreciated – but if it doesn't hold up long any investment into repaving roads is just a waste. Stupidity from LaFayette Public Works will result in Probasco and King soon looking as bad as they did last spring, which means we're likely to be stuck with a rutted mess on the West side of town for the next twenty years.
PHOTOS: LU Contributors.
We'd like to make the Friday Photo a regular weekly or bi-weekly feature of the site, but in order to do that we need your help in getting historical local photos not available elsewhere. If you have an interesting photo from LaFayette's past (or present) please e-mail it to photo@cityoflafayettega.com.
NEXT WEEK: Downtown Fire