2012
02.08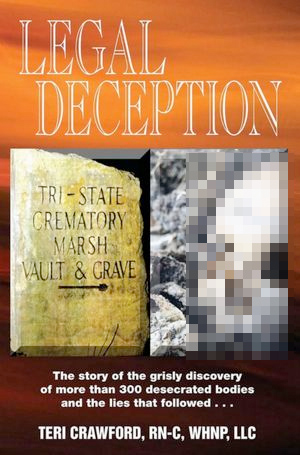 In February 2001, Robert Crawford passed away after a long battle with cancer. His family mourned the loss, as all of us must do when a loved one dies. But one year later, February 15, 2002, that painful experience became an unbelievable nightmare when the Crawford family found out they hadn't been given Robert's cremated remains and his body (along with hundreds of others) had likely been abandoned at Tri-State Crematory.
Robert's sister Teri, a nurse and military reservist, did more than mourn for the way her brother was treated – she quit her civilian job and volunteered to help with recovery in Noble. For a while she coordinated DNA collection from families hoping to identify relatives, but was pushed out after voicing concern about the way county and state leaders were running the recovery operation and subsequent investigation. In 2010 she wrote a book about her experience titled "Legal Deception."
Like all family members connected to crematory victims, Crawford has nothing nice to say about Tri-State operator Brent Marsh. She also doesn't mince words blaming Brent's parents, Clara and Ray – wealthy, well-connected crematory founders/owners – for the Noble nightmare. And unlike the mainstream media, Teri Crawford doesn't hesitate in blaming local officials for their own roles in covering up the disaster and keeping victim families from getting justice.
The overall theme of "Legal Deception" is shared culpability. Everyone from Brent Marsh (the only one actually convicted of doing anything wrong) with his parents and sister, Sheriff Steve Wilson, former GA Representative Mike Snow, and dozens of funeral homes that did business with Tri-State are shown to have roles in the disaster's origins.
Crawford repeatedly shows how Sheriff Wilson bent over backwards before – and after – the discovery to protect the Marshes from prosecution. It's no secret that a Blossman Propane driver told Wilson of problems at Tri-State in 2000 and 2001. Crawford adds that the ultimate discovery of bodies at Tri-State wasn't made by an anonymous neighbor walking their dog (the "official" story), but by EPA and FBI agents the Blossman driver notified after being ignored by the high Sheriff for two years. "Legal Deception" also slams Wilson for his preferential treatment of the older Marshes and his sworn testimony that Ray and Clara Marsh knew nothing of what was happening in their own yard even though relatives told him otherwise.
The book's sharpest jabs are made against Georgia Medical Examiner Kris Sperry and Walker County Coroner DeWayne Wilson, who both interfered with recovery and identification of remains. DeWayne Wilson particularly had reason to limit the number of corpses found and named because he owned four local funeral homes liable for sending them to Brent Marsh in the first place. His role in investigating the crime was a conflict of interest – and at points he kept independent examiners from accessing evidence. (Wilson, who still serves as Walker County Coroner, later became famous for attempts to railroad Chickamauga teacher Tonya Craft.)
Crawford blames Sperry for helping Wilson block identification of bodies (less than 200 of the 339 recovered were positively ID'd), for giving poor courtroom testimony that bolstered the Marsh defense, and for shutting her out of the case. She also says the Medical Examiner intentionally kept her brother's body from being identified because she was (in his words) "too aggressive" with him.
Even Walker Commissioner Bebe Heiskell and Coordinator David Ashburn take heat in the book. Ashburn gets some credit for helping Crawford keep a role in recovery after the state fired her, but she says Ashburn interfered with media coverage and Heiskell (who praised Clara Marsh's community service) pushed to shut the site down once fed and state governments refused to reimburse the county for its $5 million-per-week recovery costs. (She probably saved Walker Co from going bankrupt, but in the process denied justice to hundreds of potential victims' families.) According to Teri Crawford, the final body county of 339 was set on February 27 – 12 days after the first body was found, and less than one day after FEMA denied requests for financial help.
"Clara has done a lot of community work. She represents the poor on several boards. She is very, very outstanding." -Bebe Heiskell
The most compelling and heart-wrenching sections of "Legal Deception" detail how officials in charge intentionally kept recovery workers from finding or identifying bodies from before 1996, and how there are still likely hundreds of unrecovered corpses. Per the book, a dozen pits suspected of containing more human remains were located at Tri-State but only one was ever dug up, and the rest were just probed. More pits or "debris piles" were spotted from the air on another 70-acre property owned by the Marshes, but investigators never pursued them even though David Ashburn and Kris Sperry said (pre-FEMA denial) they warranted further checks.
Crawford quotes M.E. Sperry initially saying some corpses at the site dated back more than twenty years – a time frame that would have seen some 1,725 bodies sent to Tri-State. He later changed his estimate to 350 bodies since 1996, a near-perfect fit for the official total found, even though records cited in the book show nearly 700 were sent there between 1997 and 2002, and almost 1,000 after 1995. But finding those additional bodies would have added tens of millions of dollars to the costs of recovery, identification, and prosecution – not to mention additional liability for the older Marshes and the funeral homes. It's probable (and the book says certain) that well over 339 bodies were left unburned.
"Legal Deception" is no legal thriller. The book is uneven in tone, with some compelling moments in the first third, followed by chapters of boring courtroom testimony and notes of interest to few outside the legal profession. (The final chapter is reserved for describing unidentified bodies in hopes of adding more names to the list of known victims.) Legal aspects of the Tri-State case could make a compelling story, but Crawford's presentation of them – especially the court transcripts – are a chore to read.
Most who encounter this book will probably end up skimming over its conclusion, but in doing so they'll miss some interesting information and comments about the way attorneys on both sides of the criminal and civil cases colluded to do minimal damage to the Marshes. Crawford also reveals how a paperwork mistake left Georgia Farm Bureau responsible for judgments against Tri-State Crematory, which made the insurance company eager to settle out of court. The $5.8 million settlement netted millions for civil suit lawyers and even earned $100,000 for everyone in the Marsh family – but left victim families without answers, justice, or peace.
Public officials spotlighted in "Legal Deception" have dismissed the book as untrue and its author as nuts or motivated by grief and anger. Crawford has also been shunned by many victim families because of her role in the investigation and recovery. As she admits in the book, a lawyer she trusted as a friend took advantage of her and gained information helpful to the defense. Her criticism of law enforcement officials also may have contributed to weakening the prosecution's case against the Marshes. Some family members (who met her while she served as their advocate during recovery) have been upset about details Crawford shared, and dismissed her book because they don't want to deal with the possibility of more unrecovered bodies in Noble.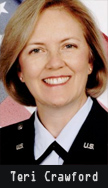 But Teri Crawford seems to have no motive outside of sharing the truth as she sees it and venting her frustration with the whole incident. Crawford paid for the publication of "Legal Deception" out of pocket and told us last fall she hasn't sold enough copies to pay off the printing costs. The decision to write and publish this book has provided Crawford with no financial or social benefit outside of having a clear conscience for doing what she felt was right.
Unfortunately Crawford isn't a professional author, and didn't bring in a ghostwriter or pro editor to help polish up the book. Her jumbled use of quotes in the courtroom sections make the text difficult to follow and don't help its believability; likewise it sometimes goes in circles by presenting the same facts or events multiple times. A good professional editing to help with clarity and redundancy would have made a big difference for "Legal Deception" – but it's still a book well worth reading.
Many will have trouble with the book because of its photos. Perhaps unwisely, Ms. Crawford chose to include a section of black-and-white non-identifying photos showing clothing, debris, body parts, and buildings from the crime scene. The worst, by far, is a color photo of a putrefied skull on the book's cover. (LU made an editorial decision to blur it above, but some pages linked from this post include the original.) "Legal Deception" isn't exactly a coffee table book, and not the kind of thing you can leave out where kids might see it. Crawford's mission to spread the true story of Tri-State Crematory might have been better served by not including unnecessary photos that will keep some from being able to read it. (Photos are included in the printed and e-book editions.)
More disgusting than the photos, even more disgusting than the gruesome details of what happened at Tri-State Crematory, is the stomach-turning behavior of elected officials chosen to "protect and serve" the rest of us. They placed personal connections, old friendships, pride, politics, and money ahead of justice or truth for the 339-plus innocent people whose bodies were desecrated over a period of years in Noble. But only one of those elected leaders (ex-Rep. Mike Snow) has faced voter wrath. The rest have retained their positions and popular support, despite their disgusting roles in the Noble disaster and mishandled response.
Next Wednesday, February 15th, is the tenth anniversary of that grisly discovery. Some have forgotten what happened, others never really knew because so much was covered up or misrepresented. Tri-State Crematory is a horrible, horrible scar on the history of Walker County, but knowledge of what happened there is vital to anyone who votes, lives, shops, or works in the area. Every adult in Walker County should buy or borrow a copy "Legal Deception" so they can better understand, and never forget, what happened ten years ago in tiny Noble, Georgia.
BOOK AVAILABLE AT
Digital copies of "Legal Deception" can be downloaded for Nook, Kindle, and iBooks. A free preview of the first two chapters is available through all those sources. Paper copies of the book can be ordered from LegalDeception.com. Copies of the book can also be found in the LaFayette, Summerville, and Trion public libraries.