2012
03.15
These photos were taken today, March 15th, at the Walker County Road Barn in Chickamauga: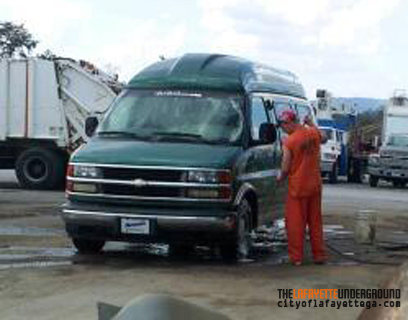 The man in orange is a Walker County Jail inmate, checked out to do work for the county. The vital work he's doing for Walker County is washing and detailing the personal vehicle of a woman named Betty Keys. Keys is a member of the county Animal Control board and (more importantly) manager of Bebe Heiskell's reelection campaign. She's also paid to be a secretary for the county but nobody can figure out what her responsibilities are since she's never been observed doing real work.
According to sources, Keys used to pay inmates from Walker State Prison $10 to wash her vehicle, but the warden there caught her and stopped the practice. So now she's using county inmates instead. No word on whether or not this unidentified prisoner was paid or otherwise compensated for his service.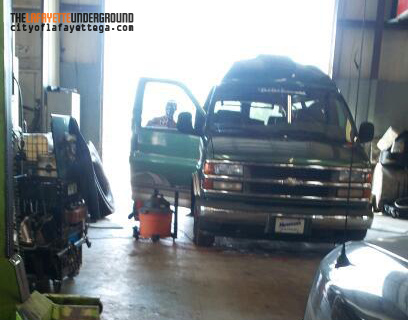 Legally, checked-out prisoners (even ones paid under the table) can only do services that benefit the public, such as washing or repairing government-owned vehicles, doing maintenance work on public property, mowing grass in parks, picking up trash on the right-of-way, etc. Any use of a prisoner to work on private property or perform services for individuals is considered an abuse of the inmates' civil rights and a violation of state law. Using a prisoner to assist with a reelection campaign (as this might be defined) could also violate federal elections law.
Walker County Government ethics in action. The kind of behavior we can continue to expect as long as Walker County has a sole commissioner, and as long as that Sole Commissioner is Bebe Heiskell.
Previous problems with checked out Walker County inmates: Trustworthy?
Have a photo of unethical behavior in the city or county? We're always happy to see them and share the best. E-mail the Underground, anonymity guaranteed, to photos@cityoflafayettega.com.