2011
07.13
The last few months have seen Northwest Georgia rocked by a series of violent storms. On Saturday June 11th storms with 70-MPH straight-line winds rolled through Dade, Walker, and Whitfield, sending trees through the Walker Schools Science and Technology building and Chickamauga Civic Center before knocking out power to hundreds in Dalton. Several smaller storms have broken trees and disrupted utility service for others during the weeks since. But none of those compare to the absolute devastation seen on April 27th when a record-setting day of tornadoes destroyed wide swaths of Louisiana, Mississippi, Alabama, Tennessee, and Georgia.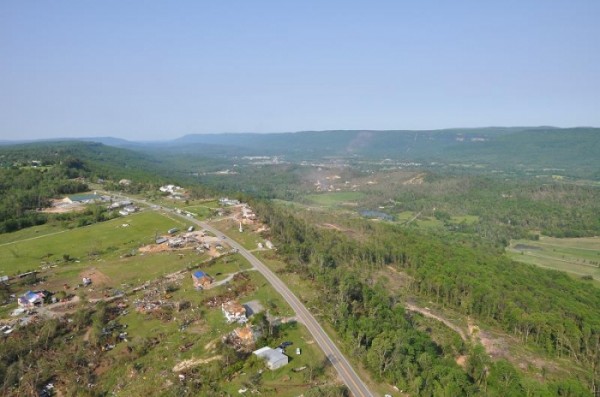 Alabama was particularly hard hit on April 27, where tornadoes injured 1,700 peopled and killed over 100 during a 24-hour period. Around 5 PM a tornado spawned near Scottsboro crossed into Dade County (the second one in Dade that day), doing widespread damage and killing two people. Areas normally protected from tornadoes by Lookout Mountain's formidable barriers were hard hit as the Dade twister headed across Lookout to destroy homes in Flintstone and knock down trees in Rossville, stopping just west of Fort Oglethorpe. Several hours later another series of storm cells passed north of LaFayette before spawning a mile-wide tornado that devastated a wide path reaching from Peavine Road in Ringgold to Apison, Tennessee.
Before the day was done Northwest Georgia experienced tens of millions of dollars in property damage and lost 11 citizens to tornadoes: two in Dade, eight in Catoosa, and an elderly Walker County native killed in Alabama. In Northwest Georgia, Northeast Alabama, and Southeast Tennessee a total of 76 people were killed as a result of the April 27 storms.
As storms struck many prayed fervently for protection, but the destruction and death revealed by sunrise led some to question their faith or doubt God. However, in light of the heavy losses elsewhere, experiencing only 11 deaths in Northwest Georgia was a real blessing. (Catoosa County thankfully never needed the "mass casualty morgue" it requested a few hours after the tornado touched down there.) A much deadlier wave of tornadoes in late May killed at least 154 people in one small Missouri town; compared to that we truly were spared. For whatever reason, God was with them, and with us, during all of this year's storms.
(The "Oh God Be With 'em" video posted to the Underground YouTube channel has gotten more than 121,000 views since it was posted the evening of the storms. Comments posted to that video show differing feelings about the storms from many who have watched it. A longer higher-quality version of the same video has been posted by its original creator, Trent Scott.)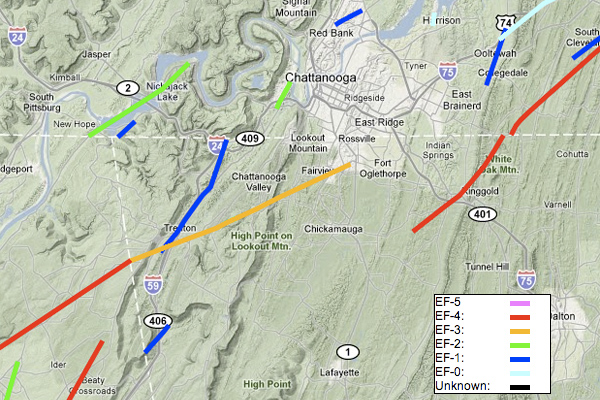 Storm aftermath and cleanup has revealed a lot about ourselves, government leaders, and communities. Some people have displayed deep generosity and love, some have displayed great strength in the face of disaster. A select few others have revealed the depths of depravity by ripping off victims, using the storms to get attention, looting from damaged properties, and fouling up recovery efforts by getting in the [expletive-deleted] way.
A few hours after the storms The Underground warned against going to Ringgold or Flintstone to sight see: "Another good way to help is to not get in the way – absolutely do not go to either community just to be a lookie-loo and see the damage – there's enough debris in the way now without truckloads of tourists driving through the area."
Unfortunately that's exactly what happened. Within hours of the storms, disaster tourists began flooding roadways around Ringgold, getting hurt and getting in the way of rescue efforts. Law enforcement agencies, already stretched beyond their ability to respond, diverted resources to set up roadblocks and keep non-essential vehicles out of storm-damaged areas. On Sunday May 1st Catoosa County officials reopened city streets to outside traffic, but by 2 PM "traffic in Ringgold became so heavy from onlookers, public works vehicles could not remove debris, electric contractors could not complete their work, and emergency personnel had difficulty responding to needs."
Because of all the looky-loo idiots, Ringgold roads were re-closed and stayed restricted for another week so linemen and clean-up crews could work without being run over. Even now several neighborhoods in Flintstone are restricted to "neighborhood traffic only" and heavily damaged Cherokee Valley Rd. in Catoosa County, where several people died, required regular traffic control for a month due to onlooker interruptions.
Roadblocks and security became even more important when looters began moving in to further violate those who had already lost property. During the first week after the storms at least six were arrested for looting in Ringgold and a handful of despicable human beings were caught in Dade County burglarizing damaged properties – including the Dade County Sheriff's own destroyed home. As recently as mid-June three men were picked up for stealing air conditioners out of the destroyed Quality Inn in Ringgold.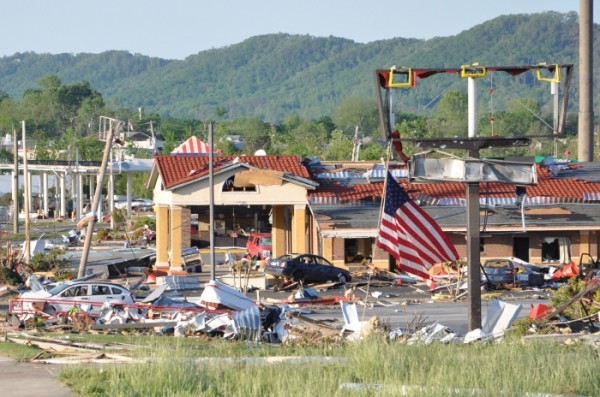 Few looters have actually been arrested; in spread-out areas like Dade County law enforcement agencies simply don't have enough staff to watch every damaged home or block off every access point, and in rural parts of Alabama many families were left completely on their own against looters after the National Guard left on May 12th. In this era of government assistance/interference at almost every level, it's easy to forget how easily society and social services can collapse in a heartbeat. Families anywhere should stay prepared for disasters and emergencies by keeping a small stockpile of food, water, and emergency/medical supplies on hand. Responsible citizens should also exercise their right to purchase and keep firearms for those situations when authorities just cannot get there in time to help.
At least two looters worked for companies hired to help clean up storm damage. Cameron Mayo, a 25-year-old former Tennessee Vols Offensive Lineman, stole and scrapped a Bradley County victim's refrigerator while working for ServiceMaster Cleaning. (ServiceMaster fired Mayo for the incident, but should never have hired him in the first place since he was on probation from sexually assaulting a student while teaching at Dalton High School in 2009.) Even the Catoosa County School System became a theft victim when employees of a temp agency brought in to clean up Ringgold High and Ringgold Middle were accused of stealing computers, phones, and drug test kits out of the ruined schools.
Edward Copenhaver, owner of the Dalton and Alpharetta UPS Store franchises, stole from victims without getting his hands dirty. Copenhaver and an employee, Margaret Carlisle, took 50 Target gift cards meant for Tuscaloosa tornado victims out of his Alpharetta store and used them for shopping trips in Cleveland and Atlanta. (He's since been charged with stealing packages and rent checks from other customers.)
Copenhaver, Carlisle, and Mayo have all been arrested for their actions, but a mere theft charge isn't sufficient punishment for the kind of person who would loot from damaged homes or take items meant to benefit disaster victims. Our research into Georgia laws about looting produced no definitive results except a statute meant to limit theft from archaeological sites. Hopefully prosecutors will be able to find a way to nail these people for their behavior; if not we should be pushing state legislators to change the law so looters in future disasters can be appropriately punished.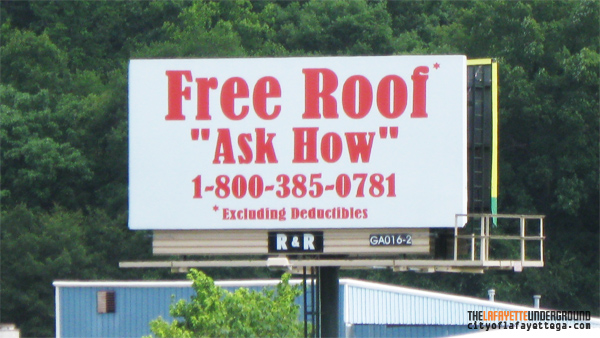 A plague of con-artist repairmen and clean-up crews on storm-ravaged communities was almost as bad as the deluge of looters. Most contractors are legit, but several of the groups going door-to-door or nailing signs on what remained of phone poles and tree trunks were (and are) ripping people off either by charging too much or doing incomplete work. And of course this disaster is like Christmas for those perpetrating "Free Roof Ask How" insurance schemes.
Hardware stores and home improvement warehouses, by contrast, have all been bending over backwards to help storm victims. We've heard no complaints about price gouging and at least one larger improvement chain was distributing free tarps to people who lost roofs during the April storms.
Those with storm damaged homes were duly warned to check out any and all contractors, but checking out charities is also a good idea. Most relief groups are legitimately helpful, but some were little more than thieves only looking to relieve people of their heard-earned cash. Teenagers carrying cardboard "Tornado Relief" signs were spotted wandering uninvolved neighborhoods begging for money the day after the storms, doing God-knows-what with the proceeds, and impostors wearing fake FEMA shirts showed up in Ringgold nearly as fast, demanding money from desperate storm victims.
That handful of crooks and unhelpful relief agencies nearly overshadowed the good work done by a vast number of legitimate well-organized groups and caring individuals.
The first to respond after tornadoes struck were, of course, local police officers, deputies, firefighters, and EMT's. Listening to online police radios into the early morning hours of April 28th, we heard frustrated yet professional Catoosa County deputies and firefighters slowly turn chaos into organized relief. 911 dispatchers competently triaged an avalanche of emergency calls to make sure the most pressing needs were met first while keeping a handful of officers from being overwhelmed. (At one point that night more than 1,700 people were listening to the Catoosa scanner feed which normally has fewer than ten listeners when it's available at all.)
Thirteen LaFayette Public Safety employees, ambulances from Whitfield County, and emergency crews from other areas joined Catoosa officials in a scenario duplicated all across the region: exhausted personnel from storm-hit areas were aided by law enforcement and emergency response teams representing places not directly impacted by the storms. Law enforcement agencies have always cooperated with each other, but the level of coordination between different jurisdictions seen in April wouldn't have been possible ten years ago. After 9/11 terrorist attacks, the federal government pushed local emergency response agencies to synchronize radio capabilities and develop joint-response plans for just these kinds of situations; considering how bad things were we couldn't have possibly asked for a better organized rescue effort.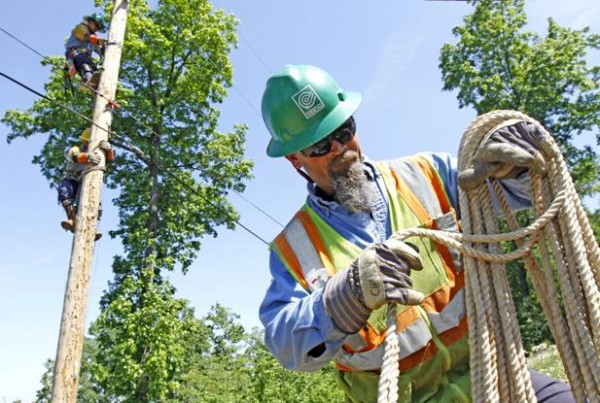 At daylight utility crews moved in to begin restoring power, water, and telecom service to affected communities. Linemen and installers found hopelessly twisted lines and broken poles mixed in with downed trees and other debris in situations akin to trying to unwind a thousand-mile-long ball of tangled hair that could potentially kill you. Crews from Ringgold Telephone, North Georgia Electric, TVA, Georgia Power, Comcast, Windstream, AT&T, various EPB's, and others (including dozens of out-of-region crews brought in to help with recovery) worked double- and triple-shifts seven days a week to bring the area back out of a weather-imposed stone age.
Damage impacting the most homes was repaired first, requiring extra patience from rural customers, but almost every standing building was back on the grid within a week. (Damage repairs and purchases of alternately-generated power cost local utilities hundreds of millions of dollars, forcing some to raise rates. TVA has already begun charging its customers an extra 4.5% to pay for storm damage recovery.)
Beyond immediate emergency response and utility repairs, the front line for storm recovery was manned by local individuals, churches, civic groups, and businesses. Neighbors began digging each other out within moments of the storms, and more than a few people provided temporary shelters to friends and relatives who lost their homes. Volunteers wielding chainsaws and Bobcats worked beside rescuers and road crews to find trapped people, clear roadways, and clean up damaged buildings. Donated supplies of water, meals, medical supplies, storage containers, and other necessities began flooding in, and after a period of confusion churches and civic organizations like the Chamber of Commerce and Boy Scouts stepped in to handle collection and distribution while organizing volunteers.
Those unofficial local efforts made the biggest difference in spread out rural areas that were less drastically devastated than Ringgold or Tuscaloosa. Sand Mountain, Alabama had widespread property damage and multiple deaths, but received relatively little media attention and almost no help from national relief groups. In Walker and Dade County, homes atop Lookout Mountain were damaged by the same twister that struck Flintstone, but due to the area's remoteness and distance between victims there was little assistance available.
In rural areas a loss of electricity also means loss of well pumps and water. Some atop Lookout Mountain lacked power and water for over a week as utility crews fought steep terrain and twisted trees that made downed lines hard to access. Tiny Grace Community Church in Hinkle stepped up with generators, BBQ grills, showers, and temporary laundry service (getting water from a county fire truck) for Lookout Mountain families struggling to survive in temporary housing or waiting on utilities to be restored. Covenant College students, dismissed due to power outages at the unscathed school, also showed up in large numbers to help their mountaintop neighbors.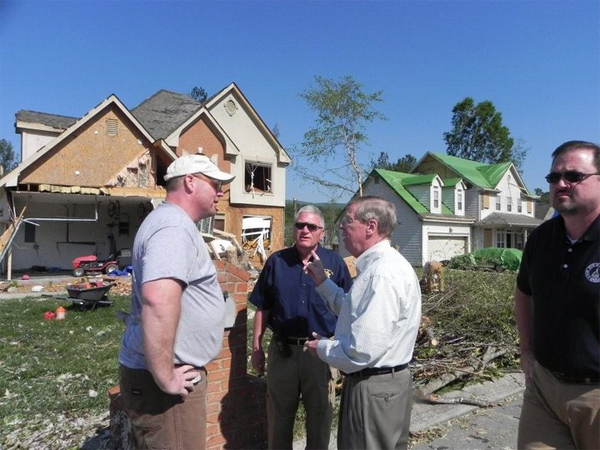 The business community contributed generously to tornado relief. Dozens of small and large companies from inside and outside impacted areas gave thousands of dollars in supplies and assistance – everything from tarps and chainsaws to Krystals, Zebra Cakes and beer-can drinking water. Hundreds of other businesses made monetary gifts to help with relief, although much of that went to well-known agencies like Red Cross or Salvation Army, bypassing effective local groups doing the most good.
Some businesses and individuals (including celebrities and politicians) helped with ulterior motives, more interested in checking out damage or being in the news than in actually helping. Not all who showed up in the news went for that reason, and even those who raked yards in Alabama for an hour just to be in the newspaper managed to help during that brief time – but many who gave the most time, money, and material received no attention at all. We'd like to recognize those unsung heroes for their quiet contributions and selfless service done without bragging or sending out a press release. Thanks to all of you who truly helped neighbors out of love and concern instead of just giving to look good.
Social media sites, primarily Facebook and Twitter, were invaluable before, during, and after the tornadoes. Several families whose homes were destroyed give credit for saving their lives to online warnings they could receive on mobile phones even with power lines down. Word of the storms' devastation spread online faster than the tornadoes themselves as news stories, photos, and video were shared with the world. Even the Underground Facebook played a role, reposting over 100 status updates and news links in a 36-hour period after the storms.
However, the biggest benefit of social media was in organizing relief efforts to connect volunteers and donors to the churches and social agencies doing the most good. Along with news feeds from regular media outlets (TV/radio/newspaper) we personally found Facebook profiles for Ringgold Telephone and the Walker Chamber of Commerce to be the most useful sources of relief information.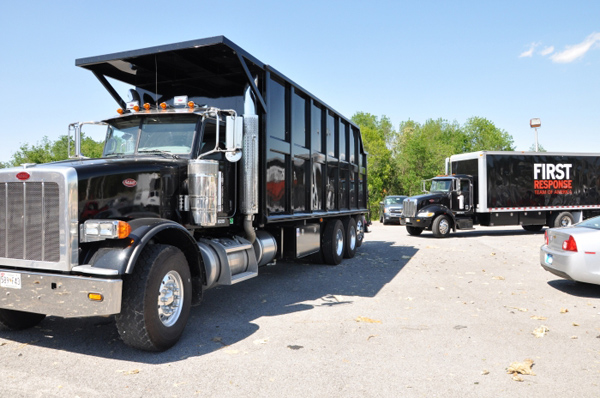 One of the first non-local relief groups, First Response Team of America, rolled into Ringgold within a day of the tornado and immediately got to work clearing city streets and preparing the Ringgold cemetery for services. Once the community was stabilized, First Response's four-man team moved on storm damaged Missouri as quickly as they had arrived, without TV commercials, appeals for donations, or heavy media attention.
Better-known national relief agencies began filtering in too, arriving with food, medical care, and temporary shelter for storm victims in the hardest hit areas. Their contributions were valuable but somewhat uneven, drawing criticism from local government leaders:
From WQCH, 06/09/2011:
"[Walker Coordinator David] ASHBURN WAS CRITICAL OF THE AMERICAN RED CROSS, IN COMMENTS AT THURSDAY'S COMMISSIONERS MEETING. HE SAID THEY CONTRIBUTED VERY LITTLE IN THE WAY OF EMERGENCY RESPONSE IN WALKER COUNTY'S LAST TWO DISASTERS… SEVERE FLOODING AND TORNADO DAMAGE. HE CREDITED THE SALVATION ARMY WITH GIVING THE MOST HELPFUL SERVICES, SUCH AS PROVIDING MEALS.

"RED CROSS VOLUNTEERS HAD A HARD TIME FINDING WALKER COUNTY AFTER THE APRIL STORMS… AND BROUGHT NOTHING WITH THEM THAT WAS OF ANY REAL HELP, ASHBURN SAID. JUST A FEW MONTHS AGO, THE RED CROSS SWITCHED WALKER COUNTY FROM THE CHATTANOOGA AREA RED CROSS TO THE NORTH GEORGIA RED CROSS ORGANIZATION… WHICH IS HEADQUARTERED IN ROME… OVER 40 MILES AWAY."
Northwest Georgia Red Cross released a statement showing more than 30,700 meals or snacks and over 3,200 "bulk items" distributed in Dade and Walker during storm recovery, along with shelter services and medical assistance. The document doesn't distinguish between the two counties because Red Cross volunteers were helping people from both at the same time, so it's hard to tell if Ashburn's complaint is valid or not – but much of the organization's activities seemed to focus on looking good for TV. Even so, considering the wide area NWGA Red Cross was trying to assist, it would be acceptable if only a small amount of assistance went to Walker storm victims.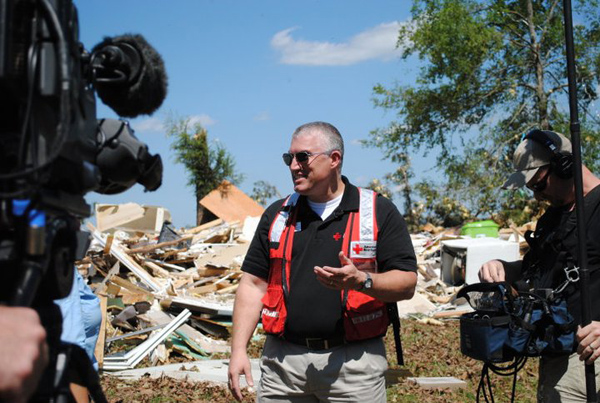 Looking at how the Red Cross performed in other areas, it might be good that they didn't provide a broader response: In Tennessee the organization's Chattanooga chapter actually tried to shut down well-organized local groups that had already been providing meals and assistance to storm-impacted families for days before Red Cross arrived. Interfering with the efforts of others is worse than coming in with a limited response, but Ashburn and other Walker County leaders might have preferred that approach since it would have relieved them of taking any responsibility for storm recovery.
Ashburn's attitude of storm recovery being nothing but a burden is strengthened by prickish comments he made on more than one occasion, sarcastically wishing Walker County had more storm deaths in order to get a greater relief response and more attention from the body-count-obsessed national media. Ashburn also tried to make the damage we did have sound worse than it was by inflating figures in statements made to media. Local papers quoted his "estimates" of 1,500 to 2,000 homes damaged or destroyed in Walker County – far more than the confirmed 270 in Dade and 695 in Catoosa combined.
Puffed-up damage numbers weren't just for media consumption, they were likely meant for FEMA as well. FEMA is known for providing housing assistance and low-interest loans to disaster victims, but also makes Public Assistance payments to reimburse local governments for costs related to disaster response and recovery. That pays cities and counties for things like emergency-related employee overtime, road repairs, debris removal, food distribution, emergency shelters, and even reimbursement for non-governmental agencies like food banks.
Without that money some municipalities couldn't afford to provide adequate response after a disaster, but it also leads some governments to abuse the funds by inflating damage figures, claiming unmaintained facilities as disaster casualties, or putting three guys in one snowplow at the same time. And every contractor or government agency hoping to be reimbursed must follow FEMA guidelines – which is why Walker County employees were banned from setting foot onto private property to help homeowners with direct debris removal.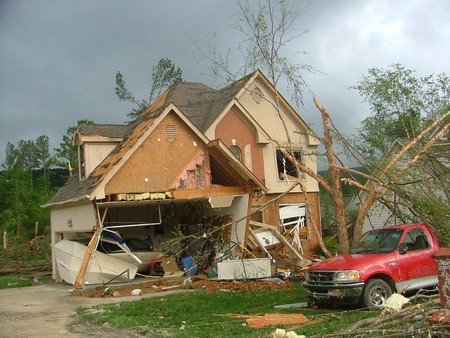 Several years ago during a routine audit, FEMA wasn't able to account for some of its funding sent to Walker County. That might just be sloppy bookkeeping on the county's part, but more likely means declarations of a disaster translate into "free" cash for county agencies or possibly even agency heads. So in light of that it's no wonder David Ashburn wants as many people as possible to claim damaged homes (or even die) in a disaster. Every knocked-over mailbox, every tree through somebody's roof, and every citizen killed potentially translates into more money for unaccountable county and city leaders.
That careful planning has so far backfired. A few weeks after Ashburn complained about the Red Cross, Commissioner Heiskell complained to the media about getting no money from FEMA:
From WQCH, 06/24/2011:
"WHAT'S ON COMMISSIONER BEBE HEISKELL'S WISH LIST? A BREAK IN THE WEATHER… AND A CHECK FROM FEMA. THE COMMISSIONER SAID THURSDAY IT SEEMS THAT STORMS ARE BLOWING-DOWN TREES EVERY DAY… AND COUNTY EMPLOYEES HAVE BEEN WORKING OVERTIME, OFTEN 7 DAYS A WEEK, TO CLEAN-UP THE AFTERMATH. ACCORDING TO HEISKELL, THE BILLS ARE ADDING UP… AND FEMA IS NOT HELPING, SO FAR.

"SHE SAID THE FEDERAL EMERGENCY MANAGEMENT AGENCY HAS YET TO PAY THE 600-THOUSAND DOLLARS THEY PROMISED FOR REPAIRS FROM THE FLOOD OF 2009… AND SO FAR, NOTHING HAS BEEN RECEIVED BY THE COUNTY FOR CLEAN-UP FROM THE LATE APRIL TORNADO.

"'WE'RE SKIMMING THE BOTTOM FOR MONEY NOW', HEISKELL SAID. THE COUNTY HAS NEVER RECEIVED IT'S 75-PERCENT PAYMENT FROM FEMA FOR THE NEW REPLACEMENT BRIDGE ON EAST REEDS ROAD… OR THE MUD-SLIDE REPAIR ON DOUGHERTY GAP ROAD. THOSE REPAIRS COVERED DAMAGE FROM THE SEPTEMBER FLOOD IN 2009."
Delayed payments from FEMA may be due to the county's abuse in previous years or simply be federal red tape, but either way it's bad for the people of Walker County. Not only did we have to deal with complicated FEMA rules that slowed down cleanup and made it more expensive, we may never get anything for our trouble. Heiskell has asked US Senator Johnny Isakson to check into the delays, but in the meanwhile had to set up a $2 million credit line at the Bank of LaFayette to keep the county solvent until more tax dollars come in. That may ultimately lead to another property tax increase in Walker County. Bottom line, Walker County government needs to stop depending on the fed. for operating funds and learn to be self-sufficient just like county citizens have done during the Heiskell (mis)administration.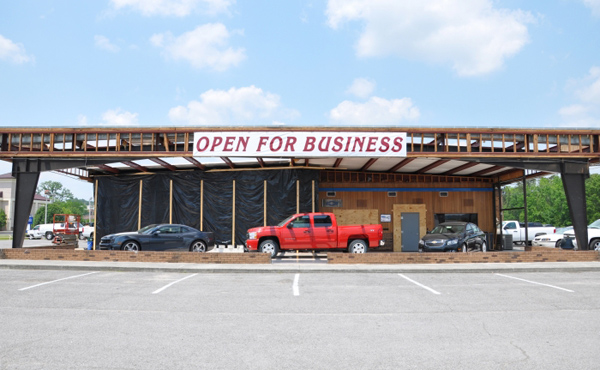 Today, some two and a half months after the April storms, many of the hardest hit communities have begun to bounce back. Things will never be completely the same and lost loved ones cannot be replaced, but debris has been removed, many damaged buildings have been torn down or repaired, and hearts are beginning to slowly heal.
Downtown Ringgold particularly has had a strong recovery, seeing several damaged businesses completely rebuilt in record time and others on the way. Leaders in that city of less than 3,000 residents quickly developed plans for a better business district and, according to one store owner, bent over backwards to accommodate his business' tight deadlines. Even tax revenues in Catoosa have shot up thanks to construction jobs and building material purchases.
Other damaged communities are recovering much more slowly. Those without major home improvement warehouses haven't benefitted from the rebuilding boom, and most help flowed to Ringgold and other drastically impacted areas that received national media attention. Meanwhile remote locations like Hinkle and even Trenton have been left largely on their own and sparsely-populated neighborhoods in rural Alabama have had trouble finding volunteers – a situation that worsens as time moves on, relief agencies move out, and volunteers lose interest.
Even a lack of political attention has impeded recovery efforts. Dade County residents had trouble getting debris picked up along state highways due to a conflict between Georgia DOT and FEMA. Dade commissioners asked State Senator Mullis to intervene, but finally had to work the issue out themselves last week in a meeting with the state agency.
Homeowners in Dade, Walker, and Catoosa are slowly clearing damaged homes and repairing roofs, but many are stuck in limbo, living with friends, in rental homes, or in RV's waiting on insurance checks and battling with mortgage companies. Some who lacked homeowners insurance have simply walked away and let the bank take what remains of their homes, and some who did have insurance have chosen not to rebuild in the area. 70% of Trenton's low-income housing was destroyed in the storms and won't be rebuilt without years of government red tape, displacing most of Dade County's most impoverished families.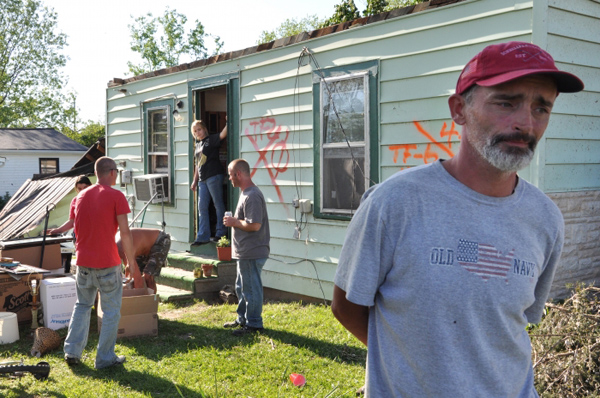 Today, in mid-July, Red Cross and Salvation Army crews have gone home and reporters from national news networks have found more exciting things to cover. FEMA crews came, hung out at the Fort Oglethorpe Lowes, and went back where they came from. Families impacted by the tornadoes have barely begun to heal, but many of their neighbors have completely moved on and begun to forget that needs still exist.
That's why local support is needed now as much (or more) as it was during the week after the storms. While immediate needs for rescue and food have been taken care of, many still struggle with the aftermath of April 27th, 2011.
A handful of damaged businesses in Ringgold have been rebuilt and reopened, but others in Catoosa, Walker, and Dade have an unclear future and employees not being paid. Other businesses in both areas avoided major damage and stayed open but don't have strong sales because many customers assume they've closed. We can indirectly help people in storm-ravaged areas by patronizing the open businesses that employ their residents, businesses that may begin hiring if sales improve. We can also support storm victims by shopping at stores and restaurants (like LaFayette Ace Hardware) that are paying extra staff transferred from damaged franchises.
Landlords and apartment managers can help by being patient and cooperating with displaced families – especially those from low-income housing in Trenton. We've heard of some generous local property owners who have let storm victims move into higher-priced duplexes at the same rate they were paying on their previous destroyed or damaged homes. Their generosity should be imitated by others, as should the generosity of those sharing homes with recently homeless families. People trying to sell homes should also consider temporarily renting to families from Dade, Catoosa, and Flintstone who might not have a lot of options for housing.
But the best way to help long term is to support organizations that provide housing, economic help, and psychological/spiritual care to those in need. Organizations like Christ Chapel in Ringgold, The Care Mission in LaFayette, and Tri-State Food Pantry in Trenton have been assisting people with tornadoes, fires, floods, and economic tsunamis for years. Those agencies will be around to help in the future if citizens of Walker County and Northwest Georgia can find it in their hearts to support them. A new homeless shelter opening in Summerville also needs support, asking just today for volunteers to help with facility maintenance.
The spirit of generosity and hospitality that we saw in most people after the disaster should see no end. That sentiment should carry forward into the future, not only to help neighbors still dealing with storm impact but to assist those struggling to survive the grind of daily life. While we cannot bring back those who passed away in April, we can carry their lives forward by supporting deserving local charities in their memory.
CATOOSA COUNTY
Christopher Dewayne Black, 47
Pamela Lynn Hargis Black, 46
Cody Dewayne Black, 21
Chelsea Miranda Black, 16
Jack Warren Estep Jr., 61
Holly Lea Readus, 26
Robert Lance "Bobby" Jones, 46
Rhea Garrett McClanahan, 86
DADE COUNTY
Jerry Douglas Williams Sr., 49
Donald Lee "Donnie" Walston, 47
WALKER COUNTY
Janie Lou Autry Shannon, 80
(Chickamauga native and Hutcheson retiree who died in Jackson County, AL.)
Full list of April 27 Tornado Deaths