2015
06.03
Monday night in the Glen Eden subdivision, several vehicles were broken into, and two driven away, by thieves. Stolen items include the two cars, a computer, and tools.

Residents of Glen Eden Way say the thieves abandoned a vehicle taken somewhere else in their neighborhood in exchange for the two new cars swiped.
Some of the stolen material and the cars have since been recovered in Catoosa County.


By the time you read this, Hutcheson will have fired and replaced all of its emergency room doctors.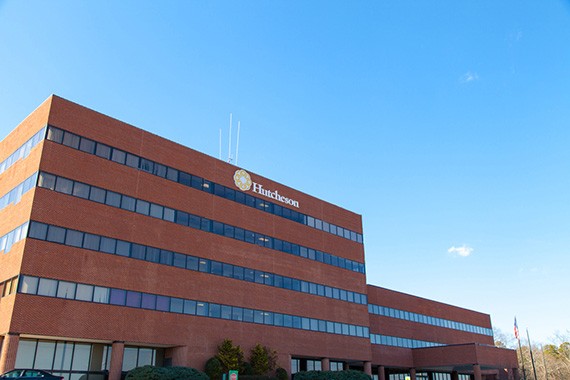 Yesterday lawyers for the failing hospital went before a judge, asking permission to dismiss EmCare as staffing company for the Hutcheson ER and bring in another outfit. EmCare had been supplying Hutcheson's emergency room with physicians since 2012 – an arrangement lingering from the days of Erlanger's management of the hospital.
"From October through April, according to Hutcheson's operating report, an average of 2,400 people each month visited the hospital's emergency room. During that time, hospital's average daily census was 26." [Emphasis added.]
Hutcheson pushed to bring in another outfit named ApolloMD to run the ER, seemingly expecting the new contractor to send people to Hutcheson doctors, Hutcheson services, and Hutcheson patient floors which are practically abandoned now. The old company is referring patients to whatever hospital, doctor, or service is best for them – which probably isn't Hutcheson in most situations.
Former staffing company EmCare (which had a contract with Hutcheson through July 16th) protested the move, saying it would leave many of their employees jobless on short notice. EmCare also argued that ApolloMD staff hadn't been given a chance to become familiar with the hospital and its equipment.
"EmCare wants the judge to delay the plan, allowing the company to manage the emergency department for another 90 days. Their lawyers also say this transition period will give Apollo doctors time to walk the halls of Hutcheson and figure out where all the important medical equipment sits."
No verdict was released, but later in the day Hutcheson formally announced ApolloMD would be taking over the ER effective at 7 AM today. Hopefully by 8 AM they've figured out where the medical equipment is located.


Monday night's community meeting in Catlett was, like most, poorly attended.
During the gathering Commissioner Heiskell revealed that she and some of her entourage have taken gifts from the parent company of Audia International, including trips to Pennsylvania where the business is based, and a bust of Civil War general Robert E. Lee.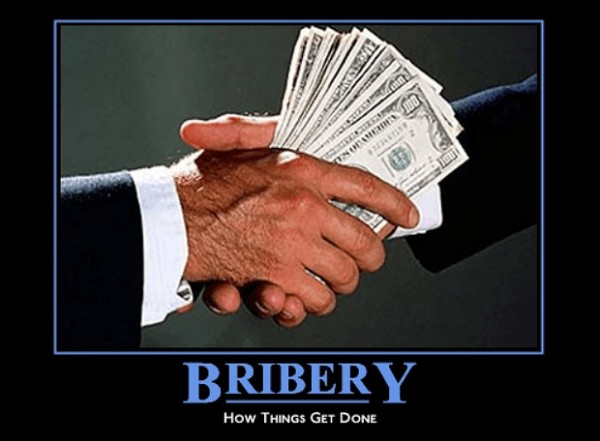 Anywhere else but Georgia and those would be bribes, in return for the sweet development deal Heiskell and Larry Brooks gave Audia to build here.
On Tuesday postcards about the Commissioner's public meetings finally reached most of Walker County, with nine of the 21 meetings already over and done with.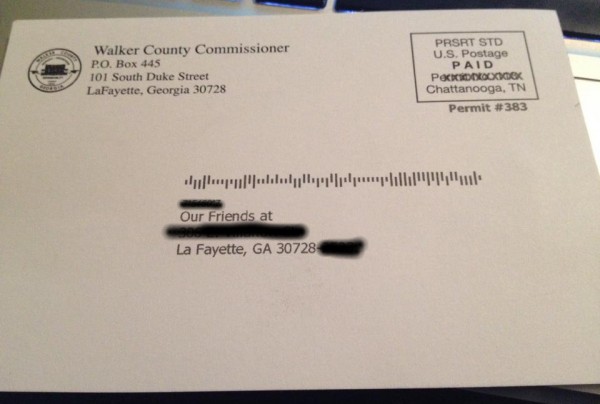 Not sure of anything that happened in the Chattanooga Valley meeting Tuesday night, but LU heard from several people who wanted to go but couldn't figure out where in Flintstone the Chatt. Valley fire station actually is. [63 Cubine Rd. No idea.]
Complete communication breakdown, per the usual.




A couple of reminders about bank card safety:
LaFayette woman gives ATM card to beggars, surprised when they don't bring it back.
(This article is like a checklist of all the things you DON'T do in order to avoid being stolen from.)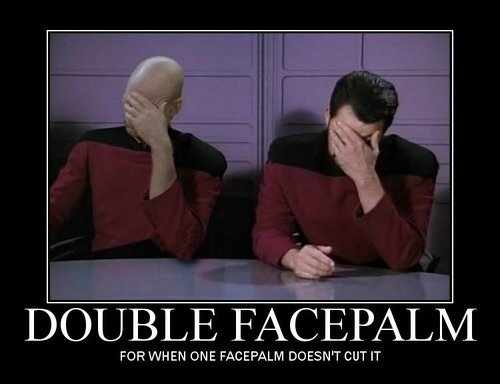 No smarter, a Chattooga Co. woman says her account at the Bank of LaFayette was recently cleaned out by thieves, to the tune of $17,000 – and claims the Bank has video of an unknown man using her card at one of its ATMs.
Turns out she knew the person, and had given them her bank account information months ago:
WQCH Radio, 03/05/15:

"LAFAYETTE POLICE WERE CALLED TO INVESTIGATE. DETECTIVE WESLEY STEELE FOUND THAT THE ACCOUNT HOLDER HAD ACTUALLY GIVEN HER CARD AND PIN NUMBERS TO A FRIEND, BACK IN FEBRUARY. HOWEVER, INSTEAD OF A ONE-TIME WITHDRAWAL, THEY USED THE INFORMATION MULTIPLE TIMES IN CHATTOOGA AND WALKER COUNTIES AND IN THE CITY OF LAFAYETTE, MAKING BOTH CASH WITHDRAWALS AND DIRECT PURCHASES. POLICE BELIEVE THE TOTAL AMOUNT TAKEN WAS NOWHERE NEAR HER ORIGINAL CLAIM OF 17-THOUSAND DOLLARS.
"DETECTIVE STEELE TOOK HIS INFORMATION TO THE DISTRICT ATTORNEY'S OFFICE – AND THEY QUICKLY CONCLUDED THAT IT IS NOT A PROSECUTABLE CASE, SINCE THE CUSTOMER HAD GIVEN OUT HER CARD INFORMATION.

Another house fire, Sunday afternoon on York Rd. in Naomi.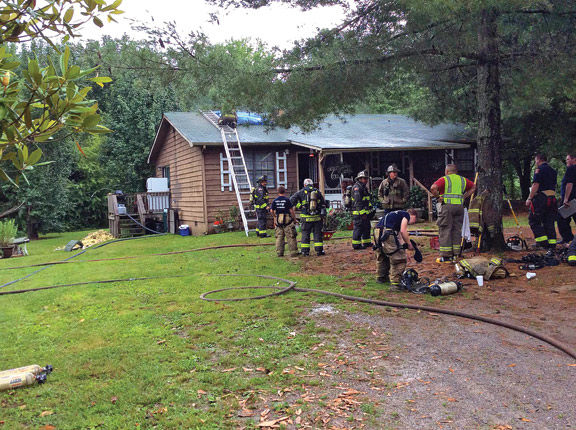 But this one for sure wasn't arson; resident says a tree limb fell, taking out power lines and starting a blaze in the rental house attic.


Sometime last week a burglar, or multiple burglars, broke into a maintenance shed behind LHS and stole various tools plus keys for mowing equipment.
No suspects so far.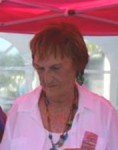 Investigators say Vesta Grindstaff, who died Sunday afternoon in Trion, veered across the center line on hwy. 27 before slamming into an oncoming vehicle.
87-year-old native of Missouri will be buried today.
[Photo from Paradise Gardens where Grindstaff served as a volunteer.]


Another domestic case..
WQCH Radio, 03/05/15:

"LAFAYETTE POLICE ARRESTED A ROCK SPRING MAN ON CHARGES INCLUDING AGGRAVATED STALKING, OVER THE WEEKEND.
"THEY WERE LOOKING FOR 22 YEAR OLD ETHAN KYLE MILLER OF COLBERT HOLLOW ROAD FOR ALLEGED VIOLATION OF A TEMPORARY PROTECTIVE ORDER OBTAINED BY A FORMER GIRLFRIEND. SHE REPORTED THAT DESPITE THE T.P.O. – MILLER HAD CONTINUED TO HARASS HER WITH TEXT MESSAGES.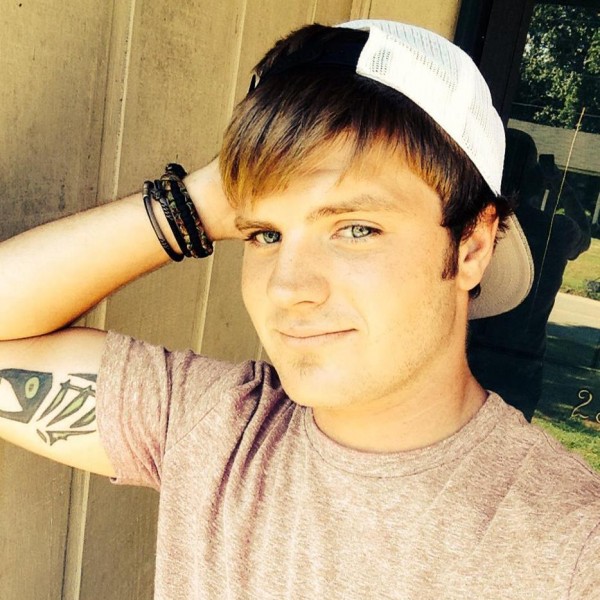 "POLICE SPOTTED THE MAN'S CAR AT GOLDEN GALLON ON WEST MAIN SUNDAY MORNING. HE FLED INSIDE THE STORE AND BARRICADED HIMSELF IN THE RESTROOM, ACCORDING TO POLICE. WHEN HE DID EMERGE, HE REPORTEDLY LIED ABOUT HIS IDENTITY RESULTING IN FURTHER CHARGES, INCLUDING OBSTRUCTION AND GIVING A FALSE NAME.
"WHEN THEY INVENTORIED MILLER'S VEHICLE THEY FOUND A LOADED 9 MILLIMETER PISTOL, WHICH WAS SEIZED AS EVIDENCE."
The gun was apparently "evidence" of him violating probation from an earlier arrest.


Local arrest report for May 25-31.


Huge attendance for activities Monday at the LaFayette Library.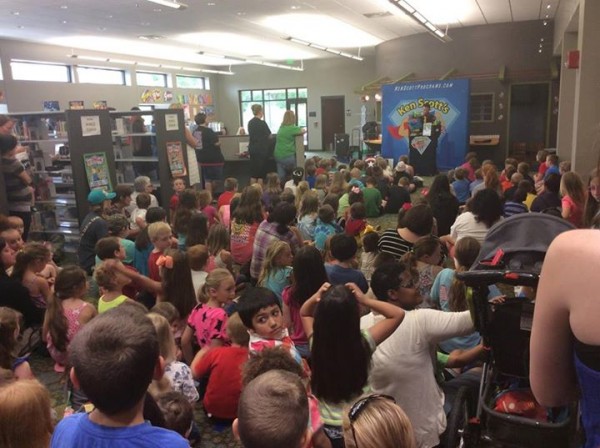 County leadership continues claiming nobody uses or wants libraries, and last week the library was blamed for county financial problems. But compare usage of that facility to the number of people who use and benefit from the county's resort Farm, vs. what both cost…
There's not really much comparison between a facility that provides free activities and learning material to children and families to one that sells $30 shrimp buffets to old rich people, at a loss.
Seems pretty clear. Yay for libraries!


Back by popular demand, for the first time since 2013 – the original "I AM LU" Underground t-shirt.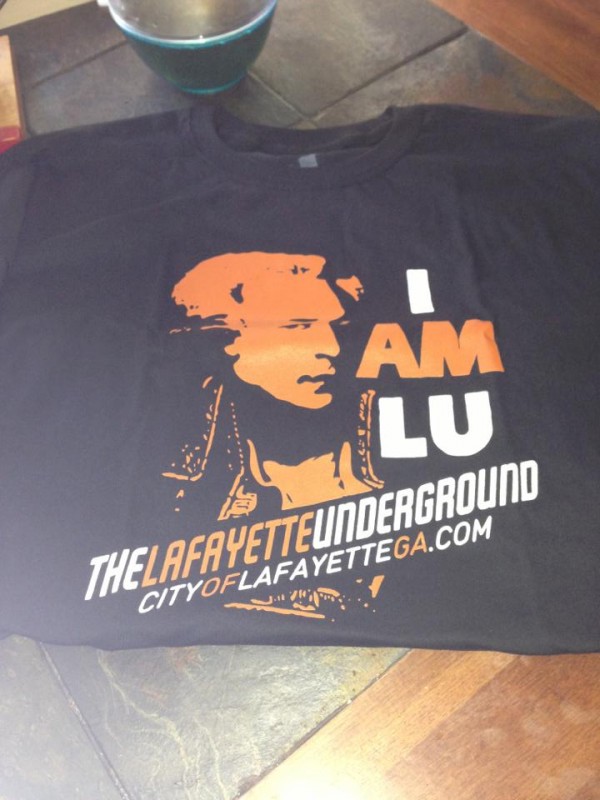 Now available in men's and women's sizes, hoodie, sweatshirt, and long-sleeve tee – all basic black.
'cause there's nothing better than wearing a black t-shirt in Georgia in the summer.


Earlier in the week Dalton State College began demolishing a nearby apartment complex where new student housing will be built.
College plans to have the 365-resident facility done by next July, in time for fall 2016 classes. The apartments being demolished have been used for student housing since 2009.


35-year-old Tunnel Hill woman goes to jail for stealing medication, phone chargers from LaFayette Walmart.
Misty Steele Worley admitting taking the items, valued at $75.93, when confronted by store employees.


GA Department of Education has created a new position: Fine Arts Specialist.
Department leader Jessica Booth will work to strengthen art, dance, music, and theater in Georgia's public schools.
(But the important question: Can she coach softball?)


For today's links and any breaking news, follow the Underground on Facebook or Twitter.