2012
09.21
Update on the One-Eleven break-in. Store was closed Wednesday and Thursday, costing them 2 days of sales (plus staff two days pay.) The suspect, Casey Darling, allegedly stole about $27 of change plus $100 from donation buckets, plus a cash register – and did about $20,000 in damage. Suspect was found through "an anonymous tip" which is usually how LPD finds people.
One news report initially said the owner, Mike Lovelady, saw two burglars on the security video but the statement was later scrubbed from articles and Mr. Lovelady hasn't verified if he said that or not. The Messenger piece says "Authorities looked at the video further and authenticated that only one person broke into the restaurant." Officers did admit talking to another suspect who could not be connected or pushed into confessing.
Casey Darling, the one suspect ID'd, has been charged with Burglary, Financial Transaction Card Theft, and Theft of Lost or Mislaid Property. Apparently the $27 in change plus donation bucket funds (which ranged from $15 to $100 depending on who you ask) wasn't his main target if he also swiped store credit cards or credit information belonging to customers.
Reports earlier in the week said Mr. Darling lives at the Morgan Motel where he was arrested, but the Walker Co Jail booking report gives Mr. Darling's address as the 2nd Street home of City Manager Frank Etheridge. Darling lived with the Etheridges for a time since Darling and the City Manager's son are (or were) reportedly friends. There's no indication that anyone suspects the younger Mr. Etheridge of being involved.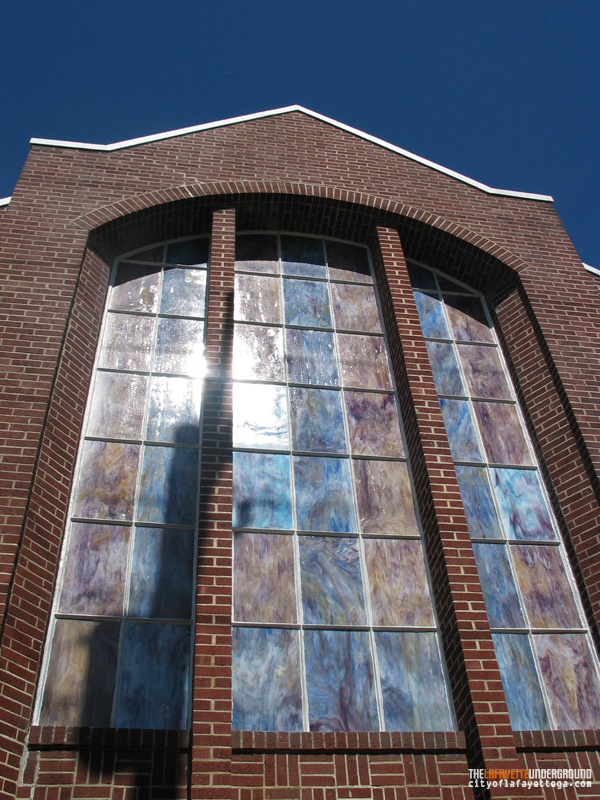 In possibly related burglary news…
WQCH Radio, 09/20/2012: "BURGLARS BROKE IN TO THE LAFAYETTE CHURCH OF CHRIST AFTER WEDNESDAY NIGHT SERVICES, ACCORDING TO THE MINISTER THERE. AARON POPE SAID TELEVISIONS AND COMPUTERS WERE ALL LEFT IN PLACE AND 40 TO 50-DOLLARS IN CASH WAS THE ONLY THING MISSING.
"THE MINISTER SAID POLICE TOLD HIM THEY HAVE HAD SEVERAL SIMILAR INCIDENTS, WITH ONLY SMALL AMOUNTS OF CASH MISSING IN BREAK-INS. THE CHURCH BUILDING IS AT THE CORNER OF WEST MAIN AND CHEROKEE STREETS."
Seems to be very similar to the One Eleven robbery, but Mr. Darling was in jail Wednesday night.

Wednesday night LaFayette city council upheld the firing of Economic Development Director Edgemon in a 4-0 vote. Edgemon said she's been pushed out, left out of the loop, and even stolen from. The DDA board, led by Mike Lovelady, said she was ineffective and absent. Her character witnesses were two Historic Preservation Committee members who quit after her termination.
The "Main Street Manager" position is now publicly posted, as required by law. Here's the job description and here's an application for employment with the city. Job seekers would be advised to apply quickly as the city apparently has someone in mind for the position already.

A little after 10 Wednesday night a small earthquake struck between Trion and LaFayette, off Harrisburg Rd. It was small enough most people wouldn't have felt it.
Associated Press reports say it was "near the Alabama State Line" which is the location quoted in the Times Free Press, Rome News-Tribune, and others. But it's only "near the Alabama state line" in relation to that being the state line closer than any other. Kind of like saying Florida is closer to Ohio than to Oregon, but it's not really that close to either one.

From the new Bebe Heiskell YouTube: video of last week's Commissioner meeting. Persons present at the meeting say they edited out a segment of constituent questions at the end. There was no meeting this week, which happens at least half the time.
The same YouTube account, which is listed under Heiskell's name, features official county videos like this one (which seems to be professionally prepared) along with campaign material. Mixing official business with campaigning could be construed as illegal if any county resources (time, money, or equipment) were used to encourage people to vote for Bebe.
Just another reason why the Commissioner's Office should have more than one person in it – otherwise there's too much risk of commingling personal issues with the county's business.

WQCH Radio, 09/20/12: "THIS FRIDAY IS THE DAY STUDENTS AND TEACHERS AT LAFAYETTE MIDDLE SCHOOL HAVE BEEN ANTICIPATING FOR MONTHS. THEY'LL TALK BY RADIO TO ASTRONAUTS RIDING 250 MILES ABOVE THE EARTH IN THE INTERNATIONAL SPACE STATION.
"THE CONNECTION WILL BE MADE BY AMATEUR RADIO AT 11 O'CLOCK FRIDAY MORNING. IT'S A 10-MINUTE QUESTION AND ANSWER CONFERENCE. LESSONS INVOLVING NASA, SPACE AND ASTRONOMY HAVE BEEN INCORPORATED INTO TEACHERS' LESSONS AT THE MIDDLE SCHOOL AND ACADEMY IN PREPARATION FOR THE BIG EVENT, ACCORDING TO LMS PRINCIPAL, KAREN HUGHES."
Another feather in the cap of retiring Walker County School Board member Jim Smith, who's always pushed the system to get involved with astronomy and space travel. The new planetarium has his name on it, for good reason.

In response to DFCS failures in the Columbus area, the state is shifting child abuse report calls in that office to a central 24-hour hotline. DFCS offices around the state may soon follow, since too many of them don't seem to care very much about child abuse and the ones that do have limited resources to do anything about it.
Another part of this that stands out:
"The U.S. Administration for Children and Families penalized the state for failing to meet key requirements by cutting some of its child-related funding by an average of about $732,000 annually for nine years starting in late 2000, according to Ravae Graham, a spokeswoman for the state Department of Human Services, which oversees DFCS."
We did a poor job handling child abuse cases, so the fed. cut back our funding for child abuse programs. Which likely just made the problems worse.

Today and tomorrow are crammed full of community events and fundraisers, including:
Spaghetti Dinner for Camp New Dawn, 5 PM tonight at Second Baptist LaFayette. Plates are $7.50.
SakeKids Walker County will help parents with proper car seat installation and usage. This afternoon at Walmart and tomorrow morning at Jackson Chevrolet.
LHS Ramblers football, still seeking their first win after two games, will be on the road taking on River Ridge. Kickoff is at 7:30. Next week the Ramblers will take on Gilmer County back at home.
Saturday (first day of fall) is Free Fishing Day in GA, fishing in any public lands without a license will be allowed.
There will be several fundraisers Saturday, including a yard sale at the West Armuchee Community Center, a Poker Run to benefit Brandon Lowe, and the first Walker Fire and Police Basketball Game. The basketball game will be held at LHS, with all proceeds going to help The Care Mission.
For more detail on these events and other upcoming activities, check out the LU Local Calendar.

Unemployment in GA held at 9.2% in August. Local numbers will be available soon.

Friday Advertiser Spotlight: Started by the guys from CollegeHumor.com, BustedTees
features some of the Internet's funniest t-shirts. Specials currently include shirts for only $10
and Buy 2, Get 1 Free
specials. 12% of every purchase comes back to keep the LU site running strong.