2012
07.13
Another story about Walker 911 going down last week. But no mention of the second failure Wednesday morning, which we've also verified. The article hints problems may have begun before storms rolled through, which would likely connect the July 5th and July 11th 911 failures to a similar problem yet to be named.
This article, and a similar report on WQCH, claims that the problem only impacted landlines, not cell phones. But we've heard accounts of trouble with cells as well. Walker County Coordinator David Ashburn is the ultimate authority responsible for 911 in Walker County, and he's spinning this story to cover his own considerable butt.
As we said earlier, it's not a problem with the operators. They can't answer phones that don't ring. The person or persons, including Mr. Ashburn, supervising technology upgrades there are the ones at fault here. The center did an intentional software upgrade and did not set up their backups, which should have been done, and as a result at least one person's life (if not more) came close to ending because they could not get emergency medical attention in a timely manner.
Despite the low-key response, this failure is a big bleeping deal. If 911 goes down again somebody – or somebodies – needs to lose their job over it.

This week's Walker County Plus came with a free bonus: peelable, reusable Bebe Heiskell stickers that say "CNN Money / WALKER COUNTY / Where Unemployment is Tumbling!" over someone else's paid advertising.
According to Walker Messenger employees, the paper (or its parent company) has a policy of placing stickers for one advertiser over ads for another, it's not just about Heiskell or their editorial bias towards her. (This may explain why they're in financial trouble. Who wants to risk running an ad under that?)
But the stickers are removable and reusable. Here's where some of them ended up: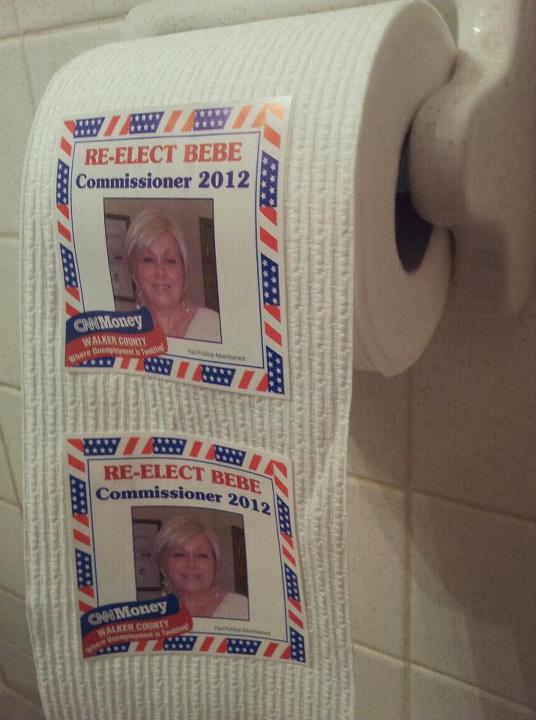 In light of the "Unemployment is Tumbling!" lie, this use seems appropriate.

For those of you who still aren't sure why you shouldn't vote for Steve OR DeWayne Wilson, we would strongly encourage you to check out this book – Legal Deception – and our review of it. There's a whole lot more out there, and we may not be able to get it all out before this election cycle ends, but what's already been written should be plenty to persuade you.

While many state political leaders are realizing TSPLOST is toxic and moving away from it, our own Jeff Mullis – a supposed conservative who wrote the thing to begin with – insists that those who oppose the new tax are just misinformed.
WQCH Radio, 07/12/2012:
"STATE SENATOR JEFF MULLIS OF CHICKAMAUGA, IS COMPLAINING THAT MUCH OF THE CRITICISM TOWARD THE SO-CALLED 'T-SPLOST' IS BASED ON MISINFORMATION. VOTERS WILL ANSWER A SIMPLE 'YES OR NO' QUESTION ON THE ONE-CENT SALES TAX, WHICH IF APPROVED, WOULD GO TOWARD ROAD AND TRANSPORTATION IMPROVEMENTS OVER THE NEXT 10 YEARS.
"MULLIS SAID 'GEORGIA'S TRANSPORTATION INFRASTRUCTURE IS CURRENTLY SUPPORTED BY THE MOTOR FUEL TAX; HOWEVER, REVENUES ARE CONTINUALLY DECLINING AND WE WILL SOON BE UNABLE TO AFFORD IMPROVEMENTS AND BASIC MAINTENANCE TO OUR ROADS'.
"ALL OF THE MONEY COLLECTED IN NORTHWEST GEORGIA AS PART OF THE T-SPLOST WILL STAY IN NORTHWEST GEORGIA. 75 PERCENT OF THE REVENUES WILL GO TOWARD IMPROVEMENT PROJECTS THAT ARE ALREADY SPECIFIED AND 25 PERCENT WILL BE SPLIT BETWEEN COUNTIES AND LOCAL CITIES. 'RESIDENTS WILL BE ABLE TO SEE FUNDED PROJECTS 'UP CLOSE AND PERSONAL' AND WILL NOT HAVE TO QUESTION WHERE OR HOW THIS MONEY IS BEING UTILIZED', MULLIS SAID. LAFAYETTE MAYOR NEAL FLORENCE RECENTLY SAID THE T-SPLOST WOULD MEAN A GOOD DEAL MORE STREET PAVING FOR THE CITY OF LAFAYETTE COMPARED TO THE CURRENT SYSTEM USED BY THE GEORGIA D.O.T.
"'T-SPLOST IS CRUCIAL FOR JOB CREATION IN GEORGIA', MULLIS CONCLUDED. 'WE ARE GOING TO LOSE ECONOMIC DEVELOPMENT OPPORTUNITIES AND INVESTMENTS IN OUR STATE, WITHOUT IMPROVEMENTS TO OUR EXISTING INFRASTRUCTURE'."
Speaking of disinformation, the state legislature (including Senator Mullis) takes that gas tax and spends a majority of it on things that aren't related to roads at all. Then they give a small portion of it back to road projects, most of which are in Atlanta, and help local city and county governments pave six or ten miles a year of road.
And as we stated before, infrastructure spending is good. But most of what's on the TSPLOST list for this area benefits nobody, and what little benefit there is goes to Chickamauga.
There's nothing on Walker County's TSPLOST list that will do a thing worth what the tax will cost us over ten years. 25% of taxes collected by TSPLOST aren't designated for roads, they can be used by the county or city for anything. That's more money for wasted garbage projects like Mt. Cove Farms or stacked stone mansions in Villanow nobody ever uses.

Progress on Chattanooga Street. This is a remodel and restoration, not demolition.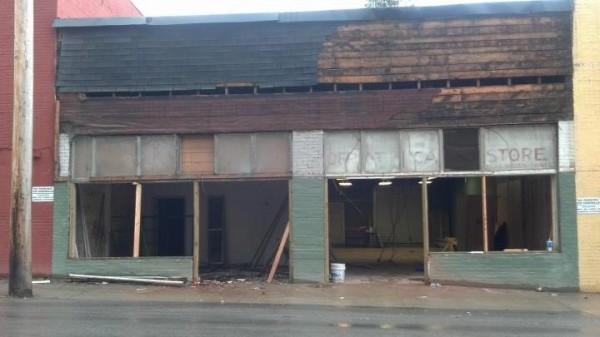 Free movie at Joe Stock Park tomorrow night (Saturday) around 9:30 PM. Scheduled to start at dusk. "Journey 2" starring The Rock. Free admission, advertised as bring your own blanket if you want somewhere to sit.
Joe Stock Park is the park with the fountain next to Public Safety. The movie is sponsored by the Downtown Development Authority and One Eleven. There are plans to show a free movie at the park once a month through the summer; keep an eye on the LU Local Calendar for upcoming events.

A Jackson Co Alabama man has a fight on his hands, in court, trying to keep his late wife buried on family property. The gov't says he can't just start a private cemetery anywhere, but he insists it's a family plot that won't become a cemetery. What do you think? Should people be allowed burial anywhere they want or only in approved places?
There are valid points on both sides.. Property rights and respecting final wishes for burial, vs. a city not wanting to have property that nobody will buy after the man dies because he and his wife are buried in the front flowerbed.
For today's links and any breaking news, follow the Underground on Facebook or Twitter.