2012
05.07
Walker County Schools is quietly eliminating at least forty teaching positions at the end of the school year. The majority appear to be from middle and high school classrooms. LU contacted the school system for comment late last week and hopefully their response will be out soon. Even without a response, expect a full post on this later today.

The old BlueBird school bus plant south of town has been purchased by Phillips Brothers Machine. Phillips Bros' current Rossville machine shop will be relocated to LaFayette. That's a gain for the Queen City, but not for Walker County as it just moves a business from one end of the county to the other. However, the business may expand its payroll in the new location.
The BlueBird property acquisition is touted in this poorly-researched news report from CNN Money, comparing unemployment in Walker County with the unemployment in Dalton.
This essentially claims Walker County is better off than "Dalton County" because there's more diversity in jobs available. Having a diverse job market is good. But seems like one major industry with thousands of jobs would be better than five or six companies with a handful each.
It's good that "Nissin Break" and some of the other local mills discussed are doing well, but the real unemployment rate is a lot higher than what official numbers show – and seems like the jobs being added are paying a lot less than jobs the area lost. New jobs are a positive thing, but they don't replace what's been lost in numbers or income. It's not as positive as this report sounds.
A bologna sandwich is good to have if you're starving to death, but don't let somebody convince you it's a steak just to get your vote.
Another CNN Money report written by (or credited to) someone else with some of the same language and the same video sounds like a Bebe Heiskell campaign slogan. Expect to hear this a lot from her as the campaign heats up:
"As the United States grapples with stubbornly high unemployment, there's one part of the country where the jobless rate is plummeting. Walker County, Ga., population, 68,756."
The best way to lower an area's official unemployment rate? Start losing jobs earlier than everywhere else so unemployment benefits (which are what the government uses to track unemployment) expire before everyone else's do.

Last week LaFayette's DDA wrote and sent out an entire press release regarding something they seem to have no idea about. Stringing together a bunch of technical terms to make a minor thing seem like a big deal.
"A new look and a new approach to inform — and stay informed — about Walker County's largest city is what LaFayette's Downtown Development Authority hopes to achieve by becoming a beta site for WordPress."
OO now they have WordPress, downtown will thrive.
Meanwhile the existing DDA Web site hasn't been updated since 2008.

LHS prom was held Saturday at the Sheraton Read House hotel in Chattanooga. Seems like having prom in a Chattanooga hotel would facilitate all kinds of bad things going on, not to mention the constant shootings in CHA at night, and the expense of doing it there.
The prom was apparently uneventful, described by some who attended as "lamest ever."

The new GA tag designed in a contest and chosen by committee will be rolled out today. All plates issued before December '03 will be replaced, with newer tags holding on another year.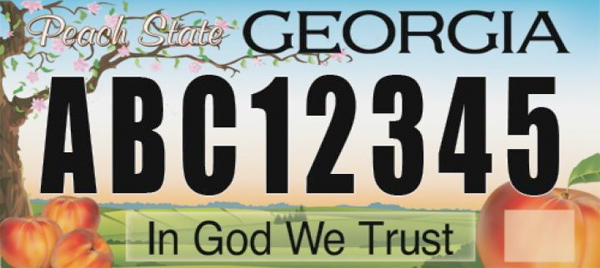 The new tag has flat printed characters instead of stamped letters and numbers like previous years' designs. Initially the state said this design was chosen by online poll, but now WALB News says "the governor chose the design last year after online voters picked finalists." Like most things, citizens had less input into this than they first thought.
At least it's not orangey-peach color like the much hated 1990-era plate.

Chattanooga Times Free Press takes a look at LaFayette's new ethics rules:
"[Councilman Chris Davis] said LaFayette's ordinance was in the works long before a heated meeting in March at which several residents accused the City Council of ignoring earlier complaints about Public Safety Director Tommy Freeman, he said.
"Complaints about department heads are directed to the city manager, he said. 'They're not affected by this [ethics resolution],' Davis said, explaining that the ordinance only applies to the council members, the city attorney, city clerk and city manager."
As the LU said last month, this is fine but not enough, in light of abusive behavior from the police chief who isn't impacted by these rules in the least.

Dade County's 1% ESPLOST sales tax expired on April 1, but the state didn't notify businesses there so they've continued collecting it. The money, which was collected for schools, will now go to Dade's general government to spend however it wants. The tax will be back officially in July.
So Dade is down, officially, to 6% sales tax. Whitfield is only charging 5% through at least this summer. Walker is still hammering that 7% and pushing for TSPLOST to drive it up to 8 next year.
(Thanks to Discover Dade for the info.)

"COMMISSIONER BEBE HEISKELL SIGNED WALKER COUNTY'S NEW 'HAZARD MITIGATION PLAN', AT THURSDAY'S BUSINESS MEETING. THE PLAN IS REQUIRED BY THE DISASTER MITIGATION ACT OF 2000 AND ALLOWS THE COUNTY AND THE CITIES WITHIN TO APPLY FOR PROJECTS TO 'LESSEN THE IMPACT' OF FUTURE DISASTERS.
"ONE PROJECT NOW 'ON THE FRONT BURNER' DUE TO THE TORNADO OUTBREAK IN APRIL OF LAST YEAR IS 'REVERSE 9-1-1'. SUCH A SYSTEM COULD BE USED TO AUTOMATE TELEPHONE WARNING CALLS COUNTY-WIDE OR WITHIN ANY SPECIFIC SECTION OR NEIGHBORHOOD IN THE COUNTY.
"WALKER COUNTY IS CURRENTLY SEEKING A 50-THOUSAND DOLLAR FEMA GRANT TO FUND 'REVERSE 9-1-1'. COUNTY COORDINATOR DAVID ASHBURN SAID THE SYSTEM WOULD AUTOMATICALLY INCLUDE ALL LAND-LINE PHONES IN THE COUNTY BUT CELL PHONE USERS WOULD HAVE TO APPLY TO BE INCLUDED IN THE AUTOMATED WARNING SYSTEM.
"ASKED ABOUT A TIME-TABLE FOR THE SYSTEM'S IMPLEMENTATION ASHBURN SAID THE APPROVAL OF THE MITIGATION PLAN WAS THE NECESSARY 'FIRST STEP'. APPROVAL OF THE GRANT FROM FEMA WOULD BE THE NEXT.
"COMMISSIONER HEISKELL SAID A STUDY HAD BEEN DONE DUE TO REQUESTS FOR A 'SIREN WARNING SYSTEM' COUNTY-WIDE. THE ESTIMATE WAS OVER A MILLION DOLLARS PLUS 150-THOUSAND DOLLARS IN YEARLY UPKEEP. SHE SEES 'REVERSE 9-1-1' AS A MORE RELIABLE AND COST-EFFECTIVE WARNING SYSTEM.
"ANOTHER FUTURE MITIGATION PROJECT IS RAISING A PORTION OF LEE CLARKSON ROAD ABOVE FLOOD-STAGE. ASHBURN SAID IN THE FLOOD OF 2009, THE TOWN OF CHICKAMAUGA BECAME 'AN ISLAND' WITH ALL ROADS OUT OF THE TOWN FLOODED AND IMPASSABLE. A MITIGATION GRANT WILL BE SOUGHT TO RAISE LEE CLARKSON ROAD BY 6-FEET, WHERE FLOODING REGULARLY OCCURS TO GIVE CITIZENS IN THE CHICKAMAUGA AREA A MEANS OF ESCAPE.
Sirens aren't effective for the cost, and without including cell phones in reverse 911 it's going to be pointless too. People change numbers too often to make it helpful.
As for raising Lee Clarkson Rd, they had a 100 year flood in 2009 and nobody died there. We might as well get some grants to prepare for alien attacks or communist armies invading Gordon Lee High School.

A federal judge has ruled that it's OK for a sheriff to fire employees for "Liking" Facebook pages or posts made by election opponents. This is the same unconstitutional BS Steve Wilson pulls on his people here in Walker County.
It's one thing to have a company policy against insulting an employer or revealing company secrets online. But interfering with an election is another thing entirely. It's not like they posted something slamming the Sheriff or the department, they just clicked "Like" on a post from an opponent.
Hopefully this will be appealed to the supreme court and found to be the obvious rights violation that it is. We don't need a precedent in this country of people fired for speaking their minds. It happens, but this makes it not just legal but almost expected.
Those called to protect our rights, like sheriffs (or judges) are all too often violating those rights themselves. And there's no accountability – who's judging the judges? Who's policing the police when they're all in bed together?

An invasive species of insect that kills hemlock trees has been discovered on Lookout Mountain.

Democratic Party of GA is suing a blogger for posting about the arrest of their director, another blogger for writing about the first blogger's article, and another person who has no direct connection to the first two. This kind of silliness is one reason we stay anonymous.

State bill changing how non-violent criminals like drug offenders are sentenced has been signed into law. Less focus on prison and more on rehab and work programs. This is one of GA Rep. Jay Neal's pet projects.
Deal also signed a bill giving the state a "zero based" budget policy, which basically means the state has to start every year's budget with a blank page instead of just copying the previous year's numbers.
He vetoed a bill creating a legislative committee to evaluate every state agency on a regular basis and eliminate ones that aren't needed. He said it would cost the state too much to implement even though it will save money in the long run.
A bill allowing the state school superintendent to hire staff without permission from the state school board was also vetoed. Here's the full list of his six vetoes from last week.

A Rossville man arrested for running a shady gambling business in 2009 is suing the Walker County Sheriff's Office and District Attorney Buzz Franklin. He's made a very poor decision to represent himself in an appearance this week before the Georgia Supreme Court.
For today's links and any breaking news, follow the Underground on Facebook or Twitter.