2012
05.02

More on the new LPD tasers. The first one went to Billy Mullis for use at LHS. Some students might think it's nothing to be tased and put the SRO to test, but that's fine.. Let them get tased and learn now before they grow up.
Good photo in here of officer Reyes, good to see him back on patrol after his unjustified termination.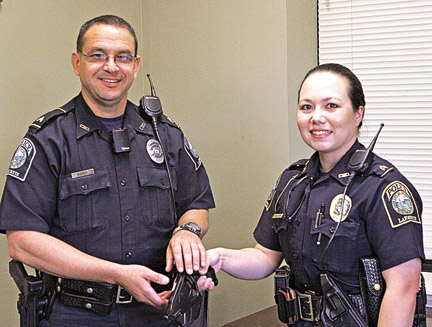 LPD says the tasers have already been used: "A LaFayette officer has already drawn a taser as a deterrent in a situation. ..On April 10, a domestic situation on South Chattanooga Street occurred with a man allegedly choking his wife in the front yard, according to Clift. Witnesses called 911 and the man grabbed his child and ran in the house. Three officers from LaFayette broke down the door and cleared the rooms, with tasers in hand."

The LU Facebook garbage can poll is now 5 "yes" votes to 45 "no" votes, or 10%. This isn't exactly a scientific poll representative of the entire city, but it seems quite a few people still aren't ready for the once-per-week garbage schedule.
The official City of LaFayette, GA Facebook finally announced the new schedule yesterday, a bit late for the Monday-Thursday people who didn't get their refuse picked up Monday.

This video was posted Monday night as part of discussion about new school standards. It should be watched by anyone who is a parent, an educator, a taxpayer, or a student.
Ultimately there is no one, or two, or five, perfect educational systems or methods for every child. We need educational diversity, more schools, more systems – more opportunity to bring out what's good in kids instead of cramming them all into the same mold.
But it seems like those who most support diversity in the population are the least supportive of diversity in the way that population is educated.
..Meanwhile the only announced candidate for Walker County School Board this year (so far) is running on a platform of opposing charter schools.
Speaking of school diversity:
Chattanooga Times Free Press / Chattooga County's four-day school week is a hit: "Chattooga County's four-day week is an extreme example of a strategy that North Georgia schools — including those in Walker and Catoosa counties — have adopted in response to state budget cuts: Fewer school days, but longer ones."
Good news. But we'd really like to know what all the Chattooga County school kids do on Mondays while their parents are at work. Not everybody can afford daycare or babysitters.
Also in school news, LaFayette Middle School has been chosen as a contact point for the International Space Station. The LMS radio club will making contact via ham radio this fall.

Last year's tornadoes caught most local governments off guard. Thanks to a $10,000 grant, Walker County has purchased cots, emergency food supplies, tarps and other material needed for emergency response. Only thing that would make this better is having it in each local fire station instead of all stacked at the road barn, but most of the local fire stations don't have enough space. The stations in Villanow/Armuchee and Mineral Springs Rd. are both brand new and should have adequate storage though.
For today's links and any breaking news, follow the Underground on Facebook.