2010
12.31
While LaFayette's economy is still in the dumps and there's no sign of a badly-needed industrial resurgence, over the last few months competition in the restaurant business has heated up considerably. Three new eating establishments have popped up in 2010 and several older stores plan to relocate or expand in 2011. Competition may intensify in the new year as a handful of local restaurants begin serving alcohol for the first time.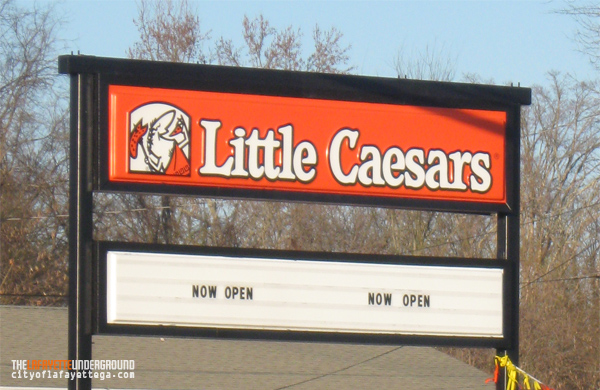 On December 8th a Little Caesar's Pizza franchise opened in on North Main Street in the old Huddle House building, which was previously occupied by the nastiest restaurant in LaFayette's history. The franchise operator did an outstanding job completely gutting and renovating the existing store, adding a drive-thru window and removing almost every trace of the disaster that was previously there.
LaFayette had a Little Caesars before, but that location closed with K-Mart in June 2002. The brand's return to our area after an eight-year break (long enough that most have forgotten how bad the old one was) makes Little Caesars LaFayette's third pizza-focused store, joining Pizza Hut and Papa John's and replacing the Domino's that closed last spring. All three sell pizza but exist in a different segment of the market; Pizza Hut has higher quality, delivery, and a dining room but charges more, Papa John's provides home delivery with a mid-level price point and better variety, and Little Caesar's has the lowest prices and less wait time with their $4.99 "Hot-N-Ready" heat-lamp pizzas. Due to that variation all three should be able to survive, if not thrive, even in a bad economy.
Having Papa John's and Little Caesars literally across the street from each other is good for both stores' customers; the new store was selling pies for $3 during their first week of business, forcing Papa's to respond with "holiday special" pizzas for $3.99. Added competition also helped the local job market by pushing Papa John's to add at least one new position, a foam-suited pizza slice mascot to compete with the foam-suited Little Caesar mascot dancing next door. Dancing mascot isn't much of a job, but in this economy we can't complain about any kind of legitimate paying work.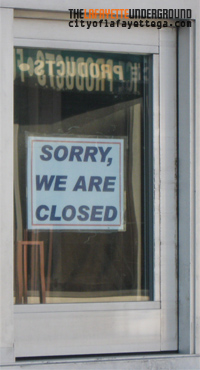 The pizza market may change even further in 2011 if rumors about a CiCi's Pizza buffet coming to town prove true. (Most stories focus on the KFC building downtown that closed back in August.) If that happens Little Caesar's might face more pressure than it can bear, but they can always copy the Fort Oglethorpe location and add a co-branded Dunkin Donuts to the same building. (That store started as a Dunkin and added pizza a few months later.) LaFayette currently lacks a donuts-n-coffee eatery, so hopefully it will happen soon even without an additional competitor coming to town.
Twin's Pizza and Steaks also serves pizza, but has enough menu variety that owner Key Koukous doesn't have to lose sleep over his "Hot-N-Ready" competition. Twins does, however, face competition from Rafael's, a new Italian chain that opened this fall in the Walmart shopping center. Rafael's menu is similar to Twins' but not executed nearly as well, offering faster, cheaper dishes that are good by themselves but can only be described as "adequate" when compared to those prepared at Twins. Rafael's customers are also expected to carry their own trays and refill their own drinks, something not experienced during a visit to Twins. Earlier this year we criticized Twins for having slow table service but the store has improved quite a bit since then; If Key can keep his servers on the ball without screaming at them, his high quality food will keep Rafael's from putting Twins out of business even as the new competitor draws in price-conscious customers.
Unlike the pizza/italian eateries, LaFayette's mexican restaurants compete in an identical part of the market, offering customers full table service and a nearly identical menu with similar pricing. Don Lolo, the oldest Mexican restaurant in town, continues to coast on reputation and familiarity despite a drop in overall food quality and service we rated worst in town (tied with Twins, which has improved) back in April.
Right now Don Lolo's only competitor is YYY (known as Yan Yesica and Yaniria until late in the year), a Mexican restaurant that opened last winter on North Main St. YYY has an uninspired menu and sometimes creepy service, but manages to survive due to its friendly staff and location near Walmart. That superior location allowed YYY to bury El Cancun in January despite El Cancun's better food and service. (El Cancun was located in the unfortunate Food Lion shopping center and poorly visible from the highway.) YYY also hopes to gain a competitive advantage over Don Lolo by being the only restaurant in town (so far) serving alcohol, which we'll discuss more in a bit.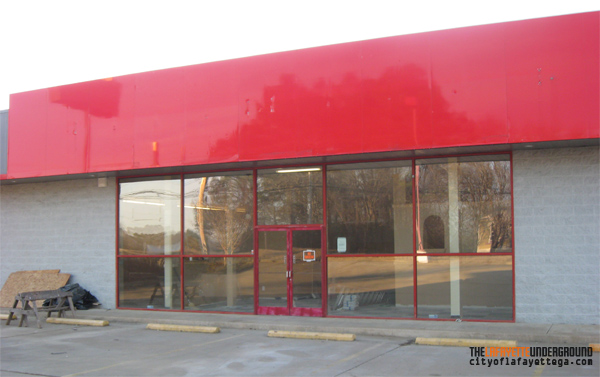 YYY's location won't help much once a new competitor opens in 2011. Alex & Martha's is quickly moving into the old Advance Auto between McDonalds and Arby's on North Main, in front of the same shopping center that housed El Cancun but with a larger and more visible building. Alex & Martha's location should cancel out any advantage held by YYY and will likely euthanize that struggling store. A&M is owned by former managers of Don Lolo and we expect them to bring in enough loyal Don Lolo customers to bring heat down on the older store and hopefully prod the Don to try a little harder than it has in recent years.
North Main Street between Hendrix St. and West North Main is becoming a virtual restaurant row for LaFayette. The existing Papa John's, Hardee's, Taco Bell, McDonald's, Arby's, and Twins restaurants have been joined by Little Caesars and A&M, with one more competitor, China Buffet, moving into the vacant Movie Gallery building in late January or February 2011. That new location will provide more space for customers and possibly make room for a larger buffet, but the owners' reason for moving is a rent increase at the Bi-Lo center. (Higher rent in that shopping center pushed Heavenly Creations and CVS into buying their own buildings last year.) China Buffet has a Chinese food competitor, #1 Chinese at Walmart, but remains the city's only buffet for any kind of cuisine – at least until the rumored CiCi's materializes.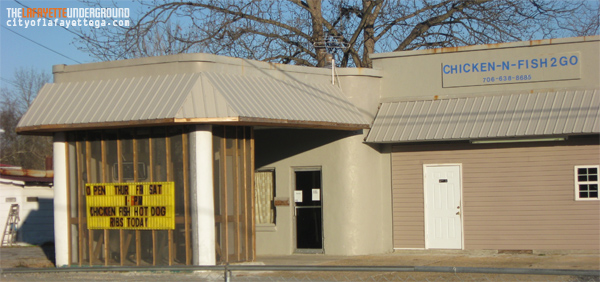 One other new restaurant opened in LaFayette during 2010: Chicken-N-Fish To Go. CNFTG opened back in the summer in a former gas station on Chattanooga Street between Queen City Cleaners and (now closed) Shelia's Flowers & Gifts. The store is on the "wrong side of the tracks" and the building's rough appearance betrays the quality of food inside, but customers who ignore appearances are rewarded with a selection of excellent chicken, catfish, ribs, and fries. Food quality is sometimes lacking, but the store is becoming more consistent as employees gain experience. CNFTG is is one of only three restaurants left on the west side of town, and we strongly encourage everyone in LaFayette to stop by to support the endeavor. Hopefully they'll get enough business to not just stay open but expand their operating hours outside the current 11-6 Thursday-Saturday window.
Some people hesitate to eat in local restaurants with unknown names because of fears about quality or cleanliness, but we've observed most chain stores have no real advantage in either of those areas. Obviously a fast-food or chain restaurant is going to be faster than a locally-branded eatery, but fears about dying of food poisoning after eating in an unknown restaurant are unfounded. Several months ago Georgia began posting all health inspection scores online, providing a convenient way to check out a restaurant before going in. The site keeps current health reports along with four previous inspections to give a picture of a store's history. Interested customers should read the reports, not just look at each store's letter grade, since an A or B inspection can still include some serious issues if the problem cited doesn't knock off enough points.
Back in July the LaFayette City Council overturned 2009's non-binding vote against liquor-by-the-drink and decided to allow restaurants within the city limits to sell beer and wine. The original decision to write up a beer ordinance passed in a 4-1 vote (councilman Wayne Swanson opposed), and the ordinance itself was approved 2 to 1 (2 councilmen were out of town when it passed, Swanson again opposed.) That all happened in July and August, but so far only one restaurant, YYY, has actually applied for a beer license and begun serving alcohol. Others are interested, but none wanted to pay the annual $500 fee for each type of alcohol served (one for beer and one for wine) plus a $150 administrative fee just to pour during the last four months of 2010.
In the first few weeks of January other restaurants will begin selling alcohol. Twins Pizza lobbied for beer licensing as hard as YYY and will certainly offer beer and wine to accompany an Italian meal. The owners of Choo-Choo BBQ on South Chattanooga Street indicated an interest in alcohol sales back in October, and Pizza Hut stores always serve pitcher beer in areas where it's allowed. After opening Alex & Martha's will probably also serve alcohol to compete with YYY. Lunch-only Ivy Cottage restaurant might also put beer on the menu, but we've not heard anything about it one way or the other from their management.
Other establishments, including Susie's, Dari-Dip, and Don Lolo, have gone on record vowing not to sell beer or wine – and those downtown locations probably couldn't anyway since the city ordinance doesn't allow alcohol sales with 100 yards of a church, school, recreational facility, or housing authority apartment. (That clause also disqualifies CJ's Southern Traditions, located next to the main rec. department and across from a church.)
Legalized beer and wine sales will potentially add to the profit margin for several of the city's existing restaurants, and will likely drive more to open or relocate to "restaurant row" since that's one of the few parts of town that isn't within 100 yards of an alcohol-restricted building. Alcohol sales will also pad the city budget, with an excise tax of $6 per keg, $.05 per 12 oz beer, and $.22 per liter of wine. But what the legalization won't do is bring in big chain restaurants like Applebees or Logan's Roadhouse, because those kinds of businesses can't operate in a community the size of LaFayette. As we predicted in 2009, legalizing restaurant alcohol sales within city limits isn't going to bring about an economic resurgence or send the town over a drunken cliff – but in 2011 we will have a few more eating places to choose from, and some of those places will offer customers the option of drinking a beer with their meal. At this point that's probably the best we could ask for.
On a Final Sad Note…
Today we've learned that LaFayette Printing Company has closed down. LPC joins Sheila's Flowers, The Book Exchange (next to Fred's), BlueBird, and KFC on the list of local businesses that shut their doors during 2010. We hope you'll be inspired by this piece to eat more often in local restaurants and will remember to patronize local stores and services when possible. Some local businesses don't do what they should do and are difficult to support, but the ones that are deserve our business and need all the help they can get. Let's try to make 2011 a year of buying at home first.