2017
03.02
Before the election last fall, Commissioner Heiskell allowed fifteen long-term county employees to take "early retirement" benefits, to the tune of about $770,000.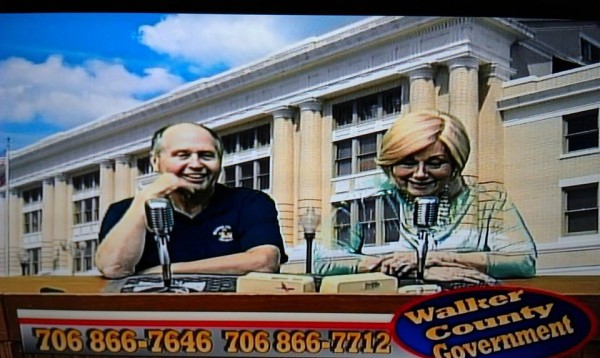 Those who received payouts in the six-figure range last fall include David Ashburn and Don Oliver (both were forcibly "retired" in January) and Randy Camp who "retired" in December and took an identical position in Catoosa.
Heiskell herself did not take the package.
The retirement buyout plan was, according to recipient David Ashburn, meant to save the county money long-term. By getting people out of the plan, it will theoretically cost less over the lifetimes of those who took the buyout. Something like paying off a mortgage early. But Walker County didn't have the money up front to do this last year, and most of the beneficiaries happen to be long-time allies of the now former Commissioner.
Now that this is news, some suggest Heiskell should be charged with a crime – but she didn't do anything illegal. As sole commissioner she had discretion to do it, and did. The problem isn't the person in office but the county's system of government, which gives full control over the county budget to a single individual.
Which is why Shannon Whitfield and Steve Tarvin should make ending that system their top priority, as voters demanded last year, instead of taking their sweet time with it.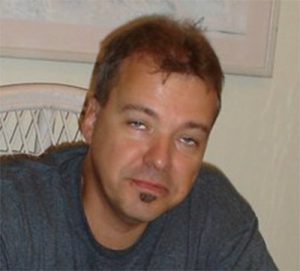 Karen Willmon murder case update: Alabama investigators say 68-year-old Willmon, formerly of LaFayette, died of multiple gunshot wounds and "blunt force head trauma."
Willmon's adult son Larry Bodily was arrested for the murder, and also charged with stealing a guitar and credit card from his mother. (Bodily was previously arrested and released on drug charges days before she disappeared.)
Mr. Bodily's bond has been set at a half-million dollars. He's still behind bars and not likely to go anywhere for a while.


LaFayette City Hall will soon get a new roof and a makeover, despite a shortfall in city funds.
WQCH Radio, 02/17/17:

"IT'S NOT IN THE BUDGET, BUT LAFAYETTE CITY HALL NEEDS A NEW ROOF, AND THE COUNCIL APPROVED A NEARLY 100-THOUSAND DOLLAR LIST OF IMPROVEMENTS TO THE FACILITY MONDAY NIGHT [2 weeks ago].
"CITY MANAGER DAVID HAMILTON REVEALED THAT 'SPLOST' SALES TAX REVENUE IS ABOUT 600-THOUSAND DOLLARS LOWER THAN ANTICIPATED – AND THE CITY HALL ROOF WAS ON THAT LIST.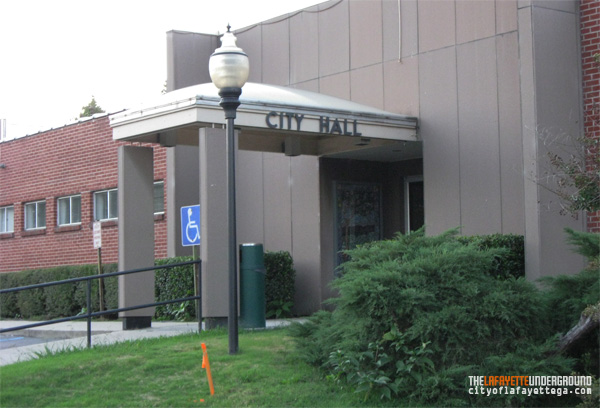 "THE COUNCIL APPROVED HIS RECOMMENDATION TO GO WITH FRYAR CONSTRUCTION'S BID OF $98,652 TO PUT A NEW PITCHED ROOF ON THE BUILDING. FACADE MATERIALS ON THE SOUTH AND WEST-FACING WALLS WILL ALSO BE REPLACED TO IMPROVE THE APPEARANCE OF THE BUILDING, AND THE MAIN ENTRANCE WILL GET A NEW GABLED ROOF. THE PLANS CALL FOR A SHINGLE ROOF, GUARANTEED FOR 25 YEARS. IT WAS POINTED OUT THAT REPLACING THE EXISTING FLAT ROOF, WHILE LESS EXPENSIVE, WAS GUARANTEED FOR ONLY 10 YEARS.
"THE CITY MANAGER SAID HE WILL DO SOME 'SWAPPING' IN THE CURRENT BUDGET TO MAKE FUNDS AVAILABLE FOR THE CITY HALL PROJECT."
One thing a remodeled City Hall won't be getting is modern online bill pay, as the city helpfully reminded everyone a few days ago:
In case you thought we had entered the current century.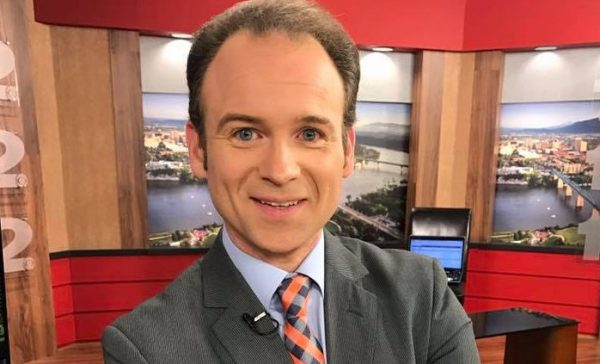 Nobody's arguing that Joe Legge isn't doing a good job, but can Walker County's budget justify having a "public relations director" to make videos of the Commissioner and update his Facebook?
Legge's salary in the newly created government job is rumored to be about $60 thousand a year plus benefits – enough to pull him away from his job at Channel 12.


Casinos aren't legal in Georgia (yet), but casino money has been flooding into the state for the last couple years, in the form of legal "campaign donation" bribes.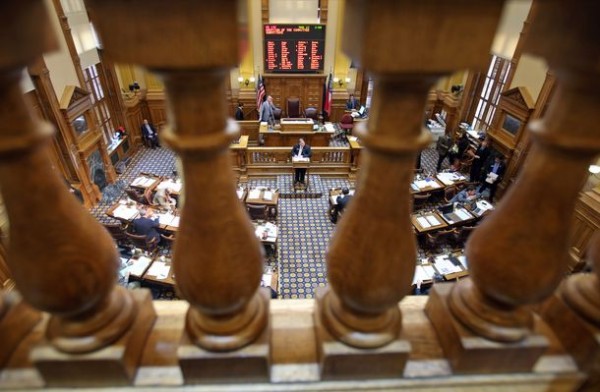 Senator Jeff Mullis (R-Chickamauga Mafia) is the 4th highest individual recipient of that casino money, raking in $9,000 during the last election cycle from gambling companies based in Las Vegas and Iowa.
The same companies gave a hundred grand combined to various branches of the Georgia Republican and Democrat parties, and one candidate running for Republican Party chair is on the casino payroll lobbying to change laws in their favor.
But for this year the law won't change: With the deadline to pass legislation approaching, a bill that would allow limited casino gambling in the state has been withdrawn. The sponsor cited lack of support, but says he'll be trying again next year.
One theory is casino operators were giving to the wrong people, and some on the committee directly responsible for the bill didn't appreciate how little of it THEY got.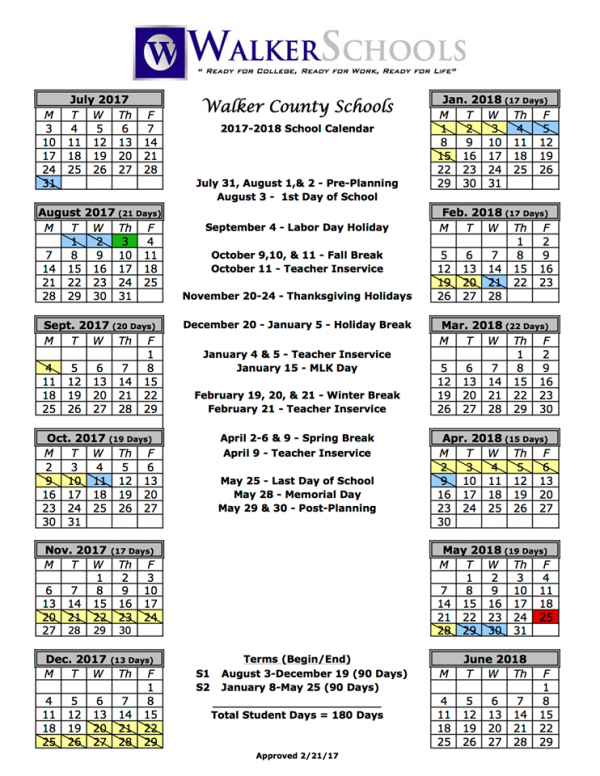 Walker County Schools has revealed its 2017-2018 calendar.
The 180-classroom-days school year will begin August 3rd and end May 25th.


American Exotic Guitars of LaFayette was recently profiled in a short documentary on WTCI.
Our newest episode explores the art of building musical instruments. For Jason Armstrong, building guitars started as a creative outlet and became a small business. Each instrument from American Exotic Guitars is handcrafted to suit the desires of the owner.

Posted by Greater Chattanooga on Friday, February 17, 2017
Great to see attention given to Jason Armstrong's quality work.


Ridgeland has partnered with Crash Creative out of Chattanooga to teach students basics of computer programming, starting with Web design/HTML.
Perhaps one of the reasons Ridgeland was recently recognized as one of the state's top STEM schools.


Walker County arrests, February 20-26.


Johnny Jennings of Ringgold has, over thirty years, collected recycling worth over $400,000 – and donated all the proceeds to a Christian charity.
Jennings, 86, gives a five-figure check to Georgia Baptist Childrens Home once a year. He's also on that organization's board. All of the money comes from recycled cans, and cardboard/paper.
In 2016 alone Jennings picked up 201 tons of paper and carried it to Chattanooga for recycling in his pickup truck.
At one point he was picking up from businesses and churches in LaFayette but cut back his travel distance a few years ago.


In 1922, Walker County deputy John C. Parrish was killed in a gun battle with moonshiners.
In May of 2017, Parrish will be honored by the National Law Enforcement Officers Memorial – but the group is seeking his closest living relative to receive the honor on his behalf.


Another Walker County business making waves.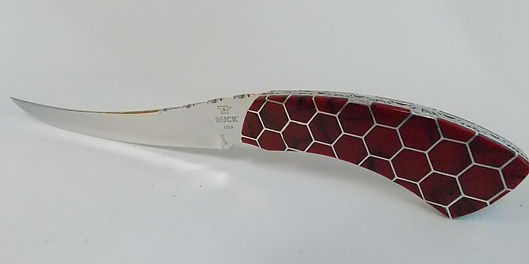 Painted Pony Designs of Flintstone is "carving up" the custom cutlery market.


Georgia legislators are looking to address "surprise billing" in the state's hospitals. That's when your insurance pays for a hospital visit but you later get a bill from another provider that wasn't covered by insurance.
A complex problem that doesn't have an easy fix, so whatever they come up with is bound to make things worse.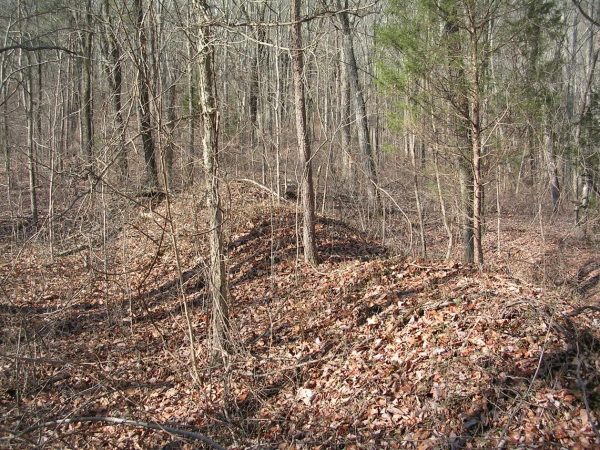 Whitfield County is working to preserve 301 acres of Civil War history atop Rocky Face Ridge, but has run into problems concerning a controversial bike trail planned for the property.
Supporters say adding a trail will make the land accessible to the public and reduce costs of the project with more grant funding, but opponents say the bicyclers will destroy fragile earthworks left from the battle 150 years ago.


A couple in Clayton County went to jail in 2015 after legally buying a stolen vehicle from a storage auction. They went BACK to jail after contacting media about their arrest.
Two years later there are still a lot of unanswered questions. One of the two officers who overstepped his authority and harassed the small-business owners into jail still has his job in law enforcement.
Can't happen here? Yeah right…


For today's links and any breaking news, follow the Underground on Facebook or Twitter.